As we draw the curtain on this year's narrative, the legendary Gashouder stands tall, ready to host the zenith of Amsterdam's techno odyssey with Awakenings. This beacon within the city, a crucible of electronic innovation, is set to be the epicentre of the grand finale of upcoming techno events in Amsterdam. Here, within the cavernous depths of Gashouder, the pulsating memories of countless nights spent dancing converge into a crescendo. Awakenings invites you to a celebration like no other, an Amsterdam NYE techno event that promises an unforgettable display of communal euphoria. After a year of unforgettable rhythms, it's time to come together once more, beneath the iconic dome of the Gashouder, for one final, electrifying dance with Awakenings.
1. New Year's December 28 – By Night
December 28, 2023
Embrace the chill of December with Awakenings' fiery lineup that kicks off the New Year celebrations. The Gashouder becomes a sanctuary where Ellen Allien's avant-garde melodies meet Clara Cuvé's dynamic techno beats. Patrick Mason, known for his boundless energy and unforgettable dance moves, will elevate the vibe, ensuring every moment is charged with the signature spirit of Awakenings. The techno pilgrimage continues with Indira Paganotto's fiery set and culminates with Reinier Zonneveld's live performance, a fusion of raw energy and technical prowess that Awakenings is celebrated for.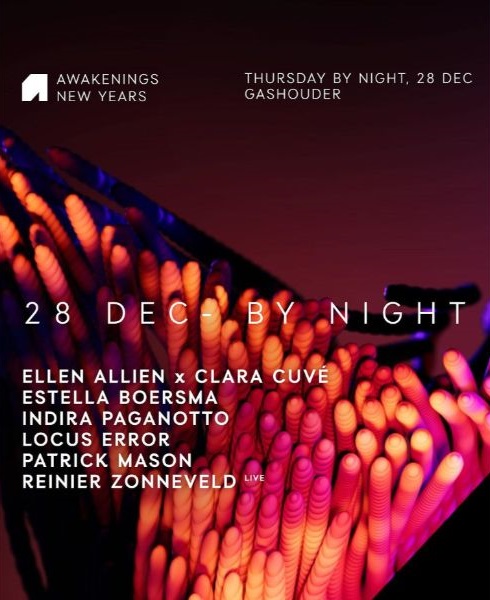 2. New Year's December 29 – By Night
December 29, 2023
As the year winds down, Awakenings turns the heat up with a lineup that promises to take you on a deep sonic journey. The illustrious Âme will guide you through a narrative of soul-stirring beats, while the Agents of Time prepare to bend time and space with their immersive sound. Colyn's melodies will carry you on a wave of emotion, and KAS:ST's hypnotic rhythms will ensnare your senses. Kölsch's distinctive anthems will resonate with the very essence of Amsterdam's techno scene, delivering a night of introspection and celebration, a hallmark of Awakenings' New Year's events.
3. New Year's December 30 – By Day
December 30, 2023
Awakenings' daytime event promises to be a diverse showcase of techno's rich spectrum. Richie Hawtin, a titan of the genre, is set to curate a unique auditory experience, weaving together the threads of innovation and classic techno beats. Speedy J's storied presence on the decks will continue the narrative with an electrifying performance, paving the way for Anfisa Letyago's high-energy beats. Elli Acula's fierce set will prime you for FJAAK's raw, unfiltered energy, a staple of Awakenings' daytime events, ensuring the prelude to the New Year's climax is as memorable as the main event itself.
4. New Year's December 31 – By Night
December 31, 2023
Awakenings' New Year's Eve night is where legends converge for a countdown like no other. Experience the synergy of Blawan & Helena Hauff as they delve into the darker realms of techno, setting a brooding tone for the night. Chris Liebing and Luke Slater's collaborative set promises a journey through techno's multifaceted landscape, with KI/KI adding her unique flair to the mix. Len Faki's commanding beats and Marrøn's closing set will encapsulate the intensity and passion of Amsterdam's techno scene, the perfect homage to Awakenings' year of unforgettable events.
In this series of Awakenings New Year's events, you're not just a spectator but an integral part of a movement – each beat a story, each night a chapter in the grand book of Amsterdam's techno legacy. As we dance through these nights, we celebrate not just the passage of time, but the timeless beats that unite us. Join us for a New Year's experience that's set to echo through the annals of Awakenings and Amsterdam's techno history.