I can't think of a better way to kickstart spring than with an epic showcase of electronic music. Awakenings Easter Festival certainly makes an impact as one of the first outdoor festivals straight out of winter. Nestled in a park just outside of Amsterdam, it sets the scene for a perfect weekend in the sun with the world's best house and techno artists. Start planning your trip to the next edition with my guide to Awakenings Easter Festival below!
When did I attend? April 2022
When is the next Awakenings Easter Festival? 13-14 May, 2023
What do you hear at Awakenings Easter Festival? Techno, House, Underground Electronic Music
Where? Spaarnwoude-park, Amsterdam, the Netherlands
What's the local currency? Euro
What's the local language? Dutch (but you can definitely get away with speaking English here!)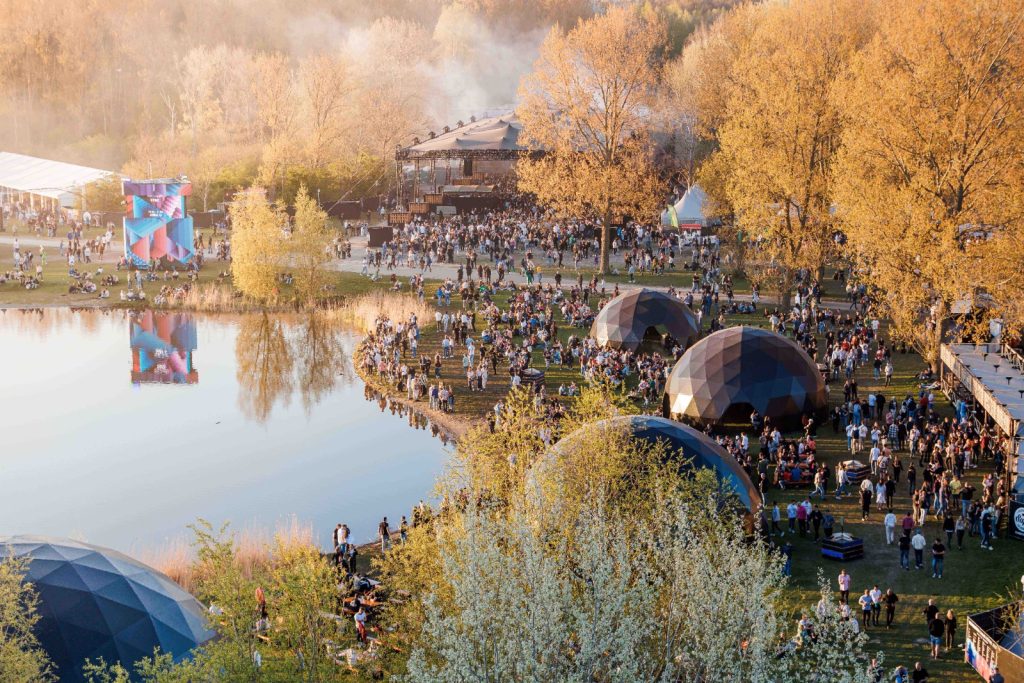 In 2022, Awakenings Spring Festival celebrated its 25th birthday with over 80,000 music lovers.
Awakenings Spring Festival is one of the world's longest-running techno events. 

Awakenings Spring Festival

is part of a wider portfolio of events organised by Awakenings and their parent company Monumental Productions. They plan several events throughout the year

including Awakenings Spring and Summer, Drumcode Festival, and Connect in collaboration with

Time

Warp

.

Their productions are some of the most well-known in the world. Since 1997, over 2 million people have attended Awakenings events.
Every year, Awakenings Easter Festival takes over the beloved festival grounds in Spaarnwoude for a weekend packed full of phenomenal music acts. It's situated just outside of Amsterdam and is easily accessed by car, bike or the festival's shuttle bus!
GETTING TO AMSTERDAM
If you're coming from overseas to attend Awakenings Easter Festival you can refer to my Guide to Travelling to Amsterdam. There you'll find information on how to reach Amsterdam by plane, train, coach, car and ferry.
GETTING TO THE FESTIVAL
BY SHUTTLE
Probably the easiest way to get to the festival site is to hop on their shuttle service. They run regularly throughout the weekend, departing from Sloterdijk Station, West Amsterdam.
I really appreciated how convenient the shuttle service was. We stood in line for only about 5 minutes both ways. And the shuttle never felt too overcrowded because they were managing the queue efficiently. Overall a really seamless experience getting to the event!
Grab your tickets when you purchase your tickets on the festival's website! 
BY PUBLIC TRANSPORT
If you plan on taking public transport to get to Sloterdijk Station for the shuttle service, I suggest using this 9292 journey planner. 
Keep in mind that the public transport system is completely cashless. You'll only be able to purchase tickets using a credit or debit card. 
Locals use an OV-Chipkaart (their public transportation chip card) to check-in and out of public transport terminals. It is possible to obtain one as a visitor but you'll have to pay for the card which is only useful if you're travelling further afield beyond Amsterdam each day.
Word of advice, if you do opt for the chip card always make sure you check out from transport terminals correctly or it'll charge you with an increased fare next time you check in with the card.
Otherwise, the most convenient ticket is the disposable one hour card or day card. You can buy them at a bus, tram or boat stop, and at train stations. 
BY BICYCLE
The festival can be easily reached by bike, it'll take you about 40 minutes from the city centre. There's a bike parking area close to the festival entrance. 
If you plan on cycling there, use this address for your GPS: Wethouder van Essenweg, 1165 NA Halfweg
If you're unable to cycle home after the first day, don't worry! You can leave your bike at the festival from Saturday to Sunday. But make sure you remove your bike before Monday. If it's still there when they're removing the festival barriers, they'll take any leftover bikes away too!
BY CAR
If you plan to drive to the event you'll need to get a parking ticket. I recommend purchasing one online when you buy your festival tickets as they charge more on location.
To get to the festival, input 'Heining, Amsterdam' into your GPS. As you approach the location, you'll start seeing big yellow signs, follow those to get to the car park. And have your parking ticket ready to be scanned on arrival!
If you're unable to drive home after the first day then rest assured you can leave your car in the parking area from Saturday to Sunday! But you are not allowed to sleep in your car.
BY UBER/BOLT
If you choose to get to the festival by Uber/Bolt, use 'Heining, Amsterdam' in the destination box. As you approach the location, you'll start seeing big yellow signs, follow those to get to the festival gates!
If you're leaving Awakenings Easter Festival by Uber/ Bolt, make sure you follow the "pre-booked taxi" signs and order just before you arrive at this designated pick-up point.
Amsterdam has ample accommodation choices scattered all over the city. From hostels to luxury hotels, there's no doubt you'll find something within your budget… as long as you book in advance! I can't stress this enough. Amsterdam is a popular tourist destination so accommodation fills up fast, especially when big festivals are on.
The shuttle buses for Awakenings Easter Festival depart from Sloterdijk Station, West Amsterdam. The evening portion of the festival takes place at Gashouder which is also in the West of Amsterdam. If you want convenience, I suggest staying in the West so you're not too far from the festival shuttle departure/arrival dock and all the after-parties! 
My go-to to book hotels is booking.com, most of their hotels offer free cancellation or flexible booking policies which I find super convenient.
But if you're planning on coming with a group then I'd recommend checking Airbnb. It'll be more fun staying under the same roof and it'll probably work out cheaper
Awakenings Easter Festival is spread across 6 gigantic tent stages and 1 semi-open-air stage. The setup is fantastic, given that the event takes place in April so sunshine isn't always on the forecast. No matter which stage you're at, you're covered! The festival is spread across a large field but it's very easy to get from one stage to another. So you can easily jump from one stage to another. You never have to worry about missing any of your favourite DJs and it actually makes it quite easy to go for a walk and see what artists you discover along the way.
Structurally speaking the stages are impressive. From the outside, you'll be instantly struck by the sheer size and magnitude of these impressive structures. And as soon as you walk into one of them, it's a whole other story. They bring life to these otherwise very industrial-looking tents, it's quite spectacular. Each stage looks different and immerses you in a different musical and visual experience. Awakenings events are famous for their spectacular production, including their trademark pyrotechnic firework displays, and they sure did not waste any time during this edition of Awakenings Easter Festival.
Other than the extraordinary production, one of the highlights of the festival for me was the setting. Nestled in Spaarnwoude, you're tucked deep into the woods. By day, we were basking in the sun by the waterfront between sets. Enjoying the different sounds and echoes wandering from various stages. And as the sunset rolled in, the air got cool and misty which really set the mood for the rest of the night.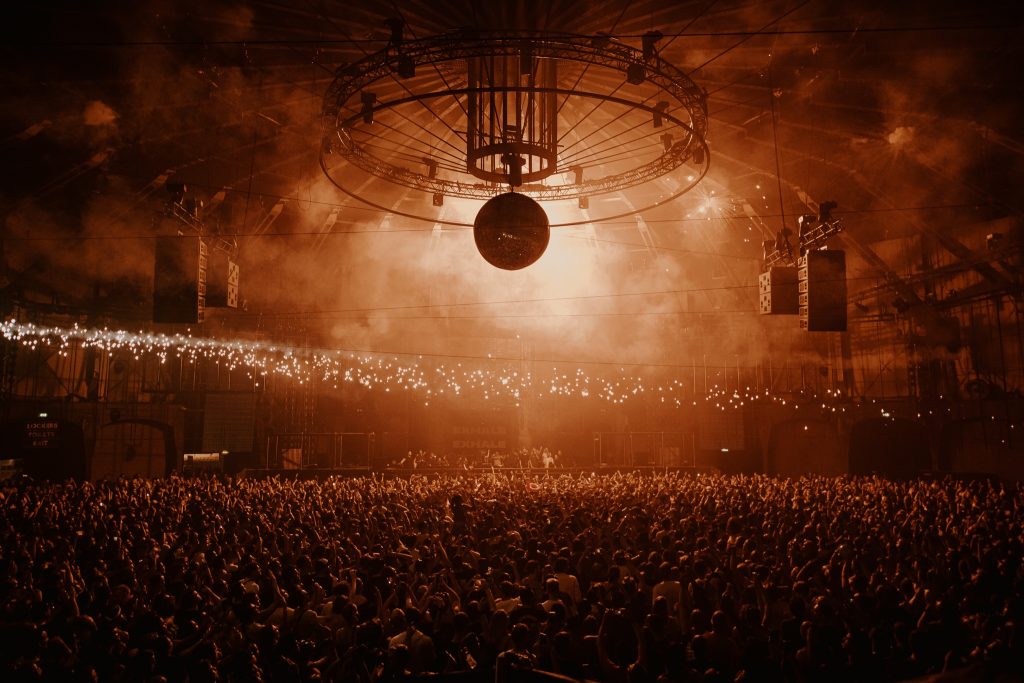 Music lovers flock to Awakenings from all over the world for their impressive electronic music lineups. You'll be able to catch performances by some of the world's finest underground music artists. Their lineups never disappoint, I mean just check out the artwork below, it speaks for itself!
Unlike other techno festivals, where opening slots feature smaller acts, Awakenings features headlining artists from the start until the end of their event.
Here's what the lineup for their 25th anniversary in 2022 looked like, so you can get an idea of what to expect at their next edition: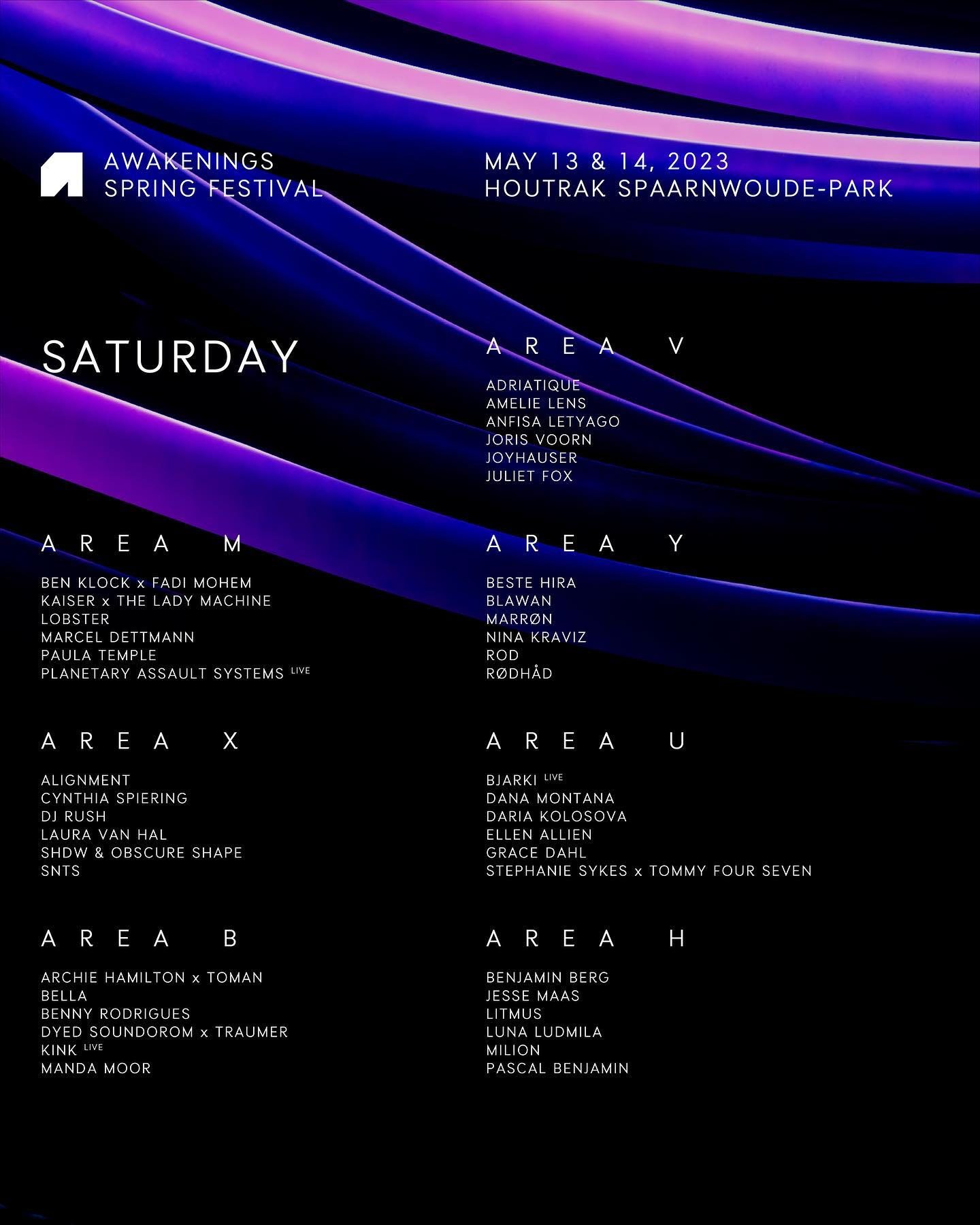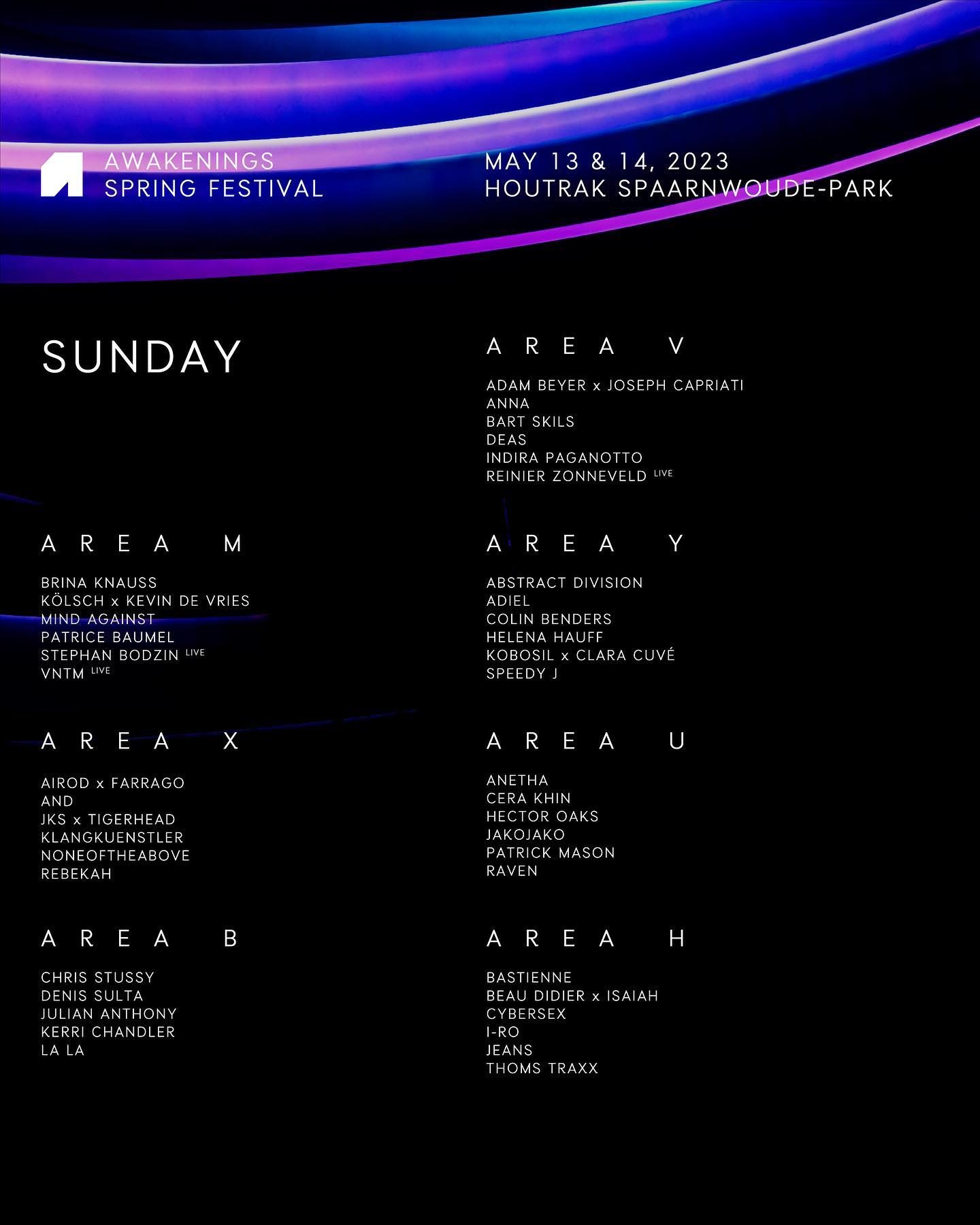 Simply put, the vibes are unparalleled. This festival brings together a really convivial and supportive community of die-hard electronic music fans who are there to dance their feet into the ground all weekend long! 
This was my first festival after the pandemic and I was absolutely beaming with joy. People all around me were radiating so much happiness and giving the dancefloor absolutely everything they got. I couldn't have asked for a better return to the dancefloor. 
As I mentioned above, Awakenings have been going for a number of years now so they have fans of all ages and from all corners of the world come together to celebrate music. It's a festival like no other, I'll definitely be back for another taste of their festival magic.
As part of the festival's sustainable initiatives, the food at the festival is predominantly vegetarian. This was a first for me, I've never been to a festival that operates this kind of policy and I honestly loved it. The festival certainly didn't lack any options, they had good substitutes for everything. So even if you normally don't eat vegetarian you don't feel like you're craving anything. From local favourites to international dishes (pizza, pasta…), they had a great variety of food stands, organised into several food courts scattered in all corners of the festival. You never had to walk very far to get to the nearest food court. And I also found that there are plenty of areas where you can sit and enjoy your food before getting back on the dancefloor which is a nice touch!
The same goes for drinks, there are plenty of bars to go around. I never had to stand in queue for longer than a few minutes. You can get anything from beer, wine, mixers and even cocktails. 
The festival has put in place a number of measures over the years to produce environmentally friendly events. Their sustainable initiative, "Keep the Planet Awake!" outlines the different techniques they use to lower their environmental impact.
They use a deposit system for all cups, cans and bottles. At the entrance, you'll receive a free recycle token which you can use at the bar when ordering drinks. Make sure you hold on to that empty cup/can/bottle. The only way to get your next drink is to return the empty recipient to the bar or recycle point for a new drink or recycle token. By doing this, the festival can make sure that all materials are collected and sorted in the right containers. 
Their objective is to create as little waste as possible. You'll be able to sort all different types of materials in separate containers: PET / Can / Cap / Paper / Glass / Organic / Plastic / Wood. This way the festival can recycle all materials and ensure the floor remains clean.
Their PET is used to make new cups, bottles, and wristbands, making it a circular system. They even go as far as melting their tokens to produce new tokens. They also disclose that 95% of the signage at the festival is used at all their events year-round.
They've worked with 'Trees for All' since 2011. They plant trees on the festival's behalf, to compensate for their Co2 emission. For their 20-year festival anniversary, 2020 trees were planted in the Netherlands and Uganda.
As far as activities go, there wasn't much going on other than a vertical swing tower. It may seem simple, but it transports revellers up into the sky for the best view over the whole festival. Not for the faint-hearted!
Given how exquisite the music selection is, there really isn't any need for more distractions, you'll already have your hands full!
Travelling to Amsterdam can be quite an expensive excursion if you don't plan it ahead of time. Use the tips below to make your trip to the festival and your stay in Amsterdam as cost-efficient as possible!
Book your flights and accommodation early! 

As soon as you know when Awakenings Easter Festival is taking place book everything!
Get those early birds before they sell out, they're always considerably cheaper than the final phase ticket release. Make sure you follow Awakenings on social media and sign up for their mailing list to stay on top of ticket release announcements.

Plough through your list of friends and connections to see if you've got anyone who could accommodate you

. Accommodation in Amsterdam is expensive so this is definitely where you could save the most money. 

Purchase travel cards

 to get the best deals on public transport and some of the city's tourist attractions.

Rent a bike

 rather than spend money on taxis or public transport!

No need to eat out every day in Amsterdam

, there are plenty of ways to eat on the cheap! Eat supermarket food, Dutch snack foods, or visit a local 

market

! 
Lockers: I recommend booking your locker when you purchase your tickets through the festival's website. We usually leave jackets and other layers in our locker that we don't need during the day when the sun is out. You'll be given a unique locker number and code, make sure you take a photo or screenshot of this information so you have it handy at all times during the festival.
Toilets: now this is a given, obviously there are toilets. BUT I like giving mentions to festivals that manage to keep their toilets in good shape throughout a whole event because it takes a lot of work and they deserve some credit for it! Awakenings use flush toilets at their events and have staff regularly checking them and replenishing toilet paper in each cubicle. Really appreciated how clean they were, definitely makes the festival experience even better!
Merchandise: you'll find stands scattered all over the festival, selling the festival's unique and limited edition merchandise.
Wheelchair Access: I recommend contacting the organiser via email to get more information and to arrange your visit to the festival.
Always bring your ID and have a copy of your ticket saved on your phone! You'll need to show both of these to get your wristband and be allowed into the festival.
Ear Plugs: you'll need to keep your ears protected. Long or repeated exposure to loud sounds can cause long-term damage to your eardrums, don't risk ruining your hearing, think of all the festivals you have yet to explore.
Don't let yourself get dehydrated: there are free water refill stations at the festival so you can top up as many times as you need! 
Take care of yourself: if you or anyone in your group feels unwell, don't be afraid to approach the paramedics at the medical tent. Particularly if you've taken something and had a bad reaction to it. Don't hesitate to reach out for help.
Check the weather before going: we got super lucky, the weather was incredible during the day! But there has rained in previous years so always keep an eye on the forecast so you can be prepared.
Pay cash(less): the festival accepts both cash and cashless payment methods. You'll need to buy tokens first before being able to buy any drinks or food at the festival.
Zero tolerance policy on narcotics: this goes without saying but they have pretty thorough searches at the entrance of the festival. If you're found with anything you will get kicked out and the police may even get involved
Need more festival tips before heading to Awakenings Easter Festival? Check out my top tips on how to survive music festivals!
Share this post with your festival crew so you can plan your Awakenings adventure together!