In honour of their 25th anniversary, Awakenings came back stronger than ever in the summer of 2022 with their biggest and most epic summer festival to date! Following the success of their Easter edition, revellers eagerly awaited the start of this multi-day techno event and they certainly were left disappointed by what was given to them. If you're thinking of heading to Awakenings Festival and need help planning your trip, then you've come to the right place! Below you'll find all the tips and advice you need to plan the ultimate festival trip.
When is the next Awakenings Festival? 7-9 July 2023
What do you hear at Awakenings Festival? Techno, Underground Electronic Music
Where? Hilvarenbeek (near Tilburg), the Netherlands
What's the local currency? Euro
What's the local language? Dutch (but you can definitely get away with speaking English here!)
In 2022, Awakenings Summer Festival is celebrating its 25th anniversary with a 3-day techno programme, featuring the world's best music acts.
Awakenings Summer Festival now features a campsite with activities, a wellness area and an extended music programme that run through the night and into the morning on all three days.
Awakenings Summer Festival is one of the world's longest-running techno events. 

Awakenings Summer Festival

is part of a wider portfolio of events organised by Awakenings and their parent company Monumental Productions. They plan several events throughout the year

including Awakenings Spring and Summer, Drumcode Festival, and Connect in collaboration with

Time

Warp

.

Their productions are some of the most well-known in the world. Since 1997, over 2 million people have attended Awakenings events.
They offer 2 types of festival tickets:
Did you miss out on tickets to Awakenings Summer Festival? Don't worry, you can still score tickets in time for this year's edition! Sign up to Ticketswap, an official and secure ticket reselling platform, to be the first to know about tickets going on sale!
Awakenings Festival has moved its festivities from its beloved festival grounds in Spaarnwoude to a bigger location in Hilvarenbeek. Situated just outside of Tilburg, a mere 2 hours from Amsterdam, the festival can be easily accessed by a number of different transport options.
GETTING TO AMSTERDAM
If you're coming from overseas to attend Awakenings Festival you might find it's easier to fly to Amsterdam first before heading to Tilburg where the festival is located. You can refer to my Guide to Travelling to Amsterdam. There you'll find information on how to reach Amsterdam by plane, train, and coach.
GETTING TO THE FESTIVAL
BY TRAIN
The easiest way to get to the festival site from any corner of the Netherlands or from abroad is to take the train to Tilburg. From there, you can either get on the festival's shuttle service (15 minutes) or bike (30 minutes) to the festival, more info on both options below!
Trains are operated by NS in the Netherlands, use their website to plan your local/international train trip and get your tickets in advance.
BY SHUTTLE
If you're planning on taking the train to Tilburg, then the easiest way to get to the festival site is to hop on their shuttle service. They run a regular service throughout the duration of the festival, departing from Tilburg Station.
The shuttle buses start running at different times depending on the day. 
Friday: 11:00
Saturday: 12:00
Sunday: 12:00
Monday: 08:00
They continue to run to and from the festival grounds throughout the duration of the festival. The last shuttle bus departs the festival an hour after it ends.
Grab your tickets when you purchase your tickets on the festival's website! A return ticket between Tilburg and Awakenings Festivals is € 8,00 on the festival's ticket shop or € 10,00 on location.
BY BICYCLE
The festival can be easily reached by bike from Tilburg, it'll take you about 30 minutes from the city centre. There's a bike parking area close to the festival entrance. 
If you plan on cycling there, use this address for your GPS: Hilvarenbeek
If you're unable to cycle home after the first day, don't worry! You can leave your bike at the festival. But make sure you remove your bike before 3 pm on Monday. If it's still there when they're removing the festival barriers, they'll take any leftover bikes away too!
BY CAR
If you plan to drive to the event you'll need to get a parking ticket. To avoid creating long queues and to pay a higher fee on location, it's advisable to purchase your parking ticket online.
There are different parking locations to accommodate the various campsites, cottages and day ticket holders. Make sure you purchase the right parking ticket and download the most recent parking ticket before setting off for the festival. Your parking ticket will have instructions to find the right car park at the festival.
To get to the festival, input 'Hilvarenbeek' into your GPS. As you approach the location, you'll start seeing big yellow signs, follow those to get to the car park. And have your parking ticket ready to be scanned on arrival!
If you're unable to drive home after the first day then rest assured you can leave your car in the parking area from Saturday to Sunday! But you are not allowed to sleep in your car.
BY UBER/BOLT
If you choose to get to the festival by Uber/Bolt, use 'Hilvarenbeek, ' in the destination box. As you approach the location, you'll start seeing big yellow signs, follow those to get to the festival gates!
If you're leaving Awakenings Festival by Uber/Bolt, make sure you follow the "pre-booked taxi" signs and order just before you arrive at this designated pick-up point.
CAMPING/ON-SITE ACCOMMODATION
Awakenings Festival is hosting a campsite for the first time ever in its history. You can choose from a range of different options: 
Bring your own: you'll be staying on a large campsite and can bring your own tent and camping accessories.
Pre-set up tents: this package includes a tent, beds, a sleeping bag and light.
Cottages and Safari tents: if you're looking for a bit more luxury and comfort then these packages are for you! They're located in the Safari Park at Hilvarenbeek. I stayed in one of the lodges at the Relax Resort when I attended in 2022 and it was one of the most amazing experiences of staying onsite at a festival that I've ever had. We had a 3-bedroom, 2-bathroom lodge for 6 of us. It came with a fully equipped kitchen and had the most epic views over the safari. We would wake up to giraffes, ostriches, rhinos and more, every single morning!
Practical tips for the campsite
The campsite is divided into two areas: the Grand Camping (accessible to everyone with a full 3-day festival ticket) and the Relax Resort (only accessible if you have a Relax Resort camping ticket). Both campsites are situated on the festival grounds so you won't need to walk too far to be in the thick of the festival action!
Once the daytime festivities have subsided, the music programme will shift to the main campsite and continue through the night until the morning. 
The Relax Resort campsite offers some more luxurious amenities. You can enjoy a range of activities, games, food and drinks, and a wellness area with hot tubs.
The campsite is equipped with flush toilets and hot showers. You can use them 24/7 and are free of charge.
If you need water, the toilet areas are fitted with a free drinking water tap.
You may bring a total of 4,5L of liquid per person, among which a maximum of 1L can be alcohol or pre-mixed. You can bring your drinks to the campsite but not into the festival.

Several stores are available throughout the campsite. You can purchase food, drinks, camping necessities and hygiene products.

If you bring your own tent, know that there's no electricity. You can purchase a portable charger nearby the information desk. You can also rent one at the locker desk. You can also find sockets where the showers are, for hair straighteners, blowdryers and shavers. All pre-set-up tents at the Relax Resort have electricity, as well as all the cottages and safari tents.

Be mindful of how much you pack. The entrance gates are 90 centimetres wide, you can't bring carts or luggage that's wider than that.

You can find the most up-to-date information on the campsite, its list of prohibited items and its opening hours on the festival's website. 
OFF-SITE ACCOMMODATION
The festival offers a number of hotel packages, that include your festival ticket and daily transfers to the festival. All details and availability are listed on their online ticket shop.
You can also choose to book your own accommodation. Tilburg has a range of accommodation options to choose from. My go-to's to book accommodation when travelling are booking.com and Airbnb.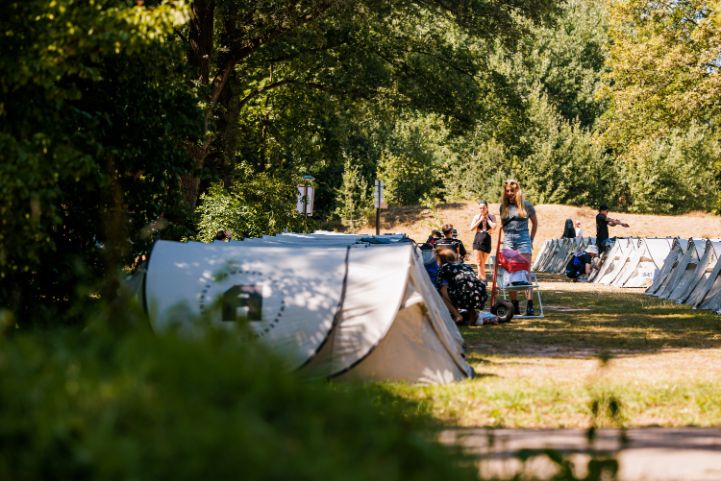 In 2022 Awakenings relocated to a brand-new location, allowing it to do a complete revamp of the festival grounds. It flaunted 11 stages on the main festival grounds and an additional 2 stages on the campsite which open up for the after hours.
The new festival set-up included some intimate stages next to the big iconic stages Awakenings is renowned for. Each stage area boasted its own distinct vibe and experience, no stage looked alike. The whole event was truly spectacular, there was so much to discover throughout the grounds and showcased their signature production style and flair. Showing the full breadth of their production capabilities and talent. They even recreated the legendary Gashouder in the woods at the festival, as an ode to where Awakenings all began.
This year's Awakenings Festival lineup showcases a broad range of international and up-and-coming DJ phenomenons. In 2022, the festival welcomed over 130 acts, spread across its 11 stages and 3 days. Awakenings veterans such as Adam Beyer, Richie Hawtin, Joseph Capriati, and Eats Everything will take to the stage, alongside rising talents Hector Oaks and Adiel, to name a couple, and global sensations making their Awakenings debuts, including Skream and Denis Sulta. The perfect opportunity to catch some of the world's finest electronic music acts, and discover some new music along the way.
If you're staying at the campsite or you have a full 3-day festival ticket, you'll be thrilled to know that the music programme doesn't stop for the entire duration of the festival. While the main site will switch off around 11 pm, you'll be able to relish in an additional music programme that runs throughout the night until 5 am. Just one of the many surprises the festival has in store for festival-goers this year…
It isn't surprising that festival revellers flock to Awakenings Festival from all corners of the globe each year. Here's a peek at what their most recent lineup looked like: 
On top of the festival's stellar techno lineup, Awakenings Summer Festival also hosts activities and a wellness program. This includes a sports program hosted by OneFit, that offers various activities including Techno yoga, a pillow fight and sound bath. Situated on the campsite's beach, once you're done with your workout you can bask in the sun or have a go on one of the SUP boards and catch a glimpse of the festival site across the water. The setting is spectacular, the perfect environment to hit refresh on the previous night's shenanigans and get going for another day at the festival's stages.
If getting your body moving isn't your thing, you can head over to the wellness area to enjoy a well-deserved massage or take a dip in one of their cooling tubs to detoxify and get your body ready for the day. A team of makeup artists and hair braiders are also available throughout the weekend at both campsites to get your rave looks on point for the festival. 
Once the campsite activities subside, festival-goers head to the festival grounds where a number of art installations can be found lurking throughout the grounds, in between stages and in the woods. Going on the hunt for these installations means you get to see every corner of the site. The magic is really in the details at this festival, so much thought has gone into curating something completely unique. 
After the sun sets, the campsite cinema program gets underway. They played a range of classic movies like Trainspotting, a documentary of Laurent Garnier and many more.  Wandering back to the campsite and retreating to the cinema is always a really nice option if you need a little break between sets. 
Overall, the range of activities offered is really impressive. There's a little something for everyone and the program runs all day which means that no matter what, there is always something you could take part in. They provide ample opportunities to unwind, rejuvenate and also take the time to meet other ravers. The campsite at Awakenings Summer Festival is certainly just as spectacular as its festival grounds and music lineup. 
The festival has put in place a number of measures over the years to produce environmentally friendly events. Their sustainable initiative, "Keep the Planet Awake!" outlines the different techniques they use to lower their environmental impact.
They use a deposit system for all cups, cans and bottles. At the entrance, you'll receive a free recycle token which you can use at the bar when ordering drinks. Make sure you hold on to that empty cup/can/bottle. The only way to get your next drink is to return the empty recipient to the bar or recycle point for a new drink or recycle token. By doing this, the festival can make sure that all materials are collected and sorted in the right containers. 
Their objective is to create as little waste as possible. You'll be able to sort all different types of materials in separate containers: PET / Can / Cap / Paper / Glass / Organic / Plastic / Wood. This way the festival can recycle all materials and ensure the floor remains clean.
Their PET is used to make new cups, bottles, and wristbands, making it a circular system. They even go as far as melting their tokens to produce new tokens. They also disclose that 95% of the signage at the festival is used at all their events year-round.
In an attempt to slash its carbon emissions, Awakenings offers a 100% vegetarian menu throughout the entire festival! And I have to say that even the meat lovers in our festival crew were not left disappointed by what's on offer. You could still all get your hands on all your festival favourites but they had all been adapted with tasty vegetarian substitutes. By eating completely vegetarian for the duration of Awakenings Summer Festival 2022, we saved approximately 2 tonnes of CO2 emission!
Awakenings intends to keep its dancefloors as clean as possible! Festival-goers could even pick up a free pocket ashtray to collect their cigarette buds and avoid throwing anything on the ground.
They've worked with 'Trees for All' since 2011. They plant trees on the festival's behalf, to compensate for their Co2 emission. For their 20-year festival anniversary, 2020 trees were planted in the Netherlands and Uganda.
Travelling to the Netherlands can be quite an expensive excursion if you don't plan your trip ahead of time. Use the tips below to make your trip to the festival as cost-efficient as possible!
Book your flights and travel early! 

As soon as you know when Awakenings Festival is taking place book everything. If you're arriving in Amsterdam, you'll need to get train tickets and also sort out your shuttle bus ticket (which can be bought with your festival ticket).
Get those early birds before they sell out, they're always considerably cheaper than the final phase ticket release. Make sure you follow Awakenings on social media and sign up for their mailing list to stay on top of ticket release announcements. 
Stay at the festival rather than in town. The campsite packages include your festival ticket and are really good value for money. You'll definitely save on the cost of your trip by staying at the festival versus having to pay for the festival ticket, a hotel and transport to/from the festival all separately.
If you're camping at the festival, bring supplies. Each person is allowed to bring up to 4,5L of liquid into the campsite, of which 1L of alcohol. And you can also bring your own food to the campsite. Food and drinks are cheaper outside of festivals so you'll definitely be able to save a bit if you plan your supplies well enough!
Lockers: I recommend booking your locker when you purchase your tickets through the festival's website. We usually leave jackets and other layers in our locker that we don't need during the day when the sun is out. You'll be given a unique locker number and code, make sure you take a photo or screenshot of this information so you have it handy at all times during the festival.
Glitter & Braiding: situated in the wellness area in both campsites, you can get your hair and makeup done by a team of professionals. From glitter to braiding, they have everything you need to get your rave glam on! You can either show up to the booth at the festival or pre-book before the festival. The pre-booking system opens a few days before the event itself.
Massages: you can also get a well-deserved massage in the wellness area. Pre-booking is recommended to ensure you get a spot, you can do this a few days before the festival. Keep an eye out for an email about it!
Toilets: now this is a given, obviously there are toilets. BUT I like giving mentions to festivals that manage to keep their toilets in good shape throughout a whole event because it takes a lot of work and they deserve some credit for it! Awakenings use flush toilets at their events and have staff regularly checking them and replenishing toilet paper in each cubicle. Really appreciated how clean they were, definitely makes the festival experience even better!
Merchandise: you'll find stands scattered all over the festival, selling the festival's unique and limited edition merchandise.
Wheelchair Access: I recommend contacting the organiser via email to get more information and to arrange your visit to the festival.
Always bring your ID and have a copy of your ticket saved on your phone! You'll need to show both of these to get your wristband and be allowed into the festival.
Ear Plugs: you'll need to keep your ears protected. Long or repeated exposure to loud sounds can cause long-term damage to your eardrums, don't risk ruining your hearing, think of all the festivals you have yet to explore.
Don't let yourself get dehydrated: the festival takes place during one of the hottest weeks of summer so be mindful of your water consumption. There are free water refill stations at the festival so you can top up as many times as you need! 
Take care of yourself: if you or anyone in your group feels unwell, don't be afraid to approach the paramedics at the medical tent. Particularly if you've taken something and had a bad reaction to it. Don't hesitate to reach out for help.
Check the weather before going: unfortunately it isn't uncommon for the weather to be miserable in July in Europe. Don't assume it's going to be warm and sunny, keep an eye on the forecast and pack accordingly.
Pay cash(less): the festival accepts both cash and cashless payment methods. You'll need to buy tokens first before being able to buy any drinks or food at the festival.
Zero tolerance policy on narcotics: this goes without saying but they have pretty thorough searches at the entrance of the festival. If you're found with anything you will get kicked out and the police may even get involved
Need more festival tips before heading to Awakenings Festival? Check out my top tips on how to survive music festivals!
Share this post with your festival crew so you can plan your Awakenings adventure together!