From its humble beginnings in 1997 at the Gashouder in Amsterdam to becoming a global phenomenon on the electronic music festival circuit, Awakenings celebrated its 25th anniversary with an event like no other. For the first time ever, the festival took place in Beekse Bergen (in Hilvarenbeek), a safari park situated a mere 2 hours from Amsterdam. 
This was the first year Awakenings Summer Festival extended its program over 3 days, previously the event ran over just a weekend. Awakenings Summer Festival not only showcased a new location but also a new campsite, activities program, sustainability pillars and much more. 
With a new site and an extra day, it meant that festival revellers were treated to even more stellar techno moments. More than 130 of the world's finest techno artists got behind the decks across the festival's 13 stage areas and played to over 14,000 campsite visitors and over 100,000 day revellers, spread over Friday, Saturday and Sunday.
Keep reading to dive deep into the festival's newest features and my experience at this year's edition!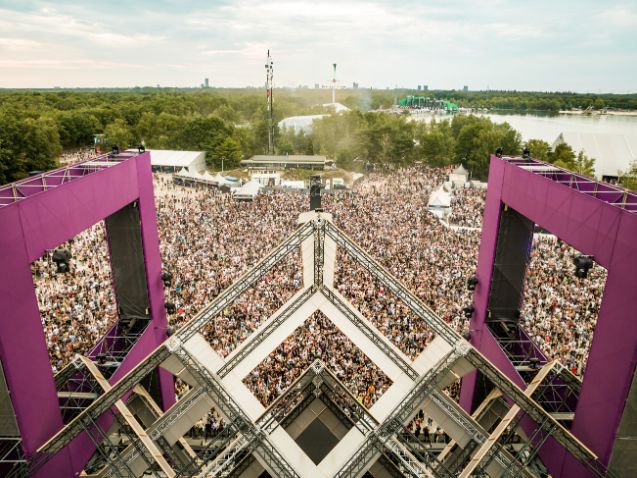 The Festival Grounds & Campsite
This year Awakenings Summer Festival was hosted in a brand-new location, allowing it to do a complete revamp of the festival grounds and add a campsite so you could stay onsite. The new expansion makes Awakenings the first multi-day techno festival in the Netherlands to host a campsite, filling a gap that has existed in many techno enthusiasts' summers for a long time. You could live and breathe techno for a full three days and nights. 
The new festival set-up included some intimate stages next to the big iconic stages Awakenings is renowned for. Each stage area flaunted its own distinct vibe and experience, the whole thing was truly spectacular. One thing that really stood out was their recreation of the legendary Gashouder, curated into a stage in the woods at the festival.
With new locations come new problems, it can sometimes take several years for a festival to get adjust to new grounds. But this couldn't be further from what I witnessed at Awakenings Summer Festival, the entire experience was seamless. From the moment we arrived to the moment we departed, everything was easy and well thought-through. Their experience and ingenuity really came through here. They certainly deserve every accolade they've ever earned as they continue to showcase groundbreaking events.
Activities & Installations
On top of the festival's amazing techno lineup, Awakenings Summer Festival also hosts activities and a wellness program. This included a sports program hosted by OneFit, that offered various activities including Techno yoga, a pillow fight and the sanctum signature sequence. Situated on the campsite's beach, once you were done with your workout you could bask in the sun or have a go on one of the SUP boards and catch a glimpse of the festival site across the water. The setting was truly spectacular, a perfect environment to hit refresh on the previous night's shenanigans and get going for another day at the festival's stages.
If getting your body moving wasn't your thing, you could head over to the wellness area to enjoy a well-deserved massage or take a dip in one of their cooling tubs to detoxify and get your body ready for the day. A team of makeup artists and hair braiders were also available throughout the weekend to get your rave looks on point for the festival. 
Once the campsite activities subsided, festival-goers would head to the festival grounds where a number of art installations could be found lurking throughout the grounds, in between stages and in the woods. Going on the hunt for these installations meant we got to see every corner of the site. The magic was really in the details at this festival, so much thought had gone into curating something completely unique and special. 
After the sun had set, the campsite cinema program would get underway. They played a range of classic movies like Trainspotting, a documentary of Laurent Garnier and many more.  Wandering back to the campsite and retreating to the cinema was always a really nice option if we needed a little break between sets. 
Overall, the range of activities offered was impressive. There was a little something for everyone and the program ran all day, which meant that no matter what, there was always something you could take part in. They provided ample opportunities to unwind, rejuvenate and also take the time to meet other ravers. The campsite at Awakenings Summer Festival is certainly just as spectacular as its festival grounds and music lineup. 
Keeping the Planet Awake!
The festival's sustainable initiatives did not go unnoticed! Awakenings continues to make strides with its forward-looking sustainability program and is paving the way for a more earth-friendly future for the events industry.
They work with a deposit system on all cups, cans, and bottles. When you get your wristband scanned at the entrance, you receive a free recycle token which you can use at the bar when ordering your first drink. All empty cups, cans, and bottles then need to be returned to the bar for a new drink or to a recycling point for a recycle token. By doing this, they can ensure that all materials are collected and sorted in the right containers. After the event, every material is recycled, right down to the recycle tokens which are cleaned and reused for future events.
In an attempt to slash its carbon emissions, Awakenings offers a 100% vegetarian menu throughout the entire festival! And I have to say that even the meat lovers in our festival crew were not left disappointed by what's on offer. You could still all get your hands on all your festival favourites but they had all been adapted with tasty vegetarian substitutes. By eating completely vegetarian for the duration of Awakenings Summer Festival, we saved approximately 2 tonnes of CO2 emission!
Awakenings intends to keep its dancefloors as clean as possible! Festival-goers could even pick up a free pocket ashtray to collect their cigarette buds and avoid throwing anything on the ground.
And this doesn't even scratch the surface on what they do to be more sustainable! If you'd like to know more, head over to my festival guide for a more detailed report of their ongoing sustainability efforts!
A Final Word…
Needless to say, this festival now has a very special place in my heart and I will without a doubt return to their grounds again in the future. From the music to the setting and even the organisation, I haven't seen anything quite like it before. I am still quite bewildered by the whole thing, it almost felt too good to be true. I will forever be grateful for the memories that we made at Awakenings Summer Festival.
Wishing you could have been there? The good news is you don't need to wait until next summer to experience an Awakenings event! They recently announced their programme for ADE, which includes 9 shows in two locations and features top-tier artists such as Adam Beyer, Amelie Lens, Charlotte de Witte, Reinier Zonneveld and many more!
Share this post with your festival crew so you can plan your Awakenings adventure together!
Photo source: Rachel Ecclestone, SPARK, Mark Vermeule, Stef van Oosterhout for AWAKENINGS