Awakenings, the very name that's become synonymous with world-class electronic music in The Netherlands, has outdone itself during this year's Amsterdam Dance Event (ADE). Celebrating a legacy that extends beyond two decades, their events are the epitome of electronic music excellence. As someone who has previously delved into the magic of their Gashouder parties, 2023 was a reaffirmation of their unparalleled presence in the global techno scene.
Starting the year with a bang at the Gashouder with their New Year's party, they've journeyed through events in Eindhoven, the hallowed Easter shows, Awakenings Spring Festival and culminated in a crescendo with the 3-day Awakenings Summer Festival, attended by nearly 100,000 techno enthusiasts. Their commitment to the craft was palpable.
ADE 2023 witnessed Awakenings taking over not only the historic Gashouder but also the massive Ziggo Dome, with a total of 9 events spanning both venues. The capacity of the Ziggo Dome is a testament to Awakenings' growth and popularity – these were grand shows, and each seemed larger than life.
My experience at Adriatique Presents 'X' was nothing short of mesmerising. Olympe's ethereal beats seamlessly transitioned into AE:THER and Innellea's dynamic techno, while Âme infused the atmosphere with soulful electronica. Headliners Adriatique masterfully blended dark and melodic techno with house nuances, while Anfisa Letyago closed the night with a fiery techno set. 
My ADE experience culminated at the Sunday closing party, an ensemble of techno's finest. Brina Knauss set a mysterious tone, followed by NTO's rhythmic live set. NTO's live set, an orchestration of cinematic layers combined with rhythmic beats, was a true spectacle. Kevin De Vries's riveting techno sets juxtaposed beautifully against Stephan Bodzin's harmonic synthesis. Kölsch, with his emotive interplay of house and techno, set the stage for Mind Against, whose progressive house beats fused flawlessly with deep techno, marking a poignant end to an unparalleled techno sojourn. 
At other notable Awakenings events, techno stars such as 999999999 and I Hate Models radiated raw, unfiltered techno prowess. Amelie Lens delivered her signature pulsating beats, but it was Reinier Zonneveld's continuous live set, starting the evening and seamlessly going back-to-back with other industry heavyweights, that spotlighted Awakenings' unmatched ability to curate unforgettable techno moments.
But it wasn't just about the music. For the first time, Awakenings introduced workout sessions at the Gashouder for charity, in partnership with Saints & Stars. With sessions led by artists such as Joyhauser, Samuel Deep, and Prunk, the proceeds were channelled to the Johan Cruyff Foundation – a noble cause ensuring children and young people have access to sports.
The Gashouder, with its iconic dome and historical significance to both ADE and Awakenings, was once again the heart of the party. This venue, dating back to the Awakenings' first techno night in 1997, elevates every event to a mystical experience. And this year, they reintroduced their legendary disco ball and fireworks. But what caught everyone's attention was the roof of the Gashouder – lit up like stars in the night, it added another layer of transcendence to the atmosphere. The pièce de résistance, however, was the halo light designed by Dutch creator Nick Verstand. Descending from the very ceiling, it surrounded the disco ball, creating an ethereal dance of light that then moved above the crowd. It was a sight to behold – a living testament to Awakenings' commitment to innovative and immersive production.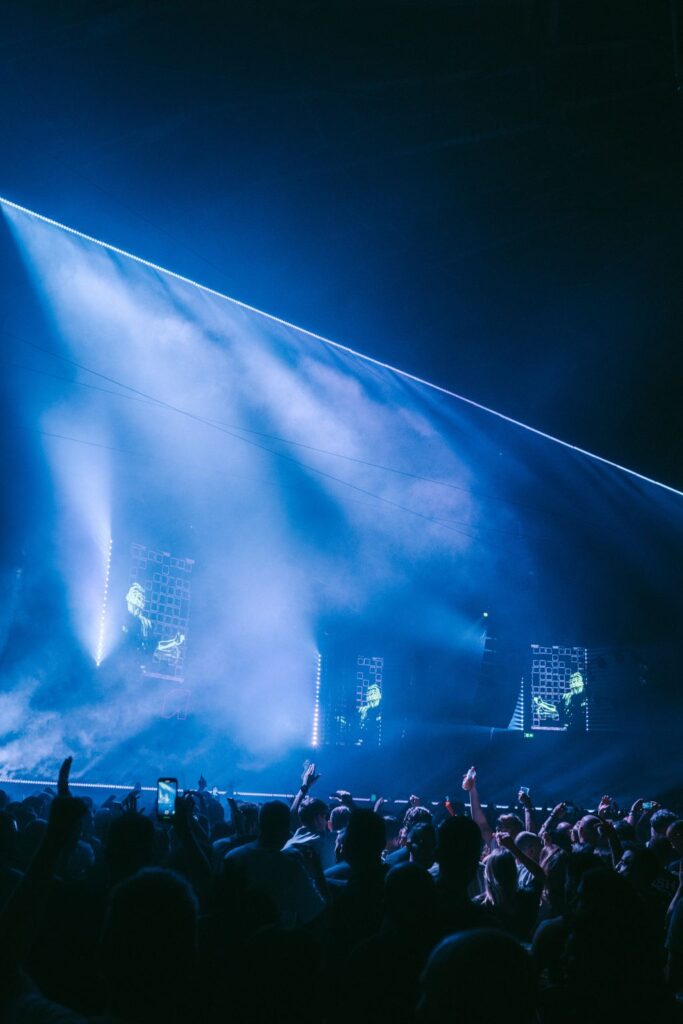 The feeling of nostalgia at the Gashouder was palpable. The infectious energy of artists was met with the electrifying ambience of the crowd. Everywhere you looked, there were faces painted with awe and pure joy. From seasoned Awakenings veterans to first-timers, every single soul was entranced by the harmonious blend of music, light, and unity.
The atmosphere was simply electric. A global community of techno lovers came together, bound by rhythm and beats. The sheer diversity of the crowd, from young ravers to longtime aficionados, contributed to a setting where music transcended age and background. It was a vivid reminder of how Awakenings continues to resonate across generations, creating moments of shared euphoria.
In essence, as we reflect on ADE 2023 and look forward to their end-of-year shows, one thing remains evident: Awakenings continues to redefine the techno landscape, and with each event, they solidify their status as the world's premier techno experience. All eyes are on Awakenings' electrifying New Year's Eve lineup, spanning from the 28th to the 31st of December. These nights promise unparalleled techno immersion. Furthermore, 2024 beckons with the Eindhoven events, guaranteeing another dose of Awakenings' magic. Dive in, and let the rhythm carry you into a new year of techno adventures!