As someone with an insatiable hunger for unique festival experiences, I've roamed from event to event, seeking those rare, transcendental moments where sound, sight, and soul converge into something extraordinary. This year, the quest led me to Mysteryland 2023. It's a festival that has always beckoned me with the promise of the extraordinary, wrapped in its mantra: "Yesterday is History, Today is a Gift, Tomorrow is a Mystery."
The vivid allure of Mysteryland isn't just in its music, or the intricate tapestry of stages that stretch across its sprawling grounds, but in its soul. This year, the festival was celebrating a milestone: 30 glorious years of being at the forefront of the event industry which makes them the longest-running electronic music event in the world. And oh, did they celebrate it well! Here's a look into a weekend that beautifully coalesced the past, present, and future.
The Music & Stages
From Techno to Hardcore, the musical landscape at Mysteryland was nothing short of an auditory playground. With a dizzying array of over 300 artists across 22 stages, the festival was a testament to diversity. 
Mysteryland 2023 took festival-goers on a musical journey like no other. With stage takeovers from Heldeep, Drumcode (making its Mysteryland debut), Q-dance, Thunderdome, and PIV, the event showcased an unparalleled blend of styles and genres that kept the energy pulsating throughout the weekend.
The MainStage had us grooving to beats from renowned artists like Timmy Trumpet, Alesso, and Hardwell. But next to this, the festival also aims to put the spotlight on emerging talent and artists who had never played at Mysteryland before. The weekend thus introduced us to a fresh, progressive sound palette featuring names like Hugel, HI-LO, Marten Hoger, and Laura van Dam. These new stars shared the lineup with bigwigs like Adam Beyer, Ben Nicky, Headhunterz, and James Hype, as well as techno legend Sven Väth.
The stages were nothing short of a spectacle. From jaw-dropping open-air dance floors to atmospheric tents draped in industry-leading production, each stage had its own unique flair and character. The visuals and sets were a feast for the senses, creating an environment where each artist could fully express their artistry.
The MainStage felt like a hymn to our collective yearning for freedom and artistic expression. Its iconic, durable golden inflatable half-mask, designed for longevity, sat side by side with two smaller masks from the 2006 Dreamshow. It was a tribute to both nostalgia and the future.
"Technical ecstasy" is how I'd describe the Soundrush/Trance Energy/Nachtcollege area. This was Mysteryland's pièce de résistance in stagecraft, complete with motion in the roof that took you to a different realm.
The Campgrounds
As soon as you step into the Mysteryland campgrounds, you realise this isn't just a place to sleep—it's a festival in itself. 
If dancing tires you out, the Wellness area offers timely massages to rejuvenate your spirits. Those looking for a leisurely break can find solace in the comfort camping exclusive swimming pool, a refreshing oasis amid festival chaos.
The camping terrace serves as the camp's social hub, perfect for meeting fellow festival-goers and sharing stories over a cold drink. Looking for nostalgia? Dive into the Arcade, where old-school games offer a fun break from music and dancing.
For the fitness enthusiasts, morning workout sessions await, while the Breakfast Club provides a meal and a show. It's a whimsical way to start the day, with performances from the festival's mysterious creatures.
For a touch of luxury, the Greenhouse restaurant offers an organic breakfast buffet in an idyllic setting by a serene pool. It's the perfect recharge spot before diving back into the musical melee.
And as Mysteryland proper winds down, the campgrounds kick into high gear with an afterparty program running from 11 PM to 3 AM. Because at Mysteryland, the party never really stops.
In a nutshell, the Mysteryland campgrounds are a universe of their own, offering an array of experiences that enrich the festival's musical journey.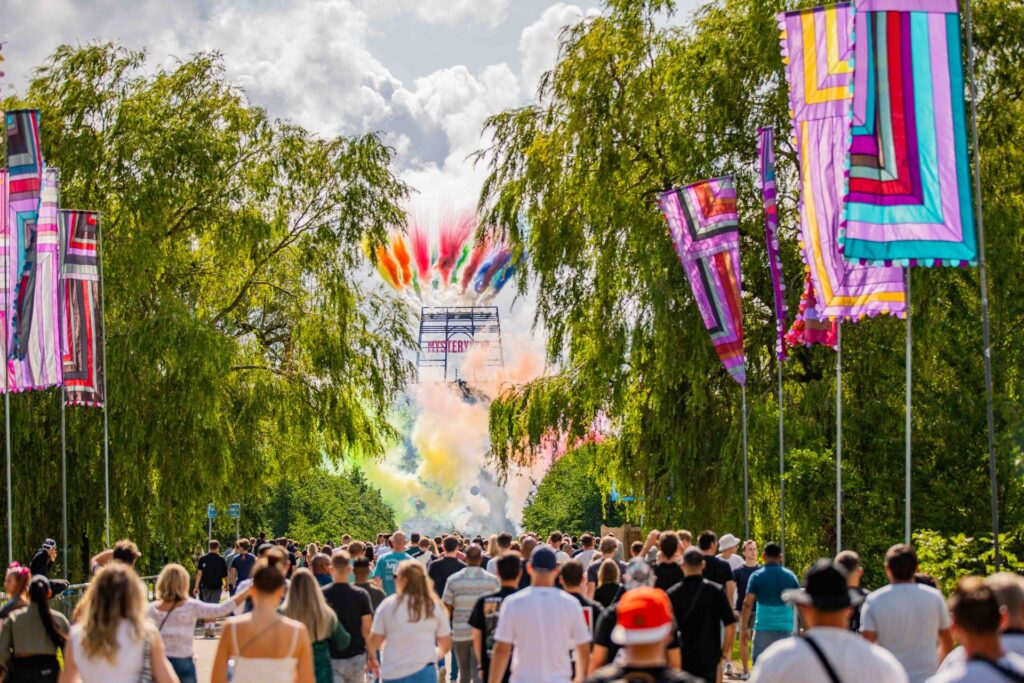 The Festival Grounds and Activities
But what sets Mysteryland apart from the rest are the quirks, and hidden gems that make it a wonderland of experiences. First off, there's the Moonshine Barn, a successor to last year's Psychedelic Farm. This is not just a venue but a family—an inclusive, diverse gathering space where the cabinet of curiosities makes the extraordinary feel completely ordinary.
For those willing to bare it all, the nudist beach offers an escape from societal norms. Here, clothing is irrelevant, and self-expression is king. You can even get your portrait done by a Bob Ross look-alike or lose yourself in ecstatic dance.
If heights are more your thing, the intricately coloured stairs lead you to a viewpoint that offers a panoramic vista of the festival. At the top lies the blackbox—an audio-visual capsule that guides you through the 30-year history of Mysteryland, providing context to the present-day revelry.
Even the Mysteryland pond got its share of the spotlight, adorned with sound and light installations that turn it into an immersive visual spectacle.
And for those looking for love, or at least a connection, the Subs&Singles Café, hosted by Sergio Vyent from the TV show First Dates, offers a chance to meet your festival soulmate. 
But perhaps the most peculiar of all is Peepshow Bingo in collaboration with Holland Casino. It's bingo, but not as you know it—a risqué, whimsical game that leaves you questioning the nature of reality itself.
And oh, the food! Eighty-plus food trucks turned Mysteryland into a foodie's paradise, serving everything from gourmet wood-oven pizzas to exotic Thai cuisine, from organic fries to luscious smoothies and cocktails.
These intricately designed experiences turned every corner of Mysteryland into an adventure waiting to be discovered. 
A Final Word
As the last notes fade away and the sky is set ablaze by the grand finale of fireworks, I can't help but feel a mixture of exhaustion and exhilaration. Mysteryland 2023 was a voyage—a journey that has spanned the far reaches of musical genres, self-expression, and human connection.
This is not just a festival; it's a living, breathing entity that celebrates not just music but life in all its complex, beautiful, and sometimes utterly weird and wonderful forms. Until next year, Mysteryland, you'll remain etched in my memory as a vivid tapestry of sound, colour, and unforgettable experiences. Thank you for being more than a festival; thank you for being a revelation.