In celebration of its 30th edition, Mysteryland returns with an even more impressive and diverse lineup for the summer of 2023. As the festival has evolved over the years, so has its reputation for delivering an unforgettable experience filled with music, art, and culture. If you're considering a trip to Mysteryland and need help planning your adventure, you've come to the right place! Below you'll find all the tips and advice you need to make the most of your festival experience.
When is the next Mysteryland? 25-27 August 2023
What can you expect to hear at Mysteryland? Electronic Dance Music, House, Techno, Trance, Drum & Bass, and more.
Where? Haarlemmermeer, near Amsterdam, the Netherlands
What's the local currency? Euro
What's the local language? Dutch (but English is widely spoken and understood here!)
With this information in hand, you're ready to start planning your unforgettable journey to Mysteryland, one of the most iconic and diverse electronic music festivals in the world!
In 2023, Mysteryland is celebrating its 30th edition with a multi-day festival, featuring a diverse lineup of the world's top electronic music acts.
Mysteryland is one of the world's longest-running electronic music festivals, with a history dating back to 1993.
Mysteryland is part of a wider portfolio of events organized by its parent company ID&T. They plan several events throughout the year, including Sensation, Tomorrowland, and Amsterdam Dance Event.
Their productions are globally renowned for their impressive stages, immersive experiences, and unforgettable performances. Over the years, millions of people have attended ID&T's events, solidifying Mysteryland's reputation as a premier electronic music festival.
Ready to dive into the magical world of Mysteryland? Let's find the perfect ticket option for you:
Day Tickets: Just in town for a day? No worries! Grab a Saturday or Sunday ticket and join the party for your chosen day.
Premium Day Tickets: Make your single-day Mysteryland experience extra special with a Premium Day Ticket, available for both Saturday and Sunday. You'll enjoy fastlane entrance and access to the exclusive premium decks. Talk about living the high life!
Camping + Festival Ticket: Are you all in for the full Mysteryland adventure? This option has you covered with access to the camping grounds and the festival on all days. Time to set up camp and make unforgettable memories!
Camping + Premium Festival Ticket: Ready to level up your festival experience? This ticket includes camping access, premium fastlane entrance, and premium deck access throughout the entire weekend. Embrace the luxury while staying close to the action!
Premium Weekend Ticket: For those who want the best of both worlds – the full weekend festival experience combined with premium perks – this option offers fastlane entrance and premium deck access, all without camping accommodations.
And guess what? Mysteryland is all about making their magical experience accessible, so they offer payment plans for all ticket types. Now go on and choose your adventure!
Mysteryland, an enchanting festival nestled in the beautiful location of Haarlemmermeer, near Amsterdam, is calling your name! Located about 25km South-West of Amsterdam and 5km from Amsterdam Airport Schiphol. To make sure you easily reach this magical destination, let's explore the various transport options available for your journey.
If you're coming from overseas to attend Mysteryland Festival you might find it's easier to fly to Amsterdam first before heading to Haarlemmermeer where the festival is located. You can refer to my Guide to Travelling to Amsterdam. There you'll find information on how to reach Amsterdam by plane, train, and coach.
GETTING TO THIS FESTIVAL
BY TRAIN
If you're flying into Amsterdam Schiphol Airport or travelling to Mysteryland by train, start your journey at Hoofddorp Station. From the airport, it's a super short 4-minute train ride, and you're on your way!
From there, you can either get on the festival's shuttle service or get a taxi/Uber to the festival, more info on both options is below!
Plan your train journey using ns.nl or their app, and get ready for an unforgettable experience.
BY SHUTTLE BUS
Once you reach Hoofddorp Station, the magic begins with the Mysteryland shuttle bus service. Available on Friday, Saturday, Sunday, and Monday, these buses will whisk you away to the North entrance of the festival. Keep in mind that there's a short walk to the camping entrance, but think of it as a warm-up for all the dancing you'll be doing!
BY BICYCLE OR SCOOTER
Staying nearby? Ride your bike or scooter to the festival. 
If you plan on cycling there, use this address for your GPS: Stelling, Vijfhuizen
As you approach the GPS location, then follow the bicycle signs and park in the designated areas. 
BY CAR
Driving isn't the top choice due to possible delays, but if it's your only option, use 'Stelling, Vijfhuizen' as your GPS address. Once you get close to the festival site, follow the parking signs and pay close attention to the traffic personnel's instructions.
BY 'KISS & RIDE'
Getting dropped off by a friend or family member? Have them use 'Stelling, Vijfhuizen' as the GPS destination, then follow the signs to the 'Kiss & Ride' area near the festival's North entrance. When it's time to leave the festival, head to the designated 'Kiss & Ride' pick-up spot via Exit North.
BY TAXI/UBER
For Uber users, the pick-up point is conveniently located near the festival's North entrance. When it's time to head home, use Exit North and follow the Uber signs. Keep in mind that waiting times may be longer and prices could be higher after the festival. Use 'Stelling, Vijfhuizen, The Netherlands' as the navigation address.
If you opt for a taxi, use the same address and follow the Taxi signs. When leaving the festival, make your way to the Taxi pick-up point via Exit South. Just remember that taxi availability might be limited, and prices could be unpredictable.
Now that you know all your transport options, your Mysteryland adventure awaits!
CAMPING/ON-SITE ACCOMMODATION
Mysteryland's camping grounds welcome dedicated festival-goers from Friday to Monday, offering a vibrant space to relax, socialise, and enjoy the festival atmosphere. Located right beside the festival terrain, the campsite features a food court, 24h store, hot showers, tap water bar, hair salon, coffee bar, cocktail bar, styling salon, dress-up stand, yoga, massage, chill-out areas, and more.
Bring Your Own Tent: With a Camping + Weekend ticket, you'll have access to the campsite and enjoy 3 days of festival fun, including pre- and after-parties. Pack your own tent and camping gear and join the party!
Pre-setup Camping Options: If you'd rather not bother with setting up your own tent, Mysteryland offers pre-setup accommodations. Choose from regular camping packages or luxurious comfort camping packages, complete with beds or air mattresses.
Comfort Camping: For a more luxurious festival experience, the Comfort Camping area provides exclusive deluxe facilities like a swimming pool with sunbeds, breakfast & coffee service, wellness facilities, massages, a make-up room, free showers and toilets, fast lane entry, and a welcome gift.
Friends Field: Traveling with a large group? Reserve a designated area for 10 to 30 people at the Friends Field, and upgrade your camp with picnic tables or a party tent.
Camper Paradise: Bring your own or rented motorhome for a cozy stay at Camper Paradise. Remember to also purchase a Camping + Weekend ticket.
You can find information about each option on the Mysteryland website.
Practical tips for the campsite
The Hangout: The campsite's social hub, The Hangout, is perfect for chilling with friends or meeting new people. Enjoy food, games, TikTok booths, and more in this vibrant spot.
Exclusive Pre- & After-parties: Camping ticket holders get access to the Campsite-exclusive pre-& after-parties.
Lockers: Plenty of lockers are available for your belongings.
Camping Guardians: For assistance or to make new friends, seek out the helpful Camping Guardians on the campsite.
Showers & Toilets: The campsite is equipped with flush toilets and hot showers available 24/7 for a fee of one token.
Safety: Certain items like glass bottles, candles, torches, fireworks, and open fires are prohibited on the campsite.
Ins & Outs: On Friday, you may leave and return to the terrain to load and unload your belongings. After that, ins and outs will not be allowed.
Cooking: Open fires, camping stoves, and BBQs are not allowed, but food trucks are available to satisfy your appetite.
Electricity: There is no electricity available near your tent, but sockets are available at the showers for hair straighteners, blow dryers, and shavers.
Large Items: Foldable chairs, pillows, blankets, inflatables, and cool boxes are allowed, but carts wider than 90cm are not.
Disabled Accessibility: The festival grounds and campsite are wheelchair-accessible, with disabled toilet facilities and shuttle buses available.
OFF-SITE ACCOMMODATION
Mysteryland offers a variety of hotel packages, which include festival tickets and daily transfers to the festival. You can find details and availability on their online ticket shop.
Alternatively, you can book your own accommodation. Browse options on booking.com and Airbnb for a suitable place to stay during the festival.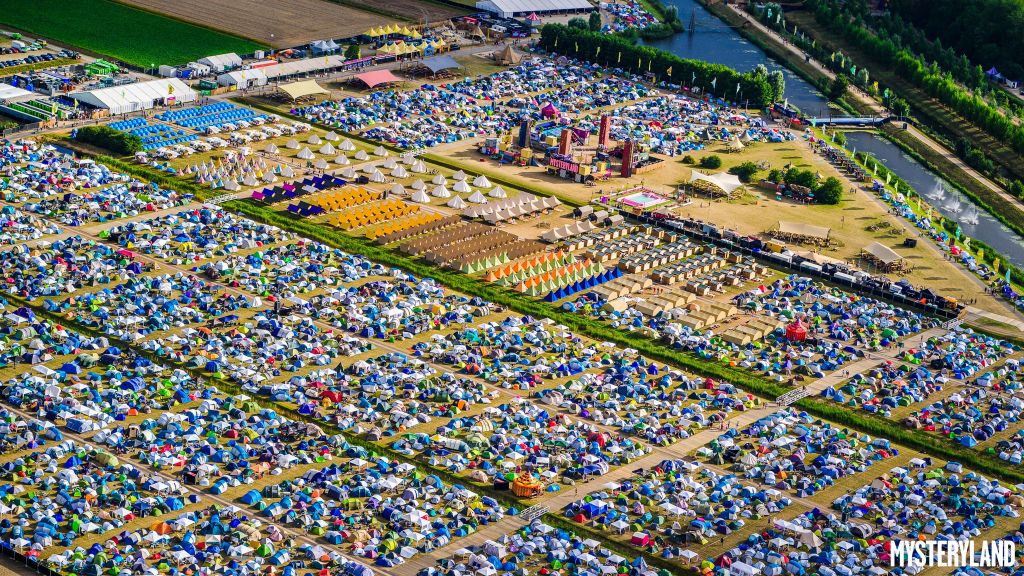 In 2022, Mysteryland made a triumphant return to Haarlemmermeer, treating festival-goers to an unforgettable experience. The event featured 22 stage hosts and over 300 artists, catering to a wide range of musical preferences. From the jaw-dropping main stages to smaller, more intimate stages, Mysteryland offered a diverse and immersive experience for its 133,000 attendees.
Each stage was thoughtfully designed, with unique flair and impressive attention to detail. Standout stages included the mesmerizing Adonis stage, adorned with holographic features that created vibrant reflections in the surrounding trees, and the quirky Wasserette stage, fashioned to look like a launderette, complete with bubbles wafting through the air and clotheslines hanging over the crowd.
The festival grounds themselves were also a sight to behold, featuring a range of extracurricular activities and attractions. Highlights included a secret roller rink atop the legendary 'Big Spotters Hill', complete with a DJ booth built into a giant disco ball, and the 'Healing Garden', a peaceful retreat offering spiritual ceremonies, yoga, meditation, and more.
Food areas were plentiful and diverse, each offering a unique selection of cuisine and entertainment. One notable attraction was the 'Nude' Disco, situated in the middle of a food area, where festival-goers could dance in nude muscle suits to disco and house music.
With its 30th anniversary celebration set for 2023, Mysteryland is gearing up for an even more extraordinary experience. Don't miss your chance to be part of this historic event!
This year's Mysteryland Festival lineup presents an eclectic mix of world-renowned artists, up-and-coming talent, and diverse musical genres. In 2022, the festival hosted over 300 acts across its 22 stage hosts and 3 days.
Attendees enjoyed performances by electronic music legends such as Armin Van Buuren, Carl Cox, Paul Kalkbrenner, and Oliver Heldens, as well as rising stars like ACRAZE and Sub Zero Project. Additionally, Mysteryland featured genres beyond electronic music, including Pop, Afrobeat, Latin, R&B, and Hip-Hop, making it the perfect opportunity to explore new music and genres.
Mysteryland offers an extraordinary atmosphere that is truly unparalleled. Celebrating its 30th edition, the festival has a loyal following of attendees who have been coming back year after year, creating a unique mix of people of all ages coming together to enjoy the music and overall experience. With every genre under the sun represented at Mysteryland, the festival brings together diverse communities and allows attendees to learn more about each genre's distinct culture.
The festival strikes the perfect balance between enchanting and energetic, creating a unique experience for all attendees. As soon as you set foot on the festival grounds, you are immediately immersed in a magical world filled with vibrant colours, mesmerising stage designs, and wonderful surprises around every corner. The crowd is a harmonious blend of enthusiastic music lovers from all around the world, coming together to celebrate their passion for the diverse genres showcased at Mysteryland.
Upon entering the festival, it's impossible not to get swept up in the joy and excitement that permeates the air. The attendees at Mysteryland are incredibly friendly and welcoming, ensuring a fantastic experience from start to finish. Festival-goers fully embrace the spirit of the event, donning elaborate outfits, glitter, and creative makeup, which further adds to the already captivating atmosphere.
The immersive experience of Mysteryland extends beyond the festival grounds, as many attendees stay in the surrounding areas. This creates a sense of camaraderie and shared excitement throughout the entire weekend, fostering a sense of community among festival-goers both on and off the grounds.
Mysteryland delivers an unforgettable atmosphere that blends magic, creativity, and unity. The festival's unique vibes, combined with the passion of its attendees and the rich history of its 30-year legacy, guarantee an experience that you will cherish for years to come.
Mysteryland truly excels when it comes to its food and drink offerings, providing festival-goers with an extensive and diverse selection that caters to all tastes and dietary preferences. The festival organisers have thoughtfully curated a variety of food areas scattered throughout the grounds, ensuring that attendees never have to walk far to find delicious sustenance.
From mouth-watering street food and gourmet burgers to vegan and vegetarian options, the culinary experience at Mysteryland is designed to satisfy even the most discerning foodies. The festival features an impressive array of international cuisines, including Italian, Mexican, Asian, and many more, allowing attendees to embark on a gastronomic journey while enjoying the music and atmosphere.
In addition to the impressive food selection, Mysteryland also boasts a wide range of drink options to quench your thirst. Festival-goers can find everything from refreshing cocktails and ice-cold beers to non-alcoholic beverages and specialty coffees. There are also numerous bars and drink stations conveniently located throughout the site, ensuring that you're never too far from your next beverage.
What sets Mysteryland's food and drink areas apart is the attention to detail and the additional entertainment provided. These areas often feature cosy corners, vibrant decorations, and even their own unique music or performance, making them the perfect place to take a break from the stages while still enjoying the festival vibes.
At Mysteryland, the fun doesn't stop with the music. The festival grounds are brimming with an array of exciting activities and interactive experiences designed to entertain, engage, and inspire. These activities not only offer a welcome break from the non-stop dancing but also create memorable moments that make the festival truly unique.
One of the standout activities at Mysteryland is the secret roller rink located at the top of the legendary Big Spotters Hill. Complete with a DJ booth built into a giant disco ball, the roller rink offers breathtaking views of the entire festival grounds, making it a must-visit attraction.
For those seeking a more serene experience, the Healing Garden provides the perfect sanctuary. This peaceful retreat offers an array of revitalizing experiences, including spiritual ceremonies, massages, yoga, meditation, and more. The Healing Garden allows festival-goers to recharge their minds and bodies, ensuring they are ready to dive back into the festival action.
Mysteryland also features unique and immersive installations, such as the mesmerizing Adonis stage adorned with holographic features that reflect sunlight and create vibrant reflections through the trees. The festival encourages exploration and curiosity, with hidden gems and surprises waiting around every corner.
The 'Nude' Disco is another unforgettable activity that adds to the festival's playful and whimsical atmosphere. Here, attendees can don a nude muscle suit over their clothes and dance the day away to disco and house music with friends, creating a fun and memorable experience.
With a seemingly endless array of activities and attractions, Mysteryland ensures that there is never a dull moment throughout the weekend. The festival's commitment to providing a diverse and engaging experience sets it apart from its competitors, making it an essential addition to any festival-goer's calendar.
Attending Mysteryland can be a fantastic experience, but it's essential to plan and budget wisely to make the most of your trip. Here are some tips to help you have an unforgettable time without breaking the bank:
Book your flights and travel early: As soon as you know when Mysteryland is taking place, start searching for the best deals on flights and accommodations. The earlier you book, the more likely you are to find cost-effective options.
Purchase early bird tickets: Early bird tickets are usually considerably cheaper than the final phase ticket release. Make sure to follow Mysteryland on social media and sign up for their mailing list to stay informed about ticket release announcements.
Stay at the festival: Campsite packages often include your festival ticket and can provide excellent value for money. By staying on-site, you'll save on the cost of hotels and transportation to and from the festival.
Carpool or use public transportation: If you're travelling with friends or meeting people who are also attending the festival, consider carpooling or using public transportation to cut down on individual travel costs.
Bring your own food and snacks: While the food options at Mysteryland are diverse and delicious, bringing your own snacks and meals can help you save money. Just be sure to check the festival's guidelines on what is allowed.
Set a daily budget: Determine a daily spending limit for food, drinks, and merchandise. This will help you avoid overspending and ensure you have enough funds to last the entire festival.
Take advantage of free activities: Mysteryland offers many free activities and attractions, so be sure to explore the festival grounds and enjoy these experiences without spending any extra cash.
By planning ahead and being mindful of your spending, you can enjoy all that Mysteryland has to offer without breaking the bank. Remember, the memories you make at the festival are priceless, so focus on having a great time and making the most of this incredible experience.
Mysteryland offers a variety of amenities to enhance your festival experience, ensuring you have a comfortable and enjoyable time. Here are some of the conveniences you can expect:
Lockers – We recommend booking a locker when you purchase your tickets through the festival's website. Lockers are perfect for storing jackets, extra layers, or any other items you don't need during the day. You'll receive a unique locker number and code; be sure to take a photo or screenshot of this information to keep it handy throughout the festival.
Glitter & Braiding – Located on the main festival grounds, you can find a team of professionals ready to help you achieve the perfect rave look. From glitter to braiding, they offer everything you need to get your festival glam on! 
Massages – Treat yourself to a well-deserved massage in the wellness area. 
Merchandise – Throughout the festival grounds, you'll find stands selling unique and limited edition Mysteryland merchandise. Be sure to grab a memento to remember your unforgettable time at the festival.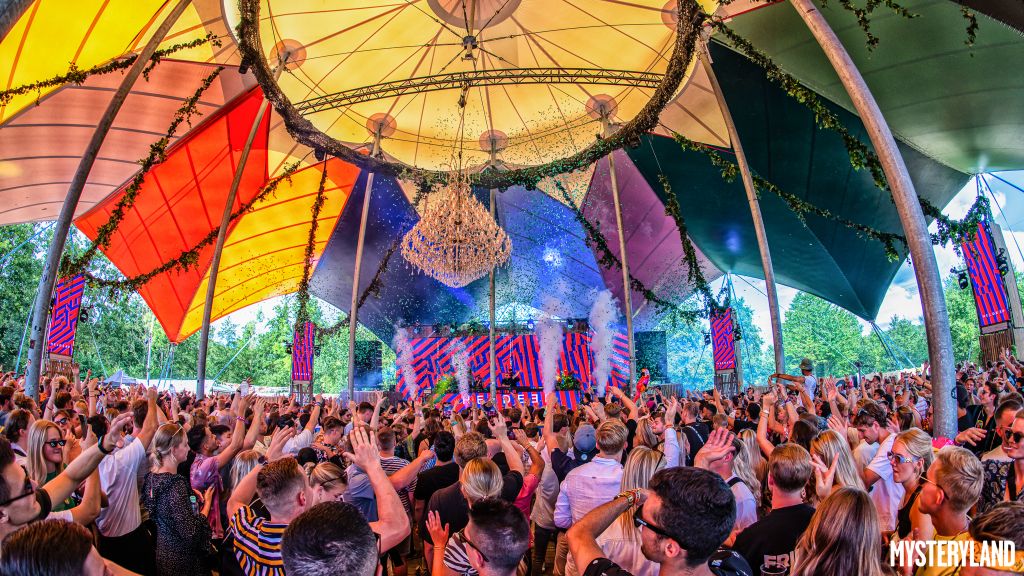 Navigating a festival like Mysteryland can be challenging, but with the right tips and advice, you can make the most of your experience. Here are some helpful suggestions for attending Mysteryland:
Wheelchair Access: If you require wheelchair access, we recommend contacting the organiser via email to obtain more information and arrange your visit to the festival.
Don't Forget Your ID and Ticket: Always bring your ID and have a copy of your ticket saved on your phone! You'll need to show both of these to receive your wristband and gain entry into the festival.
Earplugs: Protect your hearing by wearing earplugs. Long or repeated exposure to loud sounds can cause long-term damage to your eardrums, so don't risk your hearing, especially with many more festivals to explore.
Stay Hydrated: Mysteryland takes place during the summer months, so it's essential to stay hydrated. Free water refill stations are available throughout the festival grounds, so be sure to top up as needed.
Take Care of Yourself: If you or anyone in your group feels unwell, don't hesitate to seek help from the paramedics at the medical tent. Your safety and well-being are of utmost importance.
Check the Weather: Keep an eye on the forecast and pack accordingly. Weather can be unpredictable, so it's best to be prepared for any conditions.
Go Cashless: Mysteryland uses a cashless payment system for food, drinks, and other purchases. You'll need to top up your festival wristband with credit beforehand, which can be done online or at designated locations at the festival.
Zero Tolerance Policy: The festival maintains a strict zero-tolerance policy for drugs and illegal substances. Thorough searches are conducted at the entrance, and anyone found with prohibited items will be removed from the festival, with potential police involvement.
Familiarise Yourself with the Schedule and Map: With so many stages and acts, it's essential to have a plan. Download the Mysteryland app, which includes the schedule, map, and other useful information, to help you navigate the festival with ease.
Are you heading to Mysteryland with your festival crew? Share this post with them now to plan your trip together!