If you're heading to Wonderfruit and you're not sure how to pack for the festival, then you've come to the right place! The following Wonderfruit Festival packing guide covers a list of must-haves that will help you get the most out of your experience. Happy packing Wonderers and see you in The Fields!
1. You will need a great pair of sunglasses and a sun hat.
Wonderfruit Festival covers acres of land, which means you'll be exposed to a lot of direct sunlight when exploring the festival grounds in the daytime. A good pair of sunglasses and a sun hat will protect you from the sun. If you have sensitive skin, a light kimono is also a great way to cover your shoulders and can also complement your festival outfit.
2. Comfy shoes are a must!
You'll be covering a lot of ground in your Wonderfruit Festival adventures. And not only are The Fields enormous, but you'll be faced with all sorts of landscapes, from flat grassy plains to dusty ridges, and everything in between. I recommend wearing comfortable all-terrain footwear to avoid getting blisters on your feet. Avoid new shoes and anything with too much of a heel.
3. You'll need activewear and swimwear during the day.
The day programme invites you to take part in a number of activities and workshops. Activewear is perfect for getting involved or simply for lounging around the campsite or festival grounds. Keep in mind that there are also water sports and a gorgeous swimming area just a short distance from the campsite. You'll definitely want to take a dip when it gets too hot outside!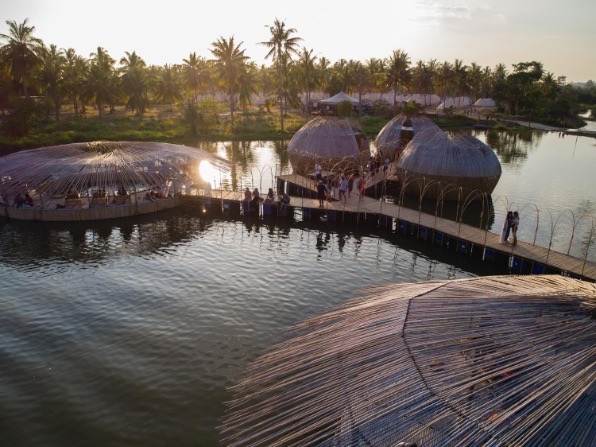 4. Go all out with your evening outfits.
One of my favourite parts of Wonderfruit Festival is the dressing up! Once the daytime activities have subsided, Wonderers go back to camp to change into their evening outfits and this is when things really begin to pick up at the festival. Everyone gets so creative, it's beautiful to see! So don't be afraid to stand out with your outfits, pack some attention-grabbing pieces, sustainable glitter and more! 
5. Wonderfruit has a bring your own cup policy.
In line with their commitment to being sustainable, Wonderfruit Festival have banned all single-use plastic cups and containers from their festival grounds. Don't forget to pack a reusable cup to buy drinks at the bars and a reusable bottle to get water at the free refill stations (you'll save a lot of money doing this!).
Need some more ideas on how to make your festival adventures more sustainable? Check out this guide!
6. Bring your own portable charger.
There are a number of charging stations scattered all over Wonderfruit Festival, but this means that you'll be tied down for a while each time you need to charge your phone. Having your own portable charger means you can charge on the go!
7. Complete your look and cool yourself down with a handfan.
Handfans are not only a funky accessory that can tie in your whole festival look but it's also an absolute must when you're attending a festival in Thailand. A handfan will help cool you down when the temperatures peak and when you're in the crowd!
8. Store your valuables in a fanny pack.
Avoid leaving any valuables in your tent and take them with you on the go in a stylish fanny pack. I also like to bring a tote bag to Wonderfruit for my daytime adventures, to carry anything I need for activities or to bring anything I buy or make in workshops back to camp.
9. Protect your ears with hearing protection.
Long or repeated exposure to loud sounds can cause long-term damage to your eardrums, make sure you pack hearing protection. Don't risk ruining your hearing, think of all the festivals you have yet to explore!
10. If you're a light sleeper, don't forget an eye mask and earplugs.
Sleep is essential at a music festival, you'll enjoy every waking hour a lot more if you're not tired. If you're worried about not getting enough sleep, pack an eye mask and earplugs. Or anything that makes you feel more at home and at ease whilst camping for that matter!
11. Pack a couple of light layers for when the sun sets.
Don't get me wrong, it never gets cold in Thailand, but the temperatures (particular in December) can certainly drop in the evenings. I have found myself needing a light layer over my outfit (cardigan or kimono) after the sun sets.
Can you think of more items that are essential for a Wonderfruit experience? Share your answer in the comments for other Wonderers to see!
If you need more help planning your trip to Wonderfruit Festival, make sure you check out my full festival guide my full festival guide now!
Photo credits: Wonderfruit Festival