Wonderfruit is back and is looking like it's going to be bigger and better than ever before. Wonderfruit is a celebration of art and music that promotes sustainability and change through positive impact. This wonderful festival boasts an extremely versatile programme which includes musical performances, art installations, workshops, talks, activities and even banquets hosted by renowned chefs. From young children to adults, Wonderfruit offers a little something for everyone. There's no other festival like it and should be at the top of your festival or travel bucket list if you're passing through Thailand in December! This is The Nitty Gritty Guide to Wonderfruit!
When did I attend? 2017, 2018, 2019
When is the next Wonderfruit? 15-18 December 2022
What do you hear at Wonderfruit? An eclectic mix of music genres, anything from Indie to Rock, Techno to Disco, and more…
Where? The Fields, Siam Country Club, Chon Buri
What's the local currency? Thai Baht
What's the local language? Thai
The first edition of Wonderfruit was held in December 2014.
For four years Wonderfruit was held in the same location but for the first time in its history is moving to new land. The festival will still be held within the same compounds but built on new landscape so promises to have some new exciting features and structures.
Wonderfruit is founded on six pillars: Music, Arts, Family, Farm to Feasts, Wellness & Adventures, Talks & Workshops. Reading up on these will help you better understand the underlying concepts of the festival.
A heavy emphasis on sustainability and social responsibility is put on Wonderfruit, which aims to educate festival goers on how they can make changes to their lifestyles which can benefit the environment and their communities both on-site and off-site.
Wonderfruit is a family friendly event, the festival gives access to all ages (and even to dogs!).
Early Birds for Wonderfruit 2020 are on sale now!
There are several ticket types for Wonderfruit which are very flexible and easy to mould around any schedule. Below are the various tickets types that you can choose from.
Tickets are released in phases, from Early Bird (usually released as soon as the end of the previous Wonderfruit) to last release online and then tickets on the door. It's best the get them as soon as you can, the price difference between the first and last phase is quite substantial!
You should know that tickets are non-refundable however they are transferrable, you'll need to get a hold of you booking confirmation and contact the ticketing agent.
All children under the age of 12 go to Wonderfruit for free! And they must be accompanied by an adult (20+) at all times. When completing your online purchase you need to specify that you'll be coming with an accompanying child. This means that anyone 13 years and older needs to get a pass to enter the festival grounds so make sure you get enough tickets for the whole family!
Upon completing your purchase you'll be sent an email confirmation. Best thing to do is to save them somewhere you'll know you'll find them closer to the time of the festival as you'll need the QR codes in that email to get your wristband and make your way into Wonderfruit!
You'll need to pre-register your ticket before the event, this will guarantee an easier check-in process at the festival upon collecting your wristband and you'll also be send a whole bunch of benefits to your email! You don't need to pre-register your child (under 12 years) or your dog.
Each ticket purchased grants one person entry into Wonderfruit. The general admission passes do not include any camping passes, see below in 'Accommodation' for more information about which passes you need if you plan to stay On-Site. If you purchase On-Site Accommodation Passes you will be given another wristband that will act as your key into your designated campsite.
FULL PASS
The 5-Day Pass (or Full Pass) lets you enjoy Wonderfruit for the full four days. You'll be able to enter as soon as 4pm on Thursday afternoon. If it turns out you're unable to make it on the Thursday you'll be able to get entry on the following day, your ticket will not be voided simply because you couldn't enter on the first day.
WEEKEND PASS
The Weekend Pass gives you admission to Wonderfruit on Saturday and Sunday only. You'll be able to access the site from 8am onwards on the Saturday.
SUNDAY PASS
You'll be able to get access into the festival site on Sunday only from 8am onwards with the Sunday Pass.
PARTY PASS
The Party Pass is a great way to both save money and encourage your friends to come to Wonderfruit! It is designed for a group of 10 adults (over the age of 20) and grants admission for each individual for the full four days. Definitely worth having a look at as this group bundle works out cheaper than buying an individual Full Pass…
DOG PASS
It wouldn't be a family friendly event without being able to bring your dog to the festival! The Dog Pass grants entry to one dog for the full four days. All dogs must be accompanied by their owner and kept on a lead. Please also make sure you clean up after your dog! Also for the sake of your dog consider getting them some ear muffs to protect their delicate ears, their sound perception is much higher than ours is so make sure you look after your pup's hearing! There's also free water available on-site so you can keep them well hydrated throughout the festival!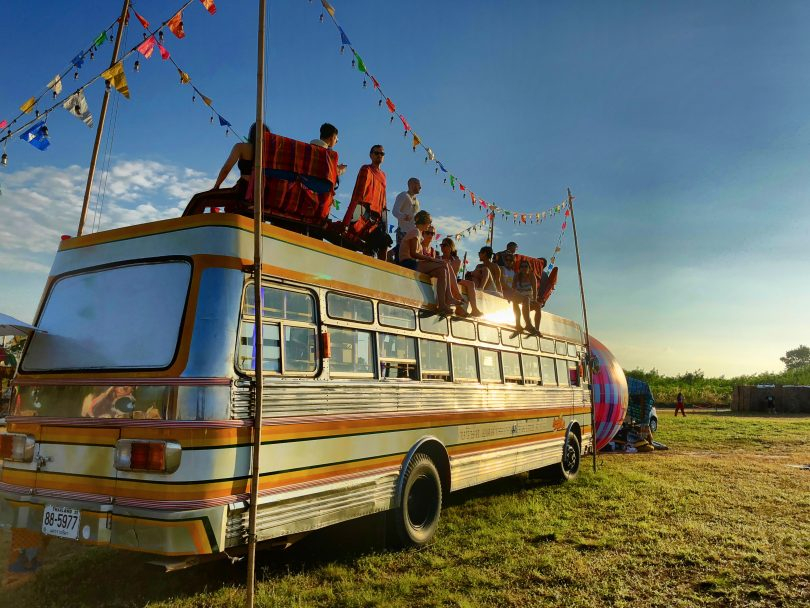 The festival is held at The Fields at Siam Country Club in Chon Buri, which is an easy and comfortable two-hour drive from Bangkok and about twenty minutes from Pattaya. Now I realise I mentioned the festival is moving to new grounds this year but it is still being held within Siam Country Club, so rest assured that the information I have on how to get there is still relevant from when I went last year. Whether you're staying in Pattaya or at Wonderfruit you'll need to read up on how to get to Pattaya and then to the festival grounds as there are no direct transfers to the festival. Unless you're planning on driving yourself (or have hired a driver) in which case you can skip the part about getting to Pattaya and only read up on how to get to the festival below.
If you plan to stay in Bangkok before moving on to the festival then you might like to look at my Guide to Arriving in Bangkok! There you will find several options to get you to your destination within the city and information on how to use public transport.
If you're planning on driving to Wonderfruit then you'll need to keep this address handy as you'll be able to set it at your destination in your GPS map: Phornprapha 1 (after Siam Country Club Waterside) at 50 Moo 9 T. Banglamung, Pong, Bang Lamung District, Chon Buri, 20150, Thailand.
GETTING TO PATTAYA
COMING FROM SUVARNABHUMI
If you're landing at Suvarnabhumi Airport (BKK) you'll be able to choose from a couple of options to complete your journey to Pattaya. There are no direct transfers to Wonderfruit so you'll need to pass through Pattaya unless you are renting a car or taking a taxi, in which case you can scroll down to instructions on how you can get to the festival directly from Bangkok. You would be looking at a minimum of 1000THB (31USD) to get to Pattaya by taxi, so account for a bit more to get to the festival directly.
If you're not planning on opting for either of those options above then you can also choose to take the Airport Pattaya Bus, leaving from Level 1, Gate 8 at the Arrivals Hall, between 5:30 am and 10 pm. This is a direct bus service that costs 120THB (3.70USD) per person, you pay the fare at the counter before getting on the bus. The bus arrives at the North Pattaya Road bus station, from there you'll need to find additional transport to get to your accommodation or the festival. You can find the bus schedule HERE. The bus also operates in the opposite direction so it'll also be easy to get back to the airport.
Once in Pattaya you can either rent a car or hire a driver, get on the Wonderfruit shuttle bus or get a taxi, please follow the instructions below on how you can get to Wonderfruit.
COMING FROM DON MUANG
From Don Muang Airport (DMK) you could book a car or taxi to take you directly to Wonderfruit, in which case you can completely overlook this paragraph and skip to the part on how to get to the festival from Bangkok! You would be looking at a minimum of 1000THB (31USD) to get to Pattaya by taxi, so account for a bit more to get to the festival directly.
One of the most common ways to get to Pattaya from Bangkok is by bus or minivan. If you're familiar with the city then you'll have no problem getting yourself to the Northern Bus Station (Mo Chit). The Northern Bus Station (Mo Chit) is nearest to Don Muang, though there are other bus stations you can depart from (see below). From Don Muang, the simplest way to reach the bus station is by taxi. You'll be charged a small airport surcharge (50THB) so don't be surprised when the driver tallies up the total at the end of the journey. The journey should cost no more than 200THB (6.20USD) including the airport fare but this will heavily depend on the traffic conditions. See below for more information on how to get from these bus stations to Pattaya. Buses and minivans to Pattaya run daily from both stations. Schedules and tickets are available directly from the station counters.
Another option is to take the free shuttle bus to Suvarnabhumi Airport to then connect to the Airport Pattaya Bus which leaves from Level 1, Gate 8 at the Arrivals Hall, between 5:30 am and 10 pm. This is a direct bus service that costs 120THB (3.70USD) per person, you pay the fare at the counter before getting on the bus. You can find the bus schedule HERE. The bus arrives at the North Pattaya Road bus station, from there you'll need to find additional transport to get to your accommodation or the festival. The bus also operates in the opposite direction so it'll also be easy to get back to the airport. This option takes slightly longer than the one I mentioned above but I would advise people who have never been to Bangkok before to take this route from Don Mueang as it's pretty straightforward, you won't risk getting lost in the city.
Once in Pattaya you can either rent a car or hire a driver, get on the Wonderfruit shuttle bus or get a taxi, please follow the instructions below on how you can get to Wonderfruit.
BY BUS/MINIVAN
One of the most common ways to get to Pattaya from Bangkok is by bus or minivan. There are frequent daily services operating from both the Eastern Bus Station (Ekkamai) or the Northern Bus Station (Mo Chit), both located on the BTS Sukhumvit Line. Depending on where you're staying in Bangkok one might be closer than the other. The distance to Pattaya from the Eastern Bus Station is shorter but if it means hauling luggage on public transport or getting stuck in traffic then you may as well just head to the Northern Bus Station if that's closer to you. If you need help navigating through Bangkok to get to either bus station please refer to my Guide to Travelling to Bangkok, here you'll find information on the public transport options and advice on taking taxis in Bangkok.
Both buses and minivans are air-conditioned, the only significant difference between the two is that the bus takes a bit longer than a minivan would to reach Pattaya. However, this is often due to the fact that minivan drivers drive at an unprecedented speed, it's definitely not a travel option for the faint-hearted! Please be cautious, if you're prone to car sickness this option is not for you, take the bus. Minivans also tend to be more cramped, the buses allow for more legroom and you get a designated seat when you buy your ticket at the bus station which means if you arrive early then you'll be able to pick the seat you want. If you're taking a minivan you'll have to fight for one of the better seats, the locals can get quite competitive, jump on one as soon as the door opens!
Schedules vary between both bus stations. Buses from the Eastern Bus Station leave approximately every thirty minutes between 5:20 am and 11:20 pm each day and cost 117THB (3.60USD) each way. Buses depart from the Northern Bus Terminal between 5:30 am and 8 pm.
Tickets are available from the station kiosks, you don't need to pre-book. If you're travelling on the Friday or Saturday it's advisable to arrive before the scheduled departure time to guarantee you'll get a seat.
Buses and minivans arrive at the North Pattaya Road bus station, from there you'll need to get another mode of transport to get to your accommodation or the festival. Buses and minivans operate in the opposite direction, simply do the trip in reverse.
Once in Pattaya you can either rent a car or hire a driver, get on the Wonderfruit shuttle bus or get a taxi, please follow the instructions below on how you can get to Wonderfruit.
BY CAR
If you're driving or hiring a private car to get to Pattaya from Bangkok then you'll want to get on the Chonburi-Pattaya Highway Route 7 which heads east towards Pattaya. Pattaya is about 150 kilometres from Bangkok, the journey takes no more than two hours. Stay on this road until you reach Pattaya.
Once in Pattaya you can either rent a car or hire a driver, get on the Wonderfruit shuttle bus or get a taxi, please follow the instructions below on how you can get to Wonderfruit.
GETTING TO THE FESTIVAL
BY SHUTTLE BUS FROM PATTAYA
Wonderfruit organise a shuttle service between Pattaya and the festival site on all four days of the festival as well as on the Monday. This is great if you're wanting to stay over on Sunday night, you won't have to worry about getting back to Pattaya on Monday morning! You can find the timetable, information on where the bus picks passengers up and prices on this page.
BY CAR FROM BANGKOK
To get to Wonderfruit directly from Bangkok you'll want to get on the Chonburi-Pattaya Highway Route 7 which heads east towards Pattaya. Carry on for about 130 kilometres on Route 7 until you get to a big intersection on your approach to Pattaya, here you'll need to take the exit onto Route 36 towards Rayong. Drive about 8 kilometres down that road until you see a large blue sign that says "Siam Country Club" on your right-hand side, here make a U-turn as soon as you get the opportunity to and then turn left at the sign. Drive past the Bira Go-Kart Circuit until you reach a roundabout, take the exit for "Siam Country Club Waterside" and from then on you'll be able to follow signs for Wonderfruit! Make sure you follow the appropriate sign to either the Main Entrance, General Camping or Boutique Camping.
BY CAR FROM PATTAYA
To get to Wonderfruit from Pattaya and starting from Sukhumvit Road Route 3 you'll need to take the road leading east opposite the Na Chom Thian Patrol Police Office (Soi Na Chom Thian 6) towards Wat Huai Yai. Head down that road for approximately 7 km then turn left before Wat Thepphabut. From there you'll pass Ban Bueng School, from this point on you'll see signs for Wonderfruit, all whilst heading towards "Siam Country Club". As you get closer to the site please make sure you follow the appropriate sign to either the Main Entrance, General Camping or Boutique Camping.
BY TAXI FROM PATTAYA
It is definitely possible to get to and from Wonderfruit by taxi. The simplest way is by using the Grab application (Asia's response to Uber), find more information about using Grab to get to and from Wonderfruit including discount codes HERE.
Be wary that the locals aren't particularly friendly about Grab drivers as they feel they steal jobs from other taxi drivers and services. Though Grab isn't illegal they have been banned from certain areas such as the bus station to allow local drivers to get their share of the market also. Having said that, calling a Grab to your accommodation to get to the festival shouldn't be a problem and will still be easiest than trying to haggle with an independent taxi driver. The best thing to do would be to input Siam Country Club as the destination and follow the directions I listed above for getting to the festival by car so you are able to assist the driver. On your approach you'll see signs for the festival, from there onwards you should follow the appropriate sign for either the Main Entrance, General Camping or Boutique Camping.
Leaving the festival by taxi is easier than ever as Wonderfruit now set up a Grab taxi lane and lounge area so there are always plenty of taxis. The phone signal can get a little sketchy out there so this greatly benefits festival-goers. A few years ago this didn't exist so imagine our faces when we realised we had no mode of transport back to Pattaya, and at this point, we were all desperate to get to bed after a long night of partying. I will remain forever grateful to the family who drove my friends and I back to Pattaya a little worse for wear. Just goes to show what kind of gorgeous people go to Wonderfruit!
At Wonderfruit you've got the choice between on-site and off-site accommodation. Choosing between the two will depend on whether or not you've got the knack for camping or if you prefer to stay within the comfy confines of a hotel in Pattaya. At the end of the day you should definitely pick an accommodation which will ensure that you're at your most comfortable so you can recuperate and recover properly between sessions at the festival.
ON-SITE ACCOMMODATION
If you're looking to fully immerse yourself in the Wonderfruit experience then staying on-site is your best option as you'll spend a full four days at the festival totally surrounded by nature. You'll be able to shut yourself off from the world outside completely and just focus on giving in to the festival experience. Sounds pretty wonderful, doesn't it? Not only this but camping on-site is a lot more convenient as you'll be avoiding the hassle of getting a taxi or car to and from Pattaya a couple of times each day.
If you're budget conscious or you know you only need the basics to get you by then General Camping is your best option, which only costs 400THB/person for all 4 nights, from Thursday to Monday. You will need to pay this fee for each person that intends to stay at the General Camping site. The fee gives you access to the campsite and its facilities, such as toilets and showers. Upon arrival you'll be given a wristband that will grant you access to the campsite, then all you need to do is find a comfortable spot and pitch your own tent. Tickets for the General Camping area can be purchased online or at the door.
If you're looking for a more extravagant camping experience then you'll want to take a look at the Boutique Camping alternatives. These come in different tiers so you'll be able to find one that best suits your budget, from the basic packages to one of the world's most exclusive Boutique Camping experiences, described as "The Caviar of Accommodation" by Vogue Magazine. Wonderfruit operate on a first come first served basis so make sure you book your camping ticket as soon as possible, Boutique Camping tents are limited! If you have a general camping wristband you will not be allowed into the boutique camping area, so don't think you can sneak into your friends' tents, that's not a reliable option for accommodation!
You can also get an RV pass which means that you'll be able to park your own RV on-site at Wonderfruit. You can choose from two passes, one of which will also give you access to an electric and water hookup. One RV pass is valid for 6 people. You can buy an RV pass on arrival however it is cheaper to buy online before the start of the event.
Please note that you will need to purchase festival tickets separately, camping and RV passes (unless specified otherwise) do not include entry into the festival. You'll be able to access the on-site camping areas from 4 pm on Wednesday 12th December to 12 pm (noon) on Monday 17th December.
OFF-SITE ACCOMMODATION
If even the Boutique Camping area doesn't do it for you and camping really isn't your thing then worry not because Wonderfruit has worked out several Hotel Packages with hotel partners within Pattaya. These range in prices and come in all shapes and sizes, you can book these directly through Wonderfruit.
You can also opt for the accommodation of your choice. Pattaya offers an extremely broad range of accommodation options, be it a hotel or pool villa which you can share with your friends, there is a multitude of alternatives to choose from depending on your preferences. In the past, we've had a look on Airbnb and been able to stay in some very beautiful villas at affordable prices. If room service and hotel breakfasts are your lifelines during a festival then why not give Booking.com a go-to find a hotel that ticks all the right boxes?
Wonderfruit is one of the most beautiful festivals I've ever been to. Spread across a gigantic piece of land, you're completely nested within nature. You'll be treated to gorgeous sunsets and stunning sunrises. And you'll be comforted by the impressively diverse landscape, there's definitely a lot to explore at Wonderfruit.
The stages and art installations are equally as spectacular, jaws will undoubtedly be dropping as people stumble across the festival's wonderful structures which are curated especially for Wonderfruit and by a carefully selected team of world acclaimed architects and artists.
Not only are these structures absolutely breathtaking but they are innovative and sustainable. All stages use recycled or recyclable materials, and most have been designed with cutting-edge technologies so can be assembled without the use of bolts.
One particularity of the Wonderfruit site is that rather than build new structures they build into the landscape that's already there. Which again highlights the sustainable nature of this festival as well as celebrate the environment and terrain that surrounds it. This really allows you to get lost in wilderness and surrender yourself to the experience, it is something truly mesmerising, that needs to be experienced at least once in a lifetime.
You can read more about the history of Wonderfruit's architecture HERE.
Aside from its obvious beauty what needs to be mentioned is that the site is gigantic, it's bigger than it has ever been, your pedometer won't know what hit it. This isn't surprising as the festival hosts over 10 stages and entertainment areas as well as 100+ vendors and stalls, not to mention all the activity spaces and areas. But worry not as there are plenty of spaces to relax in, so you will be able to put your feet up!
Now it wouldn't be a festival without a solid lineup of artists and Wonderfruit definitely know how to put together a strong musical programme that is sure to keep you going for all four days of the festival. Notable acts in previous years have included Rudimental, Lianna La Havas, De La Soul, Young Fathers, De La Soul, Seth Troxler, Richie Hawtin, Submotion Orchestra and many more.
The best thing about Wonderfruit's lineup is its variety and how seamlessly all the different acts and artists merge into one. The festival doesn't stop for four entire days. That's right, you'll be able to go on all day and all night if you have it in you. With epic sunset and sunrise sessions at the Solar Stage, and unforgettable nights spent at The Quarry, which is tucked away in the woods and doesn't open until much later in the evenings. The lineup and the stage configuration is quite impressionable, this alone is a reason to get all you music lovers out there motivated to go to Wonderfruit.
This year's lineup hasn't been released yet, stay tuned!
If you've read up until this part of the guide then you won't be surprised by what I'm about to say, Wonderfruit is a very special and magical experience that needs to be experienced by everyone at least once.
All elements of the festival complement one another, and when they come together form a very serene but exciting environment. One where you're free to roam and try new things.
A place where you can meet people from all over the world, try new foods, discover new music, let their children explore new activities… The possibilities feel truly endless which amounts to a lot of happy faces on people who are trying new things and coming to know new facets of themselves and the world even. It's an extremely liberating and relaxing experience.
There will be children and families, there will be dogs, there will be locals and internationals, people of all ages and cultures coming together to share knowledge and share experiences that create unforgettable memories. You'll be able to go home with new friends and having learnt or discovered something new.
And Wonderers are extremely warm and kindhearted so you'll definitely be welcomed with open arms into the festival. Everyone is there to have a good time, the festival absolutely radiates light and positivity.
So if you happen to be travelling alone then you've got nothing to worry about as it's an extremely safe and friendly place, if anything you'll be able to make the most of it even more as you'll be able to go with your own flow.
Part of the beauty of Wonderfruit is that you'll never know what to expect as there's so much going on, only one thing is certain, you'll be embarked on the most wondrous journey.
I can't really say much else about it because my experience will be completely different to the one you're going to have. You can ask a hundred different people what their experiences of Wonderfruit was like and it'll be different for each and every one of them. That's the beauty of it, there is something for everyone, you make it what you want it to be.
I'll leave you with a piece of advice… Just try to say yes to everything and don't be afraid of trying new things, just let yourself be swept away to really make the most of the experience. 
From farm feasts hosted by some of the world's most reputable chefs to sit-down restaurants and street food stalls, Wonderfruit offers delicious bites for every type of foodie at the festival. You'll be able to find all kinds of food throughout the day and night.
One of the principal experiences of Wonderfruit is culinary indulgence and they're known for overdelivering on food and drink options each year. Every year award-winning chefs and restaurants come down to mesmerise festival goers with their skills and fulfil food dreams at Wonderfruit. The festival always includes both reputable local and international food brands and establishments, making it a real culinary celebration. To think that each lineup announcement includes the latest names of chefs and restaurants being added to the programme, just goes to show how important of a feature food is at this festival. So if food is what gets you out of bed in the morning then you'll want to come and experience this delicious festival.
In previous years Wonderfruit have included Dean & Deluca, Smack n'Smokes, Tamnan Thai, Mom & Sis, Sharwarma Food Truck, Block Burger Bus and many many more… Check the Wonderfruit website for the full list of food vendors. Keep in mind that this list will keep being updated until the festival opens its gates so keep your eyes peeled for more announcements!
If you think you have something particularly scrumptious that you'd like to sell at Wonderfruit then you can apply to participate as a vendor!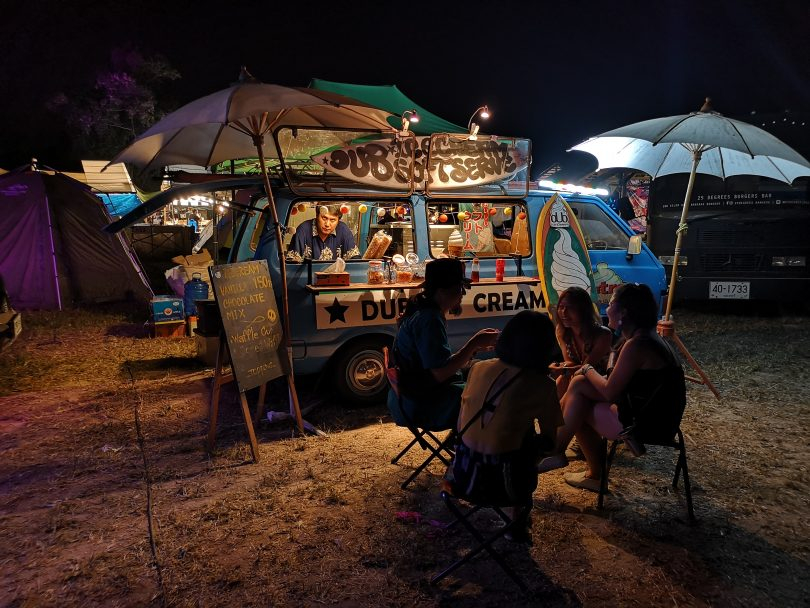 Wonderfruit aim to deliver more than just a lineup, they want to give their festival goers a whole bunch of memories to go home with. They fulfil this by offering by far one of the most diverse programmes of activities that I've ever seen at a festival. These activities always correspond to one or several of the festival's pillars: Music, Arts, Family, Farm to Feasts, Wellness & Adventures, Talks & Workshops. And as with anything else at the festival there is a heavy focus on sustainability, proving that there are so many ways we can explore living sustainably.
The activities come in many different forms. Adults will have a choice of workshops and talks to attend, where people from around the world will be present to share their knowledge and skill with you. These workshops and talks aim to inspire as you sit back and take in their stories and experiences. The informative and inspirational Scratch Talks cover a broad range of topics and take place in one of Wonderfruit's stunning structures, the Eco Pavilion, so you're well accommodated!
The selection of workshops is extremely vast, from photography to permaculture, and even woodcarving or fabric dyeing, you're given plenty of opportunities to get creative and get your hands dirty all whilst picking up knowledge which you can take home and apply for yourself, your family or even your community.
At the Wonder Garden you'll be introduced to a range of wellness activities such as yoga, meditation and more. This is your chance to take a journey inward and learn about the techniques of self-mastery and connecting to the earth's centre.
Your children will be able to roam in Camp Wonder, an area catered to all the younger Wonderers. Here they will be invited to take part in meaningful but fun activities that enable them to gain knowledge and skill as well as have a good time. This space gives them a sense of belonging within the Wonderfruit community, as they engage in building their own little ecosystem. Adults are welcome into this area so don't worry you will be able to share these moments with your children and take memories home together as a family.
All in all you're given enough options to take part, contribute, share and broaden your perspective on many different levels. Wonderfruit is a chance to take a step out of your habitual routine, to give back not only to the community but to yourself in as many ways as possible. For those of you who might be thinking that it's all sounding a little hippy-dippy don't be worried, as I said the site is huge and the focus is as much on music and food as anything else, go with your own flow, there's enough for everyone to do!
You can read more about what awaits you at Wonderfruit on their website.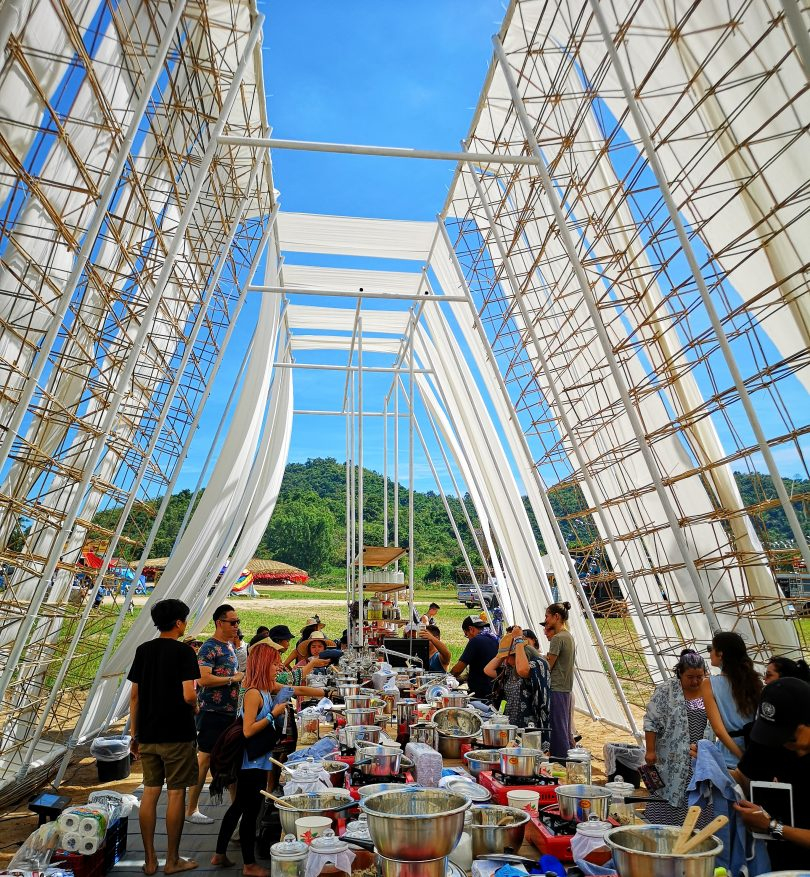 Wonderfruit can be an expensive excursion if not done right. So in an effort to reduce costs here are some tips to be cost-efficient during Wonderfruit…
Book your journey ahead of time! Dates are normally announced on the last day of Wonderfruit so you'll be able to book your flights and plan your trip well in advance to avoid price increases.
The same goes for your festival ticket, don't wait to get your ticket as the longer you wait the more expensive it gets! The early bird ticket goes for just over 4,500THB (+fees) and will increase to about 7,000THB (+fees) in the last release.
On-site general camping is available, this option is good for those of you who are on a budget and don't want to splurge on glamping or a hotel. Make sure you book your camping pass prior to arriving, same as the festival ticket this price increases.
If camping isn't your thing then there are a few cheap accommodation options nearby but make sure you book early to avoid being stuck with the more expensive options!
If you opt for off-site accommodation then stay close to the event so you don't up spending too much on transport to and from the festival. Grab operates a pretty nasty surge during Wonderfruit, the further you stay the more expensive it gets. People were paying upwards of 1,000THB to get back to Pattaya.
But if you're really on a budget then rent a car or van for the weekend to get to and from the festival, and don't rely on taxis. We stayed 5km away from Wonderfruit and we were still paying 600THB each way! Suddenly the luxury of a clean shower and toilet, and of a proper bed didn't seem worth it because we were paying exorbitant amounts of money to travel there each day!
Bring a water bottle to get free water refills on-site rather than buy individual bottles of water.
Get a local SIM card so you don't have to use data roaming whilst you're out here, that can get very expensive. You can get a SIM card at your nearest 7-11 or in a shopping mall by going to one of the local providers (you can choose from AIS, True, DTAC and more…). You'll need your passport to purchase one.
Do a lap of the festival to scout out the cheaper food options. Wonderfruit, on the whole, is expensive but there are a few hidden gems scattered around the festival that are selling a few dishes that are on the cheaper side.
If you're camping leave the site for food runs to alleviate some of your food expenses. And try to find someone who can drive you to a nearby 7-11 rather than take a taxi to really push down costs!
Take part in activities and get your money's worth! Most classes and workshops are free and included in your festival ticket (some have an additional cost so make sure you check before attending!).
Wonderfruit isn't just a platform that promotes creative development and exploration through art and music, but also puts a keen focus on sustainability
 by inspiring and educating festival goers on how they can make a positive impact on their lives. Each year the festival organisers come up with inventive and innovative ways to host a festival that won't leave a footprint on the gorgeous landscape that Wonderfruit lays on (which is also why they have changed location, to allow the grounds to recover). As well as give people clear take-home messages to apply to their everyday lives. And 
because Wonderfruit welcomes people from all corners of the world these positive messages really do go a long way
, creating a ripple effect not only on the local but also the global community. Here's a few examples of how they do it, I think you'll be amazed by some of these actions…
The world renowned chefs who host banquets during Wonderfruit use ingredients from the on-site farm.
Food vendors serve all their exquisite treats on biodegradable plates. And the cups used to serve drinks are made from bagasse. You even get a discount if you reuse the same cup throughout the festival, so make sure you keep hold of yours!
The free water provided at the water pumps is taken and properly filtered from the lake.
The stage structures are built from recyclable materials and have been conceived with state of the art design techniques to eliminate the use of bolts and screws.
You'll be able to purchase and take home sustainable merchandise (e.g. Wonderfruit branded tumblers and bottles) which you'll be able to use everyday and will eliminate the use of certain environmentally hazardous materials.
In 2017 Wonderfruit was declared a carbon neutral festival! Certified by the Thailand Greenhouse Gas Management Organization (TGO).
These are only a few examples of actions taken by Wonderfruit to motivate festival goers towards more sustainable habits, we've barely even scratched the surface with this list.
(Flush) Toilets and showers in the camping areas: both general camping and boutique camping areas are fitted with toilets and showers.
Cash machines: there are cash points available on site. When topping up your festival wristband you can use cash or card. There is a small card fee however, so you may prefer withdrawing cash instead. The cash will also be handy if you need to get a taxi back to your hotel in Pattaya for example.
Lockers: you will be able to keep your personal belongings and valuables stored in a locker for an additional fee. Lockers are located at the Information Tent.
Merchandise: official Wonderfruit merchandise will be available for purchase on-site. And this isn't any regular kind of merchandise, most of it ties in with their sustainability objectives so you'll be able to take home a few creative and innovative things to encourage a more sustainable lifestyle.
Medical services: an ambulance and paramedics are available 24 hours a day on-site.
Nanny services: you'll be able to leave your children in the hands of qualified nannies at Camp Wonder if you feel like wandering independently for a while!
Print your ticket and bring ID: you will need to arm yourself with both of these to be able to enter the festival ground, so make you sure you don't forget either or you'll be missing out on the action!
Wonderfruit operates an RFID cashless payment system: top up your wristband to make purchases on-site at the festival. You can top up your wristband at designated top-up stations spread across the festival site using cash or card.
Get a refund on the credit you don't spend on your wristband: make sure you get your refund before you leave the site as they don't allow any refunds after the festival has ended.
Bring cash just in case: the ATMs at Wonderfruit can a bit temperamental at times, so rather than rely on them or waste time having to search and queue for one, bring cash to the festival.
Download the (free!) Wonderfruit application: stay on top of your Wonderfruit game by keeping track of what's going on during the festival. Download it now for iOS or Android.
Get a local SIM card: whether this is your first time in Thailand or you're worried about losing your group at the festival, put your worries to bed by getting a local SIM card so you can easily reach someone in case of emergencies. If you're flying into Bangkok I recommend buying one at the airport.
Don't forget your earplugs: long or repeated exposure to loud sounds can cause long-term damage to your eardrums, don't risk ruining your hearing, think of all the festivals you have yet to explore!
Pack a couple of warm layers: believe it or not, it can get a little chilly in the evenings in December in Thailand. Pack a cardigan or sweater just in case you need it.
Bring your own powerbank: there are charging stations on site but you might end up missing part of the action if you're always looking for a place to charge your phone. Having a powerbank gives you the flexibility to charge your phone on the go. 
Stay hydrated and drink plenty of water: there are free water refill stations on-site where you can fill up on water as many times as you need. Make sure you bring an empty water bottle to get your refills throughout the festival.
Agree on a meeting spot with your festival group: the festival grounds are huge so set a meeting point before going to any stages. There isn't always good mobile phone service at Wonderfruit, so setting a meeting point will help if you or someone from your group wanders off.
Don't remove your wristband: make sure you keep your wristband on at all times. You get one wristband for the duration of the festival.
Look after your dog: If you're bringing a dog to Wonderfruit you'll need to keep them on a lead and clean up after them. You should also consider getting your dog some ear muffs to ensure that the festival doesn't cause their hearing to be impaired. And please make sure you keep them hydrated too!
Are you heading to Wonderfruit with your festival crew? Share this post with them now to plan your trip together!