Known as one of Indonesia's largest music festivals, SHVR Ground Festival has made quite the impression since it was first launched in 2018. An indoor event which hosts an impressive lineup of international and local acts from year to year. A highly interactive space that includes a theme, activities, games and much more. All executed perfectly, turning this into an event that is about much more than just music but creates a whole unique experience for revellers to dive into. To assist you in planning your journey, here is The Nitty Gritty Guide to SHVR Ground Festival!
When did I attend? September 2019
When is the next SHVR Ground Festival? 11th – 12th September 2020
What do you hear at SHVR Ground Festival? EDM, Trap, Hardstyle, Techno, Electronic
Where? Indonesia Convention Exhibit ICE BSD City, Jakarta
What's the local currency? Indonesian Rupiah
What's the local language? Bahasa
SHVR Ground Festival was first hosted in 2018!
SHVR Ground Festival is pronounced S-H-V-R Ground Festival, not said like the word 'shiver' contrary to what most people think!
SHVR Ground Festival has a theme each year! They release details on this a few weeks before the event, dressing up is of course encouraged!
SHVR Ground Festival is a mega music marathon. A three-stage event which hosts a very diverse range of genres over two days. Just one of a series of parties hosted throughout the year by SHVR.
SHVR Ground Festival is an 18+ event!
ARRIVING IN JAKARTA
If you're an international festival goer arriving into Jakarta then check out this Guide to Getting to & Around Jakarta! You will find information on visa requirements and on local transport options to navigate around the city.
GETTING TO THE FESTIVAL
The festival is located at Indonesia Convention Exhibition (ICE), situated on the outskirts of East Jakarta, within BSD City, a privately developed community. One of the country's biggest convention centres, it is well connected to the city centre by taxi, bus, shuttle.
TAXIS AND GO-JEKS
The most comfortable way to travel around Jakarta and to reach the festival is by taxi but it is likely to not be the most convenient. Traffic is really bad in Jakarta so if you're going to be stuck in traffic you can at least be stuck in it with air conditioning and radio. If you'd rather get to your destination quickly then I recommend calling a GO-JEK or Grab. 
NOTE: both services offer more than just motorcycle rides, you can also book cars, food and even massages! Ideal if you are feeling too lazy to leave your hotel room to search for food or amenities.
They are both reliable and most drivers speak good English so don't be afraid to try it. They're metered so you won't run the risk of getting scammed, simply pay the amount indicated on the app once you've booked your ride. And they're totally safe to use as they're professionally run and you even get a helmet (with hair net in most cases to keep your hair clean) which can't be said for other cities in Asia. All you need to do is download the applications to your phone (best to do so before travelling and before you're out of reach of data or wifi), open one up, enter your pick-up and drop-off location, you'll get an estimate for the cost of the journey and then hit confirm! So in this case you would put in Indonesia Convention Exhibition (ICE) as your destination and then follow signs indicating the main gate/entrance.
NOTE: if you've booked a ride and you step out of wifi and don't have any network service it will not cancel the ride so I would wait patiently in your wifi zone until your ride has arrived so you can locate him easily. 
WARNING: please watch your belongings when riding on motorcycles in and around Jakarta. This means put phones away and keep your bag strapped to you as unfortunately bag snatchers have become a real issue in the city. One of our group got his phone snatched just standing on the side of the road and I almost had mine taken whilst riding on the back of a motorcycle. Be cautious with your belongings!
Other than booking from the GO-JEK or Grab app it's usually quite easy to find a taxi in public places such as at trains stations or shopping malls. Please avoid using the non-metered taxis and don't accept rides from unofficial 'taxi drivers' as you're likely to get scammed or sometimes worse. Stay safe by using a reputable taxi service such as Blue Bird Group. They have an application you can download and use to locate taxis nearby, it's just not worth running the risk of anything happening to you, don't jeopardise your trip! 
SHUTTLE BUSES
Indonesia Convention Exhibition is located within BSD City, a privately developed planned community in South Tangerang, East Jakarta. This complex manages reliable links between itself and the city centre. One of those options is shuttle buses, they pick up from a few different locations in Jakarta: Mangga Dua, Pasar Basu and Ratu Plaza.
You will need to get two different shuttles buses to reach the venue no matter where you begin your trip. The first shuttle bus taken at any of those three locations mentioned above will bring you to their terminus at BSD City. Alight here and change for the BSD Link Shuttle Bus which will take you to ICE. 
You can plan your trip using their bus schedule, available HERE.
TAKING THE BUS
Another option is to use the TransJakarta Bus which links the city centre to BSD City. Jakarta's buses have their very own lane, allowing them to avoid all (if not at least most) of the traffic, even during rush hours! One of the best things about taking the bus is you have access to the entire network (or corridors as they call them) for only Rp.3,500 (US$0.30)! The ticket includes all transfers within the TransJakarta Bus routes which cover a vast area of the city. There are 13 corridors and they all run 24 hours a day.
If you decide to take the bus you will need to get on the Grogol – Slipi Transjakarta bus in corridor 8A/9 heading to BSD City (Giant). Alight there and change for the BSD Link Shuttle Bus which will take you to ICE. This particular line runs from 05:00AM to 08:00PM.
The timetable for the BSD Link Shuttle Bus can be found HERE. 
DRIVING TO THE VENUE
There is plenty of parking available near the venue so driving is definitely an option but I do not advise it. Party responsibly and without the pressure of needing to drive back, leave your car at home!
SHVR Ground Festival is hosted at one of Indonesian's biggest and most well-known convention centres. Each year it hosts hundreds of events and thousands of convention-goers, as such a number of accommodation options have opened their doors nearby to accommodate this demand. The nearest hotel is Hotel Santika Premiere, which is located a couple hundred meters away from the entrance of the festival gates. This is where we stayed and we definitely appreciated not needing to take a taxi or to find a ride to get back to our accommodation. Super convenient, and the rooms are clean and comfortable! This one books up pretty quickly nearer to the date of the festival but there is a whole bunch of other options in the area, including hotels which range from basic to high-end options, as well as apartments and condos on Airbnb.
Jakarta traffic is notoriously bad, you can easily stay stuck in it for a couple of hours at a time. For that reason I do not recommend staying in the city centre as you will waste valuable time queuing in traffic on your way to and from the festival. If you also want to see Jakarta I would advise reserving a couple of days on your trip to do this before or after the festival. Stay near the convention centre and save yourself the headache! It may seem a little out of the way but there are plenty of accommodation options and a big shopping mall nearby with a whole range of restaurants and shops.
Looking for hotel accommodation? Check out Booking.com, my go-to hotel booking platform. 
SHVR Ground Festival is an indoor event! This is certainly one of my favourite things about it, away from the heat and humidity! The A/C is cranked up so there is no risk of feeling hot or sweaty during this festival. 
This operation was pretty huge and it went seamlessly! There were three stages, each located in its hall which could easily accommodate a few thousand people. Plenty of people attended SHVR Ground, each hall felt full but never packed or uncomfortable which was great. The venue was the right fit for the event!
The halls were close together, situated one after the other so you didn't have to walk very far between stages. But the separation between each of them was enough to keep the music from overlapping. When you were at one stage you had no interference from another so you could really get stuck in the music.
SHVR Ground was decked out! The Galaxia Voyage theme was really well executed throughout. Upon entering the event we went through this amazing space timewarp corridor which kickstarted our entire experience and set the mood for what was yet to come. Every booth, stand, stage was decorated and orchestrated along the same theme. The festival felt very together and well organised. Even the staff were dressed as aliens! The budget for this must have been huge because they really went all out on creating something that was from out of this world. It was phenomenal, I had never experienced anything like it, it felt like a whole journey and it made us eager to try everything! I look forward to seeing how this one keeps evolving…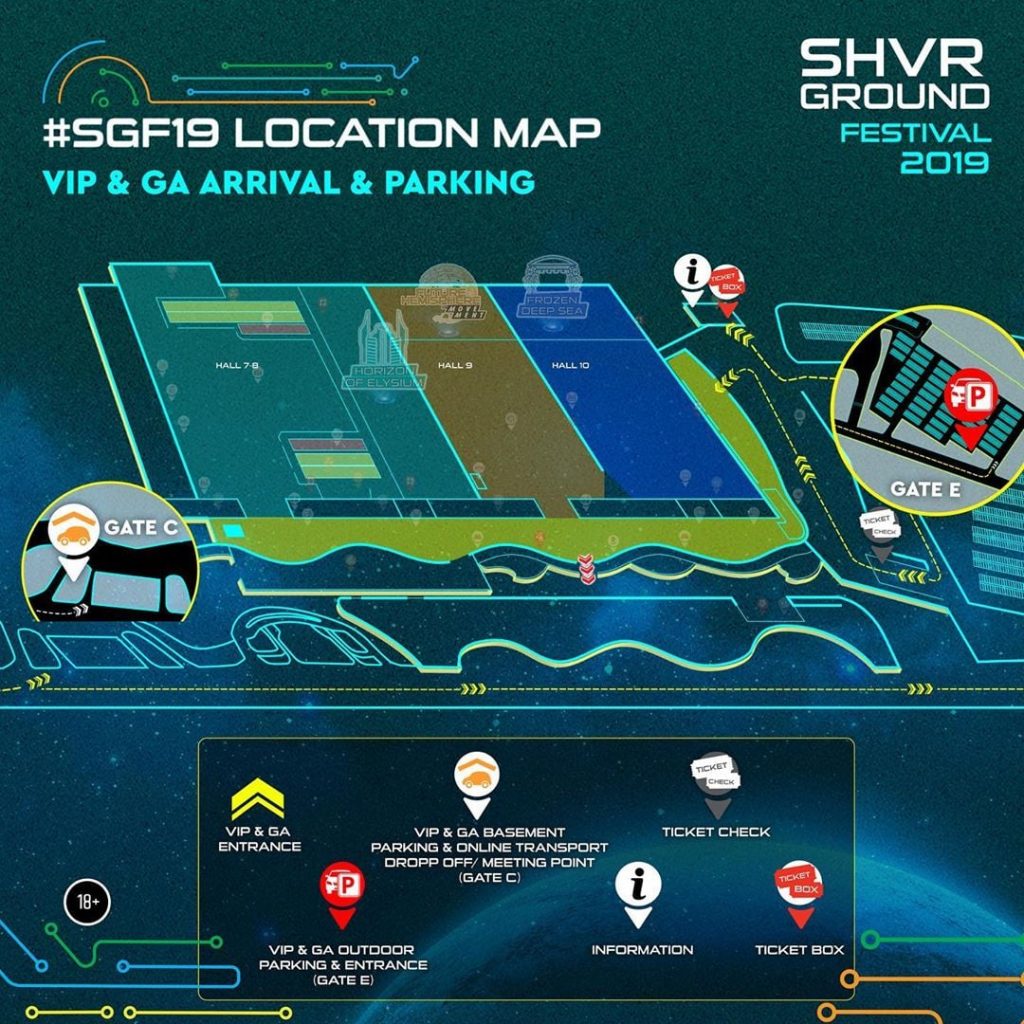 Renowned for drawing in some really big international names, SHVR Ground Festival has seen the likes of Hailee Steinfeld, Rita Ora, Above & Beyond, Afrojack, Disclosure, KSHMR, NERVO and many more grace their stages. 
With three stages SHVR Ground Festival is able to showcase a rather large lineup. One of the best things about it was how diverse it was, the range of genres was incredible! The main stage covered all the headlining acts which focused on EDM and Big Room. The second stage which was equally as big and had an interesting lineup, it highlighted Future Bass and Trap acts on one night and then shifted to Trance on the next night. The third stage was considerably smaller but was packed throughout the two nights of the festival, this one focused its attention on underground music, namely Techno and House. All stages welcomed both international and local acts.
Indonesia is one of my favourite places to party and attend festivals, the atmosphere is always fantastic. Indonesians love to party and they are always super friendly and welcoming! SHVR Ground Festival definitely matched experiences I have had in Indonesia before. People were there to have a good time and they really went for it. Whether they were in the audience or taking part in an activity, all you could see were smiles beaming all over the event. The way the festival was set up, particularly with how much detail and thought was put into creating a journey with the theme, motivated everyone to participate and be involved. This was great, SHVR Ground felt so alive and full of energy!
You could tell that the organisers cared a lot about their event and put a lot of effort into creating a spectacular event! And it really paid off. Because of how much there was to do, how great all the acts were and how efficient the music festival was as a whole, people were in fantastic moods. SHVR Ground Festival had such a vibrant and positive vibe about it. Everyone was happy to be there, to be sharing moments and making memories together! I would go to this festival again in a heartbeat, there was so much to love about it and I think it is one of those festivals that will just keep topping itself with big acts and surprising their revellers with more fun moments and treats!
It wouldn't be an Indonesian music festival without an epic food and beverage area! The food zone was spread across its own hall. It was kept clean and there was plenty of seating, it was a nice place to hang out and take a break from all the dancing. Most of the food choices were Indonesian but there were some international food options as well. As far as vegetarian and vegan, there wasn't a big range of dishes but there was enough to get by over the two days! 
If you happen to be travelling/backpacking then SHVR Ground Festival is actually a great place to come and sample local delicacies! They had all the traditional food stands and everything was really cheap. You could easily get a big plate of food for as little 30,000IDR (equivalent to $2.20USD), really good value for money!
Whereas most festivals will only have bars dotted behind and around stages, Indonesian festivals always place smaller drinks vendors within the crowd. This is one of my favourite things about how they organise festivals in Indonesia! Easy to spot, they usually flashing lights or a sign post to single them out in the audience. So you never have to stray too far from your spot, there is always a vendor conveniently located nearby. 
A whole series of activities were hosted at SHVR Ground Festival! The long corridor linking all the halls where the stages were located was peppered with different fun activities you could get involved in. They were all free and anyone could take part in them!
Ranging from sponsor booths to games organised by the festival, there were a number of opportunities to win some really decent prizes! Turning games into small contests meant people took the time to play and really got into it, definitely a good way to convince people to join in on the fun! The atmosphere in that corridor was incredible! Among my favourites was Cold Touch, you had to stick your hands in ice containers to find a key which would unlock a gift! And these were not cheap or pointless rewards either, at some point they were giving away a pair of custom Nike Air Max!
The suggestions wall which I had never seen at a festival before was a really nice addition. No prizes to be won there but peoples' willingness to write and have their say was really nice to watch. As well as the photo trail which led festival-goers to the perfect picture spots set up all over the site. A very interactive music festival, there was plenty of entertainment to keep revellers busy!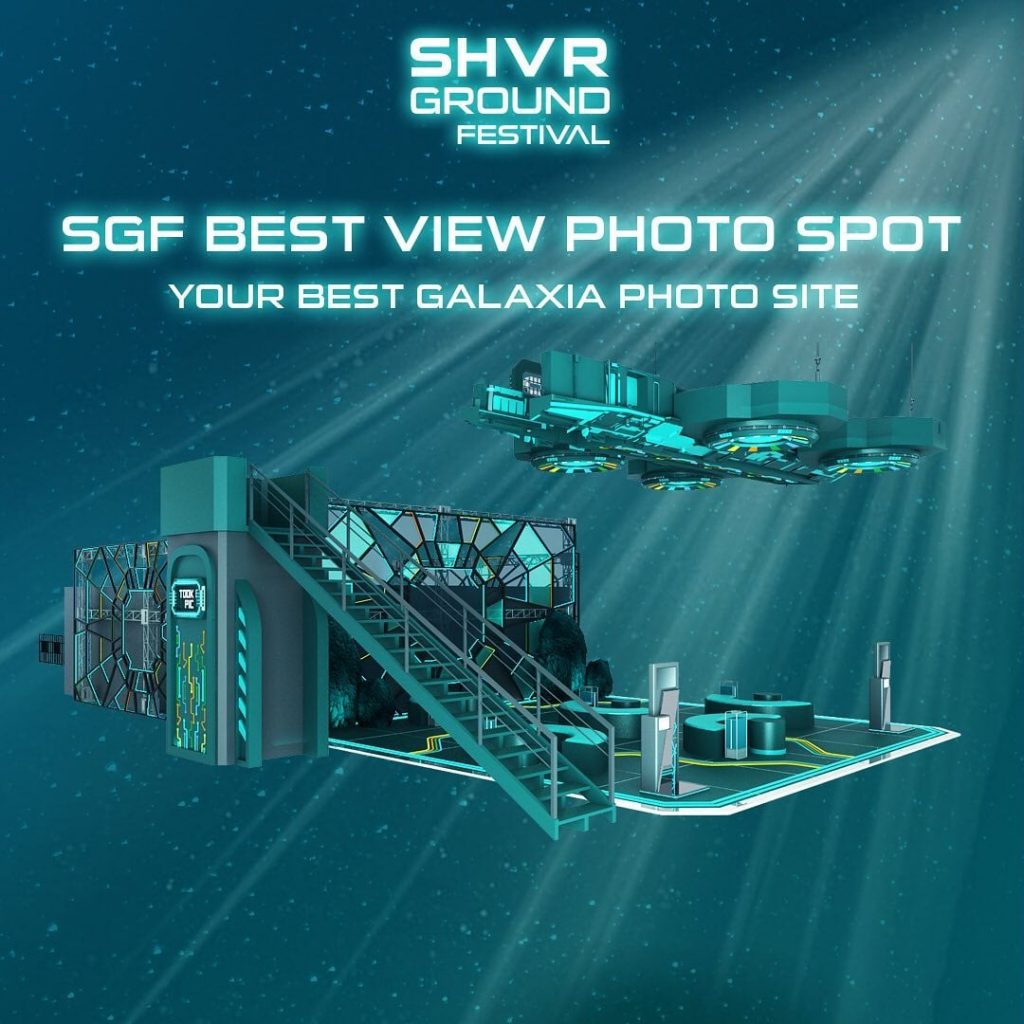 In you're on a budget then some of these low cost tips on how to travel to SHVR Ground Festival and to the festival will be useful to you!
Book your flights and accommodation early! Dates are normally announced a few months in advance so if you're absolutely sure you want to go regardless of the lineup then you should book both flights and accommodation as soon as the dates are released to avoid price increases.
Early bird gets the worm! The same goes for your festival ticket, don't wait to get your ticket as the longer you wait the more expensive it gets!
Look out for group tickets. If you are coming in a group then get a group ticket, it will work out cheaper for everyone!
If you're on a budget stay close to the event so you don't up spending too much on transport to and from the event.
Get a local SIM card at the airport. Switch off roaming to avoid high mobile data costs!
Eat street food and in food courts outside of the festival! one of the best things about Jakarta is that you can eat cheap and still eat well.
Get a travel card if you opt for public transport to get around Jakarta.
Be smart about taking taxis, either use the Grab or the Go-Jek app to hail a taxi so you get a fixed rate or if you've opted to do your trip without data then get one on the street but don't settle for a fixed rate, go with the meter. And share the fare with your friends!
Get involved! Make the most of your ticket and participate in all the free activities and workshops.
Win big! Take part in giveaways to get your hands on some great prizes!
Have a walk around before buying the first you see to eat! There are a number of food options at the festival, don't settle for the first thing you see.
Merchandise: official SHVR Ground Festival merchandise is available for purchase on-site! They usually release snapshots of the new line of festival merhandise a few days before the event on their socials!
Medical Services: an ambulance and paramedics will be available for the whole duration of the festival.
Smoking at the festival: note that you won't be allowed into the festival with an open pack of cigarettes. There are no smoking areas, festivals in Indonesia operate a very flexible policy towards smoking.
Printed Ticket and ID: you will need to arm yourself with both of these to get your wristband and be granted entry into the arena, so make you sure you don't forget either or you'll be missing out on the epic party!
No Re-Entry! if you exit early on the first day you will not be allowed to return until the start of the second day! 
Wheelchair Access: this festival is wheelchair accessible! I recommend contacting the organiser to get more information and get the details on how they can assist you.
Fully charged phone: always good to have a full battery or one that lasts the whole duration of the festival so you can capture your favourite memories, locate your friends and hail a ride back home.
A reliable bag: we are lucky not to ever have had someone in our group have their phone snatched in the crowd but the group beside us were not so lucky. Be mindful of your belongings, have a secure place to store your items that can't be broken into. This isn't just a warning for this festival, pickpockets can operate anywhere, just be cautious!
A warm layer: it may be warm outside but inside the hall it was actually pretty chilly. Particularly when the venue was still filling up. The A/C is fantastic as it goes get warmer as the crowd gets bigger but if you're usually one to get cold then I recommend bringing an extra layer!
List of prohibited items: make sure you check back with the festival's social media pages closer to the event to get the full list of prohibited items so you make sure you don't bring anything that would get confiscated as you will not be able to get them back!
Top Up Stations: SHVR Ground Festival uses an RFID system (fancy term for wristbands with tags that allow you to pay for things at the festival). Look out for top-up stations when you arrive to load up some money on it, this can be done using cash or card.
Sim Card: a couple years ago buying a sim card in a local mall was easy to do but now unless you have a local ID number then you won't be permitted to buy a local sim card. If you want to stay connected throughout your stay in Indonesia you'll need to get a tourist sim card at the airport.
Cash: card machines are not a fail safe option at music festivals, I recommend coming prepared with cash in hand to make sure you don't end up inside the event unable to make any purchases!
Ear Plugs: long or repeated exposure to loud sounds can cause long term damage to your eardrums, don't risk ruining your hearing, think of all the festivals you have yet to explore! Keep them safe with ear plugs!
Stay Hydrated! drink plenty of water! You're going to be going hard for hours at a time and you won't necessarily feel like leaving the crowd to get some more water so stock up before finding a good spot in the crowd.
Agree on a Meeting Spot: a lot of people will be attending this festival so set a meeting point before going to any stages so you can easily find each other at the end of the festival should anyone go missing from the group and they're unreachable during the festival!
Share this post with your festival crew now to plan your SHVR adventure together!