We The Fest is back for another edition and it's looking like it's going to be bigger and better than ever and that's saying something after last year's epic festivities. Is it the ultimate festival experience boasting a celebration of music, food, fashion and art! To help you prepare for this outstanding music festival here is The Nitty Gritty Guide to We The Fest.
When did I attend? August 2017 and July 2018
When is the next We The Fest?  14- 19 August 2020
What do you hear at We The Fest? All kinds: Pop, Rock, EDM, Hip-Hop, Indie
Where? JIEXPO Kemayoran (Jakarta International Expo)
What's the local currency? Indonesian Rupiah
What's the local language? Bahasa
We The Fest is hosted by ISMAYA LIVE, the event division within the ISMAYA GROUP, Indonesia's biggest lifestyle corporation.
ISMAYA LIVE is the most powerful and reputable live event organisation in Indonesia (if not even in the entire region), We The Fest is just one of many events that they organise throughout the year. Their events have set a whole new standard for event organisers all around, you may have heard of some of them: Djakarta Warehouse Project, Ultra Beach Bali and Sunny Side Up Tropical Fest.
We The Fest was originally a two day shindig but in 2017 expanded to a third day to give fans more music, more food, more fashion and more art. 
We The Fest is incredibly reputable in Indonesia, so much so that even the President Joko Widodo made it down to the festival sporting none other than a We The Fest t-shirt in 2017!
Over 50,000 people attended We The Fest in 2018!
We The Fest is an all ages festival!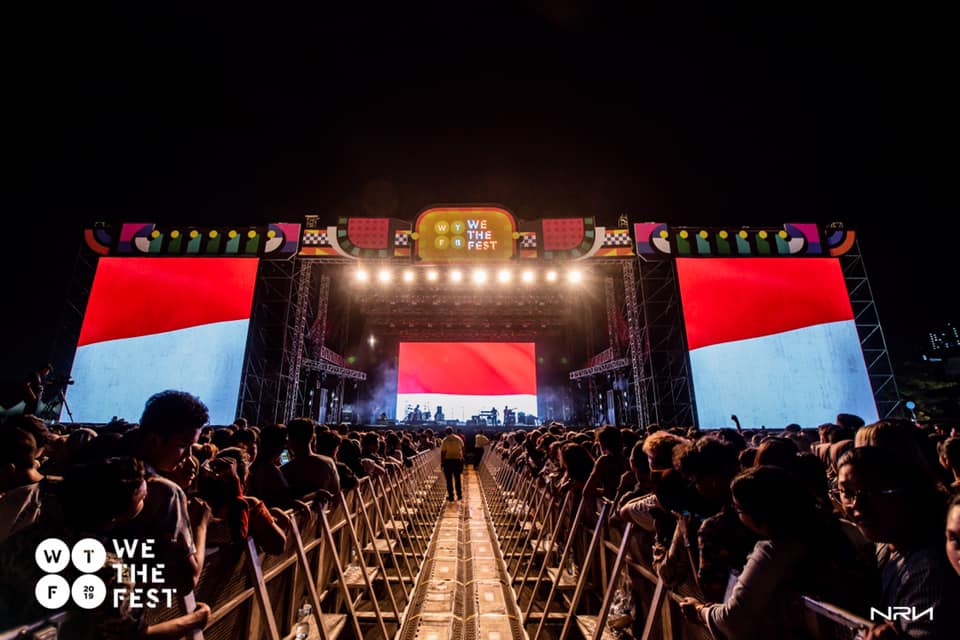 If you live in Indonesia it's possible to get your wristband delivered straight to your door or to pick it up. If you've selected to pick up your wristband then you'll be sent an E-ticket once the payment has gone through which you will need to bring with a form of valid ID to swap for a wristband. For locals you'll be able to pick up your wristband before the event date on allocated days (TBC) or at the main gate on the days of festival. It's highly recommended that you attend the pre-event pick up days to avoid queuing at the festival for your wristband! Find your tickets HERE.
If you're coming from overseas then you won't be able to get your wristband shipped to your home address so you'll have to pick up your wristband at the festival with a copy of your E-ticket and your ID. If you happen to be in Jakarta on the pre-event pick up days (see above) then by all means go pick up your wristband ahead of time so you avoid queues on the days of the festival! Find your tickets HERE.
If you're in Indonesia and are unable to complete an online purchase, you can also visit one of these locations to buy your ticket. You'll receive an order confirmation upon purchase which you'll need to bring to ticket exchange on (or before – TBC dates) the festival.
Tickets are also available at one of their ticket box partners
Blibli.com, Bobobobo.com, GO-TIX, Goers, Maimilu, Panorama, SerbaPay, Sindhen, Tiket.com, Tokopedia, Yes24
All tickets are multi-day, it's not possible to buy a ticket for just one day but you can choose between two and three day tickets. But to allow for a bit more price flexibility you can book the 'Early Entry' tickets which are are cheaper but you need to make sure you get into the venue before 4pm! If you're late you won't be allowed in so make sure you're on time! Keep in mind that you are allowed to enter the event then leave and re-enter later that day so the discount may actually be worth your while depending on what your plans are!
We The Fest also do a group bundle where you can get 6 tickets for the price of 5! This promotion definitely makes it worth your while trying to rally up a group of 6 people to share the cost of the promotion!
To make it easier on the wallet you can even opt for an installment plan so you can pay for your ticket in portions rather than all in go!
Note that all tickets are non-transferrable and non-refundable. Also, bear in mind that you need to keep the same wristband on for all three days. If you cut your wristband off after Day 1 or Day 2 you will not be given a new one and you will not be allowed into the festival again!
There's no such thing as VIP at this festival, you're either GA or a VIB (Very Important Banana – got to love this funny twist). VIB tickets include queue jump at wristband pick-up and at the gates of the festival, designated VIB top-up booths and private VIB bars so you don't miss any of the action, and VIB Viewing Areas which are located close to the main stage so you can practically smell your favourite artist. You can find all the details on what's included in the VIB ticket HERE.
If that's not enough for you then you can also upgrade to the VVIB (Very Very Important Banana) experience. Details of which can be found HERE, these packages come in the form of a cabana which you can share with your friends. The Cabana Banana experience comes with all the VIB privileges as well as dedicated bar service, complimentary merchandise, special party gear at your disposal in the cabana and valet parking upon arrival and departure of the venue. Not bad going at all…
If you're looking for more than just tickets and would also like your hotel booking taken care of then you should check out these We The Fest packages, offered at very competitive prices and all very closely located to the venue. We've made the mistake of staying quite a distance away from JIExpo before (throwback to DWP2016…) but we've learned from our painstakingly long taxi rides across town to get to the festival!
ARRIVING IN JAKARTA
If you're an international festival goer arriving into Jakarta then check out this Guide to Getting to & Around Jakarta! There you will find information on visa requirements and on local transport options to get you to your destination within the city before moving on to the festival.
GETTING TO THE FESTIVAL
The festival is located at JIEXPO Kemayoran in North Jakarta. Getting there is pretty easy, the venue can be accessed by commuter train, bus or taxi.
USING TAXIS AND GO-JEK
The most comfortable way to travel around Jakarta is by taxi but likely to not be the most convenient. Traffic is really bad in Jakarta (for those of you who have been to Bangkok and thought it's bad there, this is worse!) so at least if you're going to be stuck in traffic you can be stuck in it with air conditioning and radio. If you're not one for traffic and you'd rather get to your destination quickly and don't mind looking like a hot mess (check weathe before you go!) then I recommend calling a GO-JEK or Grab, (GO-JEK are one of the festival's official sponsors so there will likely be a few discount codes being thrown our way close to the event to encourage us using their app).
NOTE: both services offer more than just motorcycle rides, you can also book cars.
Both are highly dependable and convenient, and they're extremely cheap services. They're metered so you won't run the risk of getting scammed, simply pay the amount indicated on the app once you've booked your ride.
And they're totally safe to use as they're professionally run and you even get a helmet (with hair net in most cases to keep your hair clean) which can't be said for other cities in Asia. All you need to do is download the applications to your phone (best to do so before travelling!), open one up, enter your pick-up and drop-off location, you'll get an estimate for the cost of the journey and then hit confirm!
So in this case you would put in JIEXPO Kemayoran as your destination and then follow signs to the main gate of the festival as you get closer to the venue.
NOTE: if you've booked a ride and you step out of wifi and don't have any network service it will not cancel the ride so I would wait patiently in your wifi zone until your ride has arrived so you can locate him easily. 
You even get cheeky notifications sent to your app with discounts and promotions, it's worth browsing through the apps to get the hang of them so you can make good savings on your trips! It's likely that both applications will be handy to you as if one is being unresponsive you can just call the other! 
NOTE: both applications do more than just enable you to order transport on demand, we discovered on our last trip that we can order food and even order massage services straight to our hotel rooms. Felt pretty good having everything arrive straight to our door after a whole weekend of partying, great post festival remedies!
WARNING: please watch your belongings when riding on motorcycles in Jakarta. This means put phones away and keep your bag close to your person as unfortunately bag snatchers have become a real issue in the city. One of our group got his phone snatched just standing on the side of the road and I almost had mine taken whilst riding on the back of a motorcycle. Be cautious with your belongings!
Other than booking a taxi service (as this will only work if you've got a functioning local sim card or you've given in to roaming) it's usually quite easy to find a taxi in public places such as at train stations or shopping malls. Please avoid using the non-metered taxis and don't accept rides from unofficial 'taxi drivers' as you're likely to get scammed or sometimes worse.
It's best to stay safe by using a reputable taxi service, search for cars that belong to the Blue Bird Group. Even they have an application you can download and use to locate taxis nearby, it's just not worth running the risk of anything happening to you that could jeopardise your trip! 
TAKING COMMUTER TRAINS
That is if you're staying by a train station then it's worth giving the KRL (Kereta Rel Listrik or Electric Rail Train) a try! Particularly if you're planning on arriving at the festival during peak rush hours, you'll want to avoid taking a taxi across the city. And it's an extremely cheap way to navigate through the city, costing as little as Rp.5,000 (US$0.4) to get from one side of the city to another. Not to mention you'll catch a glimpse of the city from a different angle on board the train.
Stasiun Rajawali is the nearest station to JIEXPO Kemayoran on the Bogor – Jatinegara line. You can plan your journey and find more information HERE.
The station is about 1.6 kilometers away from the venue so you can either walk or you can book yourself a ride on demand via either Grab or GO-JEK. Using these apps please use Stasiun Rajawali as the pickup location and JIEXPO Kemayoran as the destination location. Please see above for information on how to use these applications.
TAKING BUSES
Another option is to use the TransJakarta Bus if you're not anywhere near a train station. Jakarta's buses have their very own lane, allowing them to avoid all (if not at least most) of the traffic, even during rush hours! And all for a cost of Rp.3,500 (US$0.30)! The ticket includes all transfers within the TransJakarta Bus routes which cover a vast area of the city.
Unfortunately, some people try to ruin all the fun and will attempt to drive their cars or motorcycles in the designated bus line which creates some delays but all in all the bus is very quick and for that price is the cheapest method of transport to get you from one corner of Jakarta to another! The closest bus stop to JIEXPO Kemayoran is Jembatan Merah on Corridor 12 (Penjaringan – Tanjung Priok) and Corridor 5 (Kampung Melayu – Ancol).
The bus stop is about 1.7 kilometers away from the venue so you can then book yourself a ride via either Grab or GO-JEK. Using these apps please use Jembatan Merah as the pickup location and JIEXPO Kemayoran as the destination location. Please see above for information on how to use these applications.
We The Fest takes place at JIEXPO Kemayoran in North Jakarta. This venue was always intended to welcome hundreds of events and expositions each year so it's no doubt that a few hotels have set themselves up close by.
There's a range of accommodation available in the area, anything from 5-star hotels (Grand Mercure Jakarta Kemayoran) to cheaper alternatives (Ibis Jakarta Kemayoran). There's a wide range of options available catering to different budgets, all within a 15 to 20 minute radius to the festival.
I tend to find accommodation close to the festival and then venture off into the city during the day. After a long day and evening of roaming around a festival I like to know that my hotel isn't too far.
Though if you're interested in staying in the city itself then there's a full range of options available, much bigger than what's available close to the venue. But always keep in mind that you'll probably have to endure hours in traffic if you choose this option!
If you're looking for a simple solution to booking accommodation then check out the We The Fest Travel Packages. If you'd rather book your own, check out Booking.com, my go-to hotel booking platform. I really like that you don't have to pay in advance and that they offer a really good cancellation policy for most hotels.
What started as a two-stage festival is now a three-stage music extravaganza. You've got the 'WTF Stage' (Main Stage) situated outside, you'll also find 'The Stage Is… B.A.N.A.N.A.S Stage' which is located inside one of the halls and 'Another Stage' which is also outdoors.
One really big advantage to having one of the stages indoors is that the hall is air-conditioned. If the humidity and heat is getting a little bit too much for you then you've always got the possibility to freshen up inside the hall.
The distance between each stage isn't uncomfortable as you don't ever have to walk very far and the walkways are wide enough for the amount of people flowing to and from each stage.
The setup is really well thought out, the two bigger stages are far enough apart that there's no sound interference and the smaller stage outside isn't overcast by the main stage action in the slightest way.
Sound quality aside the festival is absolutely gorgeous and it's full of different stalls and shops making the walks between stages even more exciting. I can guarantee you'll notice something new or different every time you walk to and from a stage. There's never a dull moment at We The Fest!
Year after year the organisers put together an eclectic mix of world-acclaimed artists. Previous editions have featured big international names including Phoenix, Dua Lipa, Big Sean, James Bay, ODESZA, alt-J, Lorde and Kodaline. Each year seems to top the last, you won't be disappointed by the music entertainment that's for sure!
The variety of music in the lineup is always one of the main highlights, you're likely to stumble upon something new you've not heard before.
And they'll always have a few acts who are still up and coming so won't have yet performed in Indonesia (sometimes even in the region) meaning that many of these performances are exclusive to the festival!
First time performances are unarguably extremely special, so there's no doubt that there will be some unforgettable moments at We The Fest 2020 for artists and fans alike.
If you've read up until this part of this festival guide you'll have undoubtedly deduced that I am a massive fan of We The Fest.
I think they've done incredibly well in putting together such a well thought out and organised festival and only in a matter of a few years. This festival is a must if you're wanting to experience some of Asia's best music festivals.
Overall this is a no pressure festival, everything is extremely easy going and accommodating to all attendees. Because there's such a wide variety of music acts and activities everyone is well catered for and able to have a good time.
The layout of the festival makes it easy to get around and makes you want to give everything a go. It'll definitely satisfy all your festival curiosities and cravings.
We tried so many new things during the festival, namely food and music. I discovered a whole bunch of acts which I hadn't heard of and got to see performers who don't come about to Asia often so it really was a real treat. 
Because everyone gets to participate in something and has moments to enjoy you get this incredible sense of overall contentment and inclusivity. Not to mention that this festival seems pretty flawless so as an attendee you don't run into many obstacles to make it a perfect weekend.
It's a pretty unforgettable atmosphere, with smiles all around and plenty of memories to walk away with. We had a great time partying at We The Fest, and we're looking forward to this year's festivities, it's definitely worth the trip to Jakarta!
If there's one thing I've noticed from attending festivals hosted by Ismaya Live is that they sure know how to do festival food!
We The Fest is a food galore with their 'Eats & Beats 'area, you can find literally anything under the sun and at extremely reasonable prices. We made sure not to eat before arriving so we could run wild at the festival and try all sorts of different things.
There's a very good balance between festival grub (usual suspects including burgers and pizza) and healthier options (sushi and salads). And if you're vegetarian or vegan you'll be happy to know that there were a few options that catered to your dietary preferences too!
There really is something for everybody! It's a foodie's haven, one of the principal attractions of this festival is the food so definitely take the time to go round and try a few things.
To facilitate this the organisers set up big seating areas so you and your friends can sit down together and enjoy your food, it's really well set up!
Drinks were a little pricier than we were used to, but coming from Thailand that's not difficult as festivals are usually overflowing with cheap drinks!
Alcohol is just generally more expensive in Indonesia due to tax regulations so we were already expecting that the prices of the drinks at the festival would be above the norm for us.
Having said this, the staff are very friendly in Indonesia, all I can say is a smile and a nice tip go a long way and you're almost guaranteed to get a sly top-up on your drink…
Food and drink can be paid for using your RFID wristband. Simply top-up your wristband when you arrive at the festival and then use it when ordering your food or drinks. They'll scan it for you and it will deduct from the amount you have remaining on the RFID.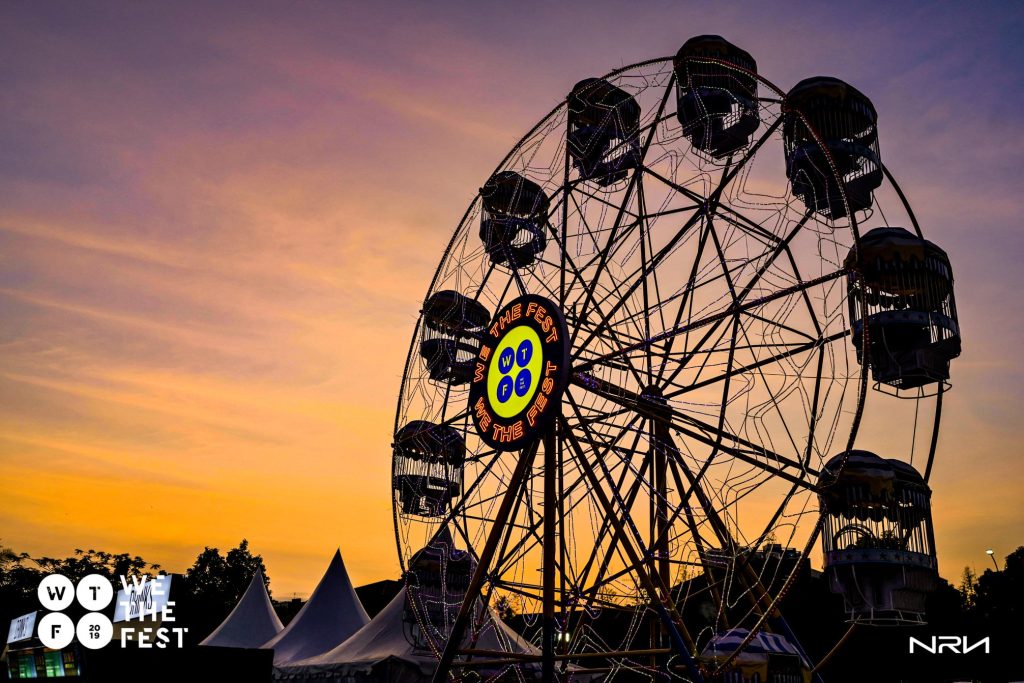 It is probably one of the most photogenic festivals I've ever stepped foot in. Art is one of the main pillars of this incredible festival and it is heavily emphasised.
Taking photos is taken as seriously as ever and is encouraged in all corners of the festival! So much so that it becomes an activity in itself as you'll see a lot of people really getting into it and making the most of the beautiful displays.
It may sound a bit overwhelming but it's actually very amusing and really completes the whole experience as you end up going home with some amazing pictures. I can't tell you how many festivals we've been to and got home with zero evidence of our attendance.
What's really enjoyable is that everyone joins in, you'll no doubt get talking to another group of festival goers as you pose at the same display. It's all completely lighthearted and just for fun!
Other than art installations the festival is showered with shopping stalls. Everywhere you go you can interact with various brands and shops. This is where the fashion aspect really came into play.
Brands like H&M have previously sponsored the festival, they hosted a makeshift catwalk you could parade down and had their latest clothing lines on display. You can also walk around the market where you'll be able to scout out good bargains on local designer brands. 
You can also partake in games and art activities in the Art Village. It is the perfect festival to let your inner child run wild in!
You could get your hand dunked and plastered in paint (good luck getting that off!), make a festival souvenir to take home, get your fortune told and much much more!
Arrive early so you can experience all aspects of this festival, there is A LOT to do. It's one of the most active festivals I've ever been to, you won't be bored at We The Fest, that's for sure!
The cost of your trip to Jakarta and your experience of We The Fest will be totally dependent on your personal preferences. In you're on a budget then some of these low cost tips on how to travel to Jakarta and to the festival will be useful to you. If you're looking to spend big then by all means please do the opposite of all these recommendations!
Book your flights and accommodation early! Dates are normally announced a few months in advance so if you're absolutely sure you want to go regardless of the lineup then you should book both flights and accommodation as soon as the dates are released to avoid price increases.
Early bird gets the worm! The same goes for your festival ticket, don't wait to get your ticket as the longer you wait the more expensive it gets!
Look out for group tickets. If you are coming in a group then get a group ticket, it will work out cheaper for everyone!
If you're on a budget stay close to the event so you don't up spending too much on transport to and from the event.
Get a local SIM card at the airport. Switch off roaming to avoid high mobile data costs!
Eat street food and in food courts! one of the best things about Jakarta is that you can eat cheap and still eat well.
Get a travel card if you opt for public transport to get around Jakarta.
Be smart about taking taxis, either use the Grab app to hail a taxi so you get a fixed rate or if you've opted to do your trip without data then get one on the street but don't settle for a fixed rate, go with the meter. And share the fare with your friends!
Get involved! Make the most of your ticket and participate in all the free activities and workshops.
Have a walk around before buying the first thing you see to eat! There are a number of food options at the festival, catering to different budgets and taste.
Lockers: just in case you need to store any of your belongings safe during the festival! They will be available on-site on all three days.
Toilets: yes you're probably thinking this is a weird mention but I'm from the UK and have witnessed some really atrocious toilet scenes so this feature needs to be highlighted. The organisers seriously need to be patted on the back for the incredible condition their toilets are kept in. Firstly they really set the bar for toilet hygiene with staff efficiency. The minute someone steps out of a port-a-loo a cleaner jumps in and inspects the place before letting you in. This means they are clean and that you always have toilet paper at your disposal! A male source has also confirmed that this is also the case for male toilets (Hoorah!). But that's not the best part, each port-a-loo is decorated with flowers to keep them smelling fresh throughout the festival! Seriously every inch of that festival left us with a positive long-lasting impression.
Beauty bars: as if the experience of going to the port-a-loo wasn't enough the organisers also have beauty stations at our disposal (sorry boys this is for the girls only)! You can freshen up and take a minute to re-apply your makeup at these stations which come complete with vanity makeup mirrors.
Wheelchair Access: this festival is wheelchair accessible! I recommend contacting the organiser via their Facebook Page to get more information and get the details on how they can assist you.
Fully charged phone: you don't want to miss any opportunity to capture your favourite moments at the festival and also risk being left stranded at We The Fest with no phone to call your ride home!
Raincoat:last year it didn't rain but we'll be in the middle of rainy season so come prepared! I'm talking rain jackets or ponchos, and zip lock bags for your valuables just in case!
List of prohibited items: make sure you check back with the festival's social media pages closer to the event to get the full list of prohibited items so you make sure you don't bring anything that would get confiscated as you will not be able to get them back!
Top Up Stations: We The Fest use an RFID system (fancy term for wristbands with tags that allow you to pay for things at the festival), you can use cash/debit card to top up your wristband. A lot of people attend We The Fest, I recommend you try to load up your wristband with a large sum at the top up stations the first time around to avoid having to queue again and missing out on the action! 
Sim Card: a couple years ago buying a sim card in a local mall was easy to do but now unless you have a local ID number then you won't be permitted to buy a local sim card. If you want to stay connected throughout your stay in Indonesia you'll need to get a tourist sim card at the airport. 
Cash: from experience it's definitely better to come prepared, you never know if the ATMs close by will be functioning normally on the day and the last thing you want is to be stuck at a festival with no cash. You can pay by card at the festival but even that isn't a fail proof plan! I took out cash at the airport and took it with me to the festival. 
Ear Plugs: you'll need to keep your ears protected! Long or repeated exposure to loud sounds can cause long term damage to your eardrums, don't risk ruining your hearing, think of all the festivals you have yet to explore!
Now if that doesn't make you want to go I'm not sure what will! There really is something for everyone at this festival, it encompasses so many different aspects you'll be sure to be kept busy for the full three days and you'll leave with a mind (and phone) full of memories! Make sure you check out We The Fest's official Facebook page for all the latest announcements…
Share this post with your festival crew so you can plan your We The Fest adventure together!