Amsterdam is gearing up for another electrifying edition of the Amsterdam Dance Event 2023. With the world's most prolific DJs, producers, and electronic music enthusiasts converging in the city, the event promises to be a sonic extravaganza. Whether you're a techno titan, house music haven, or just in search of the best ADE events 2023, this is your go-to guide.
Awakenings 
October 18-22, 2023 | Gashouder/Ziggo Dome | Tickets
For over two decades, Awakenings has celebrated the pulsating heart of techno, earning its reputation as a global epicenter for the genre. Conceived by the pioneering Monumental Productions, its chronicles are interwoven with exhilarating beats and passionate audiences. This year's edition beckons attendees back to the iconic venues: the vast expanse of Ziggo Dome and the raw essence of Gashouder. With a meticulously curated lineup, highlights such as Adam Beyer presents Drumcode, Exhale by Amelie Lens, and Adriatique presents X stand as beacons of Awakenings' unparalleled offerings. To be at Awakenings is to experience the very spirit of the Amsterdam Dance Event 2023.
DGTL
October 19-22, 2023 | NDSM Warehouse | Tickets
DGTL's narrative in the Amsterdam Dance Event saga has always been one of innovation and audacity. Nestled in the NDSM Warehouse, this festival unfurls a rich tapestry of electronic sounds, asserting its place in the top ADE parties. With a lineup that boasts of over 50 groundbreaking acts, DGTL promises a symphony of house, techno, and electronic harmonies. Noteworthy moments to anticipate include the genius of Röyksopp and the magnetic presence of The Blessed Madonna. Adding a fresh chapter to their ADE chronicles, this year introduces a Sunday soiree with the enchanting Peggy Gou.
Into The Woods ADE
October 20-21, 2023 | NDSM Wharf | Tickets
Embark on a sonic odyssey with Into The Woods, an emblematic experience for those charting the terrains of Amsterdam techno festivals 2023. Set against the raw charisma of the NDSM-wharf, the festival is a confluence of diverse rhythms and beats. While techno purists can lose themselves in unadulterated beats, aficionados of eclectic and tropical tunes have the Faya Faya stage calling out to them. As you navigate through the festival, remember the elements – not just the musical ones. Bring warmth, find solace by the bonfires, and let your senses be overwhelmed by the artistic wonders that lay in wait.
Pleinvrees
October 18-20, 2023 | WesterUnie/Kromhouthal | Tickets
Returning as a staple of Amsterdam Dance Event 2023, Pleinvrees is a top pick among ADE House events. From October 18-20, this event shines with a special B2B set from Colyn and Konstantin Sibold, setting it apart as one of the must-see ADE shows. Their collaboration with Anjunadeep at the iconic Kromhouthal signifies the depth of the ADE electronic music lineup. With a legacy of hosting best ADE events, Pleinvrees is an ADE 2023 highlight. Grab your ADE event tickets 2023 quickly; they're in high demand.
Audio Obscura
October 20-22, 2023 | RAW Factory | Tickets
For those craving cutting-edge ADE techno parties, Audio Obscura remains a must-see. Reconvening at the RAW Factory, it's a blend of industrial ambiance and Amsterdam Dance Event 2023 magic. Their renowned Loft sessions demand early attention. Highlights like Maceo Plex's immersive journey, Mathame's celestial vibes, and the melodic prowess of Cassian make it an unmissable stop among the ADE Amsterdam highlights. Dive into ADE 2023 with Audio Obscura's unparalleled nights.
Indo Warehouse Official ADE Showcase
October 22, 2023 | Melkweg | Tickets
Making waves from NYC, Indo Warehouse marks a stellar debut at Amsterdam Dance Event 2023. Recognised as a pinnacle among ADE House music events, they curate a mesmerizing South Asian-inspired house and techno palette. Led by Kahani and Kunal Merchant, with notable performances by Harji and Anish Kumar, this event is a top ADE party not to be missed. Given their groundbreaking global tracks and the unique party ethos they bring, anticipate an immersive ADE Amsterdam highlight that resonates with both heritage and rhythm.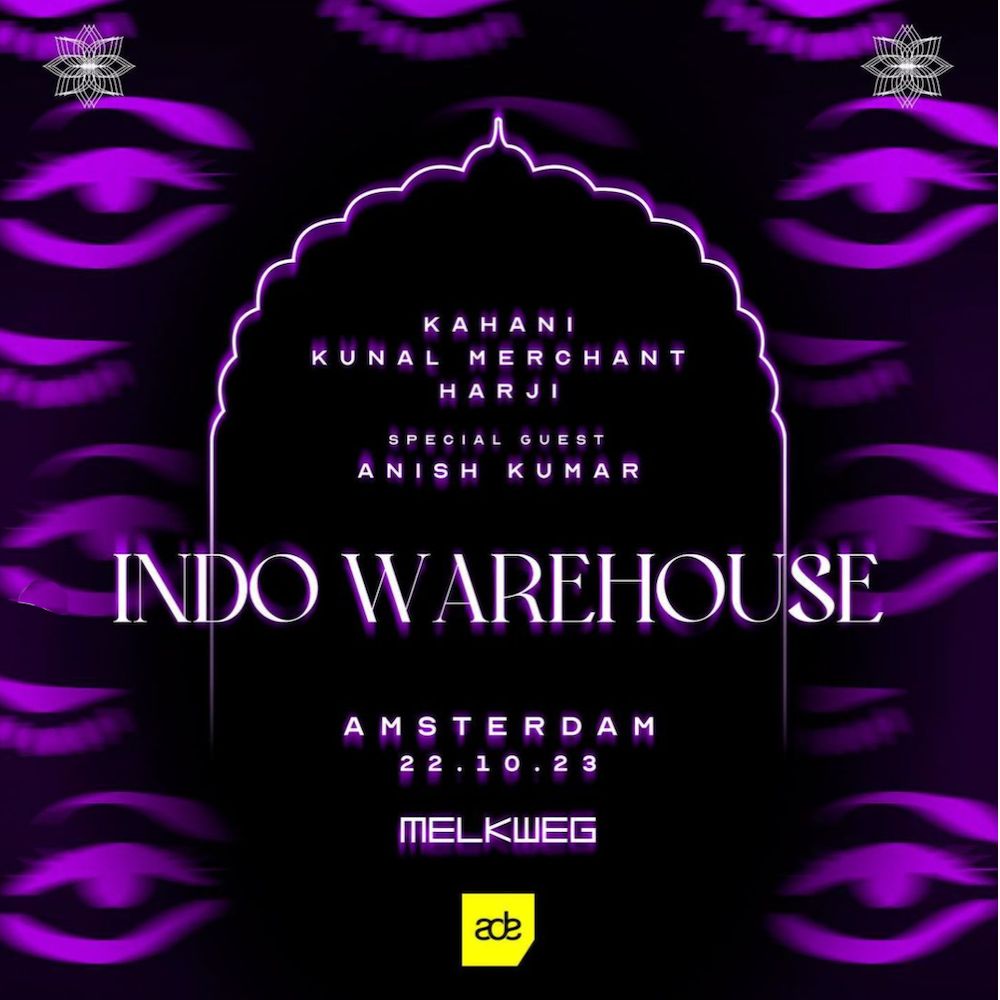 Loveland ADE
October 20-22, 2023 | Mediahaven | Tickets
Amsterdam's own, Loveland, solidifies its standing in the electronic scene with a spectacular four-part series during Amsterdam Dance Event 2023. Set within the dynamic Mediahaven, it positions itself as a must-see ADE show. Collaborating with global heavyweights like Paradise, 909, Music On, and Mochakk, Loveland guarantees a euphoric dive into the heart of ADE techno parties. As one of the best ADE events 2023, Loveland's unique fusion of sounds ensures an electrifying journey, capturing the ADE festival picks' essence. Join the dance revolution and immerse in the pulse of ADE's vibrant spectrum.
The Seekers of Light ADE Weekender – The Gardens of Babylon
October 21-22, 2023 | WesterUnie | Tickets
Amsterdam Dance Event 2023 will be illuminated by the entrancing "The Seekers of Light" at the renowned WesterUnie venue. This ADE music event promises an enchanting day-to-night transformation, each with its distinct vibe. Whether you're an early bird or a night owl, the diverse lineups cater to every musical palate. It's a must-see ADE show, boasting some of the best ADE House event sounds. Offering both day and night tickets, and even a combo for the insatiable, it's set to be an ADE festival pick for those seeking a continuous dance experience. Join in, and let the light guide your ADE 2023 journey.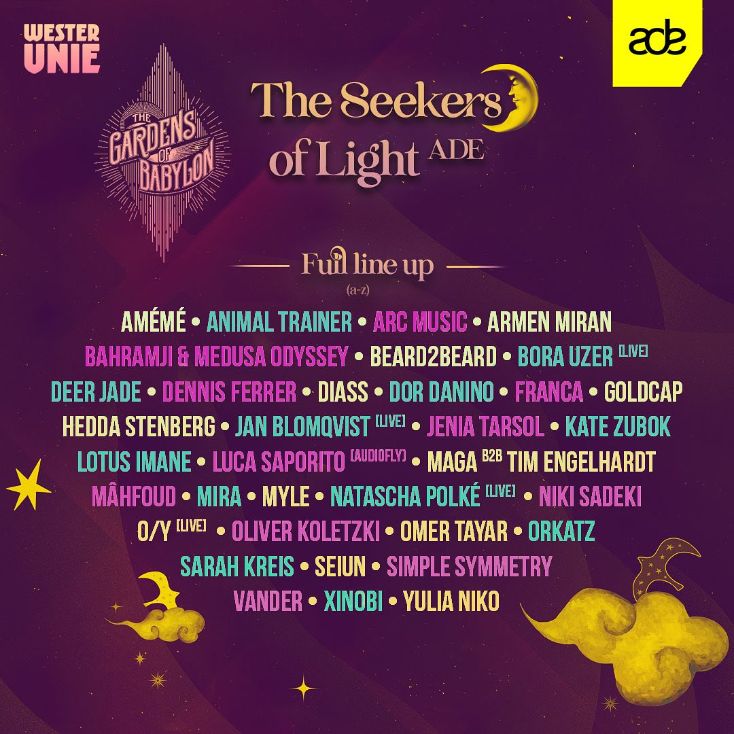 Breakfast Club: ADE Marathon 2023
October 21-22, 2023 | Several Locations | Tickets
During Amsterdam Dance Event 2023, Breakfast Club serves up an exhilarating marathon that promises to satiate even the most voracious music enthusiasts. Spanning two days and boasting four electrifying parties, it's one of the top ADE parties to look out for. With a staggering lineup of artists, this ADE music event marathon blends intrigue with rhythm. And if the thrill of the known wasn't enough, a secretive event on Sunday, October 22nd, shrouded in mystery with undisclosed locations and artists, beckons the daring. If you're seeking the crème de la crème of ADE House events, this marathon is not to be missed. Secure your ADE event tickets for 2023 and join the chase!
Crane Sessions: ADE 2023
October 19-23, 2023 | Crane Hotel Faralda | Tickets
Experience a different altitude of Amsterdam Dance Event 2023 with Crane Sessions. Hosted at the Crane Hotel Faralda, this isn't just any clubbing experience. This architectural marvel stands 50 meters tall, boasting an unmatched panoramic view of Amsterdam. Access the venue's three design suites, studio, and top-deck spa pool through its two panorama elevators. Positioned strategically on the banks of the river IJ, every glance outwards offers a breathtaking view. Beyond its luxurious facilities, the Crane Hotel Faralda is renowned for curating some of the best ADE House music events. Having personally experienced the charm of this location, it's a must-see ADE show for 2023.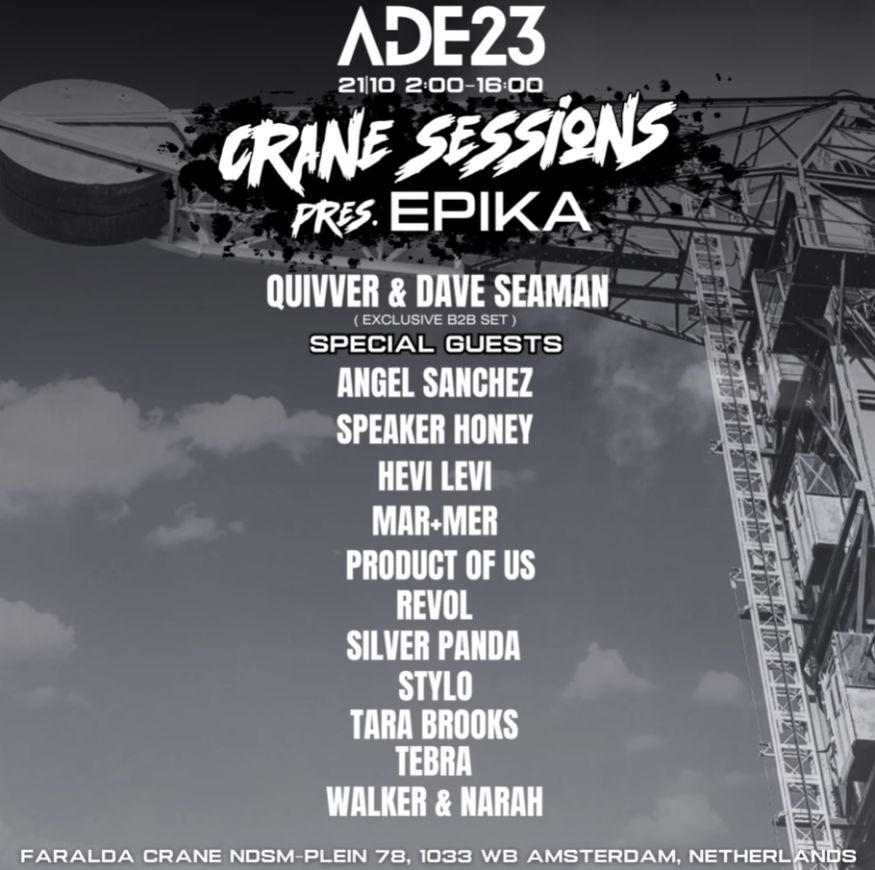 Amsterdam Dance Event 2023 is shaping up to be an electrifying convergence of music, culture, and unparalleled experiences. From the pulsating beats at Awakenings to the mesmerising vibes of Indo Warehouse, and the elevated experience at Crane Sessions, there's something for every electronic music aficionado. Whether you're a house lover, techno enthusiast, or simply seeking the best ADE events 2023 has to offer, Amsterdam is the place to be this October. Secure your tickets, mark your calendars, and get ready for a dance marathon like no other.