We Are FSTVL made a triumphant return to Damyns Hall Aerodrome Upminster this summer with a highly anticipated lineup, outstanding stage production and other fun surprises, proving itself once again to be one of Europe's top electronic music festivals.
It was a glorious weekend, with incredible weather to match the excitement that festival revellers were emanating throughout the festival grounds. All-round, this music festival was nothing but good vibes and good times. Keep reading to dive into my experience and review of We Are FSTVL 2022!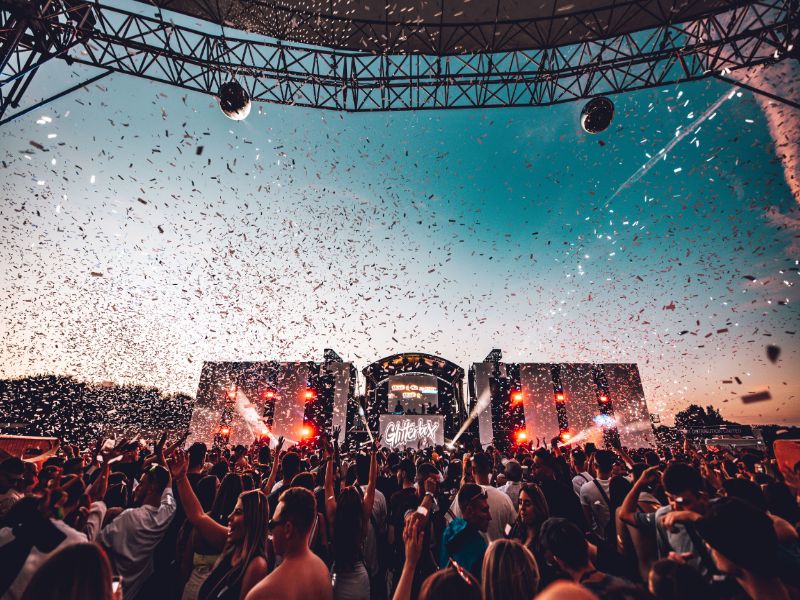 We Are FSTVL Lineup & Stage Hosts
The music is without a doubt one of the highlights of We Are FSTVL. People flocked from over the UK and beyond to get a taste of their incredible lineup, and they were not left disappointed, to say the least!
The weekend's festivities were off to an incredible start with Saturday's exciting mix of stage hosts, including the world-renowned Circo Loco crew, throwback disco brand Glitterbox, and techno masterminds Afterlife.
Saturday highlights came in thick and fast over on the Afterlife stage with an appearance from breakout techno artist Innellea, who took to the stage alongside Colyn, delivering emotive techno grooves. And this was just the beginning, later that evening label heads Tale of Us got behind the decks and took revellers on a dramatic and sumptuous techno journey they won't be forgetting any time soon. Just as festival goers thought they had seen it all, the pair were joined by Grammy-nominated pair Camelphat and ended with a blinder of a set.
The Circoloco stage kicked things off with Apollonia and The Blessed Madonna, which really got people in the mood to party and then never stopped from there. Fans were kept on their feet and dancing all day long, as the stage wrapped up its first day with tech house masters Jamie Jones and The Martinez Brothers.
The first big draw for us on Sunday was over on the Circo Loco stage, which featured a techno-leaning lineup that put the spotlight on underground music icons Adam Beyer, Deborah de Luca, and more. This stage ended with dance music legend Carl Cox hammering out some seductive and energetic techno.
We made it over to PrettyLittleThing's Sunday session for some unbelievable moments with Craig David who performed under his alias TS5. He treated fans to a live hybrid set that combined a blend of his own music catalogue and mashups of other people's hits. Hearing the crowd sing to throwbacks like 'bo selecta' was phenomenal. The way that nostalgia hit on that Sunday afternoon was priceless.
Another notable moment on Sunday's bill was John Summit who played on the outdoor stage, hosted by Defected. His set went on as the sun was setting, providing the perfect soundtrack for the golden hour.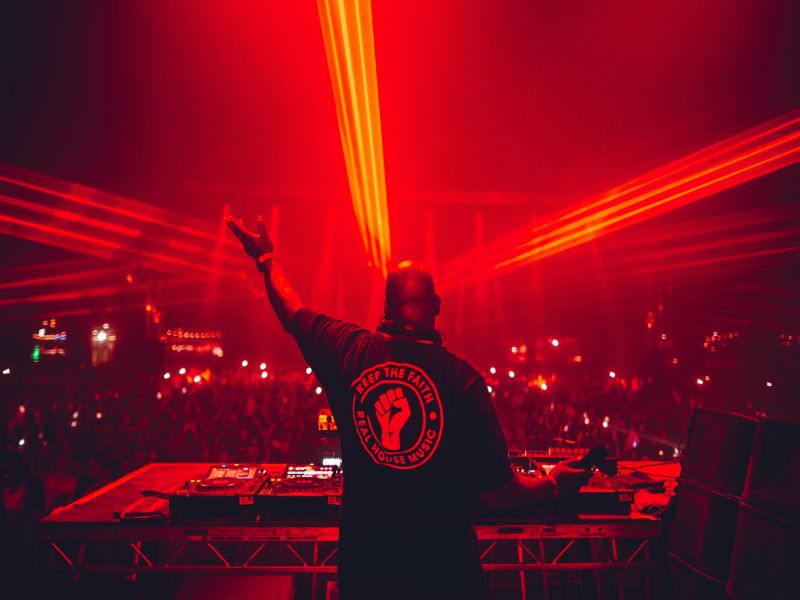 The We Are FSTVL Grounds
Getting to the festival could not be easier! We Are FSTVL operate regular (and free!) shuttle services between the festival grounds and Upminster station, which really takes the guesswork out of planning how to get there. A fantastic way to kickstart a music festival journey. The same could be said leaving the site, the organisation surrounding managing the crowd and getting back to Upminster safely was flawless. These are details that are certainly worth mentioning as they can easily make or break a festival experience.
Getting around the site is just as easy, the layout is spacious and seamless. Getting from one stage to another was so effortless that we got to enjoy every set we wanted to see which was amazing.
Another big draw to this festival is its location. Nestled in a field and amongst some hills, it set a picture-perfect backdrop for gorgeous golden hours on both days. Watching the festival go from day to night was dreamlike. As the sun disappeared behind the hills, the festival site completely lit up and burst with vibrance.
The We Are FSTVL Extracurriculars
Other than music, there was plenty going on around the festival site to keep you entertained throughout the weekend. This was perfect if you were ever looking to take a break from the different stages and wanted a little something extra from your festival experience. Luckily for us, the sun was shining the entire time, so we were able to walk around the whole festival site and really take in all the other activities that were on offer.
Scattered around the festival site were various funfair rides and attractions. From pendulum rides to flying swings and a slingshot ride, there were ample ways to get your blood pumping and put your fearlessness to the test. The rides were not only a fun alternative to the music programme, but they also made the grounds even more colourful. Particularly at night, as soon as dusk settled in, the bright and vibrant neon lights helped to carry the festival vibes between tents and stages.
Another fun feature that caught our attention was the photobooths that were scattered all over the festival grounds. We really enjoyed being able to leave the festival with a little keepsake. One of the best things at We Are FSTVL is that there would be a little surprise waiting to be discovered at every corner. These unexpected moments further amplified our overall festival experience.
And as though that wasn't enough, the VIP and VVIP areas had even more on offer for festivalgoers. From hair and glitter makeovers, premium bars, backstage access and more! I would say that it's worth spending a little extra to get all the finer amenities and get even more from the We Are FSTVL experience.
A Final Word…
We Are FSTVL has won over five awards in its nine-year history for its best-in-class festival experience, so you just know that it's going to keep on giving to its fans and keep outdoing itself from year to year. It's undoubtedly one of Europe's finest music festivals and one you need to check out as soon as possible. Bring on their 2023 edition!
Don't be shy, share this post now with your festival crew!