Mysteryland made its long-awaited return to Haarlemmermeer with a spectacular sold-out event. They featured over 300 artists and 22 stage hosts across the weekend, who brought their A-game for over 133,000 electronic music lovers.
Though a lot of the excitement is rooted in the music, Mysteryland offers so much more than your average music festival. ID&T go to great lengths to curate an experience that sets itself apart from its competitors, striking the right balance between being accommodating and memorable for its attendees. Renowned for its exceptional production and magical festival grounds, Mysteryland came back stronger than ever with an exciting new theme: 'The Kingdom of the Weird Party Animals'.
This was my first visit to Mysteryland, and it certainly won't be my last, I am hooked on the experience! Simply put, I could not have asked for a better way to wrap up the European summer festival season.
Keep reading to dive into my experience at Mysteryland 2022 and discover why this festival should be on your festival roster next summer!
The Music & Stage Hosts
This year's lineup treated revellers to an eclectic mix of genres, covering the full spectrum of electronic music's main subgenres, from house to techno, trance, EDM, hardstyle and hardcore. But they didn't stop there, they also hosted Pop, Afrobeat, Latin, R&B and Hip-Hop throughout the weekend. Mysteryland has a little something for everyone and is definitely a good choice for anyone looking to dip their toes in new music and genres.  
Mysteryland presented a dream lineup, featuring industry tastemakers and renowned hosting partners including Q-dance, Sexy By Nature, Carl Cox presents Awesome Soundwave, Cocoon, Vunzige Deuntjes, and Thunderdome, as well as local partners such as Lovelee, Wasserette, and Funky Town.
This year punched a progressive and imaginative sound, combining the most sought-after names and exceptional local talent. The weekend consistently delivered high-energy and inspiring sets across the board. Highlights included sets by ACRAZE, Carl Cox, Armin Van Buuren, Alan Walker, Sunnery James & Ryan Marciano, Aly & Fila, Paul Kalkbrenner, Oliver Heldens, Frequencerz, Sub Zero Project, and so many more!
The festival's iconic stages ranged from jaw-dropping outdoor dance floors to enormous, atmospheric tents, dripped in industry-leading production and displays. Every stage boasted its own unique flair and inimitable design, which contributed to the energy of the sets.
I ended up spending quite a lot of time at the smaller stages, where the attention to detail was unrivalled. Particularly the Wasserette stage which was fashioned to look like a launderette, complete with bubbles wafting through the air and clothes lines hanging over the crowd. Another favourite of mine was the Adonis stage which left me completely mesmerised. It was adorned with holographic features that mirrored the sun and created vibrant reflections through the trees, it felt like I had been transported into an enchanted forest.
The Festival Grounds & Extracurriculars
The stage production only scratched the surface of the creations and surprises that awaited the festival's guests this year. You are fully immersed from the moment you enter the festival, and the mystic is carried throughout until you depart. The attention to detail was unlike anything I've ever seen. Each corner of the site was bursting with its own wonderful form of magic. Even the paths were curated in line with this year's theme, so the site feels like a seamless and fluid experience. Looking in any direction, you were always guaranteed to see something new and wonderful.
The production really complemented the stunning location and accentuated the gorgeous landscape. Haarlemmermeer is undoubtedly one of the most beautiful venues Europe has to offer. Set amongst a forest and by water, producers really embraced the space and ably integrated non-musical displays into the festival area.
The larger-than-life stages were balanced out by smaller but equally as impressive attractions. One of my favourite attractions was the secret roller rink they had built at the very top of the legendary 'Big Spotters Hill', complete with a DJ booth built into a giant disco ball. It looked spectacular and offered the perfect vantage point to see the entire festival grounds.
Another highlight was the 'Healing Garden', which offered everything from spiritual ceremonies and reviving massages to yoga, meditation, and more. This area offered a peaceful retreat compared to all the other higher-intensity activities sprawled across the festival.
The food areas were also impressive, there were a few scattered around the festival site so you never had to walk far to find food which was convenient. And these areas all had something different to offer, there was such a diverse selection of food, and they even had their own entertainment and cosy corners. Perfect for when you wanted a break from the stages but wanted to keep the festival vibes going.
The 'Nude' Disco which was situated in the middle of one of the food areas was one of the best activities that I tried at the festival. You could put on a nude muscle suit over your clothes and get silly with your friends to some quality disco and house music, it was heaps of fun!
What I loved was not only the quality and variety of the attractions but the fact that they really encouraged us to let go, be curious and be playful. I don't think I ever stopped smiling from the moment I walked in until I left, just completely swept away by my journey at Mysteryland.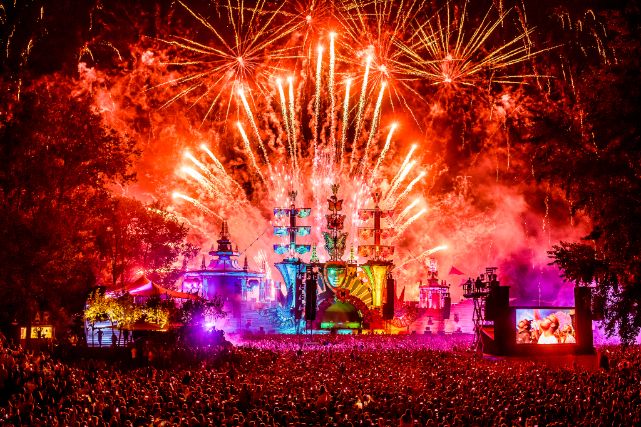 The Stellar Vibes
If you strip away all the production, attractions, and music, what makes the Mysteryland experience is the people. This festival draws an exceptional crowd of international music enthusiasts. There was a very comfortable, jovial, and welcoming atmosphere, considering how many different genres and crowds it brings together, I think it's remarkable. The festival really succeeds in bringing everyone together harmoniously to celebrate their love of music. 
All the interactions I had at the festival were positive and pleasant, I really appreciated every single one of them. Many people I met had been going to Mysteryland land for years, some since its first edition, I was amazed by their stories of the festival all those years ago.
No matter whether you're a seasoned raver or a festival rookie, the crowd plays a huge part in the overall experience and the vibes at this festival certainly make it even more special than it already is.
A Final Word…
It's not surprising that Mysteryland is one of the world's longest-running music festivals, the magic created over that weekend keeps revellers coming back for more every year. The combination of the music, the stage builds, the approachable crowd, the visual vibrance across the site, and the level of immersion really make this an absolute must for all avid festival-goers.
Mysteryland will celebrate its 30th anniversary next year and they're already gearing up for an even bigger edition. Judging by how fantastic this year was, this is certainly an event in their history that is not to be missed. Stay tuned for more announcements coming soon and see you in 2023!
Share this post with your festival crew so you can plan your Mysteryland adventure together!
Photo source: SPARK, Fotograaf Niels for Mysteryland