Waterzonic is Bangkok's first ever music water festival and has been going strong for five years now. The concept is simple, expect to get music, big stage production and water coming at you from all directions. It's basically a giant water party, and don't think you'll get away with staying dry… It's one of Bangkok's biggest and best music festivals, if you happen to be in Thailand in October you should really consider giving this one a go, it's one of a kind. In anticipation of this massive event, here is The Nitty Gritty Guide to Waterzonic Bangkok.
When did I attend? September 2017
When is the next Waterzonic Bangkok? 4-5th October 2019
What do you hear at Waterzonic Bangkok? EDM, Trap, Hardstyle, Trance
Where? Oasis Arena, SHOW DC, Bangkok, Thailand
What's the local currency? Thai Baht
What's the local language? Thai
Waterzonic is the first water music festival to ever take place in Thailand and is on its 5th edition. It has now even crossed over to Myanmar, so if you're unable to make it to Thailand then you can also attend this event in Yangon!
Waterzonic Bangkok is brought to you by an elite team of event organisers: 

ZAAP

. They have been at the forefront of the changes in the music and festival industry in Thailand (basically we have them to thank for being able to party at all these incredible festivals we now have!).
ZAAP is Thailand's event powerhouse that hosts several of the country's best festivals, namely 

Waterzonic

, 

S2O Songkran Music Festival

 and 

Fullmoon Party Live in Bangkok

. All of which have been around for over 3 years now.
Some of ZAAP's younger festival brands include: 

Spacejam

, 

TBC

, 

ZUMMERBEACH

, 

Bangkok Of Dreams

, 

Fly Beyond Tonight

Waterzonic Bangkok is a 20+ event
Tickets are released in different phases so don't wait to get yours as the sooner you get them the cheaper they are!
Both GA and VIP tickets are available for this event. VIP privileges include: VIP Fast Lane; VIP Private Bar; VIP Private Toilet and a VIP Dry Zone.
Note that all tickets are non transferrable and non refundable so make sure you enter the correct personal information when purchasing your ticket(s) or you won't be able to pick up your wristband(s) at the event. You'll need a printed copy of your order confirmation and your ID on the day to pick up your ticket(s). This doesn't apply if you choose to have your tickets delivered to your door.
If you don't feel like queuing at the festival and you reside in Thailand you can also choose to have your ticket(s) delivered straight to your door. It's more convenient and you'll definitely save time not queuing at the festival! Please note that you need to purchase at least a week before the event if you want to get your tickets delivered to your door.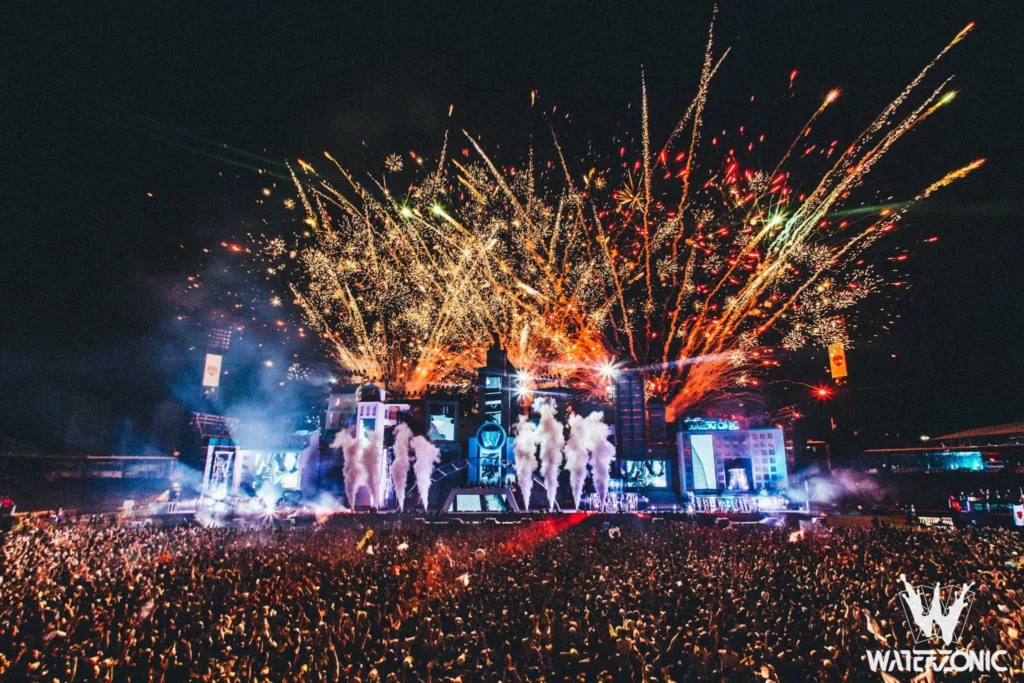 ARRIVING IN BANGKOK
If you're an international festival goer arriving in Bangkok then check out this Guide to Travelling to Bangkok! There you will find several options to get you to your destination within the city before moving on to the festival.
GETTING AROUND BANGKOK
TAKING THE BTS
There are two BTS lines that run through Bangkok: the Siam Line and the Sukhumvit Line. Both of these lines connect at Siam station which is one of the most central points of the city.
The Sukhumvit Line runs between Kheha (East) and Kasetsart University (North West). And the Siam Line runs between National Stadium (West) and Bang Wa (South West).
For a map, stations listings and hours of operation please go HERE.
USING THE MRT
Aside from the BTS, Bangkok also has two Metro (MRT) lines running through it: the Blue Line and the Purple line. The Blue Line runs from North to South in the city centre, from Tao Poon to Hua Lumphong. You are unlikely to need to use the purple line as it connects the outskirts of Bangkok to the centre.
You can change for the BTS at Sukhumvit MRT Station. Alight at Sukhumvit MRT Station and make your way up to street level, then follow signs to Asok BTS Station. From there you'll be able to jump on the BTS Sukhumvit Line running between Kheha (East) and Kasetsart University (North West). Note that the MRT and BTS are run independently of each other so you'll need to buy separate tickets to travel on them.
For more information on how to use the MRT and hours of operation please go HERE.
Using the BTS, the MRT and/or taxis you will be able to access all corners of the city. I've been living in Bangkok for a couple of years now and I've still not braved the bus route system. If you feel like going on an adventure then all the more power to you, you can let us know about your experience in the comments section! If it's your first time in Bangkok then I recommend sticking to the easiest methods of travel so you avoid getting lost and possibly missing parts of the festival!
GETTING TO THE FESTIVAL
Waterzonic Bangkok is taking place at Oasis Arena, SHOW DC! Read on for all the information you need on how to get to the venue!
This event space is a little lost in the middle of nowhere in terms of public transport, the closest station is Phetchaburi Station which is on the city's MRT line. The convenient thing about travelling to this station is that from there you can hop on the free shuttle service provided by SHOW DC. Exit Phetchaburi Station at door 1.
If you're situated closest to an ARL station and wish to travel to this station you will need to connect at Makkasan. Exit the ARL at Makkasan station and follow signs for Phetchaburi MRT. From there, locate Exit 1 where you can jump on the free shuttle bus provided by SHOW DC.
If you're closest to a BTS station you can access the MRT by alighting at Asok station on the Sukhumvit Line and making your way down to the MRT train platform. From there take a train northbound, Phetchaburi is the next stop after Asok.
The free shuttle bus service runs from 11am to 9:45pm, Monday to Friday. And operates from 10am to 9:45pm on Saturday and Sunday. They usually come around every 15-30 minutes but this will highly depend on the traffic.
Alternatively from Phetchaburi you can hop on a motorbike taxi or hail a taxi down, just tell them you're going to SHOW DC. Below is information on how to ride around Bangkok in a taxi.
To map your route from your point of departure please use this ROUTE PLANNER.
USING TAXIS IN BANGKOK
If you don't feel like trailing through public transport then your next best option is to take a taxi, just tell your driver or set your destination to SHOW DC.
Don't be surprised if your meter isn't set to zero, all meters start 35THB, which will automatically be displayed on the meter when you start your journey.
Taxi drivers in Thailand have a tendency to try and trick passengers into paying hyper-inflated rates for their journeys. I say passengers because they even try it on the locals too! Always ask to have the meter on, if they say no then wave them goodbye and find another driver, you will find one who will take you on meter, don't give up!
Also don't be upset if you're turned down by a few taxi drivers before you find one, there's no logic to their method, for the most part they're just lazy and will say no if you're asking to be taken to a far away destination.
If this doesn't sound like your kind of fun you can always download the Grab application (Asia's answer to Uber – Uber no longer operate in Thailand) to your smartphone. You'll have more control over the price you pay and sometimes even get discounts on your journeys. And you will definitely be sure to never get lost! Not to mention that the application also offers food delivery services so you'll be able to both order food and get around the city!
USING MOTORBIKE TAXIS
My advice is to avoid using motorbike taxi drivers or Grab Bikes (which you can order through the Grab app, same as you'd order a car as mentioned above) if you're not used to riding on a bike. Particularly if you're coming home a little worse for wear, you don't want to be rocking the bike side to side and risk getting into an accident. Just make sure you travel safely to and from the event so you have a good long lasting memory of your festival adventure!
There are literally thousands of accommodation options in Bangkok, ranging for hostels to five star hotels, there's something to suit every budget. My recommendation: stay close to a BTS or MRT station! This will help you plan your journey to the festival avoiding traffic and will allow you to go about the city and do your sightseeing.
However, if you're seriously only there to party then by all means I would suggest staying in accommodation that is close to the venue.
Why not give Booking.com a try to find accommodation that is best suited to your travel needs? 
Waterzonic features one ginormous main stage. The area surrounding it is massive so make sure you select a location to meet up with your friends in case one of you gets lost. You won't be able to get your phones out too much either because of the water being sprayed in all directions so try to stick together.
If you're in GA you've got no escape from the water except right at the back but the music and production won't seem as good if you're all the way at the back of the arena. This is generally where the food stalls are located so go there for sustenance only!
The VIP area is dry! So if you really want to avoid water but don't want your experience of the festival to be affected then you can also opt for a VIP ticket but you'll have to cough up some more money!
The Waterzonic lineup always includes some of the biggest names on the electronic dance music scene, and you'll get a good mix of genres these days too! Whereas in its first for years the focus was solely on EDM they have been trying to include more Trance and Techno acts to appeal to a wider audience. This widens the scope and allows music fans to discover new music and also reduces the chance of the music being a little bit too similar to other festivals' lineups. There are several EDM festivals in Thailand and after a couple of years you feel like you've seen it all so it's nice to see that the music scene is expanding and welcoming some new acts and genres. ZAAP are always amongst the first to deliver new music and artists to festival goers! 
Previous lineups have included Yellow Claw, Andrew Rayel, Dimiti Vegas & Like Mike, Mike Williams, Salvatore Ganacci, MaRLo, San Holo, KSHMR and more.
This year's lineup hasn't been announced yet, keep an eye out for an announcement soon!
Let's be honest we all loved a good water fight when we were younger so it's not surprising that as adults it's still one of the funnest things we get to do. And this water party is definitely a level up to the water fights we used to have, we're talking about water canons and sprays coming from all corners of the arena. That alone is enough to make the crowd go crazy, I mean how often do you find yourself in that kind of environment? And no, rain isn't the same, it's all about the light up canons, the water being launched in time with the music and the thousands of other people going crazy for the artists on stage!
The excitement from the water is then topped with state of the art production. If you're attending Waterzonic then you're sure to be treated to some of the country's (if not the region) best event production. The organisers have been in the business of putting together some of the biggest and most elaborate music festivals for a few years now and each event tops the last so you will not be disappointed by the level of creativity and the attention to detail to complete your festival experience.
This also applies to the operations behind the event. Everything is exceptionally smooth, from the moment you arrive to pick up your ticket, to entering the event, to getting a drink and finding a spot in the crowd. You won't need to worry about standing in a queue for too long, everything is very fluid and all is done so you don't miss any of the festival action!
All this amounts to the crowd being in a great mood to party! With seamless operations, an exciting venue and incredible production you'll notice that the crowd is completely exhilarated and they go really hard for both nights! Not to mention that Thais are notorious for being great party goers, they know how to have fun so you'll be in good hands for this festival. Everyone will be friendly, most will offer you a drink and will want to have a dance with you and your friends. You're also likely to end up in a few group photos of people you don't know, it's all good vibes and good fun! You'll definitely leave with a long lasting positive memory of Waterzonic.
The cost of your trip to Bangkok and your experience of Waterzonic will be totally dependent on your personal preferences. In you're on a budget then some of these low cost tips on how to travel to Bangkok and to the festival will be useful to you. If you're looking to spend big then by all means please do the opposite of all these recommendations!
Book your flights and accommodation early! 
Dates are normally announced a few months in advance so if you're absolutely sure you want to go regardless of the lineup then you should book both flights and accommodation as soon as the dates are released to avoid price increases.
The same goes for your festival ticket, don't wait to get your ticket as the longer you wait the more expensive it gets!
If you're on a budget stay close to the event so you don't up spending too much on transport to and from the event.
Get a local SIM card so you don't have to roam whilst you're out here, that can get very expensive. You can get a SIM card at your nearest 7-11 or in a shopping mall by going to one of the local providers (you can choose from AIS, True, DTAC and more…). You'll need your passport to purchase one.
Eat street food and in food courts! one of the best things about Thailand is that you can eat cheap and still eat well, (you can also indulge as Bangkok is host to some of the world's best restaurants). If you're relying on street food stalls and food courts in malls then you're sure to not spend too much money on your trip and still be able to make the most of Thai cuisine!
Get a travel card if you opt for public transport to get around.
Be smart about taking taxis, either use the Grab app to hail a taxi so you get a fixed rate or if you've opted to do your trip without data then get one on the street but don't settle for a fixed rate, go with the meter. And share the fare with your friends!
If you're going to be drinking buy a bucket and split with your friends! Costs less than buying single drinks.
Wheelchair Access: unfortunately this festival isn't wheelchair accessible.
Waterproof EVERYTHING: Unless you want to drown the memories you make during the festival I strongly recommend you buy a plastic pouch to keep your personal items in. You'll fine several street vendors selling them outside the festival. These pouches are great because you can still use your touchscreen phone through the plastic. Alternatively a conventional ziplock bag, but don't think that a plastic bag will be enough to keep the water out! You won't be able to escape the wetness, don't risk damaging your belongings and keep everything under wraps!
Lockers: there aren't any lockers on site so take only what you need at the festival, don't bring any extras that will risk getting wet!
Ear Plugs: you'll need to keep your ears protected! Long or repeated exposure to loud sounds can cause longterm damage to your ear drums, don't risk ruining your hearing, think of all the festivals you have yet to explore!
Goggles: over recent years these have become extremely attractive to Waterzonic-goers. They'll keep the water out of your eyes, this is important for those of you who have sensitive eyes!
Sim Card: there's no wifi available at the venue so if you're looking to stay connected during the event you should try to buy a Thai sim card before arriving at the venue (you can choose from several service providers including AIS, True, DTAC and more…). For convenience if you're flying into Bangkok I would recommend buying one in the arrivals hall. Please note however that they're more expensive at the airport (about three times more expensive). If you'd rather opt for the cheaper option then you'll need to visit a local service provider in one of the big shopping malls. 
Printed Ticket and ID: you will need to arm yourself with both of these to be able to enter the venue, so make you sure you don't forget either or you'll be missing out!
Cash: just to be on the safe side bring cash to the event! You don't want to left stranded at the festival with no money!
Don't remove your wristband! if you're planning on attending both days at Waterzonic then please make sure you don't remove your wristband and you don't damage the RFID tag, you may be denied entry.
No Re-Entry! Re-entry is not permitted! So for example if you exit early on the first day you will not be allowed to return until the second day! 
Portable Charger: this festival is going to be packed full of moments so it's best to come prepared! Don't miss any of your favourite moments because your phone is out of juice!
Stay Hydrated! drink plenty of water! (Getting water thrown at you doesn't count, definitely don't drink that!) You're going to be going hard for hours at a time and you won't necessarily feel like leaving the crowd to get some more water so stock up before finding a good spot in the crowd.
Agree on a Meeting Spot: a lot of people will be attending this festival so set a meeting point before going into the crowd so you can easily find each other at the end of the festival should anyone go missing from the group and they're unreachable during the festival!
Share this post with your festival crew so you can plan your Waterzonic adventure together!