Dubbed Asia's biggest trance festival on the beach, UnKonscious has been exceeding all expectations since its first edition in 2018.
Returning once again to Paradise Beach, the "ultimate getaway in paradise" promises more fun in the sun with some of the world's best Trance acts!
Need some help planning your trip? Read on for all my best tips and recommendations for UnKonscious. This is The Nitty Gritty Guide to UnKonscious!
When did I attend? May 2018
When is the next UnKonscious Beach Festival? 9th – 10th February 2023
What do you hear at UnKonscious? Trance
Where? Alexa Beach Club, Chonburi, Thailand
What's the local currency? Thai Baht
What's the local language? Thai
UnKonscious is Asia's biggest Trance festival on the beach!
UnKonscious is renowned for bringing together some of the world's most prominent trance record labels. As well as regional support acts to celebrate the best of the genre.
Music aside UnKonscious is trying to offer an all round experience with thrilling day excursions in and around the island of Phuket.
UnKonscious is a 20+ event.
Only weekend tickets are available, it's not possible to buy single-day tickets. But who wants to leave the party early right?
Keep in mind that tickets are non-refundable and non-transferrable so double check your personal details before paying for your ticket. This will ensure you can pick up your wristband without any issues at the festival gates.
If you're coming in a large group then check out the bundle ticket. If you manage to rally 6 people you get one free!
If you're coming from abroad I suggest booking with Festicket, they've got a range of ticket and accommodations for Unkonscious 2020. Tickets can also be found on Ticketmelon the festival's local ticket provider.
UnKonscious is hosted on the breathtakingly beautiful Paradise Beach, on Phuket island just off the West coast of Thailand. Transfers to and from Phuket airport, but also to and from the festival grounds are taken care of. Getting to UnKonscious is actually easier than you might think!
TRAVELLING TO PHUKET
BY AIRPLANE
Phuket is an extremely popular tourist destination, getting to the island is very simple. There are several ways to get there.
The most convenient way to travel to and from Phuket is by plane. The journey is short, it takes about an hour from Bangkok's airports. There are many domestic flights operating at different times each day of the week.
You can also access Phuket if you're coming from further afield. Phuket International Airport offers regular flights to and from Kuala Lumpur, Hong Kong, Penang, Singapore, Sydney and more…
If your departure city doesn't schedule any direct flights to Phuket then the best to do is to fly via Bangkok, then onwards to Phuket. If you're thinking of stopping in Bangkok for a few days during transit then check out my Guide to Travelling to Bangkok. For all the information you need on completing your onward journey after landing at either Suvarnabhumi Airport or Don Muang Airport.
If you're coming from an international destination, check the visa requirements for your home country HERE before travelling. Visa rules and regulations can change so do your research ahead of time to be prepared!
Regardless of where you're coming from consider using Skyscanner the world's best travel search engine to get the best deals from over 1,000 airlines worldwide to get you to Phuket!
Once you've arrived in Phuket you can either rent a car to get around the island, arrange a private car service or get a seat on a shared van service. Find counters for all these services in the arrivals hall.
Renting a car is great if you're looking to see more of the island or you're staying in a remote area. But beware of the roads they're pretty steep and slippery. If you're not a confident driver then don't rent a car!
If you're travelling alone it's best to get a ticket for a shared van, costing only 180THB/way to Patong.
You will likely get dropped off at your accommodation on the way from the airport. On the return, you can either arrange pick-up from your accommodation or go directly to the van bus stop.
If you're travelling in a group then you may prefer to get a private car service, it's 800THB each way so works out about the same as each person paying for a seat on a shared van. The added convenience of renting your own van is that you won't be needing to wait for anyone else to get dropped off.
Other than flying into Phuket you could journey your way across by bus or car from any point in Thailand. There's a bridge linking the mainland to the island. 
Several travel operators service the journey between Bangkok (and other big cities in Thailand) and Phuket.
All buses leave daily from Bangkok's Southern Terminal and directly to Phuket. The journey takes between 12 and 14 hours. There are different pricing options depending on the operator. You can choose from both air-conditioned and non-air-conditioned buses. You can also choose to travel during the day or opt for the night bus option (it might be easier to sleep!).
To book your journey click HERE.
Check out my Guide to Arriving in Bangkok if you're arriving at either one of Bangkok's airport terminals Suvarnabhumi Airport or Don Muang Airport. Or for advice on getting around the city to the bus terminal, before completing your onward journey to Phuket.
Coming by car means you've got more flexibility over when and where you stop along the way compared to the bus. There are some very scenic places you can explore along the way but bear in mind it's a very long and exhausting drive from Bangkok, it will take you about 12 hours.
BY TRAIN
If a long bus or car journey isn't your thing then it's also possible to take the train almost as far as Phuket. You can take the train at Bangkok's main railway station Hua Lamphong to Surat Thani (station nearest to the island on the mainland). Change for a bus that will take you across the bridge to Phuket.
It may be a little more hassle getting off the train to get on a bus but the journey takes less time. The night trains are noticeably more comfortable than the overnight buses. You get a bed and will definitely be able to get more hours of sleep!
Both the train and the bus are cheaper travel alternatives but flying into Phuket still remains the most convenient option!
Pre-booking your journey is advisable. You don't want to be left behind and miss out on the festival!
You can find more information on travelling to Phuket by train HERE. 
To book your journey click HERE.
Check out my Guide to Arriving in Bangkok if you're arriving at either one of Bangkok's airport terminals Suvarnabhumi Airport or Don Muang Airport and need advice on getting around the city to the train station, before completing your onward journey to Phuket.
Getting around the island can be very expensive unless you have your own car. Taxis prices are hyper-inflated in comparison to the rest of the country and public transport is virtually non-existent. But don't worry, as there are other ways of getting there that won't put a dent in your wallet.
There is a free shuttle bus service from Patong to Paradise Beach (operated by the beach club so look out for their logo rather than the festival's). This free bus service runs from 9am to 4am every 30-45 minutes. Keep in mind that if the bus is full then you will have to wait for the next one. The bus stop is located at the beachfront next to the police box. More details can be found HERE. 
Taking a taxi means you won't need to have to spend any time trying to track down the shuttle bus stop. A taxi will cost anywhere between 400-500THB, an affordable option if you're sharing with a group. You can try to haggle but most of the drivers on the island won't negotiate. Just know it should be in that price range and don't settle for anything higher than that. And once you've found one that will take you for that rate, get the driver's contact details to schedule a ride back to your accommodation.
There is room to park cars and scooters at the festival site however the roads leading up to the beach club are very steep, driving after a long night of raving on those roads isn't a good idea!
There is a vast variety of accommodation options available on the island, ranging from budget to luxury hotels, hostels, or even private villas and apartments. Why not give Booking.com or Airbnb a try to find accommodation that best suits your travel needs? You will definitely be able to find something that caters to your budget and preferences. But book early to avoid disappointment!
Most people flock to Patong when staying on Phuket which sort of acts as the centre of the island. I suggest finding accommodation there as it is just a short drive away from Paradise Beach where the festival is hosted. There aren't that many accommodation options near the festival grounds. Patong offers a better choice of accommodation as well as access to all sorts of shops and restaurants. You'll have everything you need to recover between sessions at the festival!
UnKonscious festival has been doing something that has never been done before in Thailand: uniting some of the world's most prominent Trance music labels to bring only the best of the genre to the sandy shores of Phuket. Each day representing a different music label and a different facet of trance music. It's a chance to celebrate iconic sounds and to venture into new parts of the genre that you may have never been to before. 
UnKonscious have had a very impressive lineup for their first two editions which sets a good precedence for all future editions. Many of the artists included in their lineups hadn't played in the region let alone Thailand before. Earning itself a pretty sterling reputation for its showcase of Trance music in the entire region. 
Their lineups have catapulted the festival into the Trance limelight. Quickly becoming a serious competitor on the Trance music festival scene. One thing is certain, UnKonscious is doing a fine job of maintaining that stellar reputation it earned after its first edition.
UnKonscious aim to not only bring already established talent to Thailand but also serve as a platform for aspiring artists. In previous years the festival has had additional support from Vietnam, Myanmar, Indonesia, Malaysia, Australia and the UK.
This really strengthens the message that Trance is leaving a substantial mark across the region. UnKonscious is a chance to bask in an incredible showcase of Trance music, and to show your support in growing the Trance scene across Southeast Asia!
You can easily expand the scope of the festival beyond that of just the rave aspect. The island offers a broad range of day trips to surrounding islands as well as sailing and snorkelling excursions. You can book these island adventures with your hotel or with a local tour operator. You'll spot these along the beachfront or along the main strip in Patong. Paradise Beach Club also offers other fun beach activities such as canoeing, snorkelling and volleyball. This festival is definitely more than just about the music, it's a chance to have some real fun in the sun!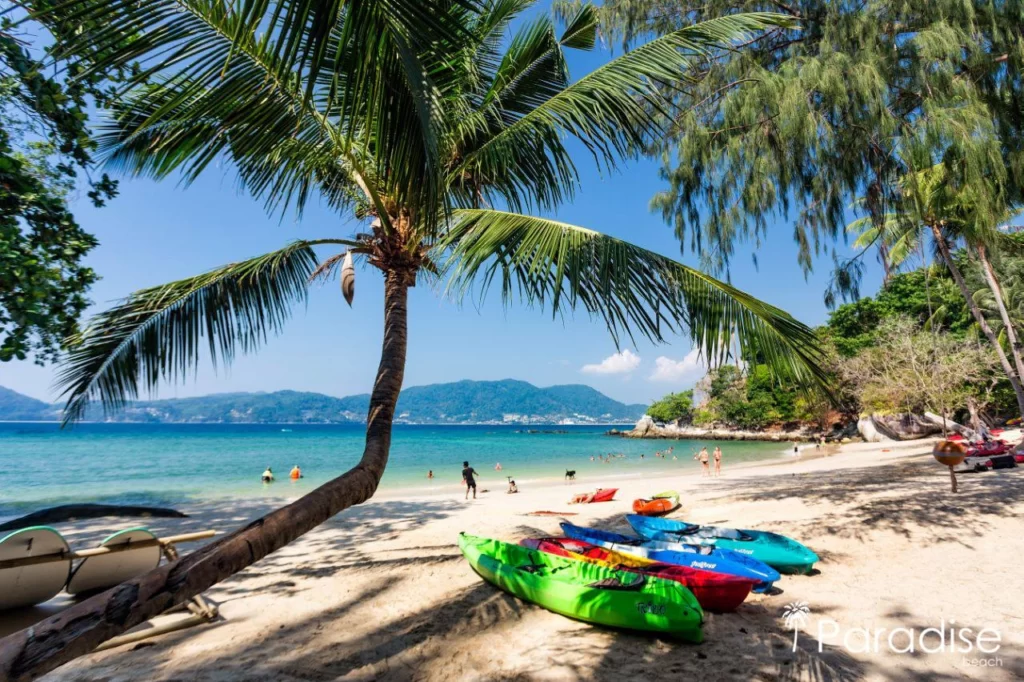 UnKonscious was one of the best weekends I spent in 2018. The location sets the mood for everyone to feel free to roam and relax. There's nothing more satisfying than listening to amazing music on a gorgeous white sandy beach.
Not to mention that Phuket is notorious for being a fun destination and really has festival goers in the best mood to make the most of the weekend. Flying to the island feels like an escape from your habitual routines.
You have so many opportunities to let go and slip into the island vibes, both at the festival when partying on the beach and outside of the festival's hours by participating in activities and exploring the island.
And the feeling is unanimous, you really get a sense that everyone is ready to let loose and end up really going for it which makes for an unforgettable festival atmosphere.
Not only is UnKonscious hosted on one of the most beautiful and secluded beaches you could ever set foot on but it's also privately owned and tucked away from the rest of the island. Festival goers are able to let loose in one of the most scenic and safest festival environments possible.
All in all it's an extremely fun getaway, you get to experience so many different things. You get a taste of island life and activities, as well as get to listen to some of the best acts in the trance industry. For those of you coming from overseas, you also get to experience a part of Thailand you may never have been to before. There are so many different aspects of the adventure that you can look forward to!
Set aside the festival and let's talk about trance family. It's a concept and a mindset, something I never knew about until I set foot at my first trance event. What I've taken from my experiences at trance events is that trance ravers are some of the friendliest of all. They're known for forming family-like relationships amongst themselves. Just as the team organising the event is a group of friends who met in different countries across the world and have travelled together for music.
I first had a taste for the 'Trance family' experience at Transmission Bangkok (read more about my experience at Transmission). I was completely blown away by their warmth and how inclusive they are.
Not only this but trance ravers are extremely loyal to their genre. You'll start seeing some familiar faces as you go to more trance events, even at events across the world from each other. Expect to meet all kinds of new and interesting people, and to arrive as an individual but leave part of a family.
Overall UnKonscious is good value for money, particularly if you jump on those Early Birds! The weekend always promises a stellar lineup of artists. And it's hosted in one of the region's most exclusive beach clubs! 
Because Phuket has such a wide range of accommodation options, you'll definitely be able to find something you're comfortable with. You won't need to settle for something that's out of your budget.
Book your flights as soon as the dates are announced! If you're coming from Bangkok you can get return flights for as little as 2,000THB.

 

And if you're coming from Europe you can easily get return travel from as little as 400EUR (depending on how soon you book obviously). Phuket is a popular destination so you can get some great deals. Let's not forget that UnKonscious is held just after Christmas which is when the majority of airlines do a sale!
The only cost you need to be wary of is the price of taxis. They are expensive so stick to transport organised by the venue. Unless you're in a group and can share the cost of a taxi. And when coming from the airport stick to shared van services.
Once on the island you don't need to worry about breaking the bank. Despite it being a very attractive tourist destination it is still part of Thailand so you'll be able to eat and drink on the cheap! If you're looking for reasonably priced food steer clear of the very popular tourist areas. Ask your hotel or host for local options or go to a mall and eat at the food court. Food courts in Thailand actually serve up some of the best food so you won't be disappointed! 
Lockers: rent a locker to keep your belongings safe and for peace of mind.
On-Site Showers: available so you can wash off the sand and freshen up in preparation for your festival shenanigans. 
Festival merchandise: there are merchandise stalls on-site where you'll be able to buy your memorabilia!
Printed Ticket and ID: you will need to arm yourself with both of these to be able to enter the site, so make you sure you don't forget either or you'll be missing out on the action!
Cash: there is an ATM on site but you never know, it could not be functioning properly not the day. Just to be on the safe side I recommend bringing cash to the event, it's always best to come prepared!
Sim Card: if you're looking to stay connected during the event you should try to buy a Thai sim card before arriving at the venue. If you're flying into Phuket you'll be able to find one in the arrivals hall, it becomes trickier to do so when you're in the city.
Ear Plugs: you'll need to keep your ears protected! Long or repeated exposure to loud sounds can cause longterm damage to your ear drums, don't risk ruining your hearing, think of all the festivals you have yet to explore!
Portable Charger: this festival is going to be packed full of moments you'll want to video or photograph so it's best to come prepared! Don't miss any of your favourite moments because your phone is out of juice!
Stay Hydrated! Drink plenty of water! You're going to be going hard for hours at a time and you won't necessarily feel like leaving the crowd to get some more water so stock up before finding a good spot in the crowd.
Backpack: bring everything you think you may need for the festival and the beach, and just shove it in a backpack. There are lockers available for rent onsite so you can unload all your things into one when you arrive at the festival.
Suncream: you're going to be spending a lot of time outside, you don't want to risk getting sun burnt, just imagine how uncomfortable raving like that would be!
This year's edition is looking like it's going to be quite show-stopping! If you're attending the next UnKonscious Festival leave a comment below and find out who else is going! Make sure you check out the official Facebook page for UnKonscious updates.
Share this post with your festival crew so you can plan your UnKonscious adventure together!