Ultra Singapore is part one of the biggest electronic music festival brands in the world: Ultra Music Festival. This festival is part of the brand's global expansion which has now reached 20 countries worldwide and is growing steadily from one year to the next. 
This worldwide music festival phenomenon has swept the world's electronic dance music movement by storm, their festivals uphold strict guidelines to guarantee the highest standards of production and lineup so ravers around the world can benefit from these incredible parties. Based on my experiences at Ultra Singapore here is The Nitty Gritty Guide to Ultra Singapore, to help you plan and prepare for your festival adventure!
When did I attend? June 2017, June 2018 and June 2019
When is the next Ultra Singapore? 24th-26th March, 2023
What do you hear at Ultra Singapore? Electronic Music 
Where? Marina Bay Sands, Singapore
What's the local currency? Singapore Dollar
What's the local language? English, Mandarin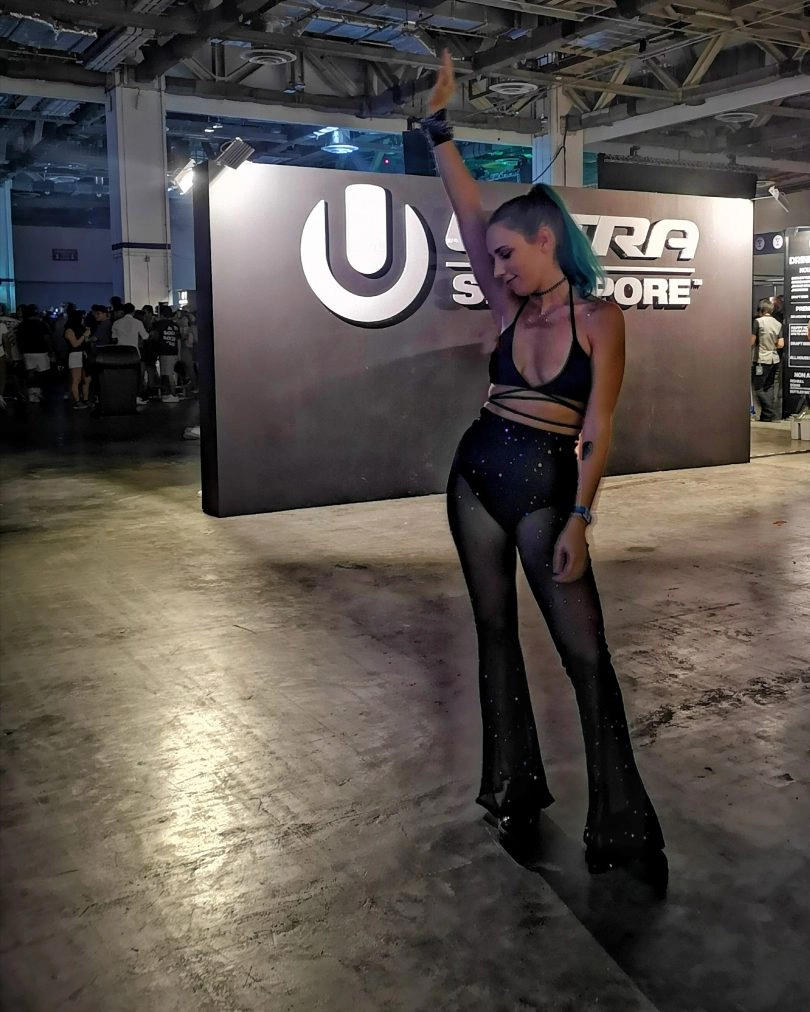 Ultra Singapore

 grew from a Road to Ultra event that catered for 11,000 people in 2015 to an Ultra Music Festival event that welcomed over 45,000 attendees in 2016

Ultra Singapore is a two day electronic dance music event
Ultra Singapore invites electronic music acts from all over the world for both DJ sets and Live sets
They cater to all budgets! The Early Bird tickets are very good value for money as they are almost 50% cheaper than the final release! So don't wait until the very last minute to get your ticket! To access these tickets you will need to pre-register. 
Most people attend Ultra Singapore with GA tickets but you can also opt for Premium GA which gives you access to another (faster) queue and also access to the VIP village which again means shorter queues and also a better variety of food and beverages.
VVIP tickets also become available closer to the event date. These get you access to the VVIP Platform facing the Main Stage, as well as access to the VVIP Entrance, the VIP Village with dedicated food and beverage stalls, and let's not forget air conditioned toilets (I imagine an absolute lifesaver in Singapore's humid mid-June weather – I think I sweated off most of my make-up and glitter in the GA portaloos!). So keep an eye out for those, they don't usually show up in the first few ticketing releases.
Quick tip: make sure you and your friends book the same tickets or you may end having to queue at different entrances (yes, I totally ended up by myself in a queue at the other end of the festival – on the bright side I met a few cool new people on the way in!)
Once you have purchased your tickets online you will be sent your e-ticket with an order confirmation via email, hold on to all this as you will need to print a hard copy and bring it to wristband collection.
You will be sent instructions for wristband collection closer to the event date, these will vary depending on which wristband you purchased and if you're a local or international festival goer. This may sound a little confusing but it was one of the smoothest wristband collection experiences we've ever had at a festival. Because we were coming from Thailand we weren't able to pick up our wristbands until the first day of the festival (locals have a few opportunities to do beforehand). We thought we'd be faced with thousands of others trying to withdraw their wristbands but there was barely any queue! Ultra Singapore usually organise several pick up dates and times for party goers. This method really cuts down on the amount of time spent queuing to collect your wristband. We're always very pleasantly surprised at how quickly we're able to get through the queue! Less time spent queuing and more time partying, thank you Ultra! 
ULTRA PASSPORT
As though going to one of the world's best electronic dance music festivals isn't enough, at Ultra you get rewarded for attendance! Ultra passport is the worldwide loyalty scheme that allows you to earn points for every Ultra Festival you attend (it's not enough to just buy a ticket, you need to physically be present!). You don't actually get to exchange the points for anything physical, however the more points you accumulate the higher up you rank and the more benefits you are entitled to as an attendee at Ultra. The benefits are based on the Passport level you hold. For more information on those benefits, go HERE. Make sure you've downloaded the Ultra Worldwide Application to benefit from this point scheme!
ARRIVING IN SINGAPORE
If you're an international festival goer arriving in Singapore then check out this Guide to Travelling to Singapore! There you will find information on visa requirements and on local transport options to get you to your destination within the city before moving on to the festival.
In 2019 Ultra Singapore had an abrupt change of venue and was relocated to the Marina Bay Sands Convention Centre, across the street from their normal venue and also the same location where the ticket pick-up has usually been located. We have yet to be told if the festival will be located there permanently.
GETTING TO THE FESTIVAL
The festival is located at Ultra Park, situated south of the city right in front of the Marina Bay Sands Hotel.
 If you still need to pick up your wristband before the event you will need to make your way to the Sands Expo and Convention Centre, located in front Ultra Park and adjacent to the Marina Bay Sands Hotel.
Keep in mind that the festival ends at 10:30pm so taking public transport to get home is totally doable! If you opt for taking a Grab then I'd recommend booking early or if you're really worried about the queues then you could leave the site before the festival finishes to avoid the rush of people at the end, but who really wants to be doing that?!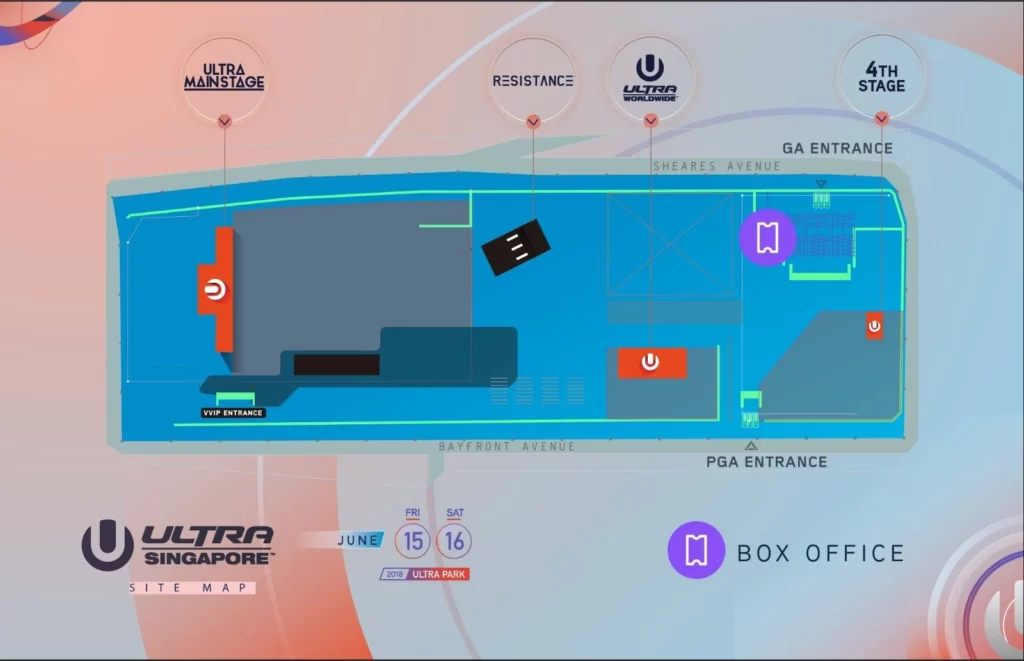 By Taxi
Ultra Park can be reached by taxi using local taxi services or Grab. Suggested drop off locations are the Sands Expo and Convention Centre, Marina Bay Station and Bayfront Station.
Bear in mind that Grab is the Official Transport Partner of Ultra Singapore so keep an eye out closer to the event date for a Grab code to be used when booking your journey to benefit from avoiding the crowd with exclusive access to the Grab Lane to facilitate drop off/pick up.
By MRT
The MRT is probably the easiest and fastest way to get to Ultra Park. The two closest stations are Bayfront Station (Circle Line; Downtown Line) and Marina Bay Station (Circle Line; North-South Line). Be aware of when the last train departs so you can plan your return journey accordingly!
Please note that the wristband you hold will determine which entrance you will need to use to enter the festival. Last year General Admission wristband holders had to use the West Entrance of Ultra Park which is located nearest to Bayfront Station. If you were a Premium General Admission wristband holder you would have used the South Entrance of Ultra Park, this entrance is conveniently located near Marina Bay Station. More information about this will be released closer to the event date!
And if you're looking to pick up your wristband you will need to get off at Bayfront Station to access the Sand Expo and Convention Centre.
Plan your journey HERE.
Tourists just as locals use an EZ-Link travel card to use public transport in Singapore. You can find more information on how to get and use an EZ-Link travel card HERE.
By Bus
If you're not located anywhere near an MRT station worry not as you can also take the bus to Ultra Park! The following bus numbers travel to Ultra Park: 97, 97e, 106, 133, 502, 502a, 518, 518a
You can find more information and plan your journey with the SMRT Journey Planner.
Tourists just as locals use an EZ-Link travel card to use public transport in Singapore. You can find more information on how to get and use an EZ-Link travel card HERE.
As with most cities Singapore offers a very extensive range of accommodation options, catering to all budgets and travel preferences. It's advisable to stay in the Marina Bay area for convenience but because getting around Singapore is quite easy and the city itself isn't too big there's no need to be afraid of venturing off away from that area, there are cheaper areas to stay in. However as a general rule Singapore is considerably more expensive than other cities in South East Asia so please try to book in advance to avoid disappointment and avoid rates increasing.
Ultra Singapore is located closest to the Marina Bay Sands Hotel (a 50 metre walk) but prices start at 300 Singapore Dollars…So we opted for AirBnb! We were travelling with quite a big group and we all like having the option of hanging out together in one place: makes getting ready for the festival a lot more fun! Not to mention that you can find some very reasonably priced AirBnb options, particularly if you're splitting the cost amongst a group of people! AirBnb is 'technically illegal' in Singapore so just be a bit weary!
Ultra Singapore is held within one compound called Ultra Park so it's really easy to get around and the space is massive so you never feel like it's overcrowded. And because there are several entrances from which people enter there aren't any attendee traffic jams happening anywhere on site, which means you can move really fluidly from one stage to another.
In 2018 a fourth stage was added, the infamous Ultra Worldwide Stage featuring more future bass genres like dubstep and trap. They have yet to confirm if this stage will be a permanent feature at the event every year, given that the genres it was promoting have taken the region by storm it would be surprising if they didn't keep it.
In 2019 four stages become two when the venue was suddenly moved from their normal outdoor location at Ultra Park to Basement 2 inside the Marina Bay Sands Convention Centre. This created a lot of commotion and upset from fans but to be honest there was a lot of benefits from being indoors away from the rain and the humidity, and instead we had air-conditioning to cool us off throughout the festival.
Ultra Singapore always features a diversified lineup, and over the years the focus has definitely shifted from having only mainstream EDM acts to being a lot more inclusive of other genres. Not only this but Ultra is now including more Live Sets in their programme rather than only having DJ Sets. This is still a relatively new feature to most festivals in the region so they are definitely staying on top of their game in terms of the lineup as the years go by. They are also a new concept for most people as most DJs do not perform live. For those of you who don't know a live set refers to music that is generated live by the performer with instruments and controllers rather than playing and mixing pre-recorded tracks. Live Sets are an incredible showcase of raw talent, they are phenomenal and really get the crowd going in a different way. They are something not to be missed!
In 2017 KSHMR appeared on the Live stage with musicians and got everyone's jaw to drop in awe. I can still feel the goosebumps when I think back to that set, I have absolutely never seen anything like it. If I could relive the moment over and over again I would! So definitely don't miss your chance to check out the Live stage when you are there, you'd be missing out on some of the hidden gems of the festival.
Over the years I've noticed big shifts in the lineup which have meant that the event is now much more inclusive of a range of genres. Whereas in 2017 we were only really hearing EDM and Big Room DJs, in 2019 the Resistance stage had a strong lineup of house and techno acts, and the main stage featured more EDM subgenres. The diversification of the lineup has meant that the festival has welcomed a broader audience of music fans and it gives you more of a chance to discover new music.
Ultra Singapore hasn't released its lineup for 2020 yet but previous years have included big names like Skrillex, Axwell, Zeds Dead, Above & Beyond, Afrojack, Illenium, RL Grime, Aly & Fila, Loco Dice, Pendulum, Hardwell, Martin Solveig…and many more! The lineup will definitely be worth the wait!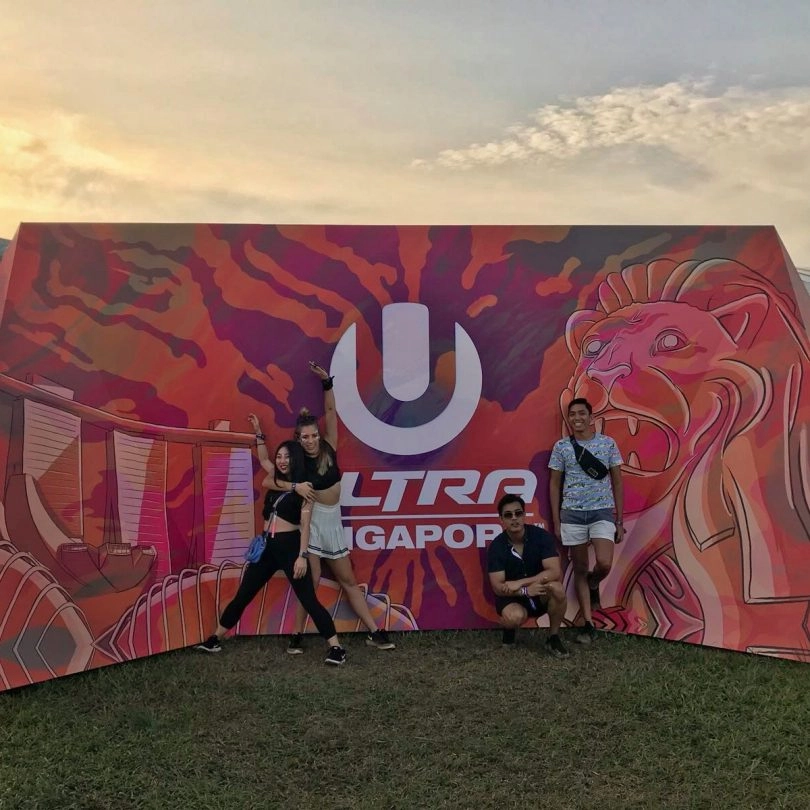 Ultra Singapore attracts thousands of people from all over the world to attend so you can an incredible mix of nationalities and it's a chance to meet some die hard Ultra fans who have travelled across the globe to be there, it's really quite something!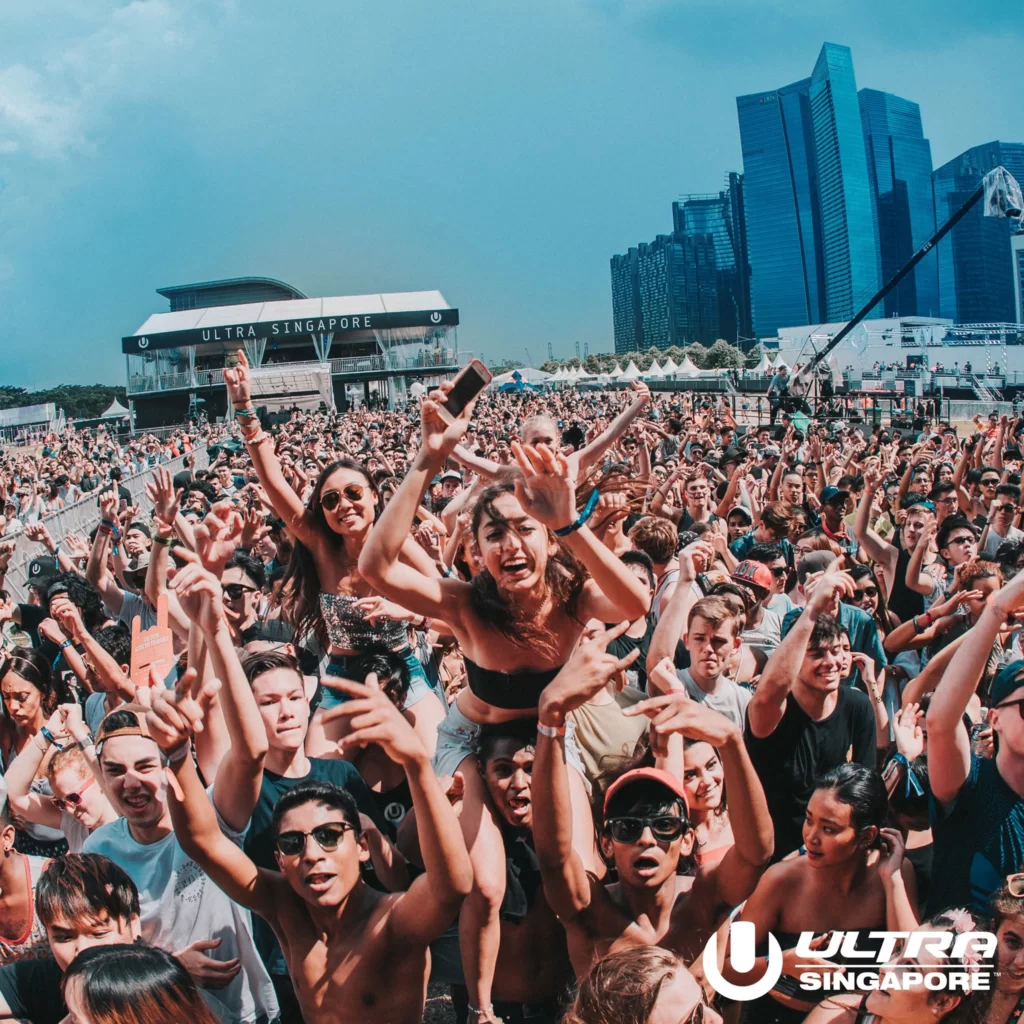 Not to mention we were treated to some incredible dance offs in the crowd. People were really keen to show off their skills, it put everyone in the best mood to party. It's a really easy crowd to be a part of, everyone just wants to have fun and go absolutely crazy. Definitely a festival you can really let your hair loose at!
Depending on whether you're attending as GA, Premium GA or a VVIP you'll have access to different food vendors and bars. The one big difference I noticed in being a Premium GA wristband holder is the queues were a lot shorter in the VIP Village than in the main arena. Having said that I did have to haul my ass out of the crowd each time to walk over to the VIP Village but it was worth it because I never had to queue for very long! I have friends who queued up to 40 minutes for a drink! When you think that some sets are only an hour long you're missing out on quite a lot of the festival if you're stuck in queues! But don't be beat down by this, just buy as many drinks as you can carry before going into the crowd, put them down on the floor and get your crew to safeguard them #standard
Other than that the festival catered to all kind of dietary requirements and hosts some pretty tasty stalls so you definitely won't go hungry.There is a generous spread of stalls scattered all over the festival so you never have to walk too far to get your hands on your next meal or drink. Food inside the festival starts at $8 and most dishes were priced between $12-$15.
I bet you'll be wanting to save some dollar after forking out for the ticket so here are some tips on making the rest of your stay in Singapore affordable: 
Book your flights and accommodation early! Dates are usually announced at the beginning of each year so as soon as you know the festival dates book everything!
You can save with budget accommodations! Singapore has plenty of hostels and budget hotels that will help you keep the costs of your trip down. It's not all luxury hotels! You could even try couch surfing.
Go through your list of friends and connections to see if you've got anyone who could accommodate you. This includes friends of friends, friends of distant cousins even, there is no shame, saving money on accommodation is a huge plus!
Get an EZ-Link card and use public transport! They each cost S$12 and includes S$7 worth of credit. You can purchase and top your card up at your nearest 7-Eleven to avoid queues in stations.
Eat well without breaking the bank in food courts, food halls, and hawker street stalls. Eating out doesn't have to be expensive, Singapore is notorious for having one of the best street food scenes in the world and it's all very reasonably priced. There are even a few Michelin star vendors in hawker centres.
You can drink the tap water! Bring a reusable bottle on your travels and just keep refilling that rather than buying expensive water at the supermarket (the planet will also be thanking you!).
Wheelchair Access: this festival is wheelchair accessible! I recommend you get in touch with the organisers via their Facebook page to get more details.
Fully charged phone: you don't want to miss any opportunity to capture your favourite moments at the festival and also risk being left stranded at Ultra Park if you miss the last MRT home!
Raincoat: last year it poured down with rain and we didn't have anything to protect us from the rain. I mean we had an incredible time dancing in the rain (I'm from England so it was quite refreshing really!) but some of you may not have the same appreciation for wet and cold conditions so come prepared! I'm talking rain jackets or ponchos, and zip lock bags for your valuables! 
Ultra Worldwide Application: the app will allow you to check in to the event so you can get your Ultra Passport points and you'll also have a live feed of information during the event, as well as a site map and set times. It's very handy! You can also post your own pictures on there to share with other Ultranauts!
List of prohibited items: you will be sent this list via email and be able to find it all over the festival's social media pages closer to the event date. Please check this list and make sure you do not try to bring in any prohibited items, they will get confiscated and you will not be able to get them back! (see full list of prohibited items below – brace yourself it's a mammoth list)
No re-entry: like most festivals Ultra Singapore operates a no re-entry policy! If you have a two day pass and you exit the festival grounds on the first day you will not be able to return until the following day.
Clear backpacks policy: this is an official rule issued by Ultra Singapore, if you show up with a backpack that isn't clear it will be taken away! 
Top Up Stations: Ultra Singapore use an RFID system (fancy term for wristbands with tags that allow you to pay for things at the festival), you can use cash/debit card/credit card to top up your wristband. There's a lot of people at Ultra Singapore, I recommend you try to load up your wristband with a large sum at the top up stations the first time around to avoid having to queue again and missing out on the action! Ultra Singapore operate an RFID refund policy, please keep an eye for more information about this to avoid missing the refund period!
Sim Card: I bought mine at the airport but they were also available on site. From memory I purchased one for $10 and I had plenty of data, enough to last me a month even. I always find it useful to have one to locate friends, or in this case to also check for travel updates.
Cash: from experience it's definitely better to come prepared, you never know if the ATMs close by will be functioning normally on the day and the last thing you want is to be stuck at a festival with no cash. I took out cash at the airport and took it with me to the festival. There are several ATMs located at the Marina Bay Sands and the Sands Expo and Convention Centre if you're really in need to find one!
Ear Plugs: you'll need to keep your ears protected! Long or repeated exposure to loud sounds can cause long term damage to your eardrums, don't risk ruining your hearing, think of all the festivals you have yet to explore!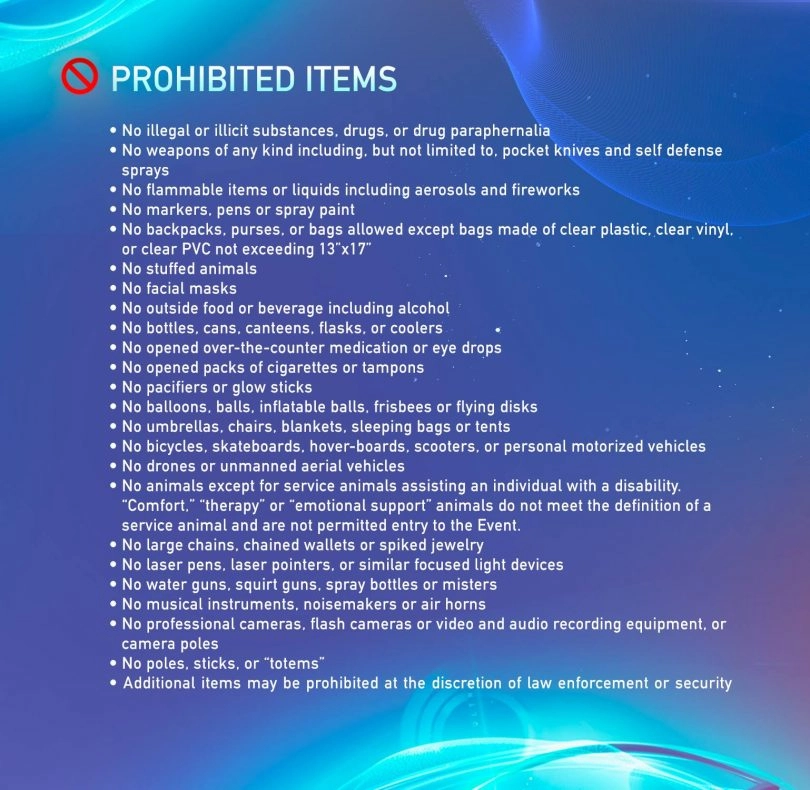 Share this post with your festival crew so you can plan your festival adventure together!