What started off as just a 14-day holiday for German vacationers has now also turned into a 5 day electronic music showcase that goes by the name Thaibreak Festival. The festival takes place during the German holiday and used to only be open to the holidaymakers but is now open to 500 local and regional guests.
It's a chance to sit back and melt into the island vibes all to the backing tracks of an impressive international and local lineup that presents the finest in House and Techno music. If you're travelling in or around Thailand in March then this is the perfect opportunity to discover one of the country's most beautiful islands and get a healthy dose of quality music. Here is The Nitty Gritty Guide to Thaibreak Festival to help you prepare for your adventures!
When is the next Thaibreak Festival? 24th March to 7th April 2023
What do you hear at Thaibreak Festival? House and Techno
Where? Island of Koh Mak, Thailand
What's the local currency? Thai Baht
What's the local language? Thai
Thaibreak Festival is led by Partysan, the same team behind the annual fourteen-day island getaway that brings hundreds of people from Germany each year to the gorgeous shores of Koh Mak.
Partysan is a festival agency based in Berlin, founded in 1993. They host a number of events and festivals in Europe and Asia including Berlin, Beats & Boats and Rave On Snow. The first Thaibreak trip was organised in 1998 and took place in Koh Samui.
The Thaibreak Festival concept was unveiled in 2018 to mark the 20th anniversary of Thaibreak. Before then the experience was only available to holidaymakers from Germany.
Thaibreak Festival still remains separate to the well-established annual escape, but it takes place during the vacationers' time in Thailand.
Thaibreak Festival is a 20+ event.
Tickets are released in two phases: Early Bird and Regular. Overall only 500 tickets become available to people who aren't already part of the Thaibreak holiday so be sure to grab your tickets as soon as they're released!
You can book both your accommodation and your tickets together via Thaibreak Festival or if you want to take care of your own accommodation then you can just buy a festival ticket through their official ticket provider Ticketmelon. Because the island gets very full during that time it is advisable to book both your ticket and accommodation together in one package, you'll also benefit from not paying any ticketing fees!
Tickets will not be available for sale on Koh Mak, Thaibreak only does pre-sale so don't just show up to the island hoping to get a ticket, once they're at capacity there's nothing that can be done!
You'll be able to collect your wristband when you arrive at the pier or at each festival location. Make sure you have your ID and a copy of your booking confirmation on hand.
The festival takes place on the beautiful island of Koh Mak, situated in the East of the Golf of Thailand. The island is accessible by speedboat from Laem Ngop pier, there are several travel options you can use to get there. With all the options listed below keep in mind that you need to have reached the pier before the last speedboat sets off or you'll have to stay on mainland overnight!
If you're an international festival goer arriving in Bangkok then check out this Guide to Travelling to Bangkok! There you will find several options to get you to your destination within the city before moving on to the festival.
The nearest town to Laem Ngop pier which is accessible by plane is Trat, this is the fastest way to get to Koh Mak. Local festival goers can fly directly from Bangkok or other big cities in Thailand, Bangkok Airways offers a range of daily domestic flights to Trat. Several airlines also operate flights to Trat from several international destinations. You can check if there's an airline flying this route from your point of departure on Skyscanner. Once you've landed in Trat you'll be able to get a taxi or van to the pier, several operators are on standby at the airport and will arrange both the transfer and the speedboat.
If you're planning on flying then make sure to book one of the morning flights as the afternoon flights don't make it on time for you to then take a transfer to the pier and take the speedboat to the island. The first speedboat leaves at 10:30am and the last one to leave is at 4:00pm. Please use the speedboat timetable provided below as a reference.
Air-conditioned buses depart from Bangkok at various times throughout the day from Ekkamai Bus Terminal (Eastern Bus Station) and from Mo Chit Bus Terminal (Northern Bus Station).
 Some buses go directly to Laem Ngop pier, but don't worry if you're unable to find one that does just take a bus to Trat and then a taxi or van to the pier.
Buses also depart from Suvarnabhumi Airport so if you're coming from overseas to attend the festival but don't want to spend any time in Bangkok then you can get a bus as soon as you get off the plane to Trat or Laem Ngop pier.
The closest bus terminal to Don Muang Airport is Mo Chit Bus Terminal (Northern Bus Station). So if you're arriving there your best option is to get a taxi to the bus station then find a bus that goes to the pier.
You can find bus schedules for buses departing from these bus terminals HERE. Bus tickets are sold on a first come first served basis so make sure you get to the bus station early so you get a seat on the bus you wish to travel on. The journey takes about 6 hours and costs 250THB. Make sure to take a bus that will get you to the pier on time before the last speedboat. There could be traffic on the way which means you could risk missing the transfer so the earlier the bus you take the better!  See below for the speedboat timetable.
Minivans departing from Kao San Road and Victory Monument offer a cheaper and faster alternative of getting to Trat.
Minibus services operate between 6:00 am and 6:00 pm on the way to Trat, and return between 7:00 am and 6:00 pm from Trat. Though keep in mind that you'll be compromising on comfort if you decide to opt for this option, you'll often find yourself packed in like a sardine. Sometimes you luck out though when minivans don't leave full so you benefit from both speed and space!
Rates are normally around 300THB and can be bought in advance at local travel agents. The journey takes about 4 hours.
Make sure to take a minivan that will get you to the pier on time before the last speedboat. There could be traffic on the way which means you could risk missing the transfer so the earlier the minivan you take the better! See below for the speedboat timetable.
The festival's travel partner Aurora Koh Chang Travel offers shared and private van shuttles from Bangkok to the pier which you can reserve directly with them. The vans leave from Lat Krabang BTS Station at 8:00 am on the specified date.
Boonsiri also offers a minivan and speedboat combo ticket departing from several locations including Bangkok, Pattaya and Trat. The benefit of booking a combo ticket is that your seat on the speedboat will be reserved for you so you don't need to worry about arranging anything when you get to the pier.
BY PRIVATE TRANSPORTATION
You can reach the pier by renting a van or a car, or getting a taxi. What's convenient about this option is you get to choose where you get picked up from and you can make stops for friends or convenience along the way. If you're staying in a hotel or you're arriving at one of Bangkok's terminals then you'll have no problem arranging transport, try to do so before you arrive to avoid disappointment. Prices vary according to distance and how big the van/car is but you'll be looking at around 5,000THB per ride.
Make sure you fix a rate before setting off to avoid any issues along the way. If you do go with this option make sure you have a ride booked for the return!
The festival's travel partner Aurora Koh Chang Travel offers shared and private van shuttles from Bangkok to Koh Mak which you can arrange directly with them. The vans leave from Lat Krabang BTS Station at 8:00 am on the specified date. You can also get a private shuttle if you would like to be picked up from your hotel or residence. These can easily accommodate up to 6 people and cost 5,500THB each way. The benefit of this option is that speedboat tickets to Koh Mak will be reserved for you at the pier so you don't need to worry about arranging them when you get there.
Koh Mak is accessible by speedboat from Lam Ngop Pier, there are several transfers leaving the pier each day. The journey takes about 45 minutes and costs 450THB each way.
Getting around Koh Mak is really easy as the island is small and there are several transport options to get you from one place to another. If you feel confident riding a scooter then this is definitely the simplest and most convenient way to get around. You'll be able to rent them from your resort or from a shop, there's even a bunch of them available on arrival at the piers. I don't recommend renting a scooter if you've never driven one before or if you're not an experienced driver, the roads on islands tend to be more slippery because of the sand. If you do decide to drive be cautious when driving to and from the festival, don't put yourself or others in danger with reckless driving!
Aside from scooters you can also rent bicycles or you can jump on a shared taxis (called songthaews), they're like a normal taxis but you're sharing with more people who can hop on and off throughout the journey. Also note that some resorts provide transport from the piers, it's worth asking them beforehand if they can come and pick you up
Thaibreak Festival is spread across a number of stages and venues all over Koh Mak and even further afield on a neighbouring island and on boat parties. The different locations are all really unique, this keeps the journey interesting and exciting. Each location is dressed to the nines for the festival and has its own distinctive imprint. For such a small event the effort put into production is really quite considerable and is impressive. As a festival goer it's a great experience to be able to party in so many different locations and because the island is small it's no hassle to get from one venue to another. And everything is really clearly explained, upon arrival and collecting your wristband you'll get a map of the island and a breakdown of the parties and where they're being hosted. Everything is really well organised, you won't need to worry about having to think about logistics of how to get from one party to the next, just follow the instructions and go with the flow.
The island gets very full during this time, not just because of the festival and the Thaibreak holidaymakers but also because it's Thailand's high season so make sure to book your accommodation early! You can book accommodation through the festival when buying your tickets, they offer a range of resort and bungalow packages catering to different needs and preferences.
If you're confident in your booking skills then you can also take a look on Booking.com or Airbnb, many of the island accommodations are listed on these websites.
The festival showcases a lineup of acclaimed DJs from several underground music realms, teasing revellers with a broad range of genres from house to techno and everything in between. If you're an underground music fanatic Thaibreak Festival definitely needs to be at the top of your festival bucket list.
The team behind Thaibreak Festival is European and based in Berlin as well as local Thai based in Bangkok. The entire team carry an impressive weight within the underground music industry in their respective cities and countries so the music on offer is always some of the best that Thailand (or even the region) has ever seen. Because of this dynamic blend of nationalities within the team, the festival usually also features a good mix of local and international DJs. You'll definitely be kept dancing days and nights through. 
Check out and get to know this year's lineup HERE. 
This little boutique festival has an atmosphere like no other. One of the main benefits of Thaibreak Festival is its size and this really works in its favour in terms of the kind of ambiance there is on the island during this time. Because of the exclusivity of the event you feel like you're amongst family, as though it's an intimate gathering with your friends and some incredible DJs. You can be sure that they'll never lose this magic as they don't plan to expand the festival or over-capacitate the island.
The island itself is absolutely stunning, it's almost fairytale-like. One moment that really marked me was driving back to my accommodation early in the mornings after partying the night through. There was this mist in the air through the trees, it's something I'll never forget, it felt like a dream. Being on the island and being able to be out of the city is an absolute treat, and this island really is one of the most stunning locations in Thailand. The setting puts everyone in a really great mood, they're all in holiday mode but no one is rowdy. The festival attracts a really sophisticated and respectful crowd, and this doesn't mean boring! They're all music enthusiasts so they want to party but it doesn't get out of control, which again just makes it feel so convivial and welcoming. And I did end up meeting a number of people from Germany all of which I saw again during my festival adventures in Europe. It was great being in a setting which connected so many passionate and educated music lovers. Thaibreak Festival guarantees good music, good vibes and good memories. You won't be disappointed by this little gem, it's a very special festival, a little surreal even.
Thaibreak have managed to maintain a good relationship with locals so they treat you as they would their own which is really lovely, you don't get scammed and everything is fair. If you are thinking of going then keep that in mind, a whole team has worked hard over a number of years to make sure that the locals are happy and want to keep allowing the holiday and the festival to be hosted there. As festival goers our responsibility is to maintain that peace so we can keep enjoying this glorious event. Be mindful of each other, the island's inhabitants and the island itself so we can keep going back there from year to year!
Beyond the incredible lineup the island and surrounding islands offer usual seaside pastimes as well as cultural experiences. Koh Mak offers a very diverse portfolio of activities, there is a little something for everyone! If you're into active excursions then you can look forward to Muay Thai lessons, mountain biking, snorkelling, kayaking, diving, sailing or even paddle boarding.
But if you'd rather indulge in a more relaxing experience the island also offers quieter activities like yoga, meditation, Thai cooking classes and Thai treatments and massages. Or take a boat to a nearby island and relax on a different beach for a day!
You can also rent a scooter and go explore the island, Koh Mak actually holds a lot of culture. The island is very small so getting around is easy, you can spend a day driving around and discover what secrets the island keeps. Just make sure you are cautious when driving, the roads can be slippery! If you don't feel like driving yourself there are also island tours which you can book at your resort or in shops. You can read up on the island's history and culture HERE.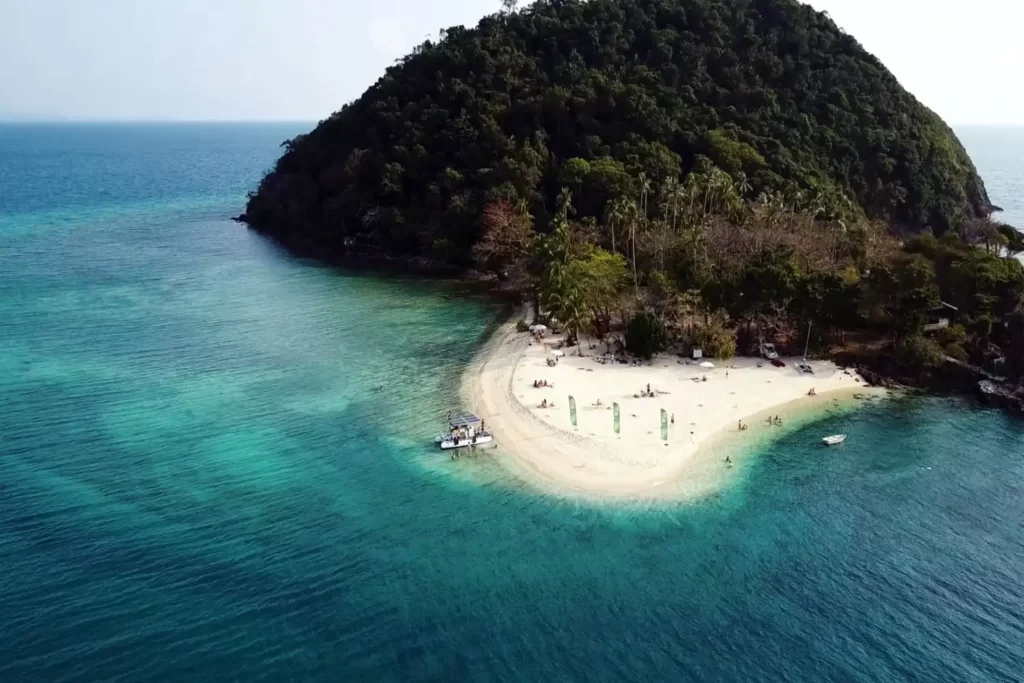 Whether you're at the festival or roaming the island you will be well fed! Koh Mak hosts a broad range of cafes and restaurants that provide both local and international options. And you'll have the choice of dining on a budget or splurging a bit more. You'll find anything from a simple noodle soup (50THB, equivalent to 1.60USD) to dining in one of the nicer resorts.
Within the festival grounds and at each party you'll always find a few food options which are hosted by local vendors or there will be restaurants nearby, you can leave the party for a bit to grab a bite to eat and then come back. The food on offer at the festival is a mix between Thai and international, and there's also a few options for vegetarians and vegans! The food and drinks are very reasonably priced, you won't be breaking the bank by going to this festival that's for sure!
The cost of your trip to Koh Mak and your experience of Thaibreak Festival will be totally dependent on your personal preferences.
 Though if you're on a budget then some of these low cost tips on how to travel to Thailand and to the festival will be useful to you. 
If you're looking to spend big then by all means please do the opposite
 of all these recommendations!
Book your flights early! Event dates are normally announced a few months in advance so book your flights as soon as they release the dates to avoid price increases.
Don't fly, hit the road! Trat airport may seem like a convenient option but flights are definitely more expensive than getting a ride to the pier.
…And take local transport to take you to the pier, don't rent a car or private miniman to drive you from your point of departure. Hop on one of the local ones, they are a lot cheaper.
Early Bird gets the worm! The same goes for your festival ticket, don't wait to get your ticket as the longer you wait the more expensive it gets!
Compare package prices with accommodation options on the island. Depending on when you get around to booking there may not be any cheap accommodations left to reserve so the packages may work out cheaper, consider getting one.
Get a local SIM card so you don't have to roam whilst you're out here, that can get very expensive. You can get a SIM card at your nearest 7-11 or in a shopping mall by going to one of the local providers (you can choose from AIS, True, DTAC and more…). You'll need your passport to purchase one.
Eat local food. Koh Mak boasts a number of international food options but these aren't the cheapest, stick to local dishes and restaurants!
Be smart about taking taxis. Don't forget to negotiate and share the fare with your friends!
Don't rent a motorbike unless you are an experienced rider! If you crash it you will end up spending more money on repairing the scooter and on fixing yourself up than on your entire holiday
Cash machines: there is one ATM available on the island but more often than not it's not working so it's definitely a good idea to bring cash with you. 
Merchandise: official Thaibreak Festival merchandise will be available for purchase on site!
Wheelchair Access: the festival site is spread across Koh Mak and some of the festival stages are on the beach. It isn't impossible but there are no platforms or pathways so it may be a bit tricky to arrange a good view or access. The best thing to do would be to contact the organiser directly: info@thaibreak-festival.com.
Printed Ticket and ID: you will need to arm yourself with both of these to be able to get your wristband, so make you sure you don't forget either or you'll be missing out on the action!
Fully charged phone: you don't want to miss any opportunity to capture your favourite moments at the festival and you'll want to be able to reach your friends in case of emergencies. Bring a portable charger if your phone has a tendency to run out of battery quickly!
List of prohibited items: make sure you check back with the festival's social media pages closer to the event to get the full list of prohibited items so you make sure you don't bring anything that would get confiscated as you will not be able to get them back and may be denied access.
SIM Card: if you're one of those people who likes to stay connected and you're worried about getting access to Wi-Fi then you should try to buy a Thai sim card before arriving on the island. If you're flying into Bangkok I recommend you buy them at the airport as it becomes trickier to do so on your way to the island. Alternatively you can usually find them in a local 7-11, you'll need to show your passport to obtain one.
Cash: there is one ATM available on the island and it's often malfunctioning so it's definitely best to come prepared as you'll need cash to make purchases in the festival. Some shops and resorts change money and are able to give cash on credit cards but just to be sure you'll have what you need you should bring your own supply.
Suncream and bug spray: you're going to be spending a lot of time outside, you don't want to risk getting sun burnt or getting bit by too many insects! But please don't bring anything too potent, be kind and mindful of other ravers and the environment.
Sunglasses: they're a beach essential, don't forget them!
Warmer layers: believe it or not it can get a little chilly in the evenings. It's always useful to have a couple extra layers just in case you need them. A light cardigan or sweater will be more than enough!
Ear Plugs: you'll need to keep your ears protected! Long or repeated exposure to loud sounds can cause long term damage to your eardrums, don't risk ruining your hearing, think of all the festivals you have yet to explore!
Don't remove your wristband! Make sure you keep your wristband on at all times, you will not be giving a new one if it is removed or damaged, don't risk being refused entry!
Keep an eye out for the official Do's and Don'ts published on the official Facebook Page closer to the event date, so you can better prepare!
Don't be shy, share this post now with your festival crew!