Songkran is probably the biggest and most important date in the Thai (solar) calendar. It stands for Thailand's New Year's festivities, spanning over 3 days and marked by the ceremonial action of throwing water. Over the last few years some big events have appeared, taking the traditional experience to a whole new level. SIAM Songkran Music Festival is one of them, which not only brings some stellar international acts to mark the start of the new year with but also highlight and celebrate Thai culture and traditions. These unique parties are absolutely crazy, a little preparation goes a long way to ensure you have the best time! To get you all caught up on what to expect and how to plan your adventure here is The Nitty Gritty Guide to SIAM Songkran Music Festival.
When did I attend? April 2019
When is the next SIAM Songkran Music Festival? 11-13 April 2020
What do you hear at SIAM Songkran Music Festival? EDM, Trap, Hardstyle, Electronic
Where? SHOW DC, Rama 9, Bangkok, Thailand
What's the local currency? Thai Baht
What's the local language? Thai
SIAM Songkran Music Festival's first edition was hosted in 2019!
SIAM Songkran Music Festival is more than just a music event, it also implements a whole bunch of fun activities that celebrate Thailand's culture and way of life.
SIAM Songkran Music Festival incorporates world-class production, water displays and cannons with international acclaimed electronic dance music acts for an unforgettable Songkran celebration.
SIAM Songkran Music Festival is a 20+ event.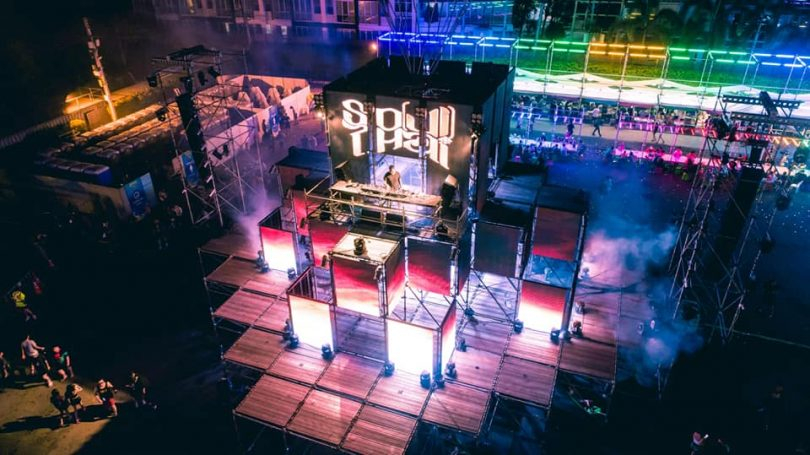 ARRIVING IN BANGKOK
If you're an international festival goer arriving in Bangkok then check out this Guide to Travelling to and Around Bangkok! There you will find several options to get you to your destination within the city before moving on to the festival.
GETTING AROUND BANGKOK
TAKING THE BTS
There are two BTS lines that run through Bangkok: the Siam Line and the Sukhumvit Line. Both of these lines connect at Siam station which is one of the most central points of the city.
The Sukhumvit Line runs between Kheha (East) and Kasetsart University (North West). And the Siam Line runs between National Stadium (West) and Bang Wa (South West).
For a map, stations listings and hours of operation please go HERE.
USING THE MRT
Aside from the BTS, Bangkok also has two Metro (MRT) lines running through it: the Blue Line and the Purple Line. The Blue Line runs from North to South in the city center, from Tao Poon to Hua Lumphong. You are unlikely to need to use the purple line as it connects the outskirts of Bangkok to the center.
You can change for the BTS at Sukhumvit MRT Station. Alight at Sukhumvit MRT Station and make your way up to street level, then follow signs to Asok BTS Station. From there you'll be able to jump on the BTS Sukhumvit Line running between Kheha (East) and Kasetsart University (North West). Note that the MRT and BTS are run independently of each other so you'll need to buy separate tickets to travel on them.
For more information on how to use the MRT and hours of operation please go HERE.
GETTING TO THE FESTIVAL
SIAM Songkran Music Festival is taking place at Urban Yard Bangkok in RCA. This location is situated on a long stretch of road which is home to some of Bangkok's best nightclubs. During big events and Songkran this street turns into one big party area, a pretty hard-to-beat location for a festival during this time of year!
ARRIVING BY TAXI
This event space is a little lost in the middle of nowhere in terms of public transport, the easiest way to get there is by taxi. Asked to get dropped off at Urban Yard Bangkok or make sure you get dropped off at the South Entrance of RCA to avoid needing to walk all the way down the street, it's a pretty long walk and might be closed for celebrations during that time.
Don't be surprised if your meter isn't set to zero, all meters start 35THB, which will automatically be displayed on the meter when you start your journey.
Taxi drivers in Thailand have a tendency to try and trick passengers into paying hyper-inflated rates for their journeys. I say passengers because they even try it on the locals too! Always ask to have the meter on, if they say no then wave them goodbye and find another driver, you will find one who will take you on the meter, don't give up!
Also, don't be upset if you're turned down by a few taxi drivers before you find one, there's no logic to their method, for the most part, they're just lazy and will say no if you're asking to be taken to a faraway destination.
If this doesn't sound like your kind of fun you can always download the Grab application (Asia's answer to Uber – Uber no longer operates in Thailand) to your smartphone. You'll have more control over the price you pay and sometimes even get discounts on your journeys. And you will definitely be sure to never get lost! Not to mention that the application also offers food delivery services so you'll be able to both order food and get around the city! If you struggle to explain where that is just show them on Google Maps.
USING THE MRT
SIAM Songkran Music Festival is not located close to the city's main transport lines however it is still possible to reach the event by public transport and then take a taxi or motorbike taxi.
The nearest station is Phetchaburi Station which is on the city's MRT line. If you are staying by a BTS station make your way to Asok station on the Sukhumvit Line where you can alight and change for the MRT. Once you get off the BTS walk down to street level and follow signs for MRT Sukhumvit Station. Phetchaburi Station is one station north of Sukhumvit Station. 
From there hop in a taxi or on a motorbike taxi (only if you feel confident doing so!) and ask to be taken to Urban Yard Bangkok. If you struggle to explain where that is just show them on Google Maps. Drivers usually charge a little more than usual during Songkran but do not go anywhere without negotiating, set the price before you set off for your destination! You can either hail them down or try using Grab to get a ride.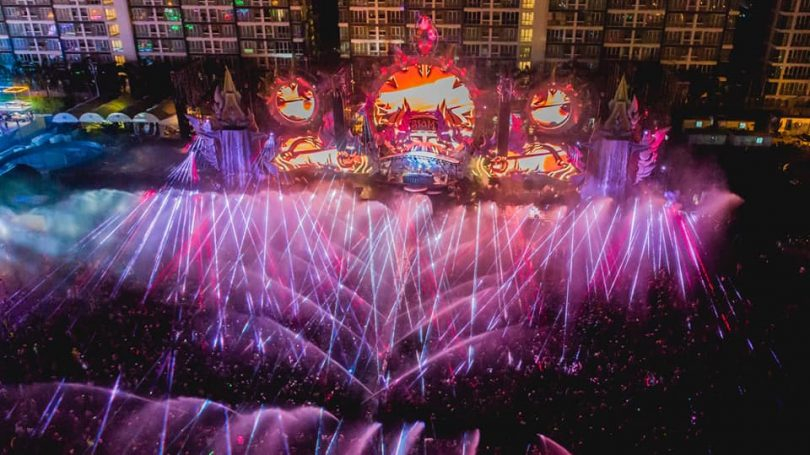 There are literally thousands of accommodation options in Bangkok, ranging for hostels to five star hotels, there's something to suit every budget. My recommendation: stay close to a BTS or MRT station! This will help you plan your journey to the festival by avoiding traffic, and will also allow you to go all over the city and do your sightseeing.
However, if you're seriously only there to party then I would suggest staying in accommodation that is close to the venue so can get there in no time at all! Bear in mind that this venue is not near any public transport so this isn't ideal if you want to visit the city or if you want to keep partying after the festival is done. In that case you should consider staying closer to the city centre, in areas like Ekkamai, Thonglor and Asok. You will find a number of malls, restaurants, cafés and nightclubs in all these areas. You will have everything you need to keep yourself busy and satisfied outside of the festival hours! 
The festival site is absolutely massive! The pit in the middle is reserved for General Admission ticket holders. VIP and VVIP decks were located on the side and at the back of the main stage area. The wet zone is strictly for GA, if you want to stay dry then you will want to splurge on a VIP ticket! And don't think you will be able to get away with staying dry otherwise, they have sprinklers at the entrance of the GA area as a teaser of what to expect throughout the festival!
SIAM Songkran Music Festival hosted two stages in 2019! They had the main stage going with all the headlining acts and then a second stage where they had more local acts from all over the region performing. A tall structure that was laced and weaved with all sorts of water cannons to guarantee that water would reach every corner of the GA zone! Complete with state of the art production, it created an unbeatable atmosphere for the crowd.
Despite the second stage being smaller it still featured impressive production. But what was most fun about this stage was its architecture. It was built on stilts and underneath the stage there was a cosy hammock area where you could sit or lie down. By the last day these were full from all the ravers who had been on their feet dancing all day and night for three days. A really convenient and comfortable chill out area!
SIAM Songkran Music Festival is an electronic dance music festival that span over a few days. In 2019, they invited a number of globally acclaimed labels as well as international club and event partners for special stage takeovers, including Barong Family and Q-Dance to name a couple.
The lineup was unparalleled, they pulled out all the stops to make sure festival goers had a unforgettable Songkran celebration. Each day highlighted one particular subgenre of electronic dance music which meant that the lineup as a whole pretty much catered to every kind of EDM fan! People flocked from all over the world to dance to world-class acts including Afrojack, Fedde Le Grand, Alok, Coone, Seven Lions, Wiwek, Yellow Claw, Zatox and many more…
The first phase of the lineup for SIAM Songkran Music Festival 2020 has just been announced!
What a mad experience this was, where to begin! Altogether the event was very well managed, there was plenty to do at the venue, the waterworks and production were phenomenal, and every artist on the lineup really gave it their all. It left little for festival goers to complain or be negative about, let's put it that way!
The best part about all this was that it created such an energetic and vivacious atmosphere. The energy never wavered, the crowd was one of the most memorable parts of SIAM Songkran Music Festival. The festival was busy on all days which meant tha the vibe was absolutely incredible for the entirety of the event!
Songkran is a great time to visit Bangkok, everyone is in such high spirits. The locals are always ready to rage because to them it's one of the biggest dates in the calendar. They get the whole time off work so they are always in the mood to go wild and party hard.
We're talking about their New Year celebrations, think of how excited we all get on the 31st December each year, well this is the same thing but even more fun because of all the water fights and shenanigans and it spans over 3 days! Something that people fly across the planet for, we partied with so many different nationalities proudly displaying their flags from the audience.
A once in a lifetime experience, this festival brings you together with thousands of others from all over the globe and a gigantic lineup to immerse yourself in the celebrations.
So long as you don't mind getting soaked you will have an amazing time at this event, there is so much fun to be had and memories to be made!
It wouldn't be a Thai music festival without a delicious lineup of bites! SIAM Songkran Music Festival made sure their ravers were well fed and had what they need to replenish their energy during the festival! They invited a bunch of renowned street foods and restaurants to take part in the event, all the options were scrumptious! Prices were reasonable, most dishes started at 70THB (equivalent to $2.30) and were well portioned. The focus was put on Thai food, with only a couple of international options. Most sellers could speak really good English so you can request to make food more or less spicy, and to cater it to your liking.
The seating area in the food zone was large and well maintained. The setup definitely turned the food aspect into an underlying feature of the festival. There were plenty of seats so you could grab a plate of food then sit and enjoy it!
As far as vegetarian or vegan food there weren't many options. My recommendation is that if you follow one of those diets you should eat before coming into the festival. There are plenty restaurants and a mall nearby where you will definitely find a dish that caters to your dietary preferences.
On top of the gigantic lineup SIAM Songkran Music Festival you could also take part in a range of workshops. These were at no additional cost and went on for the entire duration of the festival, so it didn't matter which day you went on you could always give it a go.
Thai-related activities ranging from Muay Thai to Som Tam (Papaya Salad) and Pad Thai tutorials where you could make and then eat your dish. We arrived earlier in the day to be able to make the most of these extra features. A great way to learn about Thai culture and get a more well-rounded experience of the traditions that surround Songkran celebrations. They were fun and professionally run, an excellent addition to the already incredible music programme.
Travelling for festivals can get expensive! So in an effort to reduce costs here are some tips to making your trip to SIAM Songkran Music Festival as cost-efficient as possible…
Book your trip ahead of time! Dates are normally announced months in advance so you can start booking your flights and accommodation when prices are still low!
The same goes for your festival ticket, don't wait to get your ticket as the longer you wait the more expensive it gets!
Look out for group tickets. If you are coming with several friends then get a group ticket, it will work out cheaper for everyone!
This is a non-camping festival! You can choose to stay near the venue but there isn't much going on around there so if you're looking to make the most of your trip near public transport where you will also have a greater choice of hotel options that suit your budget and you won't need to spend on taxis!
Walk away from the site before hailing a taxi! During Songkran and particularly around the festival site taxis and Grab will be surging their prices like crazy! I suggest walking a little further from the festival area to try and call or hail a taxi down.
Get a local SIM card so you can switch off roaming. You can get a SIM card at your nearest 7-11 or in a shopping mall by going to one of the local providers (you can choose from AIS, True, DTAC and more…). You'll need your passport to purchase one.
The food selection is great and on the whole isn't too expensive! But don't get the first thing you see! Walk around the food area to search for the best deals before buying something.
Take part in activities and get your money's worth! Make the most of your pass, join in on everything! There's a lot going on during the festival hours so come early and make the most of it.
Make sure everything is tighly seeled and safe from the water! The last thing you need is to be buying a new phone after the festival, that would be a very costly mistake.
Lockers were a little on the pricy side. I suggest only bringing what you need. Though I know some of you will want to have a spare change of clothes, in that case, pack light to get a small locker or share the bigger one with a group!
Water guns and accessories: They were distributing water guns at the start of each day at the event for the first few hundred ravers. But if you plan on getting there later then worry not there are always plenty of sellers located by the entrance of the festival. You can purchase anything from water guns to goggles and waterproof bags.
Lockers: there are lockers available at the event which you can rent for a fee.
Merchandise: official SIAM Songkran merchandise will be available for purchase on-site! They usually release snapshots of the new line of festival merhandise a few days before the event on their socials!
Medical Services: an ambulance and paramedics will be available for the whole duration of the festival.
Smoking Areas: cigarettes are permitted at SIAM Songkran Music Festival but can only be smoked within the designated areas. You probably won't be able to smoke them in the crowd anyway because of all the water being thrown around!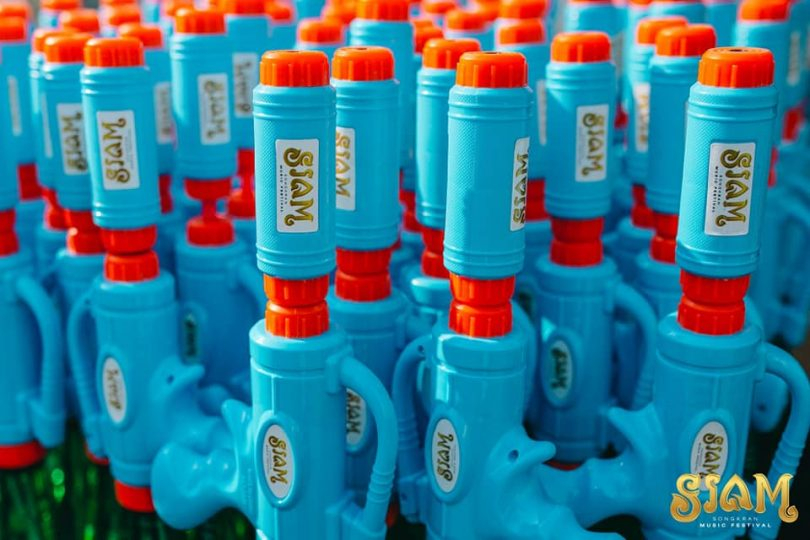 Waterproof EVERYTHING: Unless you want to drown the memories you make during the festival I strongly recommend you buy a plastic pouch to keep your personal items in. And not just at the festival but during your entire stay in Thailand over Songkran. You should be able to locate these at most 7-11s during the Songkran period in Thailand and/or outside the venue. These pouches are great because you can still use your touchscreen phone through the plastic! Alternatively a conventional ziplock bag, but don't think that a plastic bag will suffice! I'm not joking when I say you won't be able to escape the wetness. Keep everything under wraps!
Ear Plugs: keep your ears protected! Long or repeated exposure to loud sounds can cause longterm damage to your ear drums, don't risk ruining your hearing, think of all the festivals you have yet to explore!
Goggles: over recent years these have become extremely attractive to Songkran-goers. They'll keep the water out of your eyes, this is important for those of you who have sensitive eyes!
Sim Card: there's no wifi available at the venue so if you're looking to stay connected during the event you should try to buy a Thai sim card before arriving at the venue. For convenience if you're flying into Bangkok I would recommend buying one in the arrivals hall. Please note however that they're more expensive at the airport (about three times more expensive). If you'd rather opt for the cheaper option then you'll need to visit a local service provider in one of the big shopping malls or any 7-11. Make sure to have your passport on you to complete the registration process.
Printed Ticket and ID: you will need to arm yourself with both of these to get your wristband and be granted entry into the arena, so make you sure you don't forget either or you'll be missing out on the epic party!
Cash: you never know if the ATMs nearby will be down or if their card payments won't be available for any particular reason so just to be on the safe side bring cash to the event. You don't want to left stranded at the festival with no money!
Don't remove your wristband! if you're doing more than one day at SIAM Songkran then make sure you don't remove your wristband and you don't damage the RFID tag, you may be denied entry.
No Re-Entry! if you exit early on the first day you will not be allowed to return until the start of the second day! 
Portable Charger: this festival is going to be packed full of moments you'll want to video or photograph so it's best to come prepared! Don't miss any of your favourite moments because your phone is out of juice!
Stay Hydrated! drink plenty of water! (Getting water thrown at you doesn't count!) You're going to be going hard for hours at a time and you won't necessarily feel like leaving the crowd to get some more water so stock up before finding a good spot in the crowd.
Agree on a Meeting Spot: a lot of people will be attending this festival so set a meeting point before going to any stages so you can easily find each other at the end of the festival should anyone go missing from the group and they're unreachable during the festival!
Spare clothes: if you're likely to get cold then bring an extra set of clothes or a towel to wrap up after the festival is done. They have lockers on site (available for an extra fee) where you can store your belongings.
Need more advice on how to prepare for this festival? Check out my Packing List for Siam Songkran Music Festival!
Share this post with your festival crew so you can plan your SIAM Songkran adventure together!