Due to unforeseen police and political action Quest Festival 2018 was cancelled abruptly on what was meant to be the first day of the festival in November 2018. Because of this Quest Festival will no longer be running, below you can find a video which was made based on Quest 2017 which we will now look at as a commemoration for the festival. It's a festival which stole thousands of hearts away and created unforgettable moments, it needs to be remembered. Goodbye Quest, you were so unbelievably good to us, you leave behind a festival legacy.
Festivals are booming all around Southeast Asia, we've been particularly spoilt for choice this year and one festival we'd been hearing a lot about is Quest Festival. Its reputation has been growing steadily for the last few years, what started out as a weekend away for a few dozen friends is now a 6000 person event. So I thought that I'd attend the festival to get a real feel for it and to be able to give you a breakdown of recommendations and guidelines on how to have the best possible experience at this festival. This is the Nitty Gritty Guide to Quest Festival!
When did I attend? November 2017
When is the next Quest Festival?  23 – 25 November 2018!
What do you hear at Quest Festival? EVERYTHING!
Where? Son Tinh Camp, in the Dong Mo Tourism Complex, outside the city of Hanoi, Vietnam
What's the local currency? Vietnamese Dong
What's the local language? Vietnamese
Quest Festival 2018 is almost upon us! Time to start thinking about what to pack and what could be useful to you on your festival trip. I thought I would share with you guys a condensed version of my packing list. Little things that I hope will guarantee you have a smooth festival experience and will avoid you feeling a lost in the wilderness. Find them in my Quest Festival Packing Essentials!
Quest is the biggest multi-day music and arts festival in Vietnam
Quest is going on its 6th year!
Over 6000 people attended Quest 2017
Over 150 acts were featured at Quest 2017
Quest is an 18+ event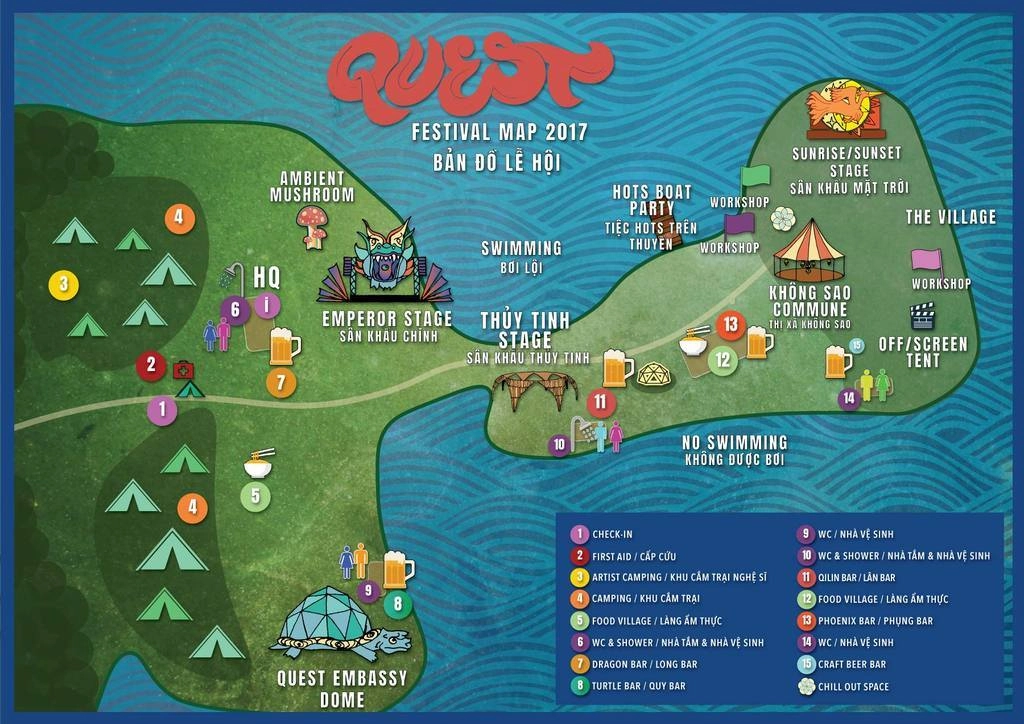 Tickets are now on sale! You can get them HERE!
Quest also cater to all budgets! The Early Bird tickets are currently on sale so why wait until the final release to get your ticket?
If you don't have your own form of transportation you should definitely look into booking a ticket on the Quest bus to get you to the site and back. It's super easy to get to the bus meeting point and it's a cheaper alternative to taking a taxi (see the section on Transport to know more on how to get there)!
And don't forget to also book a tent and camping equipment! If you're coming abroad it might be a bit too much trouble to bring your own camping gear for just a few days!
Keep in mind that tickets are non-refundable and non-transferrable. Once you've purchased any type of ticket on the Quest website you'll receive a ticket confirmation email which you'll need to print out and show before getting on the bus to the festival and have at the festival to get your wristband and be allocated a tent and bedding!
Camping
In terms of Accommodation the simplest option was to camp on site, it avoided having to commute 45 minutes to and from the festival to Hanoi.
Camping actually meant that we could fully immerse ourselves in the Quest experience. We were completely tucked away in nature, away from the bustling city of Hanoi. And this was truly one of the highlights of the festival. The festival is located in one of the most beautiful places I've ever been to. Picture a beautiful, open, flat, spacious ground, surrounded by water. It was absolutely breathtaking, making it more than just a festival but a travel destination. A venue that needs to be seen to be believed, because words don't do it justice.
For those of you who feel squeamish about camping you don't need to worry (and trust me I do too but I'm really glad I went for it!). There are plenty of toilets and showers on site, all kept cleaning throughout the festival. So if cleanliness is an issue for you then you can definitely put that worry to bed, Quest organisers have got your back!
There's also a good number of lockers available on site to be used to store your belongings. Though as a general rule for any festival don't bring anything too valuable, not because you'd necessarily get your belongings stolen but because at the back of your mind during the whole festival you might be wondering if everything in your tent is still safe. Give yourself some peace of mind and don't bring anything too expensive.
And for those of you worried about not being able to make a full battery last for 3 days then you'll be relieved to know there's charging stations on site. So you won't need to worry about draining that battery of yours capturing all your best moments at the festival!
Hotels and Hostels
There are a number of hotels and hostels available to festival goers, located off-site in the Dong Mo Tourism Complex or in Hanoi. For anyone thinking of relying on this form of accommodation please keep in mind that you'll need to allow more time to travel to and from site, and that this option is the least cost effective option. Having said that you will be benefiting from a more comfortable accommodation option and be getting more rest than if you were camping. So there's definitely pros to staying in a hotel but you'd need to budget more time and money for this option, and you'd also be missing out on a big part of the magic at Quest.
Other than the obvious beauty of the landscape surrounding the site attendees were also spoiled with incredible decor and installations all over the site. Everywhere you went there was something to tickle and tease your senses, be it at the stages or wandering between stages the magic never stopped. Every feature amplified the already stunning scenery, and if you weren't already with it by day then by night you definitely would have been because everything glowed in the dark and came to life. And to top it all off, if you weren't being draw in by an art installation then your eye would be wandering to the nearest performers roaming around the site throughout the weekend. It was truly phenomenal, a real feast for the eyes!
The space and the features added to it created this surreal sensation of freedom. It felt like we'd escaped from realities and closed the doors on the world outside for a few days. It was really easy getting from one place to another, not just in terms of how well everything was signposted (which it was, really was!) but also because the space was actually big enough to host the amount of people who showed up. Altogether this made the space feel safe and comfortable, which is a big positive as there's nothing worse than an overcrowded or confusing festival site!
The festival organisers not only made good use of the space to ensure ease and fluidity of movement but you could tell that a lot of time and effort had been put into thinking of creative and innovative ways to decorate and create a truly unique and memorable festival site. The festival organisers really made very good use of the space ensuring perfect fluidity, teamed with the installations they managed to create this sensual paradise where people could roam free and feel liberated in nature. If that doesn't convince you to go then I don't know what will!
Coming from Bangkok we were familiar with a few acts performing over the weekend and it felt amazing being able to support them at a festival in a different country. There were plenty of acts we didn't know but that didn't prevent us from having a good time. If anything we were pleasantly surprised and are pleased to have discovered some new talent and new music to listen. So if you aren't too sure about the look of the line up my advice is just to wing it and go for it, it definitely shouldn't put you off!
The combination of all the above elements contributed to this immense feeling of unison and community amongst festival goers. Everyone was kept happy with all that was on offer and this resulted in very happy festival goers wandering around. But above all people felt liberated from their usual constraints by what surrounded them. This festival really coaxes you into letting go of the world outside, relieving all your worries and stresses. All this really showed in the way that everyone was kind to one another, genuinely friendly and caring towards each other. I'd never experienced anything quite like it and I feel very lucky to have felt that kind of warmth and amiability amongst a crowd. How often do you get to feel that way around so many people? It's a pretty sensational thing to feel at a festival and probably the highlight of the festival for me. The people and the good vibes they were spreading were extraordinary; absolutely captivating and inviting.
I can't really say much more about it, you'll have to go and experience it for yourself…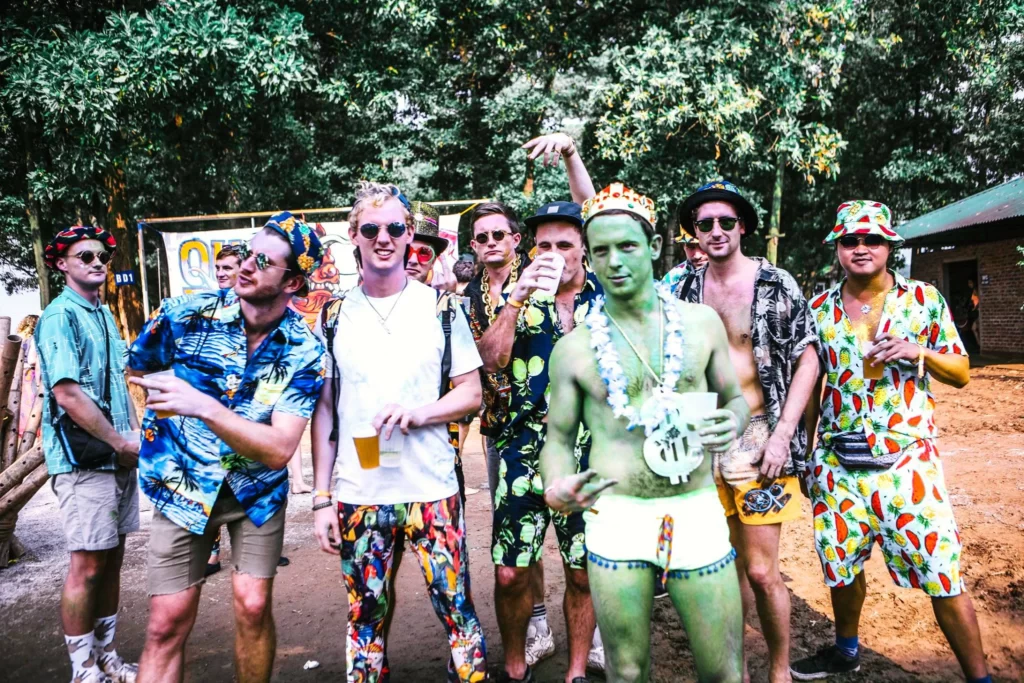 Quest Festival offers every activity and workshop under the sun. There's things I've definitely never seen at a festival and some I've not even ever heard of before. They've got an extremely eclectic choice of activities: from soap and vegetable carving to seduction techniques, from leather work to reiki healing…there is something for everyone. Festivals are about making unforgettable memories and having the most incredibly random experiences, well I can tell you that you won't be short of memories to take home and share with friends and family!
Highlights included the Freakshow Disco on Friday evening and the Boat Party tours around the lake which occurred several times a day throughout the weekend were a very peculiar and unique featured. Every time you thought you'd seen it all you would discover something new. Everything was designed to maximise potential for really letting go, having fun and running wild!
The good news is there's something for everyone! There's a very good selection of food and beverage options available on site, whether you're vegan, vegetarian, prefer Western food, or would rather eat Asian food…you'll find what you need!
We particularly enjoyed the Vietnamese food stalls. Seeing as we were in Vietnam we thought we would also make the most of the local food options. Nothing like a tasty Pho and Vietnamese coffee to perk you up first thing after a long night of raving…
And everything is ridiculously cheap! You really don't need to worry about breaking the bank at this festival. Most meals will start at around $3 and beer costs less than $1.50. It's very easy to do this festival on a budget.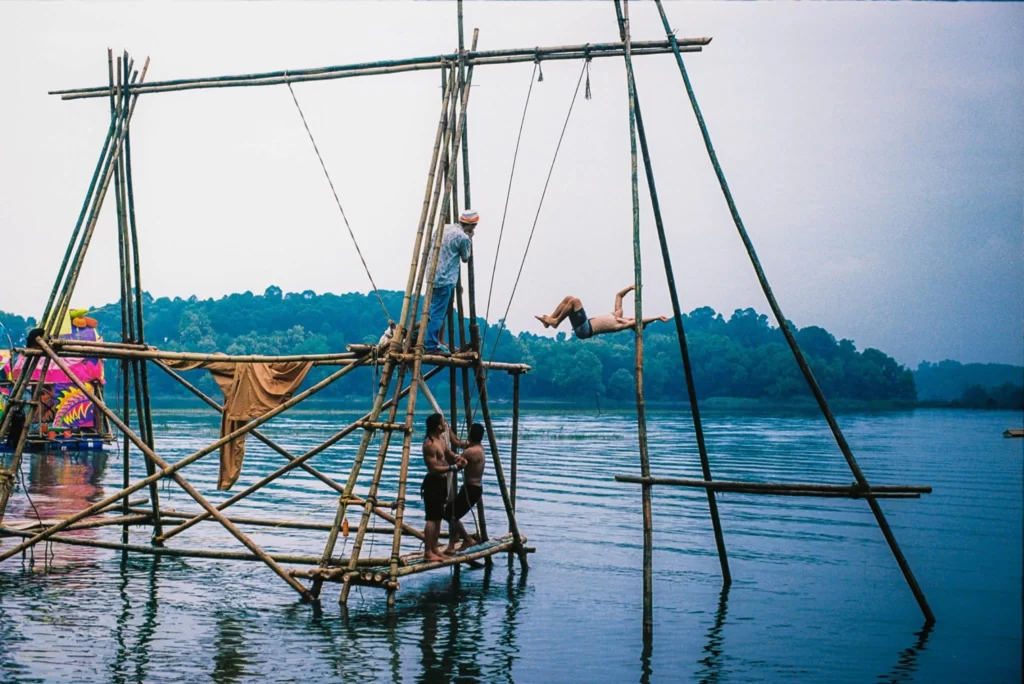 Smokers were also handed customised Quest ashtrays to discourage them from throwing their cigarette buts on the floor, which also serves as a nice memory of the weekend and can be reused other than at the festival.
In addition to this most of the festival's constructions are made from indigenous woods and bamboo, which is then repurposed for future use after the festival.
As an attendee knowing that measures were being put in place to make sure the festival didn't impact the environment too much and being able to contribute in small ways was a nice way of feeling like we were playing a part and were all involved in the festival other than just for partying.
A lot of attention was put into the detail of this festival (to know more scroll up if you haven't already done so!) which considering the price of a ticket it's safe to say festival goers definitely got their money's worth. This festival is very inexpensive to attend. It is amongst the cheapest in Asia, the first round of tickets is going for about $57 (1,300,000 VND)/ticket, and the final round of tickets were priced at under $80 (1,800,000 VND)/ticket last year. And once on site food and beverage were very reasonably priced. I spent just over $60 over the three days. So it's a cheap festival and on top of it you're getting a lot for your money.
To put it simply this isn't the kind of festival you buy a ticket to and think that more could have been done for attendees. We were absolutely spoiled for the whole three days!
Sim card: I bought mine at the airport but they were also available on site. I always find it useful to have one to locate friends, or in this case to also check for travel updates.
Cash: There are no ATMs available on site so please come prepared! I took out cash at the airport and brought it with me to the festival. Don't be afraid of bringing cash, there's security walking all over and around the campsite and there are lockers available on site.
Portable Charger: this festival is going to be packed full of moments you'll want to video or photograph so it's best to come prepared! Don't miss any of your favourite moments because your phone is out of juice! There are charging stations on site but if you can come armed with a power pack you won't need to queue for power!
Ear Plugs: you'll need to keep your ears protected! Long or repeated exposure to loud sounds can cause longterm damage to your ear drums, don't risk ruining your hearing, think of all the festivals you have yet to explore!
The mud is real: I recommend bringing anything you don't mind getting too muddy and extra plastic bags to carry your belongings in so you can really roll around in the mud with no remorse!
Water bottle: water was available free of charge during the whole weekend if you had a recipient to fill it with!
Costumes: for next Quest I will be upping my game and going bigger with costumes and outfits. I was absolutely taken aback by what people were wearing. Everyone really went for it and let their imaginations run wild. Quest was definitely one of the best people watching festivals
Stay tuned for my Quest Festival Packing List for more details on what to bring to make sure you only have the best experience at Quest!
Overall I can honestly say that there is no festival like it in Asia. It really felt like the festival organisers did everything they could to create an unforgettable event for festival goers and all for a very reasonable price tag. It's extremely easy to travel to and from the site, everything has been thought of ahead of time and set up to make sure attendees have the most pleasant festival experience possible. Hopefully I've given you an insight into how to best attend Quest Festival and also given you a number of good reasons to entice you to visit Quest yourself! Make sure you check out Quest Festival's official Facebook page, and stay tuned for announcements on Quest Festival 2019!
Share this post with your festival crew so you can plan your festival adventure together!