NEON Countdown is finally coming to Bangkok! After hosting a series of events across the region in countries including Malaysia and China, it's Thailand's turn to experience this gigantic New Year's Eve neon music festival extravaganza! They've joined forces with the renowned Meta Music Festival to bring festival revellers a bigger and wilder version, Meta: The Rebellion of Neon Countdown. To help you prepare for this incredible showcase here is The Nitty Gritty Guide to NEON Countdown Bangkok!
When did I attend? December 2019
When is the next NEON Countdown Bangkok? 30-31 December, 2023
What do you hear at NEON Countdown Bangkok? EDM, Trap, Hardstyle, Trance
Where? Wonder World Extreme Park, Bangkok, Thailand
What's the local currency? Thai Baht
What's the local language? Thai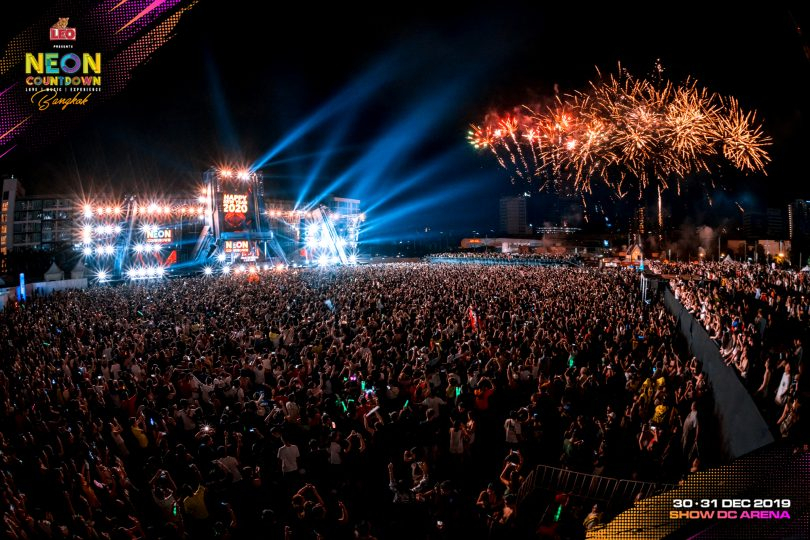 NEON Countdown is hosted by NEON Events, an experienced team of event promoters who throw parties across the region under both this alias and also as Neon Music Festival. They are one of the fastest-growing music festival brands in Asia, their events have conquered Malaysia and China so far!
NEON Countdown is committed to throwing some of the most elaborate parties in Asia, renowned for their world-class production, visuals and unforgettable lineups!
NEON Countdown is a UV paint event! Expect gallons of paint being handed out and people on hand to help you get glammed up on both nights!
NEON Countdown brings together thousands of people from across the globe to celebrate music and the start of the new year under one epic ultraviolet glow and fireworks display. An experience you won't forget!
NEON Countdown is a 20+ event!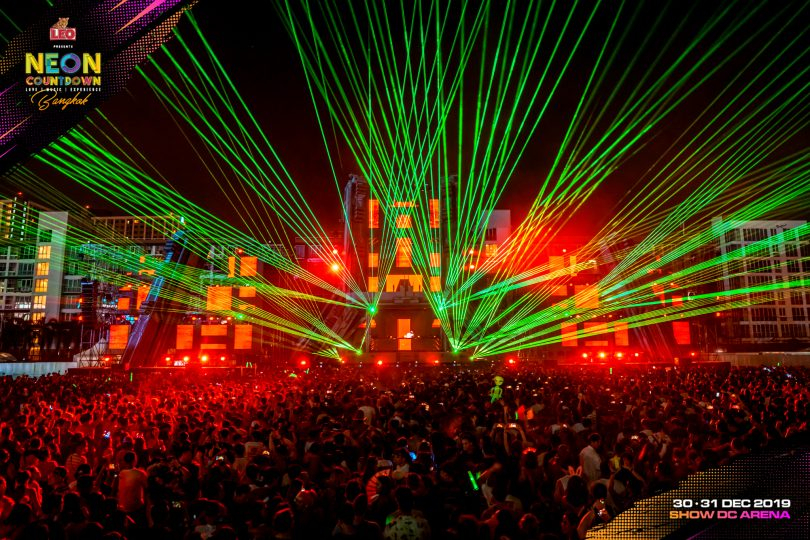 Tickets are released in different phases for NEON Countdown so don't wait to get yours as the sooner you get them the cheaper they are!
Festival goers have the choice between GA tickets, VIP and VVIP packages for this event. 
Note that all NEON Countdown tickets are non-transferrable and non-refundable so make sure you enter the correct personal information when purchasing your ticket(s) or you won't be able to pick up your wristband(s) at the event. You'll need a printed copy of your order confirmation and your ID on the day to pick up your ticket(s). This doesn't apply if you choose to have your tickets delivered to your door.
NEON Countdown work with several ticketing agents, check below for the list of official ticketing platforms able to issue genuine festival tickets:
It is recommended to only purchase from these ticketing companies to avoid scams and fraudulent ticket copies!
They have both offline and online ticket sales. If you purchase your ticket offline at one of the on-ground operators you will receive a hard ticket which you need to bring to the event along with your ID to exchange for a wristband. Online purchases will be issued a ticket confirmation which you should print or present on your phone to get your wristband. The wristband redemption area is located inside SHOW DC, across the street from NEON Countdown.
GENERAL ADMISSION
NEON SKYDECK (VIP PACKAGES)
Tier 2 is located in the VIP Lounge Experience, on a deck slightly higher than the free-standing VIP area. Take your NEON Countdown experience to the next level with an exclusive VIP package that accommodates 4 people for 2 days for 50,000THB.
It includes the following perks:
Dedicated VIP entrance to the festival

Access to the VIP exclusive platform

VIP bars only

Bottle Service & Cocktail Table

Best view of mainstage

Chill out areas

Premium Toilets

Mobile phone charging area
For more information and bookings contact info@neonevents.asia.
NEON SUIT (VVIP PACKAGES)
The VVIP package sets the bar even higher! You can choose from the 10-person VVIP bundle for 2 days for 15,000USD or the 8-person VVIP package for 10,000USD.
They both include the following perks:
Dedicated VVIP entrance to the festival

Access to the VVIP exclusive platform

Finger Food and a Fruit Platter

Bottle Service & Cocktail Table

Drink Package

Private Parking

Best view of mainstage

Private Massage

Premium NEON Countdown Kit

Premium Toilets

Mobile phone charging area
…And some additional benefits. For more information and bookings contact info@neonevents.asia
ARRIVING IN BANGKOK
If you're an international festival goer arriving into Bangkok then check out this Guide to Travelling to and Around Bangkok! There you will find several options to get you to your destination within the city before moving on to the festival.
GETTING AROUND BANGKOK
TAKING THE BTS
There are two BTS lines that run through Bangkok: the Siam Line and the Sukhumvit Line. Both of these lines connect at Siam station which is one of the most central points of the city.
Aside from the BTS, Bangkok also has two Metro (MRT) lines running through it: the Blue Line and the Purple line. The Blue Line runs from North to South in the city centre, from Tao Poon to Hua Lumphong. You are unlikely to need to use the purple line as it connects the outskirts of Bangkok to the centre.
You can change for the BTS at Sukhumvit MRT Station. Alight at Sukhumvit MRT Station and make your way up to street level, then follow signs to Asok BTS Station. From there you'll be able to jump on the BTS Sukhumvit Line running between Kheha (East) and Kasetsart University (North West). Note that the MRT and BTS are run independently of each other so you'll need to buy separate tickets to travel on them.
For more information on how to use the MRT and hours of operation please go HERE.
Using the BTS, the MRT and/or taxis you will be able to access all corners of the city. I've been living in Bangkok for a few years now and I've still not braved the bus route system. If you feel like going on an adventure then all the more power to you, you can let us know about your experience in the comments section! If it's your first time in Bangkok then I recommend sticking to the easiest methods of travel so you avoid getting lost and possibly missing parts of the festival!
GETTING TO THE FESTIVAL
NEON Countdown Bangkok is taking place at Wonder World Extreme Park! Read on for all the information you need on how to get to the venue!
The simplest way to get to the venue is by taxi. Don't be surprised if your meter isn't set to zero, all meters start 35THB, which will automatically be displayed on the meter when you start your journey.
Taxi drivers in Thailand have a tendency to try and trick passengers into paying hyper-inflated rates for their journeys. I say passengers because they even try it on the locals too! Always ask to have the meter on, if they say no then wave them goodbye and find another driver, you will find one who will take you on meter, don't give up!
Also don't be upset if you're turned down by a few taxi drivers before you find one, there's no logic to their method, for the most part they're just lazy and will say no if you're asking to be taken to a far away destination.
If this doesn't sound like your kind of fun you can always download the Grab application (Asia's answer to Uber – Uber no longer operate in Thailand) to your smartphone. You'll have more control over the price you pay and sometimes even get discounts on your journeys. And you will definitely be sure to never get lost! Not to mention that the application also offers food delivery services so you'll be able to both order food and get around the city!
GETTING THERE BY MOTORBIKE TAXI
My advice is to avoid using motorbike taxi drivers or Grab Bikes (which you can order through the Grab app, same as you'd order a car as mentioned above) if you're not used to riding on a bike. Particularly if you're coming home a little worse for wear, you don't want to be rocking the bike side to side and risk getting into an accident. Just make sure you travel safely to and from the event so you have a good long lasting memory of your festival adventure!
GETTING THERE BY CAR
It's possible to park at the venue! It's under surveillance so it is safe to leave your car (or motorbike for that matter!) in the parking area.
If you're worried about driving home after partying you should consider giving the 'U Drink I Drive' app a try, a mobile application which enables you to instantly request a driver to your location to drive you and your vehicle home. So if it turns out you've partied a little harder than you thought you would then don't run any risks and trust this app to get you home safely.
There are literally thousands of accommodation options in Bangkok, ranging for hostels to five-star hotels, there's something to suit every budget. My recommendation: stay close to a BTS or MRT station! This will help you plan your journey to the festival by avoiding traffic, and will also allow you to go all over the city and do your sightseeing.
NEON Countdown's official hotel partner is OYO Hotel, they have a few hotel branches spread across the city, most are conveniently located near public transport! Use the code "OYONEON2019" to receive 50% off on bookings on the OYO App.
However, if you're seriously only there to party then by all means I would suggest staying in accommodation that is close to the venue so can get there in no time at all!
Bear in mind that this venue is not near any public transport so this isn't ideal if you want to visit the city or if you want to keep partying after the festival is done. Consider staying closer to the city centre, in areas like Ekkamai, Thonglor and Asok. These areas host a number of malls, restaurants, cafés and nightclubs. You will have everything you need to keep yourself busy and satisfied outside of the festival hours! 
If you're looking for a convenient travel solution that includes accommodation, transport and tickets, head to Airasiaredtix.com and Traveloka.com. They have several packages for festival goers heading to NEON Countdown in Bangkok at very attractive prices!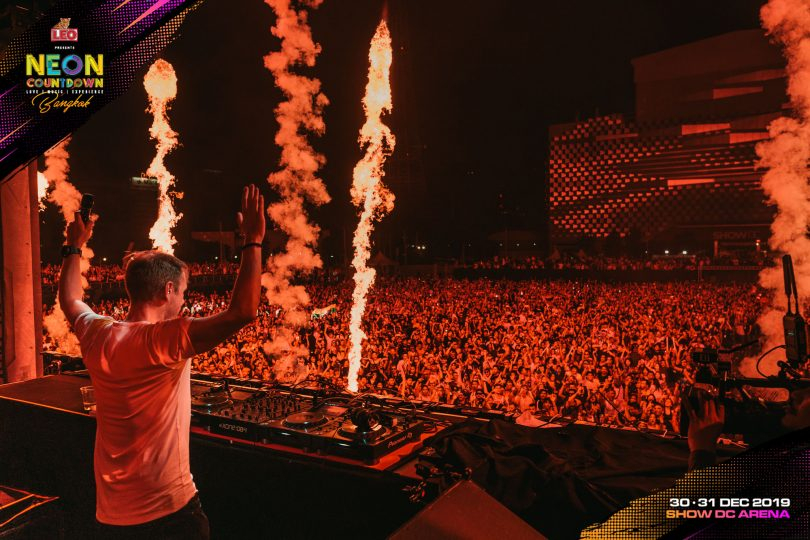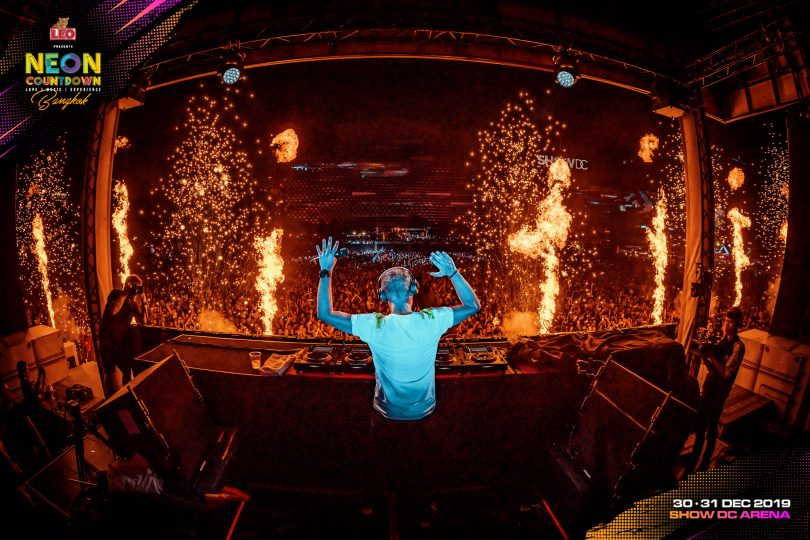 NEON Countdown are renowned for hosting some of the best and most sought after DJs in the world. Teamed with impressive production they create an unbeatable atmosphere that guarantees an amazing time. With a number of events happening throughout the year, they work hard to keep their fans on their toes by bringing original lineups to every edition. This guarantees that festival goers never experience a dull moment with them!
The confirmed lineup for the 2019 Bangkok edition looked like this: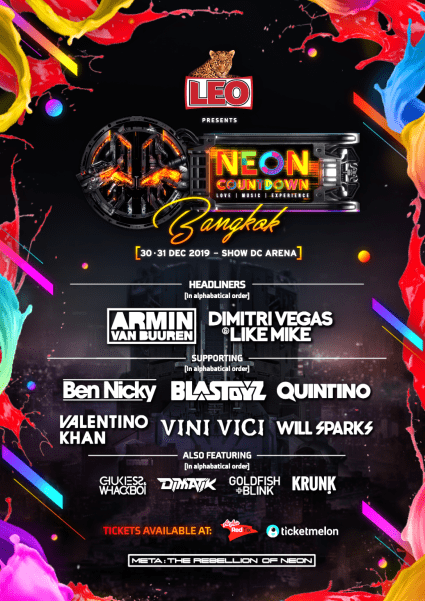 Some of the highlights included Armin Van Buuren's ASOT set which took most ravers by surprise as we were expecting something that was more EDM than Trance but this was beyond anything we could have imagined. Of course, one of the best moments also had to be the final minutes of 2019 with Dimitri Vegas and Like Mike who orchestrated a perfect countdown into 2020. Both nights highlighted some incredible acts supported by stellar production, we danced until our feet couldn't anymore. I could not have asked for a more memorable way to put an end to 2019! If you're looking for something truly spectacular for your New Year's Eve then this festival is not to be missed, you will not be disappointed!
NEON Countdown is one of the most well-executed music festivals I've ever attended. From ticket collection, to security checks, top-ups, purchasing items…the whole experience was seamless. A very well organised festival which as you can guess amounted to a whole bunch of happy and good-tempered festival goers in the mood to party!
Let's be honest, this event had a lot riding on it. New Year's Eve countdowns are pretty risky business, if it goes wrong you basically ruin the end of one year and the start of the next year for all of your attendees…I'm thrilled to report that NEON Countdown exceeded all expectations! Delivering a spectacular music showcase by Dimitri Vegas and Like Mike accompanied by the biggest and grandest fireworks display I have ever seen at a music festival. One of the best festival experiences to come to Thailand, the organisers had put a lot into producing something unforgettable.
Because of how incredibly easy and well put together this event was the crowd felt vibrant, upbeat and positive. People really went for it with the theme and enjoyed all the side activities that were being hosted with neon paint which was really fun. And the site actually got full rapidly on both nights quite early on in the evening, festival goers were so keen to be there and gave it their all until the very end. Both nights were phenomenal, I would relive them in a heartbeat if I could!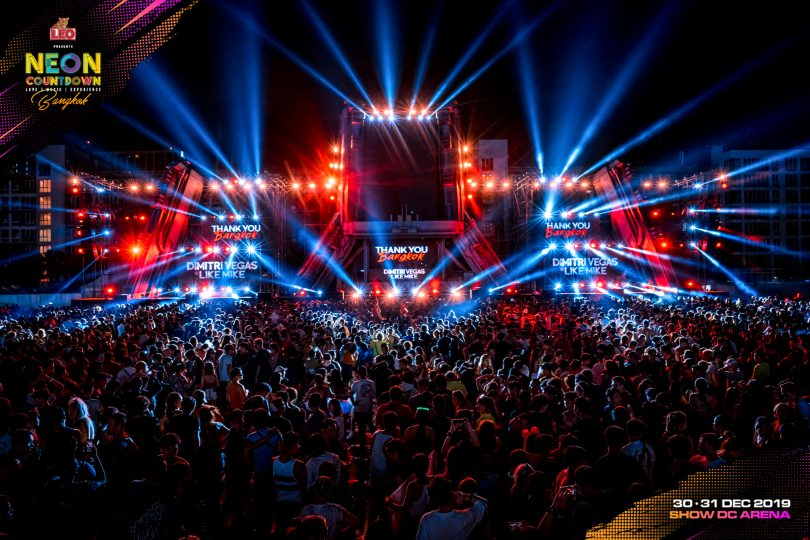 If there's anything you can say about music festivals in Thailand is that they have great food! NEON Countdown was no exception, there was a large food area with plenty of seating where you could take a time out to enjoy some delicious bites. It was kept clean and well maintained, a comfortable and inviting space within the festival grounds.
Reasonably priced and well portioned, the festival hosted a number of stalls that offered good value for money food options. You could get light snacks for as little as 15THB (equivalent to 0.50USD) and then work your up to a full meal for just 50THB (equivalent to 1.60USD). Both international and Thai dishes were available. And they catered for both meat lovers and vegetarians! Overall, a great selection that would satisfy any mid-festival craving!
You could quench your thirst at one of the numerous bars scattered around the site. Conveniently positioned, you never had to stray too far from the action to get your next refill! The menu offered a range of soft drinks and alcoholic beverages, again catering to every kind of raver! 
Travelling for festivals can get expensive! So in an effort to reduce costs here are some tips to making your trip to NEON Countdown as cost-efficient as possible…
Book your trip ahead of time! Dates are normally announced months in advance so you can start booking your flights and accommodation when prices are still low!
The same goes for your festival ticket, don't wait to get your ticket as the longer you wait the more expensive it gets!
Look out for group tickets. If you are coming with several friends then get a group ticket, it will work out cheaper for everyone!
This is a non-camping festival! You can choose to stay near the venue but there isn't much going on around there so if you're looking to make the most of your trip stay in the centre of Bangkok where you will also have a greater choice of hotel options that suit your budget. 
Walk away from the site before hailing a taxi! During Songkran and particularly around the festival site taxis and Grab will be surging their prices like crazy! I suggest walking a little further from the festival area to try and call or hail a taxi down.
Get a local SIM card so you can switch off roaming. You can get a SIM card at your nearest 7-11 or in a shopping mall by going to one of the local providers (you can choose from AIS, True, DTAC and more…). You'll need your passport to purchase one.
The food selection is great and isn't expensive! But don't get the first thing you see! Walk around the food area to search for the best deals before buying something.
Take part in activities and get your money's worth! Make the most of your ticket, join in on everything! There's a lot going on during the festival hours so come early and make the most of it.
Make sure you come early to get your glam on! They have makeup artists on-site during the whole event to help you look your best in neon paint! Don't bother buying any before the festival, just make the most of what they have!
Get a bucket! If you're going to be drinking get a bucket and split with your friends!
Glow Paint and Makeup! Get your face and body made over as soon as you arrive at their NEON Garden. Run wild and get creative with the paint, hair dye and makeup supplied! The more you lather on the more fun it gets. They use high quality brands of paint, none of that fake stuff so don't be concerned about skin rashes, this stuff is clean and safe to use!
Lockers: there are no lockers on site at the event, however there are some located in the mall across the road. Alternatively if you're coming to the festival by car it is safe to leave your belongings in the car park provided to festival goars at the mall as it is monitored by security 24 hours a day. 
Merchandise: official NEON Countdown merchandise will be available for purchase on-site!
Medical Services: an ambulance and paramedics will be available for the whole duration of the festival.
Smoking Areas: cigarettes (and e-cigarettes) are permitted at NEON Countdown but can only be smoked within the designated areas. If you're found to be smoking in the crowd you may be asked to leave.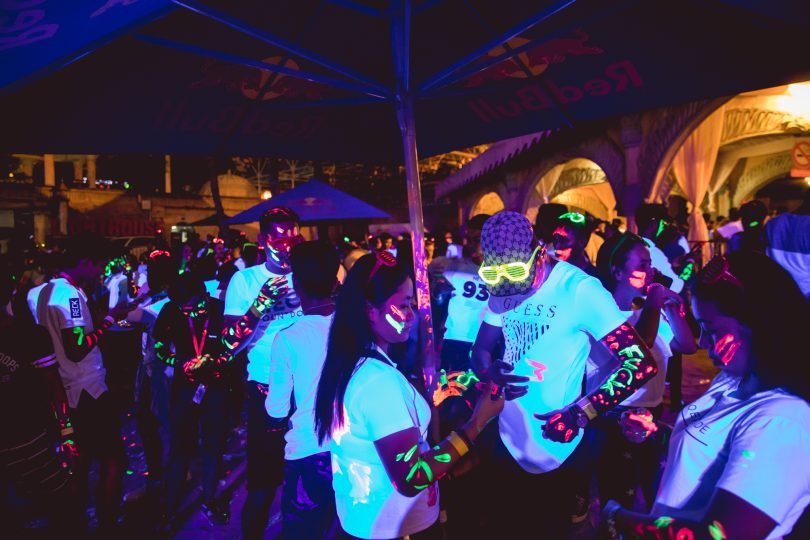 Wheelchair Access: General Admission is wheelchair accessible, unfortunately not VIP or VVIP as they're both on higher decks which are reachable via fleights of stairs. For more information you can contact the oraniser directly via their Instagram Page or through this email: info@neonevents.asia.
Lockers: there aren't any lockers on site so take only what you need at the festival, don't bring any extras that will risk getting wet!
Ear Plugs: you'll need to keep your ears protected! Long or repeated exposure to loud sounds can cause longterm damage to your ear drums, don't risk ruining your hearing, think of all the festivals you have yet to explore!
Goggles: if you're worried about getting paint in your eyes then this is a great solution. You can get all kinds of fun ones these days, get creative and find a really funky pair!
Sim Card: there's no wifi available at the venue so if you're looking to stay connected during the event you should try to buy a Thai sim card before arriving at the venue (you can choose from several service providers including AIS, True, DTAC and more…). For convenience if you're flying into Bangkok I would recommend buying one in the arrivals hall. Please note however that they're more expensive at the airport (about three times more expensive). If you'd rather opt for the cheaper option then you'll need to visit a local service provider in one of the big shopping malls.
Ticket and ID: you will need to arm yourself with both of these to be able to enter the venue, so make you sure you don't forget either or you'll be missing out!
Cash: just to be on the safe side bring cash to the event! They will be doing payments with cash and card but if your card doesn't work for whatever reason you don't want to be left stranded at the festival with no money!
Don't remove your wristband! if you're planning on attending both days at NEON Countdown then please make sure you don't remove your wristband and you don't damage the RFID tag, you may be denied entry or be asked to pay a fee to replace it.
No Re-Entry! Re-entry is not permitted! So for example if you exit early on the first day you will not be allowed to return until the second day!
Portable Charger: don't miss any of your favourite moments, bring an external battery pack to make sure your phone doesn't run out of juice!
Stay Hydrated! drink plenty of water! You're going to be jumping around and going crazy for hours at a time and you won't necessarily feel like leaving the crowd to get some more water so stock up before finding a good spot in the crowd.
Agree on a Meeting Spot: a lot of people will be attending this festival so set a meeting point before going into the crowd so you can easily find each other at the end of the festival!
Share this post with your festival crew and start planning your NEON Countdown adventure now!
Photo source: NEON Events