Magnetic Fields Festival! A 3-day celebration of contemporary art and music, set in the historical and luxuriant halls of Alsisar Mahal in Rajasthan, India.
Engaging and captivating, this festival hides more than just impressive music and art showcases behind the palace's walls. Relaxing in the desert, secret pop-up parties, dancing on the palace's rooftop until sunrise, watching the lights turn on in the desert from a distance as the sun goes down, these are just a few of the magical moments that await.
One of the most unique escapes, an absolute must for music revellers and keen adventurers. Plan your festival travels with The Nitty Gritty Guide to Magnetic Fields Festival!
When did I attend? December 2019
When is the next Magnetic Fields Festival? TBC 2020
What do you hear at Magnetic Fields Festival? A thrilling mix of underground and electronic music genres
Where? Alsisar Mahal, Rajasthan, India
What's the local currency? Indian Rupee
What's the local language? Hindi
Magnetic Fields Festival is a 3-day underground and electronic music festival that features homegrown forward-thinking artists and international creatives.
Magnetic Fields Festival has been going strong since 2014.
Magnetic Fields Festival is set up in and around a royal palace (or mahal in Hindi), which was earlier the residence of the Thakur of Alsisar.
Magnetic Fields Festival unites India's contemporary culture with its historical royal hospitality and traditions under one programme which extends beyond just music into captivating activities and liberating experiences.
Magnetic Fields Festival welcomes festival goers of all ages. Children under 12 go for free, children above 12 need a full ticket.
Tickets are sold in 3-day passes, there are no 1-day or 2-day passes available. They sell tickets in several phases, the sooner you get hold of one the cheaper they are!
There are several ticketing categories catering to a variety of accommodation types: Classic Tents, Bedouin Tents and Palace Rooms.
You can also buy a pass to pitch your own tent if you have the necessary gear. The on-site accommodation packages normally include a festival admission ticket. Double-check before purchasing so you do not buy an admission ticket twice!
The Classic Tent and Bedouin Tent packages are great if you're not able to bring your own camping equipment to the site. Ranging from the smallest one-person tent to a bigger six-person tent package.
Tickets to the Magnetic Feasts become available a couple of months before the festival date. They sell out fast! Keep an eye out for updates on their social media channels for announcements. To know more about the Magnetic Feasts scroll down to the 'Food & Drink' section below.
All children aged 12 and under are free as long as they meet the age requirement at the time of the festival, not at the time of your ticket purchase.
Online ticket sales close when tickets run out. The festival sold out in 2019, make sure you pre-book your festival tickets online in advance!
You'll be able to collect your wristband when you arrive at the door. Make sure you have your ID and a copy of your booking confirmation on hand.
Keep in mind that tickets are non-refundable!
FLYING INTO NEW DELHI OR JAIPUR
If you're coming from abroad, flying into either New Delhi or Jaipur is the easiest option to begin your journey to Magnetic Fields Festival.
Jaipur is closer to Alsisar and will reduce your travel time by a couple of hours. If you're able to make the journey from there, then it will definitely be a bit more comfortable.
GETTING TO THE FESTIVAL BY TRAIN
This is the recommended travel option for festival goers coming from Delhi.
Trains depart New Delhi daily for Sadulpur Junction. The journey takes under 4 hours to complete. From there you can hail a taxi to Alsisar, the drive takes about 45 minutes.
Magnetic Fields Festival releases a schedule with train times closer to the festival date. Check this page for more information.
TRAVELLING TO THE FESTIVAL BY CAR
We arrived into Delhi and because we had planned a whole trip around the festival we opted for hiring a car and a driver. 
After the festival, we continued onto Jaipur and Agra before heading back to Delhi. This made everything so easy, we never had to think about how to travel to our next destination.
A quick google search for a car service, cross-referenced with some Trip Advisor reviews will have you sorted in no time.
Before choosing one we emailed a few to compared prices and the different services. We booked a few weeks in advance so there is no pressure to get this sorted months ahead. Take your time to find a company that ticks all the right boxes for your trip.
If you plan on coming by your own means then pop this address in Google Maps before setting off: Alsisar Jhunjhunu, Alsisar, Rajasthan 331025, India. The journey from Delhi takes about 6 hours, and only 4 hours from Jaipur.
Upon arrival you can hand your keys over to their valet service. They will park your car and bring it back to you when you are ready to leave. There are no car parks, Alsisar is a small town! Don't try to park your car in a random location, you may be blocking someone's home or street. 
GETTING TO THE FESTIVAL BY SHUTTLE
If you're coming from either Jaipur or Delhi but don't feel like driving yourself, you can book a car or bus through Magnetic Fields Festival's official transport partner: Transportal. They have regular services running between the festival and both cities throughout the day.
If you have a query or problem with your booking during the festival you can speak to a member of the team at the Transport Desk by the Palace Reception.
Magnetic Fields Festival has on-site accommodation available for festival-goers. These include Classic Tents, Bedouin Tents and Palace Rooms.
You can also buy a pass to pitch your own tent if you have all the necessary gear. They've got a selection of packages available, varying in size, capacity and commodities. All tents and tent pitching areas are in the palace desert, situated about 100 meters from the main palace.
The Bedouin Tent packages offer the full glamping experience. Each Bedouin Tent has its own private ensuite bathroom, towels, toiletries, lights, blankets, power sockets and can fit up to three twin beds.
And this is not a mattress on the floor kind of situation, you get a proper bed. Note that water isn't available 24 hours a day which is not too inconvenient as long as you plan around it.
The most memorable way to experience the palace is by staying in one of its extravagant rooms. However, because they're situated in the thick of the action, it's not necessarily the most relaxing experience. If you need your sleep between festival sessions then this isn't the best option for you, choose a cosy Bedouin Tent or off-site accommodation.
All tent packages sell out fast so if you want to stay on-site you need to book as soon as they're released. If you miss your chance don't worry there are other options.
Locals open up their homes and welcome festival goers into their homestays. Join one of the festival's community groups, post in them asking for recommendations or assistance in booking something. Everyone is super friendly, Magnetic Fields veterans will be happy to help!
We stayed in a homestay, only a couple of hundred metres away from the palace. Someone I had been speaking to on Instagram helped me negotiate the rate and finalise the booking via WhatsApp. This was extremely helpful as the host did not speak much English. The host's family was very accommodating, they offered to drive us to and from the festival. They made our stay as comfortable and easy as possible!
Other than homestays, there are hotels nearby in the same village or furher afield in adjacent towns. However, because of the around the clock scheduling it is easier to stay in Alsisar. You'll be able to walk back to your accommodation or the festival at your own leisure without needing to think about transport each time.
One of the highlights of Magnetic Fields is how the site is spread out. Stages are set up all over the palace as well as in the desert, adjacent to the camping grounds.
Part of the fun is in roaming the halls of the palace or wandering through the sandy planes. Following the music to discover all the different stages at the festival.
The event hosts over 10 stages overall featuring collaborations with word-acclaimed music institutions and collectives. All are eccentric and have their own unique flair. Each delivering a special experience and showcasing different types of music acts/genres.
Some of the best moments were had on the rooftop. The view offered a perfect backdrop for unforgettable sunsets and sunrises.
I was also really impressed with Peacock Club. An indoor stage built from the ground up for the festival in the middle of the desert campgrounds. The fact that you have to trek through the sand to go find it is pretty memorable. Structurally speaking, it's really impressive. They basically set up a whole nightclub in the middle of the desert.
The production is impeccable. Dare I say that the sound systems and speakers used are better than bigger and more mainstream events located in some of Asia's main cities… They really overdeliver to curate a jaw-dropping experience.
The programme divides itself in a way that means that you usually end up walking between stages and exploring the entire site. Make sure to wander around the festival to really take it all in, a whole adventure awaits at each stage.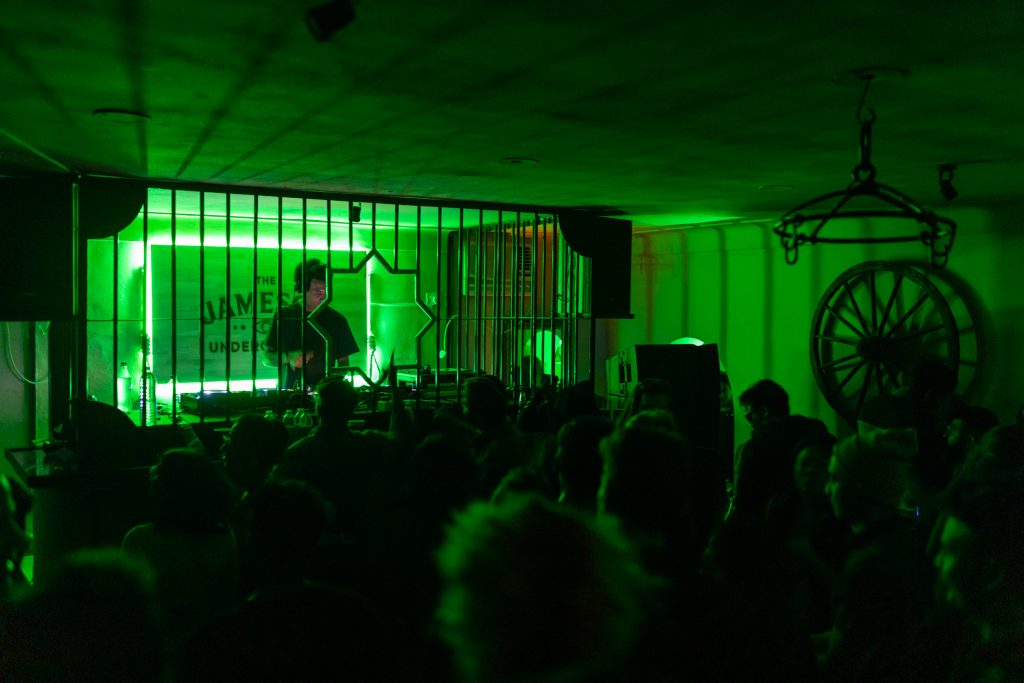 Magnetic Fields is an underground electronic music festival. The lineup highlights a good mix of homegrown talent and international artists.
This was my first time travelling to India and it was a real eye-opening experience. Giving me great insight into the electronic music scene in the country.
Turns out, they're really into underground music and they go hard! The music programme is pretty advanced compared to other Asian festivals I have attended. It lives up to the height of experiences you get at underground and electronic music events in Berlin or Amsterdam.
The combination of the fantastic location and the quality of the music give Magnetic Fields this raw and edgy feel. This is what makes the event truly spectacular and really heightens the experience of the music. It sets a very high bar for music festivals in Asia, I haven't seen anything like it before.
The lineup left me feeling surprised and captivated. A feeling that's undoubtedly worth travelling for.
Every stage is exceptional and offers its own vibe. You get swept up in different ambiances and discover all sorts of genres.
The lineup hosts an impressive variety of acts and genres, appearing throughout the weekend. From live acts and performances to DJ sets, you get to witness a broad range of music entertainment.
One of the things that stood out was how they incorporated acts that honoured traditional Indian music and instruments. What was most fascinating was how they laced and blended these historical sounds with modern electronic music. A feast for the ears!
This is what the 2019 programme looked like: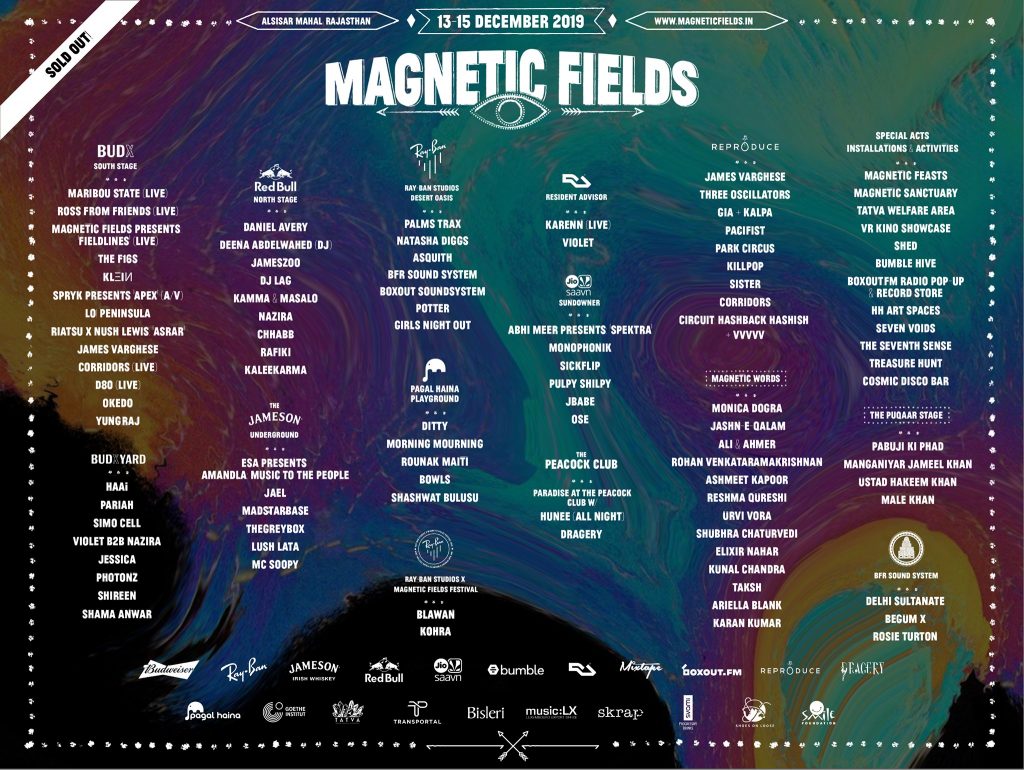 I felt genuinely sad when it came to a close, it was quite simply one of the most fantastic festival experiences I've ever had.
And I really have the people who helped me put my plans together to thank in the months. Their generous advice leading up to the event meant that my trip to Magnetic Fields was seamless.
Little did I know that their kindness was just a teaser for the overall vibe of the crowd at the festival. The attendees are courteous, vivacious and open to welcoming new people into this magical desert oasis. Everything you want from a crowd you've never partied with before! You feel right at home.
From simple smiles to conversations, I shared some really incredible moments with complete strangers. My heart felt full and warm. And it wasn't the four layers of clothing I was wearing, it was peoples' genuine kindness and openness that shined through.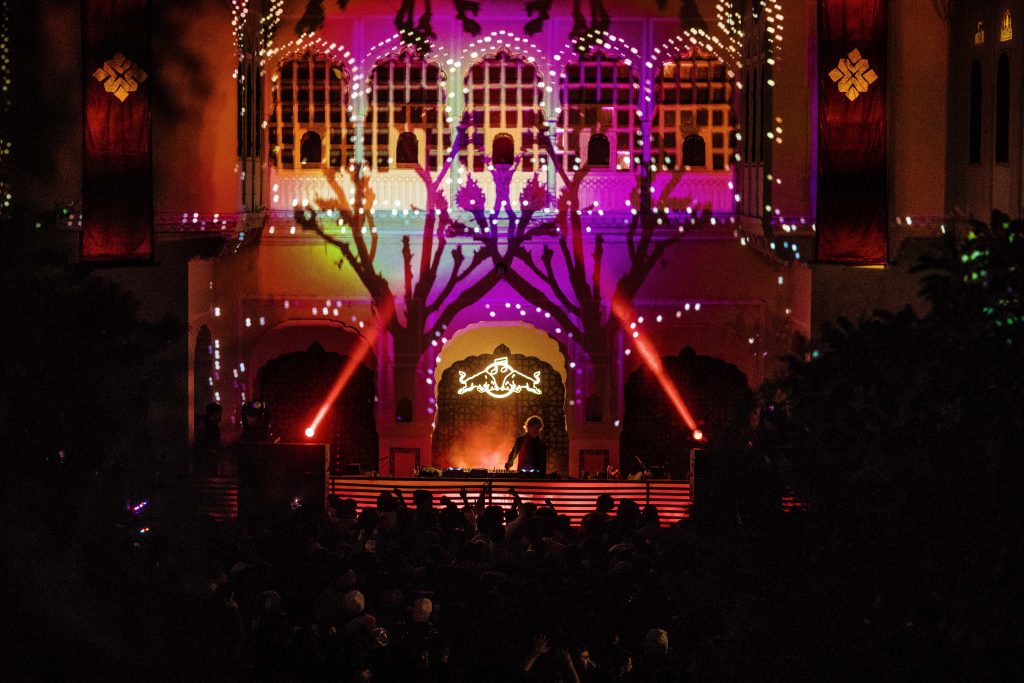 There was this infectious enthusiasm about the crowd. Even in your most fatigued moments you won't be able to stop moving your feet because of this wild energy.
They are genuine music enthusiasts, attending to enjoy the artists and acts. They actually dance and get into the groove of the lineup. Shockingly, I don't see this at every festival I go to!
There has been some criticism that the festival has gone too big and become too mainstream. I can't compare with previous editions but in contrast with other festivals in Asia, I feel people spend way less time on their phones. They are there to really get stuck in the music.
Sure you get a few taking photos and videos, we live in that kind of world now but overall you get a real sense that these guys are die-hard music fans, that they trekked to the desert to lose themselves to the beat and nothing else.
I would say that the food was an activity in itself, at least it was for me it was… There's a very diverse range of dishes being served up. From local delicacies to international foods, all options offered a range of carnivorous, vegan and vegetarian meals. This festival caters for everyone!
The same stalls were set up in both the campgrounds and within the palace walls. This is super convenient when you're really craving something and you don't need to walk all the way back to the other side of the festival!
The selection is fantastic, well planned to accommodate every meal of the day. I particularly enjoyed the fresh coffee stands they have. I am a devoted coffee fiend so this really hit the spot for me. There was nothing better than being able to indulge in a delicious coffee on those misty mornings. Really shakes you out of bed and gets you ready for the day.
In terms of local standards, the prices were definitely above average. But if you're coming to this festival from overseas you won't think twice about the prices.
This is one of the cheapest festivals I have been to in Asia. Prices for most main dishes are sold for 4USD. Drinks are also very reasonably priced. Wine and mixers cost around 6USD. Normally I would spend between 8USD to 10USD for a drink at a music festival in Thailand.
Other than food stalls, the festival also hosts brunch feasts. They're impressive food showcases for which they curate elaborate menus (both vegetarian and non-vegetarian menus are available). They set up large banquet tables in the palace dining halls so you can feast like royalty after a long night of raving.
Conveniently they start around midday, so you don't have to worry about rolling out of bed too soon after ending your nights. They release tickets for these a couple of months before the festival. Purchase them separately from the admission ticket. They sell out quickly so keep an eye out for announcements!
Because you're granted unlimited re-entries at the festival, you can also search the streets of Alsisar for food. Locals set up all sorts of food stands by the festival's entrance gates. Tuck into these meals for a more local experience!
This festival is about more than just music, you'll find a number of other distractions to keep you busy. Expect a range of stalls and shops, set up by local craftsmen and desingers. Many of which are eco-conscious or set up by charities.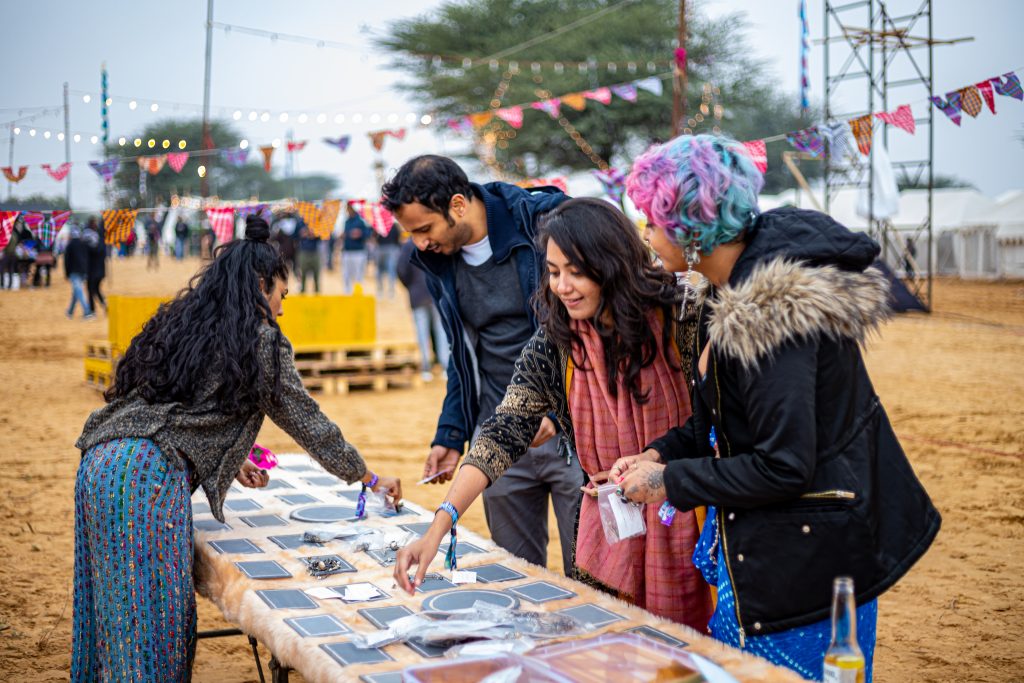 In addition to that, there are a number of engaging and fascinating experiences lurking around each corner of the festival. Several artists appear on-site to showcase their artistry and exhibits. Most of which you can view all day and night.
If you want to take a break from the music in the middle of the night, you can wander off into the desert and lose yourself in some impressive displays.
A dedicated wellness and wellbeing area was set up in one of the palace rooms. If you need to refresh your mind and body, you can take a couple of hours out of your day to meditate or do yoga with other fellow ravers. Perhaps even learn the art of Ayuverdic massage.
One of the best moments I had at the festival was taking part in one of the morning meditations. It felt incredible to be able to lay back and lose myself in the space for a moment to rejuvenate.
Going beyond the music programme at Magnetic Fields Festival, you get to explore more of India's culture, talents and traditions. Definitely make the most of all the other additional workshops and activities. They're included in your ticket so let yourself wander.
As if that wasn't enough, there are all sorts of surprises that spring up on you throughout the festival, which make it even all the more thrilling.
Including secret parties that you have to track down. And a treasure hunt for which there are clues lying around the site. Worth giving it a go, the prizes are pretty sizeable!
Needless to say, Magnetic Fields Festival offers more than just a journey into music. It opens its festival goers up to feeling curious, playful and letting their inner adventurer roam.
Toilets and showers in the camping areas: did you really think they would let you walk around for three days without taking a shower?
Merchandise: official Magnetic Fields Festival merchandise is available for purchase on-site. 
Lockers: available at the festival and able to accommodate small items. But if you're worried about the remainder of your belongings then make sure to lock up your valuables inside your tent or your room.
Printed Ticket and ID: arm yourself with both of these to get your wristband. Make sure you don't forget either or you'll be missing out on the epic party!
You Have Re-Entry! you can come and go as many times as you please as long as your wristband is intact. 
Fully charged phone: always good to have a full battery or an external battery pack that lasts the whole duration of the festival so you can capture your favourite memories and locate your friends.
A reliable bag: keep your belongings safe in a bag you can rely on! Last thing you need is to lose your phone or other personal items in the desert.
Warm layers: think proper winter layers. People were raving in big jumpers, thermals, coats, scarves and hats. This includes additional blankets if you are camping. It gets very cold, particularly at night but it was also cold during the day as a thick fog set over the festival and the sun didn't come through. Come prepared, you can always strip a few layers off!
A torch: whether you're camping or staying in a homestay this will come in handy. It gets very dark at night outside of the main areas of the festival so you'll want to have a light to guide you.
An extension cord: the tents have a limited number of plugs, if you're sharing with a few friends then you may not have enough to go around. I recommend bringing an extension cord so everyone can plug their devices.
List of prohibited items: make sure you check back with the festival's social media pages closer to the event to get the full list of prohibited items so you make sure they don't confiscate any of your belongings.
Top-Up Stations: Magnetic Fields Festival uses a coupon system. Look out for top-up stations when you arrive to exchange your cash for festival coupons, using cash or card. We used cash as the card machines seemed to be out of service when we tried to use our card.
Sim Card: If you want to stay connected throughout your stay in India you'll need to get a tourist sim card at the airport. Arriving into any major airport you'll be able to find a kiosk in the arrivals hall. It doesn't work right away, it takes a few hours for the network to activate the new sim card!
Cash: card machines are not always a fail-safe option at music festivals and especially don't expect to be able to find an ATM in the middle of the desert either! Come prepared with cash in hand to make sure you don't end up not being able to make purchases.
Ear Plugs: long or repeated exposure to loud sounds can cause long term damage to your eardrums, don't risk ruining your hearing, think of all the festivals you have yet to explore! Keep them safe with ear plugs!
Stay Hydrated! drink plenty of water! You're going to be raving for hours at a time and you won't necessarily feel like leaving the crowd to get some more water so stock up before finding a good spot in the crowd.
Pharmacy travel kit: include anything from plasters to pain killers and anti-diarrheal tablets. There won't be a pharmacy waiting for you when you get there! People visiting India worry mostly about getting an upset stomach. Thankfully we didn't get sick, the food at the festival and in Alsisar is definitely clean. If you're worried about falling ill then I would definitely load up on some basic medication just in case.
Agree on a Meeting Spot: a lot of people attend this festival so set a meeting point before going to any stages. Make it easy to find each other should anyone go missing from the group and they're unreachable during the festival!
Are you heading to Magnetic Fields with your festival crew? Share this post with them now to plan your trip together!