Loveland Festival, the enchanting techno and house music event, celebrates its 25th anniversary at the breathtaking lakeside venue at Sloterplas in Amsterdam. With its picturesque location, immersive atmosphere, and diverse lineup of world-renowned electronic music artists, Loveland promises you an unforgettable experience.
When did I attend? August 2022

When is the next Loveland Festival? 12-13 August 2023
What do you hear at Loveland Festival? House and techno
Where? Amsterdam, The Netherlands
What's the local currency? Euro
What's the local language? Dutch (but you can get away with English!)
Established in 1997, Loveland has grown into one of Amsterdam's most iconic electronic music festivals, attracting a dedicated and passionate audience. 

Over the years, the festival has evolved while maintaining its signature charm and welcoming atmosphere, staying true to its roots in techno and house music.

Today, Loveland Events organises six main festivals/events each year, each offering its unique musical experiences.

The festival takes place at Sloterplas, a stunning lakeside park in Amsterdam, offering a unique blend of natural beauty and urban landscapes. 

As part of its commitment to sustainability, Loveland has been recognised as a Future Proof Festival since 2018.
Types of tickets: Loveland offers day tickets (Saturday or Sunday) and weekend tickets, each providing access to all stages and areas of the festival. Please note that tickets can't be purchased at the entrance. For those seeking second-hand tickets, the official partner is Ticketswap.
How to buy a ticket: Purchase tickets through the official Loveland website. Make sure to download your e-ticket before attending the festival, as it will be required for entry. Keep an eye out for early bird and discounted tickets to save on your Loveland experience.
Loveland Festival takes place in Amsterdam, so getting to the festival should be quite easy. 
GETTING TO AMSTERDAM
If you're coming from overseas to attend Loveland Festival you might find it's easier to fly to Amsterdam. You can refer to my Guide to Travelling to Amsterdam. There you'll find information on how to reach Amsterdam by plane, train, and coach.
GETTING TO THE FESTIVAL
BY PUBLIC TRANSPORT
The nearest train station to the festival is Amsterdam Sloterdijk. From there, take the shuttle bus directly to the festival grounds. The shuttle bus service ensures a smooth and comfortable journey to and from the event.
BY SHUTTLE BUS 
Shuttle bus return tickets can be pre-purchased for €8, making for a hassle-free trip to the festival. Buses operate from 12:00 – 00:30 on Saturday and 13:00 – 00:30 on Sunday, ensuring you won't miss a beat of the action.
BY BIKE 
Biking to the festival is encouraged for a more sustainable experience. With Amsterdam's renowned bike-friendly infrastructure, cycling to the festival is both enjoyable and convenient. Plenty of bike parking spaces are provided near the entrance, and signs from President Allendelaan 3 will guide you to the festival grounds.
BY KISS & RIDE/UBER  
Designated Kiss & Ride areas for drop-offs are located at Troelstralaan Amsterdam. Follow the signs for a smooth and efficient drop-off experience. Loveland encourages using shared rides or public transportation to minimise the environmental impact.
BY TAXI 
Official taxis with roof signs are allowed at the designated taxi stand. Look for the "Taxi" signs to ensure you're using a licensed taxi service for a safe and reliable ride.
BY CAR
Limited parking is available, and pre-purchased parking tickets are advised. Parking day tickets cost €17.50. To minimise the festival's environmental impact, consider using shuttle buses, biking, or shared rides.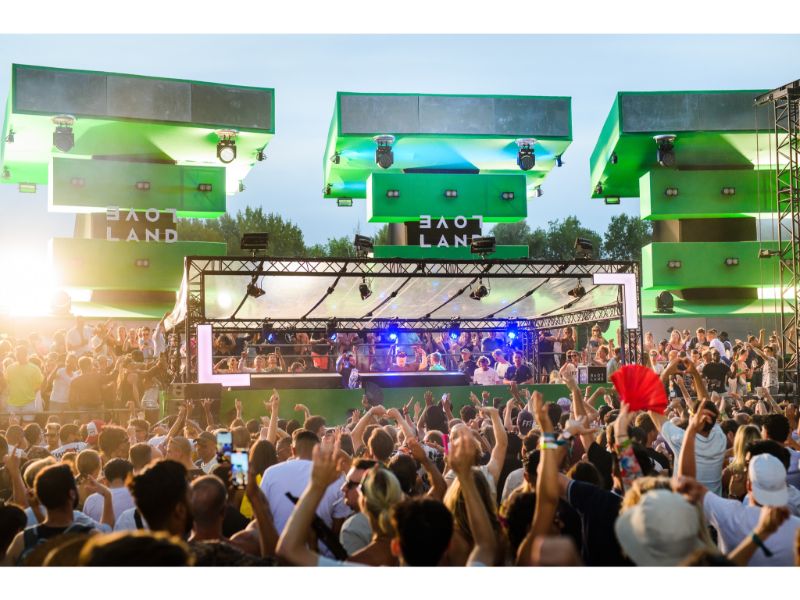 If you're planning to immerse yourself in the full Loveland experience, there are several accommodation options available for you to consider:
Stay In The City:

Unlike many music festivals, Loveland is conveniently located in the heart of Amsterdam, a bustling city known for its beautiful canals, historic architecture, and vibrant nightlife. This means you can take your pick from a wide array of hotels, hostels, and guest houses. From chic boutique hotels to budget-friendly hostels, there's something for every taste and budget.

Airbnb:

If you're seeking a home away from home, consider booking an Airbnb. Amsterdam is teeming with stylish apartments, cosy houseboats, and unique homes that you can rent. This can be a cost-effective option, especially if you're travelling in a group. It also allows you to experience Amsterdam like a local.

Camp Near The Venue:

If you prefer to be closer to nature or on a tight budget, camping is also an option. There are several camping sites around Amsterdam that are easily accessible from the festival venue. You can bring your own tent and gear for an authentic camping experience or opt for campsites that offer pre-setup tents and other amenities.

Luxury Options:

If you're looking to splurge and want to enjoy a luxurious stay, Amsterdam boasts a number of high-end hotels that offer top-notch services and amenities. From lavish suites with canal views to elegant historic properties, these hotels ensure a comfortable and memorable stay.
Remember to book your accommodation well in advance to secure the best deals and choices.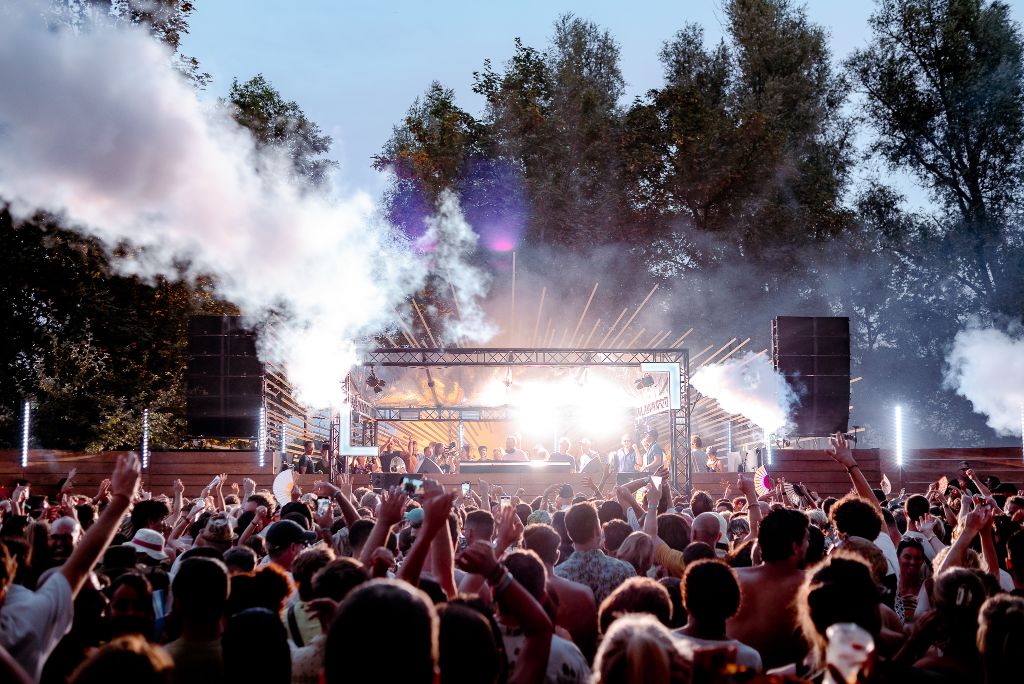 Every year, the festival spreads its wings in the lush landscape of Sloterpark, Amsterdam's largest park. Nestled among the trees and overlooking a beautiful lake, the festival offers a picturesque and tranquil setting that feels miles away from the hustle and bustle of the city, despite still being technically within Amsterdam's borders.
The festival site has been carefully curated, with stages placed in prime spots to take full advantage of the stunning surroundings. The blend of music, nature, and the cityscape provides an immersive experience that resonates with attendees long after the festival concludes.
For its 25th anniversary, the festival did a remarkable job of transforming the picturesque landscape into a techno and house haven, with six distinctive stages each creating its unique vibe and atmosphere:
Arena: As the main stage, Arena is a true spectacle. Situated amidst the festival's lively grounds, this is where the most renowned acts play their spellbinding sets. Backdropped by a brilliant visual production, the Arena stage captivates audiences, steering the pulse of Loveland's celebration.
Nest: A hidden gem tucked away amongst the lush greenery, the Nest stage presents a more intimate setting. Here, the crowd is entranced by a selection of artists renowned for their unique sound, making this stage a sanctuary for those in search of musical exploration.
Fire: The Fire stage is an energy-filled domain that embodies the spirit of Loveland. An electrifying blend of sounds echoes from this stage, offering festival-goers a mix of exciting beats that perfectly complements the stage's vibrant ambience.
Rise: Rising from the festival's landscape, the Rise stage is all about ascension. Hosting an array of pioneering artists, this stage showcases transformative sets that elevate the audience to new heights of musical ecstasy.
909: A collaboration with the iconic 909 Festival, this stage pays homage to the legendary Roland TR-909 drum machine. This enclave of techno resonates with high-energy beats and pulsating rhythms, making it a haven for hardcore techno enthusiasts.
Circle: Set by the serene lake, the Circle stage offers a tranquil escape. The soothing sounds from this stage reverberate across the calm waters, providing festival-goers with a space to unwind and lose themselves in the captivating rhythms.
Despite its extensive grounds, Loveland maintains a sense of intimacy, making it easy for festival-goers to move between stages and areas. Clear signage and readily available festival staff ensure that everyone can find their way around smoothly.
A celebration of house and techno, Loveland Festival hosts a lineup that never fails to impress. With over 75 top-notch artists, its 25th anniversary in 2022 showcased an array of talent, from industry veterans to exciting rising stars.
Headliners such as Joris Voorn, Dixon, Solomun, and Jeff Mills captivated festival-goers at the Arena stage with their intoxicating techno rhythms. The Nest stage, on the other hand, was a haven for live music enthusiasts, with artists like Kollektiv Turmstrasse, Booka Shade, and Inner City creating an unforgettable ambience by the water.
The Sunday lineup, featuring the likes of Stephan Bodzin, Adriatique, Maceo Plex, and Tale of Us, kept the energy high, while Eric Prydz pulled double duty with two exhilarating sets. From afternoon beats at the Fire stage under his Cirez D alias to a fiery closing set at the Arena, Prydz ensured a memorable end to the festival.
But the performances aren't limited to the stages. Loveland's unique location by a large lake allows for boat parties. These half-hour floating festivities offer a refreshing addition to the festival experience, allowing you to groove to your favourite beats while taking in the scenic waters of Amsterdam.
Whether you're a techno purist, a house enthusiast, or just a lover of good music and great vibes, Loveland Festival caters to all. It's not just a festival; it's an experience that immerses you in a celebration of music, community, and love for the vibrant spirit of the festival. Loveland is undoubtedly one of Europe's finest festivals, a must-visit for any electronic music fan.
For Loveland 2023, prepare to immerse yourself in a world-class roster of artists that perfectly capture the festival's heart and soul. This year's lineup features a myriad of incredible talents, from international superstars to local favourites, promising an unforgettable sonic journey.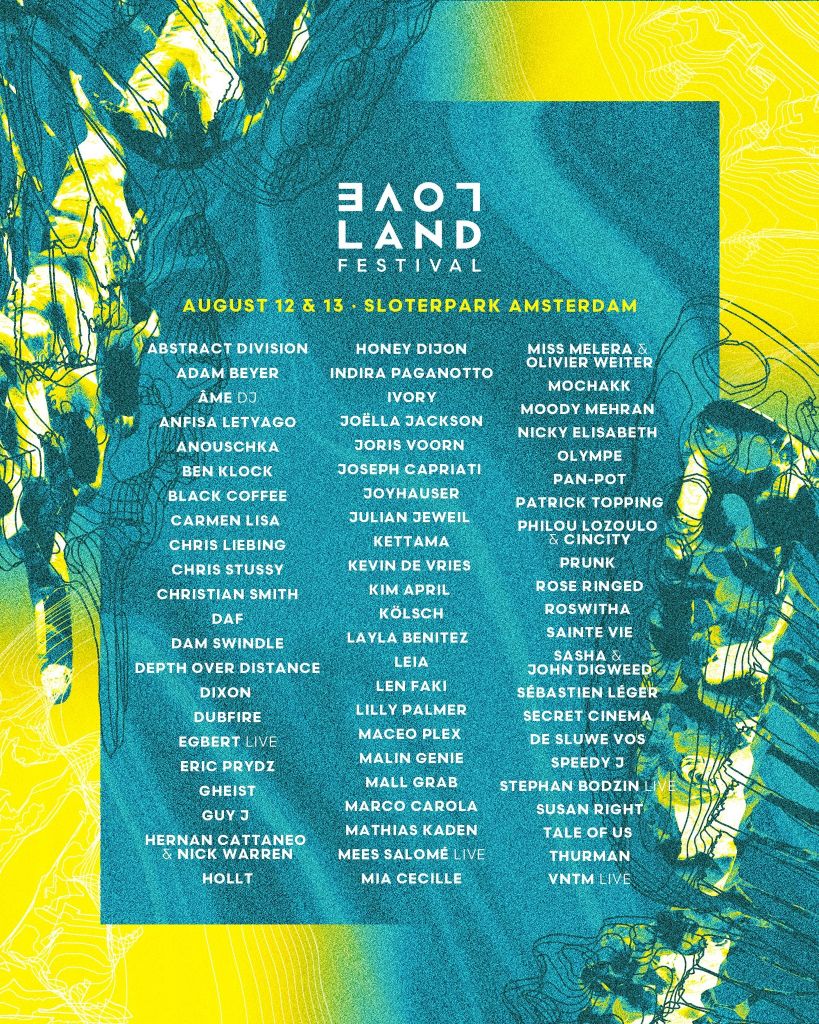 The atmosphere at Loveland Festival is truly magical. Enclosed in a verdant park by a serene lake, the festival truly feels like an escape from reality into a wonderland of sound, colour, and joyful experiences. The festival buzzes with positive energy, and the air is filled with an infectious spirit of camaraderie and celebration. The crowd, a vibrant mix of die-hard Loveland veterans and younger festival-goers, adds to the lively, festive spirit.
The demographic at Loveland is particularly noteworthy. It's a beautiful blend of older ravers, who have been returning to Loveland for years, deeply in love with its unique charm, and younger attendees who bring fresh energy and excitement. These different generations of festival-goers blend seamlessly, united by their shared passion for music and the all-encompassing festival experience. This intermingling of ages adds to the rich, eclectic tapestry of the festival's atmosphere, making it an even more unique and memorable experience.
It's a place where music, nature, and people come together in perfect harmony. The freedom to express oneself, the communal sense of celebration, and the exhilarating performances make Loveland more than just a festival – it's a gathering that leaves a lasting impression on your heart and soul.
As you wander through the festival, whether you're dancing by the lake at the Rise stage or grooving to the beats at the Circle stage, you'll be swept up in the festival's enchanting charm. And when the sun sets, the festival takes on a mystical allure, with dazzling light displays reflecting off the water, creating an utterly mesmerising sight. Every moment at Loveland is a celebration – of music, of unity, of life. It's an experience that stays with you, long after the music has faded.
Loveland Festival is a gastronomic delight, catering to a variety of palates. The festival site is dotted with numerous food stalls that offer a plethora of options, ranging from quick bites for those on the go to more substantial meals for those looking to sit down and refuel. These food areas are not only convenient but they also provide cosy spots where people can sit together, enjoy their food, and take a breather from the pulsating music and dancing.
The food selection is diverse, providing both vegetarian and meat-based options to satisfy every type of food lover. You'll find stalls serving everything from hearty burgers and hot dogs, to fresh salads, and creative vegetarian dishes. These options ensure that you won't go hungry at Loveland regardless of your dietary preferences or restrictions.
In honour of their anniversary, Loveland even added a touch of luxury to their food offerings with a champagne and oyster bar. It's the perfect spot for those looking to indulge and make their festival experience a little more special.
Drinks at Loveland are equally varied. Numerous bars scattered across the festival site serve up a range of beverages, from refreshing beers and ciders to delicious cocktails, and of course, non-alcoholic options. Whether you're in need of a quick hydration fix or looking to relax with a drink in hand, Loveland has got you covered.
Loveland Festival is not just a music event, it's an entire experience packed with delightful activities. You can roam around the site and explore the chic pop-up clothing stalls, offering a range of trendy gear. Why not make a fashion statement or take a stylish memento home?
Want a breather from the dancefloor? Hop into a paddle boat and float around the tranquil lake at the heart of the festival, a delightful escape. Or, make your mark on the festival by adding your touch to the giant Loveland sign, set by the water, it's a charming tradition and a great memory.
Feel the rhythm in a different way by joining the drum circle. Tap into your inner musician and connect with fellow festival-goers. And, for a refreshing dip, dive into Loveland's grand swimming pool, a truly unique festival feature. Dive in, cool off, and enjoy the festival vibe from the water.
A final release ticket for the weekend at Loveland Festival costs €96.00 (+fees), with day tickets being a bit less at €76.00 (+fees) for Saturday and €56.00 (+fees).
Now, while this may seem quite reasonable for a weekend of world-class electronic music, it's important to budget for your entire trip, and that includes travel, accommodation, food, and drinks. Here are a few tips to help you manage your budget:
Early bird catches the worm: Booking your trip in advance, including your festival ticket, flights, and accommodation, can save you a chunk of money. Prices tend to skyrocket as the event dates draw nearer.
Stay in Amsterdam: The festival site is easily reachable by public transport, so consider booking accommodation in the city. You'll save on travel costs and get to explore the cultural riches of Amsterdam at the same time.
Shuttle Services: Utilise the festival's shuttle bus service to travel to and from the festival site from Amsterdam Sloterdijk station. It's cheaper than a taxi and drops you right in front of the festival entrance.
Recycle and Save: The festival operates on a token system for drinks where you're given a recycle token at the entrance. You'll need to exchange this token for your first cup, which you then use for every drink you buy. Not only does this promote recycling and keep the festival clean, it also saves you some cash!
Food and drinks: The festival offers a range of food options at various prices, so you can eat according to your budget. 
Remember, planning ahead and making wise choices can help you enjoy the festival without breaking the bank!
Merchandise – official Loveland merchandise is available for purchase on-site. 
Emergency services – an ambulance and paramedics are available on-site.
Free drinking water – find these taps stationed by the toilets, scattered all over the festival site.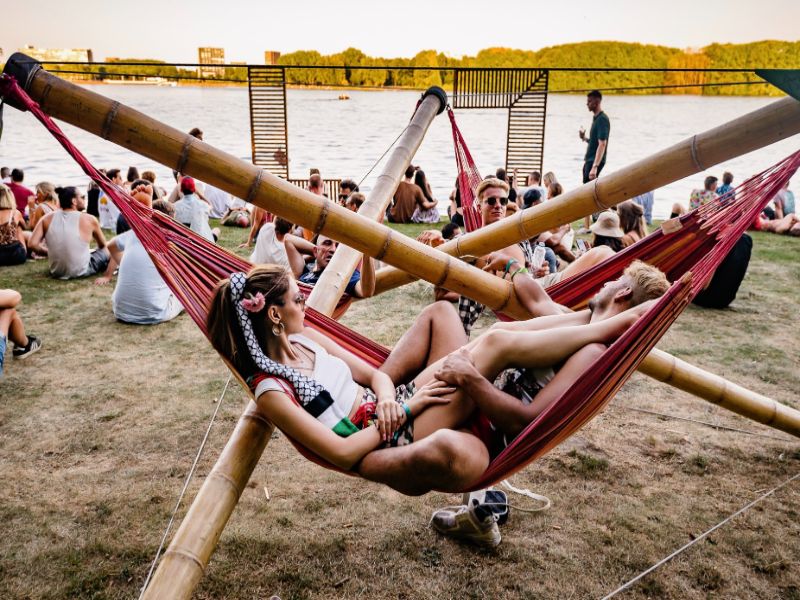 Wheelchair Access: I recommend contacting the organiser via email to get more information and to arrange your visit to the festival.
Always bring your ID and have a copy of your ticket saved on your phone! You'll need to show both of these to get your wristband and be allowed into the festival.
Ear Plugs: you'll need to keep your ears protected. Long or repeated exposure to loud sounds can cause long-term damage to your eardrums, don't risk ruining your hearing, think of all the festivals you have yet to explore.
Don't let yourself get dehydrated: there are free water refill stations at the festival so you can top up as many times as you need! 
Take care of yourself: if you or anyone in your group feels unwell, don't be afraid to approach the paramedics at the medical tent. Particularly if you've taken something and had a bad reaction to it. Don't hesitate to reach out for help.
Check the weather before going: we got super lucky, the weather was incredible during the day! But there has rained in previous years so always keep an eye on the forecast so you can be prepared.
Pay cash(less): the festival accepts both cash and cashless payment methods. You'll need to buy tokens first before being able to buy any drinks or food at the festival
Looking for more festivals to explore? Find your next adventure now!

Share this post with your festival crew so you can plan your Loveland adventure together!