Every year people from all over Thailand and the Southeast Asian region flock to Thai Wake Park, a mere 50 minutes out of Bangkok for Kolour in the Park, the city's first and biggest open-air house and techno festival.
A festival led by an international team of party specialists who run a yearly sequence of events in various locations, all of which are reputed for being absolutely legendary. But Kolour in the Park is definitely their biggest showcase of local and international electronic music acts and has been going strong for five years now with each year always topping the last.
It has become Bangkok's ultimate daytime party event, if you're going to be in Thailand or close by in March then you absolutely need to make your way to this. To help you prepare for your festival travels here is The Nitty Gritty Guide to Kolour in the Park!
When is the next Kolour in the Park? Saturday 7th March 2020
What do you hear at Kolour in the Park? From House to Techno and everything in between
Where? Thai Wake Park Lamlukka
What's the local currency? Thai Baht
What's the local language? Thai
Kolour in the Park is one of many events organised by Kolour, one of Thailand's leading party organisers. They've been throwing some of the country's best events since 2011 Kolour in the Park is the biggest event they host each year and really highlights the team's impressive event organising capabilities.
Kolour have had a huge impact on the events landscape being one of the first to host a festival, not to mention they have played an instrumental role in developing the underground music scene in Thailand as well as the region.
Kolour in the Park starts at 1pm and goes on straight through to midnight. The after party begins shortly after that and runs until late on the same site.
Kolour in the Park is a 20+ event. You will be asked for ID so make sure you bring a valid piece of identification or you won't be allowed into the event.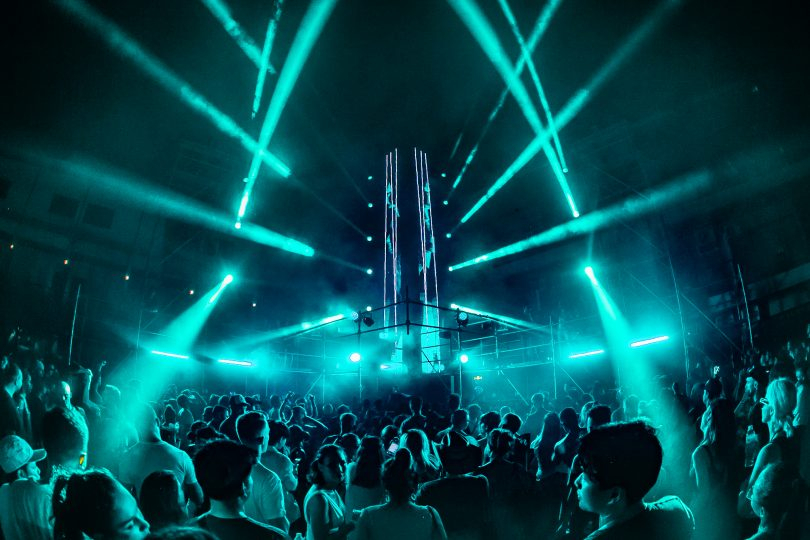 If you're an international festival goer you can get your tickets for Kolour in the Park 2020 on Festicket. Festival goers based in Thailand can use Eventpop, their local ticketing agent.
Tickets are released in several phases, the earlier you get around to getting a ticket the cheaper it will be. If you sign up to the Kolour newsletter you'll be amongst the first to know when the first wave of tickets are going on sale so you'll definitely be able to secure one of the cheaper tickets.
There are several tickets types available…
GENERAL ADMISSION
This ticket type grants entry into the festival grounds for one person. You will be allowed to attend both the festival and the afterparty (discreetly located on the same site).
KOLOUR PLUS+
This ticket type includes a few extra benefits and features to enhance your Kolour in the Park experience:
. VIP golf cart service from the ticketing entrance so you don't get all hot and sweaty walking to the festival grounds.
. Private car park shuttle so you get to the festival faster.
. Express entry line to ensure you don't spend too long queuing.
. Access to elevated lounges with roof near the main stage which will give you an unbeatable view of your favourite acts.
. Private locker storage so you can keep your valuables safe.
. Private bar so you can get your drinks quickly and avoid missing any of the action on the stage!
. Air conditioned restrooms so don't end up looking like a hot sweaty mess.
. Afterparty access, for all you night owls.
Tickets are non-refundable, but you'll be happy to know that they are transferrable so if it turns out you're unable to make it you can pass your ticket to a friend and they can attend in your place. You don't need to worry about changing the name on the ticket, the only thing that will be checked is the barcode to see whether it has already been scanned, as well as your ID for proof of age.
ARRIVING IN BANGKOK
If you're an international festival goer arriving in Bangkok then check out this Guide to Travelling to Bangkok! There you will find several options to get you to your destination within the city before moving on to the festival.
GETTING TO THE FESTIVAL
BY SHUTTLE BUS
Kolour provide a shuttle bus service from the centre of Bangkok to the festival site. Shuttle buses run throughout the day and night so you won't need to worry about missing any of the action! More information on the pick-up/drop-off points as well as prices will be released in February 2019. You will need to buy a ticket prior to the event, tickets will not be sold on the door for capacity reasons. This option will mean you won't need to haggle with taxi drivers but it will mean having to stick to the timetable provided by Kolour.
BY TAXI
If you're not keen on having to hunt down the shuttle bus stop then your best option to get to the festival site is by taxi. This is one of the easiest options as you can get picked up and dropped off on your doorstep so you can crawl into bed quickly after a long day of partying. This option is also handy for those coming straight from the airport.
You can either rely on local taxi drivers but you'll definitely have to haggle with them, otherwise you can also try using Grab, the only on-demand taxi hailing service available in Thailand. Keep in mind that the festival is located in a pretty remote area 50 minutes out of Bangkok which is an ideal opportunity for taxi drivers (and Grab for that matter) to overcharge for their service. Even with Grab discount codes (which are usually promoted a few days before the festival date) you're looking at paying upwards of 500THB each way. Taxis may be convenient but you'll definitely be paying the price for the commodity and once you're out there you'll feel obliged to pay any price they're offering just to get home.
If you're going to be using Grab then I recommend pre-booking your ride home on Grab to avoid queuing for too long. Otherwise you can put in a request and wait at the Grab Taxi Booth located at the festival entrance. There will always be a few taxi drivers roaming around who are working independently but again they will be fully taking advantage of the situation so this will really test your luck, maybe you'll find one who will take you for a reasonable price!
If you're using Grab type 'Thai Wake Park Lamlukka' as your destination.
Kolour have kindly typed up some instructions in Thai and English for you to show to your driver. You can find them HERE.
BY PRIVATE VAN HIRE
This option is particularly good if you're planning to come in a large group. You can hire a van with a driver (usually starts at 1,500THB/day) to take you there, wait on-site and then take you home. The benefit of hiring a driver is the rate will be fixed and you won't need to worry about needing to look for a taxi to take you back or having to stick to a fixed schedule. This option is useful for those travelling from Central Bangkok as well as those travelling directly from the airport as you can hire a van service departing from both Don Mueang and Suvarnabhumi.
Kolour has kindly typed up some instructions in Thai and English for you to show to your driver. You can find them HERE.
Type 'Thai Wake Park Lamlukka' as your destination in Waze or Google Maps to track your progress.
BY CAR
Coming by car is definitely the most cost-effective way of travelling to Kolour and you'll have complete freedom over when you come and go but it's probably not the safest. You don't know what you'll get up to at the festival, you may have a drink or you may start to feel tired. Choose your travel option wisely and stay safe!
There are only 250 parking spots available nearby and you can't reserve them in advance so be aware that there is a chance that you arrive and you can't park! Have you decided not to drive to the festival site yet?
If you still insist on driving then you'll want to type 'Ket Prapha Temple' as your destination in Waze or Google Maps to get to Kolour in the Park. If this fails to show up use 'Thai Wake Park Lamlukka'. On your approach you'll see a sign saying  'Shuttle To Festival', this will be your cue to park your car and make your way to the shuttle bus which will take you to the festival site.
This option is also useful for those coming straight from the airport and who have hired a car.
Kolour have kindly typed up some instructions in Thai and English which you can keep handy in case you get lost and need to stop to ask someone for directions. You can find them HERE.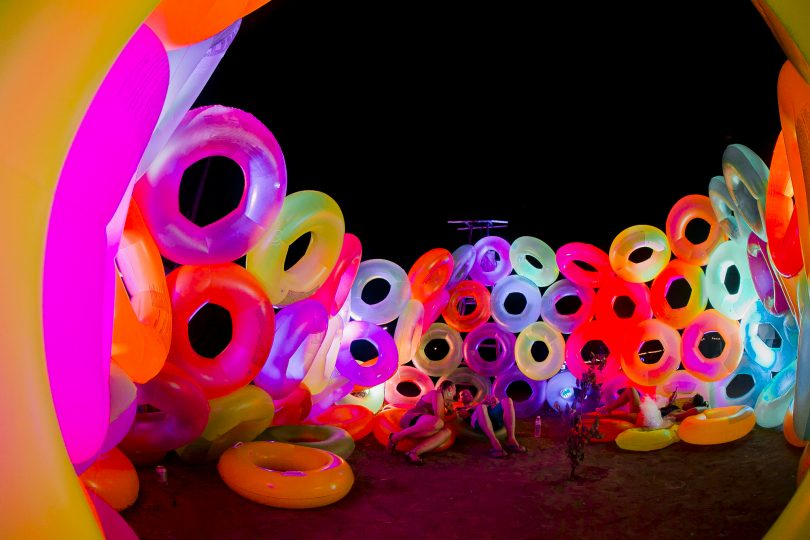 Onsite accommodation is available at the wake park but it's usually booked out months in advance, as is all nearby accommodation. Kolour in the Park is hosted at Thai Wake Park Lamlukka which is a mere 50 minutes out of Bangkok. My recommendation is to find a hotel, hostel or private accommodation in the city and simply travel to and from the site. Because there are changing rooms and showers at the wake park you'll be able to freshen up during the day if needed, and you can leave your belongings in a locker until you're ready to make your way home. This will guarantee that you're able to find accommodation that suits your needs and is within your budget rather than have to settle for whatever is available near the site. And it will also mean that you're conveniently located in the city where you'll be able to benefit from everything Bangkok has to offer rather than stay in a more remote area near the festival grounds. 
From booking.com to Airbnb you're sure to find something to complete your Kolour in the Park experience!
Kolour in the Park has undoubtedly brought some of the best underground music acts Thailand has ever seen. They have played a pivotal role over the years in developing the underground music scene and have continued to prove that their is a growing demand for alternative types of music. The focus over the years has mostly been on EDM, Kolour has really been a breathe of fresh air in terms of music offerings in Thailand.
The Kolour in the Park lineup always has a strong focus on Electronic, House and Techno acts. Previous years have seen the likes of Hayden James, Charlotte De Witte, Fur Coat, Adana Twins, Wankelmut, Tube & Berger and many more on the festival's stages. The variety of music in the lineup is definitely one of the best things about this festival. Aside from DJ sets you will also normally get to see a range of alternative live performances. These are always a big hit amongst music fans as we don't get that many throughout the year in Thailand. In previous years Kolour has invited the likes of Autograf, Youngr, Bonobo, Masego, SG Lewis and many more to perform their live acts.
One of the highlights of the lineup is that you get a good balance between international and local acts. For Bangkok residents, this is a chance to see some of their friends play and share the stage with international artists which as you can imagine creates a pretty unforgettable atmosphere. Not to mention all the additional excitement that comes from also being able to see some premium international acts.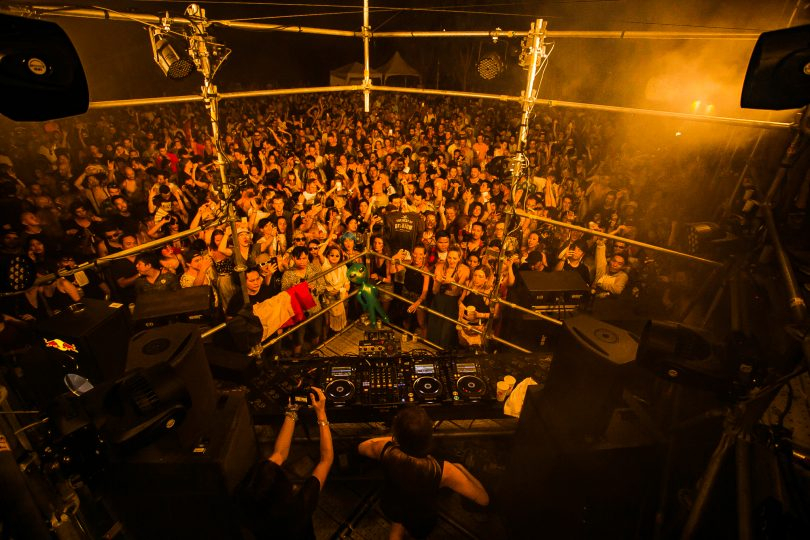 The incredible open layout at Kolour in the Park creates a perfect environment for a festival. The space allows for so much freedom, whether you feel like taking a stroll around the lake, participating in some of the water sports and activities, or sitting by the lake and basking in the glorious sunshine with friends. One of the benefits of the grounds is that they are extremely spacious and things are well spread out so you don't ever feel like you don't have enough space. Even on the dance floor you'll be sure to never knock elbows with anyone, you definitely won't feel constricted in any way.
The festival is a perfect escape from urban life, both in terms of setting but also music and activities. You get to try so many different things that you may not have tried at a festival previously and the lineup is sure to include acts you won't have ever seen before. You can comfortably tuck your habitual routines away for the duration of the festival and really melt into the surroundings and the festival.
Overall you can expect a very chilled out but excited atmosphere. Kolourians are also friendly and sociable which really allows you to let go and feel at ease. They're not shy, so much so that every year the costumes get more and more creative. You'll definitely spot a few original outfits in the crowd which just add to the uniqueness of the festival. There is genuinely an unbeatable atmosphere at Kolour, everyone is always in good spirits so you will without a doubt have a very memorable time. You'll be wanting to research all their other events and never miss another one ever again!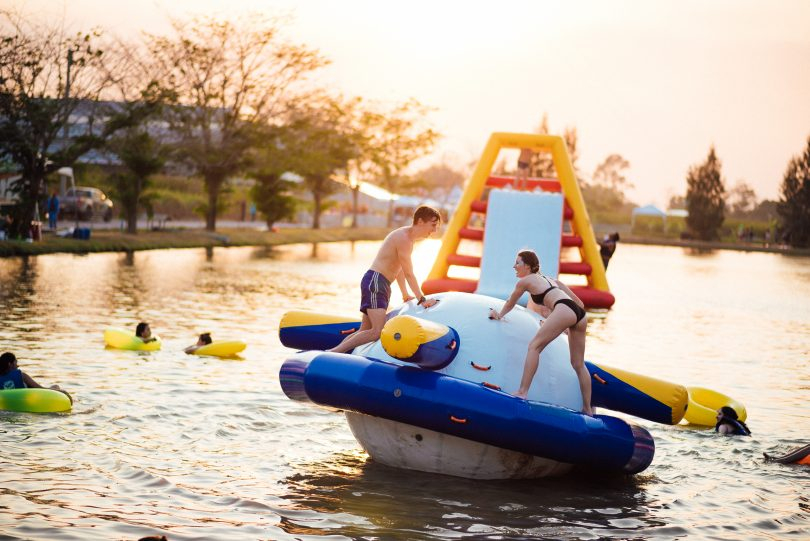 Aside from it's stellar lineup of artists Kolour in the Park also offers a diverse activities programme that make it more than just a music festival. This festival is a fully immersive experience which combines music, sports, art and food. If there's anything Kolour does well is strike the right balance between the amazing party vibes with great music and the fun daytime activities that will leave you with some incredible long lasting memories.
The festival grounds are based at a wake park which caters to all the water sport fanatics. You'll be able to take a ride on the cable track and try your hand at a few jumps and obstacles out on the water if that's your thing. Though please don't try this if you've had a few drinks, be cautious! Aside from extreme sports you'll also be able to swim or take part in some water games. The last couple of years they've had zorb balls that you could get into so you could walk on water.
If you'd rather not get wet then you'll be relieved to know that a few activities are also hosted on dry land. You can try your hand at sports activities or relax at the free massage station, or take part in some arts and crafts. Last year you could customise a Kolour hand fan and take it home with you or get your face painted and glittered so you looked your best during the festival. You can also take a stroll through the onsite stalls and have a look at some local designers' merchandise. Whatever it is you'll be sure to find something that captivates your attention outside of the music.
Travelling for festivals can get expensive! So in an effort to reduce costs here are some tips to making your trip to Kolour in the Park as cost-efficient as possible…
Book your trip ahead of time! Dates are normally announced months in advance so you can start booking your flights and accommodation when prices are still low!
Early bird gets the worm! The same goes for your festival ticket, don't wait to get your ticket as the longer you wait the more expensive it gets!
Stay near the venue for cheap accommodation. Though there isn't much going on around there so if you're looking to make the most of your trip stay in the centre of Bangkok.
Or rent a car or a van for the weekend to get to and from the festival, don't rely on taxis. Particularly if there is a group of you, I definitely recommend splitting the cost of a van. In Thailand you can hire and driver for a little a 1,500THB/day.
Look out for Grab Taxi discounts! These are usually shared on the festival's social media pages a few days before the event.
Get a local SIM card so you can switch off roaming. You can get a SIM card at your nearest 7-11 or in a shopping mall by going to one of the local providers (you can choose from AIS, True, DTAC and more…). You'll need your passport to purchase one.
Don't worry about eating on-site! The food selection is great and on the whole isn't too expensive. But don't get the first thing you see! Walk around the food area to search for the best deals before buying something.
Take part in activities and get your money's worth! Make the most of your pass, join in on everything!
Win your next round of drinks! They host a variety of games throughout the afternoon before it gets dark. Some of them involve prizes! Test your luck and try to grab a freebie!
Get there early to make the most of happy hour! They normally operate a happy hour where they give out free beer! This will be announced closer to the event, keep an eye out for it on their socials.
Kolour is notorious for hosting some of Bangkok's most popular and reputable food outlets. From food trucks to food stalls the organisers always curate an impeccable selection of food options. And there's always a little something to suit everyone's dietary requirements. For all you vegetarians and vegans out there you'll be happy to know that there were a few options on the vendors' menus for you too! No one will ever go hungry at Kolour in the Park that's for sure! And the stalls are open late so you can make the most of your festival experience from start to finish.
Kolour in the Park is wheelchair accessible! The festival grounds lay mostly on natural terrain but there are some concrete pathways and the Kolour team are also available to make special arrangements. If you require some additional assistance you should email social@wearekolour.com before the start of the event.
Lockers: a limited amount of lockers will be available on site, they are on a first come first served basis. The lockers are key operated, make sure you don't lose it around the festival site!
Showers and changing rooms: there are showers and changing rooms on site at your disposal if you decide to go for a swim or take part in some of the water activities.
Merchandise: you'll be able to choose from a great range of merchandise that you can take home with you to remember your time at Kolour in the Park!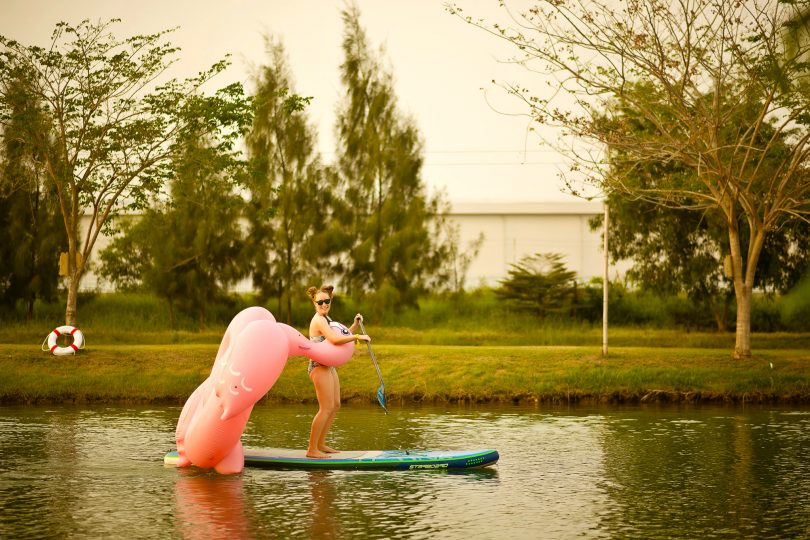 Printed Ticket and ID: you will need to arm yourself with both of these to be able to enter the festival ground, so make you sure you don't forget either or you'll be missing out on the action!
Re-entry is permitted: you'll be allowed to exit the festival grounds and come back as many times as you like but make sure you keep your wristband on at all times. You will not be allowed back in if it appears your wristband has been tampered with or if you cut it off.
Cashless Payments: the festival runs on a cashless system which means you will need to top-up your wristband at the event to be able to make purchases. You can top-up your wristband using cash, credit and debit cards!
Refunds: you will be able to get whatever money is left on your wristband upon leaving the festival. Make sure to do so before you go home, refunds aren't available after the event.
SIM Card: if you're coming from overseas and you're looking to stay connected during your stay in Thailand then look out for service provider kiosks at the airport or in town. They are more expensive at the airport so if you've got a bit of time to spare try to get one in one of the big shopping malls, and they're also sometimes available in 7-11. You'll need your passport to register your SIM card.
Ear Plugs: you'll need to keep your ears protected! Long or repeated exposure to loud sounds can cause longterm damage to your ear drums, don't risk ruining your hearing, think of all the festivals you have yet to explore!
Summer layers: don't bother bringing any warm layers, you're attending a daytime festival in Thailand, it'll definitely be warm enough during the day and even through the night for those of you who will be going on all night long.
Swimming costume and towel: Kolour in the Park is hosted at a wakeboarding park so there is (you guessed it) a lake on site! If you're interested in frolicking in the sunshine then don't forget these essential items! There are showers and changing rooms on site so you can change and make the most of the day time as much as the night.
Bug Spray and Sun Cream: these are essential to ensure you have a pleasant experience at Kolour in the Park. You don't want to feel irritated by insects or be too sunburnt to function.
Portable Charger: this festival is going to be packed full of moments you'll want to video or photograph, the last thing you want is for your phone to run out of battery!
Stay Hydrated! drink plenty of water! You're going to be walking around a lot or participating in a number of activities and it's going to be warm so you'll be more prone to dehydration.
Agree on a Meeting Spot: a lot of people will be attending this festival so set a meeting point before going to any stages so you can easily find each other!
Keep an eye out for the official Do's and Don'ts published on the official Facebook Page closer to the event date, so you can better prepare!
Plan your festival adventure with your friend, share this post now!