Jai Thep Festival is an environmentally friendly music festival that takes place a mere 30 minutes out of Chiang Mai, in Northern Thailand. This lovely festival works closely with the local community to put together an unforgettable and life changing showcase of music, art, workshops, and performances against the gorgeous backdrop of winding hills and tree tops. This festival is absolutely magical and is a must if you're in the north of Thailand at the beginning of February. To help you plan your trip here is The Nitty Gritty Guide to Jai Thep Festival!
When is the next Jai Thep Festival? 31st January to 2nd February 2020
What do you hear at Jai Thep Festival? A little bit of everything! The lineup is very versatile.
Where? Lanna Rock Garden, Chiang Mai, Thailand
What's the local currency? Thai Baht
What's the local language? Thai
Jai Thep Festival is a music and arts festival with a heavy focus on conscious living and mindfulness.
Jai Thep Festival hosted over 70 artists in 2019, showcasing unique up-and-coming artists and DJs from across Thailand and the region.
Jai Thep Festival is committed to being eco-friendly and sustainable!
Jai Thep Festival also has strong social initiatives, each work the festival works with and donates proceeds to local charities and NGOs.
Jai Thep Festival is a family friendly festival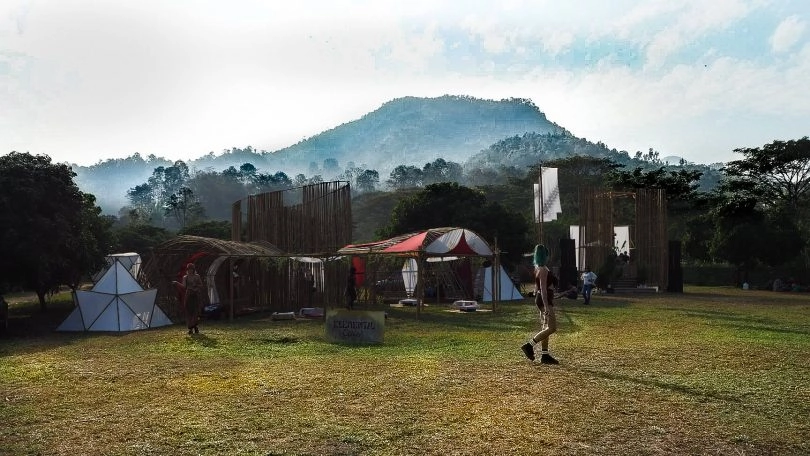 You can book both your on-site accommodation and your tickets via their official ticket providers Festicket (for international festival goers) and Ticketmelon (Thailand). 
Tickets are sold in 1-day, 2-day or 3-day passes. There are several ticketing categories catering to a few different age groups and a variety of accommodation requirements. Tickets are released in phases, grab them whilst you can and don't risk tickets selling out!
The tent packages are useful if you're not from the area and aren't able to bring your own camping equipment to the site. They come in a range of different capacities ranging from the smallest one-person tent to a bigger two-person tent package.
Adults and student are required to buy a ticket. Student tickets are designated for teenagers aged 13 to 17 years old as well as Thai and international students aged 18 or over, and studying full time at uni or higher education schools within Thailand. Please note that you will need to present a valid form of identification to verify your age and/or student status and will be denied access if you hold a student ticket but aren't within that age gap or are without appropriate proof of your attendance at university at the time of the festival.
There's even a group pass comprising of 8 tickets so get a group of your friends together, not only do you end up with a solid bunch to boogie with but you also benefit from a discounted ticket!
And all children aged 12 and under are free as long as they meet that age requirement at the time of the festival, not at the time of your ticket purchase.
Tickets are non-refundable but are transferrable so if you're unable to come then you can simply give the ticket to a friend to use!
Online ticket sales close when tickets run out. A limited number of tickets are then available on the door for festival goers to purchase. The demand for tickets at the door was really high so make sure you pre-book your festival tickets online to avoid disappointment!
You'll be able to collect your wristband when you arrive at the door. Make sure you have your ID and a copy of your booking confirmation on hand. If you bought a group pass then the person who purchased the tickets must be present.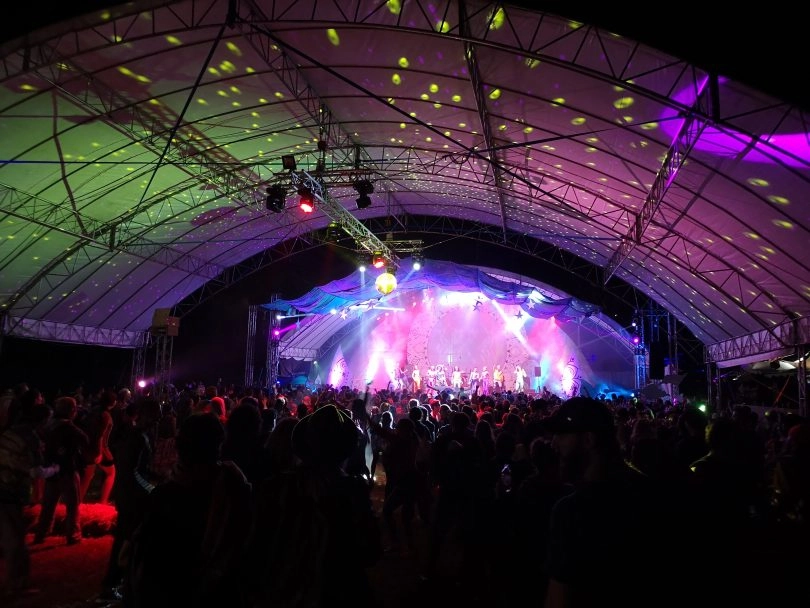 TRAVELLING TO CHIANG MAI
If this is your first time visiting Chiang Mai and you need some advice on how to reach the city's terminals and get around, then check out this Guide to Travelling to Chiang Mai! You will find several options to get you to your destination within the city before moving on to the festival.
GETTING TO THE FESTIVAL
The festival takes place at Lanna Rock Garden, which is about 30 minutes from the centre of Chiang Mai. There are several transport options to get you there which you can choose from depending on your travel needs and preferences.
BY CAR/SCOOTER
There is a car park near the entrance for both scooters and cars. The space in the car park is limited but as far as I know it didn't reach capacity when I was there in 2019 as the majority of people opted for taxis or public transport. There is a small parking fee, you can either pay the daily rate or buy a weekend pass.
If you're from out of town and would also prefer to have the flexibility of having your own ride then you can rent a scooter or car from the Old City. Car rental companies are also located at the airport so you can even come straight from there to the festival.
It's not recommended to drive without an international driving licence, the police have been cracking down on people driving illegally and you could get slapped with a pretty hefty fine. And also make sure that if you do end up riding a scooter that you have a helmet, you don't want to give them another excuse to fine you!
If you're driving you can simply input 'Lanna Rock Garden' as the destination in Waze or Google Maps. It's a very scenic and pleasant ride up!
BY TAXI / GRAB
Taxis aren't easy to flag down around the streets of Chiang Mai. If you're staying at a hotel then they can arrange one for you, if you're happy with the driver you should grab their phone numbers to be able to arrange your ride back to the hotel. Taxis are lined up at the airport however so you won't have any trouble finding one there, you'll be able to get from the airport to the festival in a taxi without a problem!
Taxi rides should be on the meter, don't let any local drivers fool you into paying a fixed price! Don't cave and be firm with asking for the meter, you'll find one eventually who will take you.
If you're struggling to get a taxi then you can also resort to Grab, an on-demand taxi and car-hailing application. The app will give you the option between a private car or a regular taxi. Prices between the two options only vary a little, there is a small booking fee for GrabTaxis but not for GrabCars.
You'll be able to use Grab in other South East Asian countries so it's handy to have on your phone. And once you've signed up you'll be eligible for discount codes to reduce the cost of your trips!
For the return, don't worry about getting a taxi back to the city as there was always a line of taxis waiting by the door of the festival throughout the day and night to get people back to the city.
BY PUBLIC TRANSPORT
The festival also offers its own form of public transportation which departs from the city center at regular intervals and also brings festival goers back to Chiang Mai until late at night. This service operates on Songthaews (a.k.a the red taxi trucks). The benefit of taking this mode of transportation is that you'll be able to meet other people going to the festival, there's always a fun atmosphere on the Songthaew trips as people are getting into their pre-festival game!
Check back closer to the event date for more information about this option, the schedules haven't been published yet!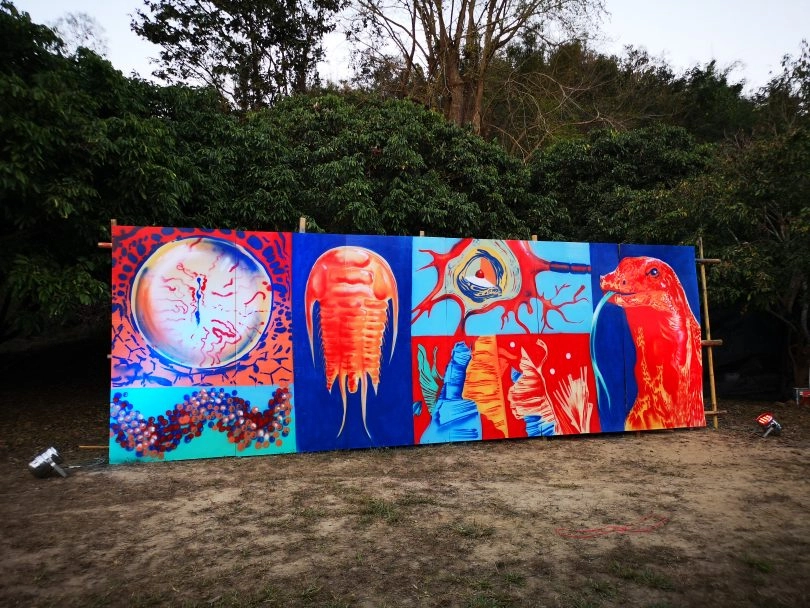 Let me start by saying that the site is absolutely massive! But not in an overwhelming way, it's easy to get from one end of the festival to another. I saw plenty of families with strollers, it's completely feasible to bring your little ones to this festival!
There's a path from the main gate right to the bottom and the rest of the site is grassy so there's no harsh or difficult terrain. When you reach the bottom end of the site it's a bit of an uphill to get back to the entrance but it's not an impossible mission!
The site is really freeing. There's so much space and you're surrounded by rolling hills, it's very impressive. This sort of environment just guarantees complete serenity and peacefulness.
There's even a small stream that people can swim in. I mean it doesn't get more idyllic than that!
You feel instantly relaxed and at ease at Jai Thep Festival, I felt like I was living in a dream everything was so pretty and calming. The festival and surrounding nature welcome you with open arms and take you on the most comforting but exciting journey.
There is a total of 4 stages, you've got the main stage and then 3 other smaller but equally as stunning stages. Each stage was so aesthetically pleasing, they were all true works of art.
You can really tell that a lot of heart and soul is poured into making this space special. The minds behind this festival are truly brilliant, the art and infrastructure were truly gobsmacking.
You'll be exposed to such a vibrant and colourful environment, that and the nature make it such a unique festival experience.
In the daytime it's sunny and warm so people are running around all over the site, jumping from one stage to another, relaxing or playing games in the grass, swimming in the stream… The space is so huge it offers a little something for everyone, there's activity and movement happening all over the festival.
From the minute you set foot in Jai Thep your senses will be led on incredible adventures. In the evenings, you'll see the sun set between the hills and then you'll notice the temperature drop and become chilly so people wrap up and get cosy.
Some stages stay open until late, then move to the bottom of the stream where you can stay up until the sunrise if you wish to.
One of my favourite evening experiences at Jai Thep was getting a cup of warm chai tea by the stream and looked up to the see the stars sitting above us before heading back towards one the stages to see the night through.
There's something magical about Jai Thep Festival, and the site and stages definitely play a huge part in making this mystical airy fairy dream into a reality.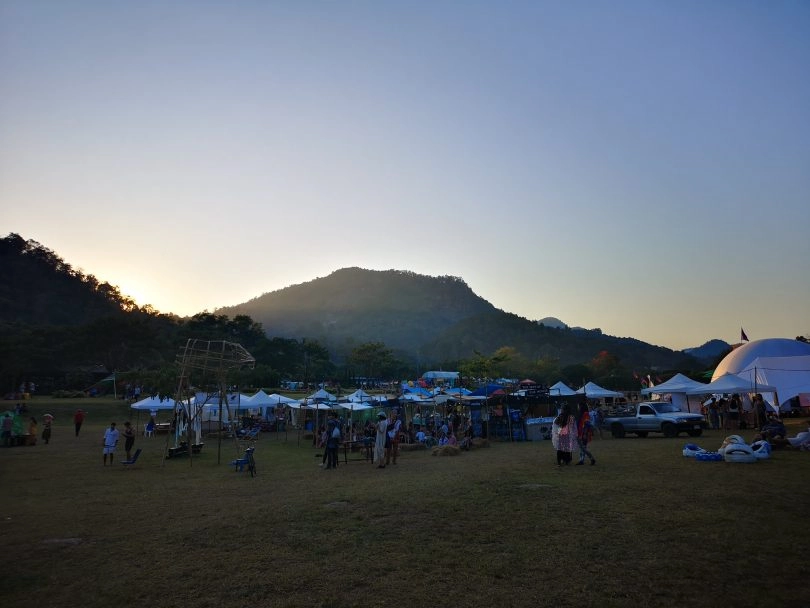 Jai Thep has on-site accommodation available for festival goers. You can either bring your own camping equipment to the festival or you can reserve a tent via the ticketing website when purchasing your general admission tickets for the festival. They've got a selection of tents available for rent which vary in size and commodities. If you're able to bring your own equipment then you just need to purchase a general admission ticket and show up at the festival to pitch your tent.
All 3-day passes and weekend passes (2-day) grant admission into the festival and into the camping area. Festival goers with 1-day passes or tickets for non-consecutive days are not permitted to camp and aren't allowed into the camping area.
For those who are squeamish about camping let me reassure you that there really isn't any reason to be! There were a good number of on-site facilities such as toilets and showers, and they were kept clean during the entirety of the festival. There was also a small convenience stall set up on-site if you needed to restock on day-to-day necessities which was super useful, this saved you from needing to leave the site and drive to the nearest convenience shop about 20 minutes away! Campers were really well looked after throughout the festival so don't be afraid to give it a try!
Not to mention that the campsite was really truly stunning. You're surrounded by mountains and completely immersed in nature, it's a really glorious and relaxing experience. Camping means you get to make the most of the Jai Thep experience and don't have to spend too much time driving to and from the site. You also won't need to worry about getting a ride back to Chiang Mai late in the evenings, the festival's public transport schedule ends after a certain hour, but if you're camping you can stay and enjoy the music for as long as you want.
The atmosphere in the campsite is very calm, campers were very respectful of one another which was absolute bliss. People were putting up decorations and turning it into a little community which was lovely. Additionally, the stages aren't positioned near the campsite so won't need to worry about not getting enough sleep. So don't be afraid to camp, you'll probably find it's more comfortable than you'd imagine!
Jai Thep has on-site accommodation available for festival goers. You can either bring your own camping equipment to the festival or you can reserve a tent via the ticketing website when purchasing your general admission tickets for the festival. They've got a selection of tents available for rent which vary in size and commodities. If you're able to bring your own equipment then you just need to purchase a general admission ticket and show up at the festival to pitch your tent.
All 3-day passes and weekend passes (2-day) grant admission into the festival and into the camping area. Festival goers with 1-day passes or tickets for non-
If that hasn't convinced you to give camping a go then you'll be glad to know that there are other accommodations nearby but you need to make sure you book early as space is limited and everything gets booked up very quickly!
You can either choose to stay nearby the site but finding a taxi or mode of transport is more difficult than if you were to stay in the centre of Chiang Mai. The city is further but you'll have more options to choose from and more freedom of transport to get to and from the festival, and this will also you mean you get to visit the city outside of the hours you spend at Jai The Festival! It's definitely a good opportunity to get to see Chiang Mai and all its temples, coffee shops, art galleries and markets! 
If you decide to stay near the festival site then I would check several websites to see which accommodations they have available nearby Lanna Rock Garden. Since the site is a little remote some places will be available on some websites but not others. So do a bit of research before booking anything!
Jai Thep Festival features over 100 artists, spanning over a very broad range of genres. They mission themselves with breaking away from mainstream repetitive sounds and music which seems to be the constant for a number of festivals across the region, and want to highlight alternative music styles.
One of the highlights of this festival is that there is something for everyone, from live bands and performances to DJ sets, and reigning from a variety of musical influences. You will never hear the same thing twice at Jai Thep and you never know what you're going to discover! If you're looking for inspiration, to hear something original or meet other artists from the region then you should definitely check out Jai Thep Festival.
The festival organisers aim to give up-and-coming artists a chance to perform in front of a big audience and will pool them together with more established performers.
And they mostly focus on showcasing Asia-based talent but also invite some globally acclaimed musical acts and DJs. The musical adventures at Jai
Thep are completely unpredictable, my best piece of advice is to let yourself drift, don't plan, just go with the flow of the music and community.
Jai Thep in Thai translates to 'Heart of God', and to say that the festival lives up to its name is quite an understatement. Jai Thep Festival radiates and exudes love and community like no other festival I've been to.
The vibes at the festival are just surreal, I felt like I was walking on a cloud most of the time. There's a sort of magic energy in the air that is completely unique to Jai Thep.
Everyone's good energy is to be credited for this amazing atmosphere. All festival goers were in such high spirits throughout the weekend and this is no surprise because everything at this festival is planned out right down to the very last detail to make sure that everyone has what they could possibly want or need for the duration of the festival.
All the activities, the food, and commodities available, and all for such a very reasonable price tag because the festival exists to create a community and space for people to feel free and exchange ideas, knowledge, and experiences.
The festival is completely fair and gives to the festival goers unconditionally, in return attendees respect and give back in the ways that they can, like looking after the festival site and respecting the community.
This festival gives all the right tools for people to relax, let go and feel completely at ease. There's something for everyone to join in on and feel included in. And this also goes for all the families and children running around.
Everywhere you look there's someone doing something, you'll definitely be kept busy and you're likely to try something new because you'll be made to feel like you can. All festival goers are made to feel welcome and as equally important and part of the community.
I think one thing that really makes a difference is how family oriented Jai Thep is. There are children running around everywhere! And their energy is incomparable!
I actually think they help all the adults break free from the confines of their adult personalities and let loose in a different way. Not to mention that being in nature always has a big impact on people. It really fosters positive and revitalising energy.
Jai Thep is a little piece of heaven on earth, it's an experience like no other. All the elements of the festival come together harmoniously and create the ideal environment for festival goers to feel confident to try new things, to talk and share moments with another, and to take the time to enjoy their surroundings. I won't be forgetting my time at Jai Thep Festival and would gladly go again year after year.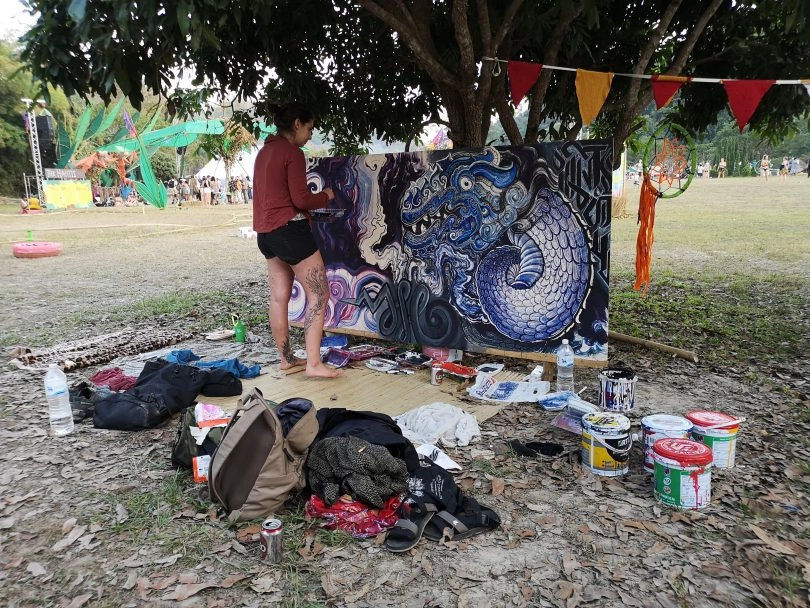 A bottomless programme of activities, workshops and talks took place over the weekend, or it felt pretty infinite at the time! This festival goes above and beyond exposing festival goers to music, you'll be able to try your hand at all sorts of experiences. Many of the activities and workshops taking place have a strong focus on consciousness and wellbeing. But there are also a whole bunch of artistic and sports-oriented activities so you're guaranteed to find something that will match your interests and what you enjoy doing. 
You'll have access to the entire programme with your festival ticket, it's the ideal opportunity to try something completely different and new. It's definitely worth taking a chance on activities you've not heard of before. Festivals are the perfect setting to be bold and brave, you never know what you'll come across, you might find that you're actually really good at something you'd never even heard of before! Watch out, your experience at this festival will broaden and expand your mind and get you feeling your body in ways you haven't before!
Check the festival's Facebook page closer to the event date to find their full programme, so you can plan which activities you'd like to attend!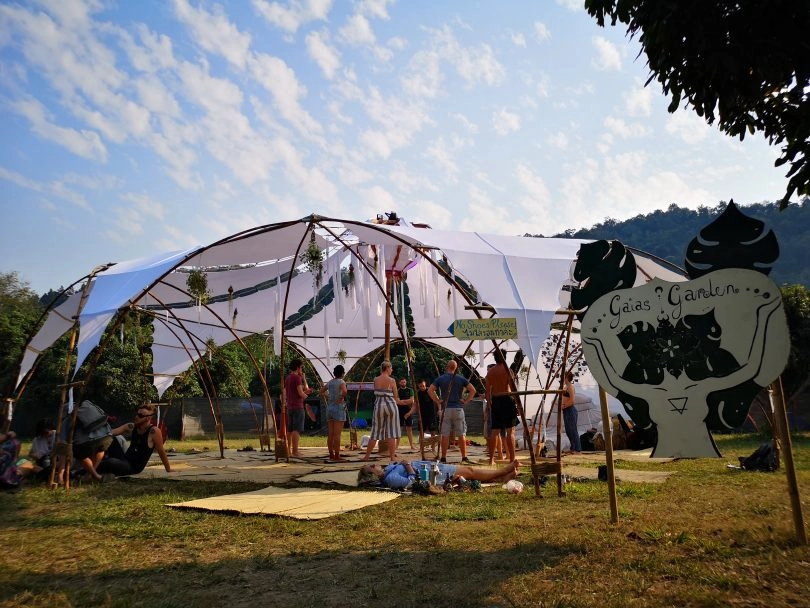 Children are also kept very busy and happy during Jai Thep Festival, they are just important as adults at Jai Thep Festival, they have a whole area dedicated to them which looks like a mini version of the grow-up festival. They have their own stage where they can showcase their talents. They can take part in activities and they've also got a giant playground area.
It was great to see that they were given an opportunity to let their creative minds wander, they're not often given a platform at festivals to showcase their talents. Sitting in on some of their performances and seeing how these children lit up when it came to their turn to perform was one of the highlights of this festival. Sharing the space with them made a great difference to the vibe and community.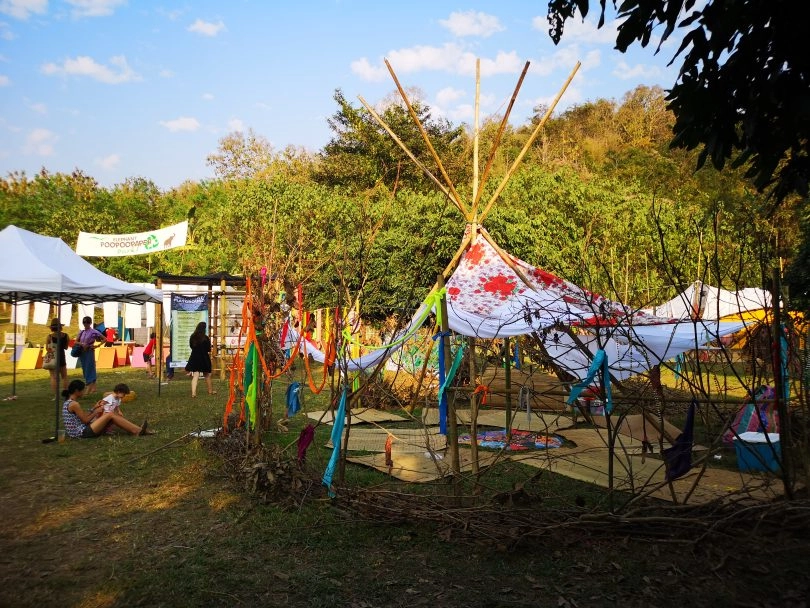 Jai Thep Festival is probably the most affordable music festival I've been to in Thailand. The prices for food and drinks were so unbelievably reasonable! Prices started at a mere 60THB (for one of the best vegetarian Pad Thai I've ever had in Thailand!) and went up to a couple of hundred baht (for a gourmet burger). Not to mention there wasn't a single thing being sold onsite that wasn't absolutely delicious and the portions were huge! Another thing I really appreciated was that all the stalls were held by local vendors so anything you bought went towards supporting the local community.
There were plenty of options, ranging from local Thai food to international food options. And the majority of the food options are healthy and/or organic. The festival is three days long so you've got enough time to sample a number of things being sold there, there's something for everyone!
And for those of you who have specific dietary requirements, you'll be happy to know that Jai Thep Festival operates a strict policy that all vendors must have at least one vegan option available for festival goers to purchase! Something I've never seen before in Asia! The vendors also do a very good job of marking their menus so you can easily assess whether you're allergic to any of the ingredients being used.
Jai Thep's sustainable initiatives are truly admirable and are not only benefitting reducing their carbon footprint but also educating festival goers in understanding how they can be more sustainable in Thailand.
To name a few, I noticed a comprehensive recycling scheme with clearly signed and coloured bins spread across the site to encourage festival goers to divide their waste so it could be recycled or disposed of properly. These were then sorted through regularly throughout each day to make sure that the right things were being taken away and being taken to the right place!
You could also either purchase a Jai Thep cup, the cost of which was a mere 50THB (1.60USD), or you could bring a bottle or cup from home. You could use either for drinks purchased at the bar or get free water refills at several water station points scattered around the festival. Single-use plastics were not allowed on site so make sure you bring a reusable water bottle.
Jai Thep hosted a number of booths and stalls which were selling eco-friendly and/or organic products so you could go home with a few items that would help reduce your home's environmental impact.
They also welcomed Elephant Poo Poo Paper, a local company which produces all kinds of stationary and paper from recycled elephant poop and other organic bi-products, such as rice husks. They had a workshop at the festival where you could learn how to make your own poo poo paper, which was fun and also rather fascinating. The festival's posters were printed on this paper, which shows just how resilient it is!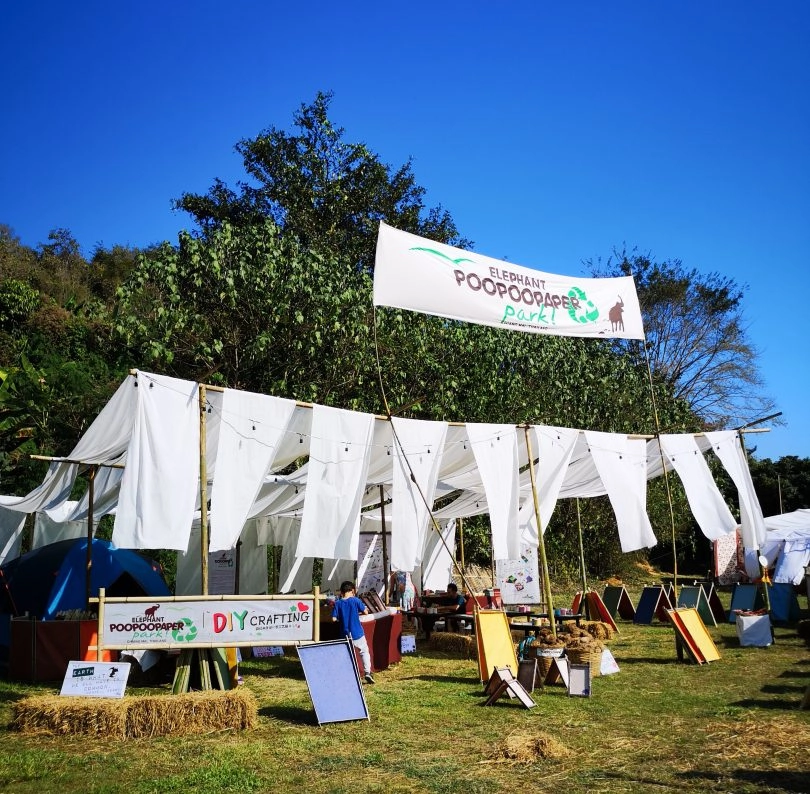 And their efforts go beyond that of what is noticeable onsite, they also donate a chunk of the money made from the festival to local foundations and charities. Jai Thep's ecological mission is just as important as their social responsibility goals and objectives. Each year they choose to support a number of social and environmental causes. Jai Thep through different initiatives that positive change is possible in a community, that we can all unite to make impactful and positive changes.
You can't help but feel inspired after spending a weekend at Jai Thep Festival, it's utterly revitalising and refreshing to be attending a festival run by a motivated group of individuals who have created a strong community of people who come to explore, learn, share and give back in any way they can in all sorts of different warm-hearted ways.
Travelling for festivals can get expensive! So in an effort to reduce costs here are some tips to making your trip to Jai Thep as cost-efficient as possible…
Book your journey ahead of time! Dates are normally announced months in advance so you can start booking when prices are still low!
The Early Bird gets the worm! The same goes for your festival ticket, don't wait to get your ticket as the longer you wait the more expensive it gets!
Stay on-site! General camping is available, this option is particularly good for those of you who are on a budget and don't want to splurge on a hotel!
If camping isn't your thing consider a (cheap) hotel nearby! Accommodation in Chiang Mai can get pricy but because the festival is further out of the city centre you are likely to find cheaper hotel deals near the site.
If you opt for off-site accommodation then stay close to the event so you don't up spending too much on transport to and from the festival. The shuttle service provided by Jai Thep only runs between the festival and the city centre.
If you're staying in town take the shuttles provided by the festival! Don't rely on taxis!
Bring a water bottle to get free water refills on-site! Whatever you do don't drink the tap water!
Get a local SIM card so you can switch off roaming. You can get a SIM card at your nearest 7-11 or in a shopping mall by going to one of the local providers (you can choose from AIS, True, DTAC and more…). You'll need your passport to purchase one.
Eat at the festival! Jai Thep has very reasonably priced food and drinks so don't worry about breaking the bank there! You can indulge without being worried about spending too much!
Take part in activities and get your money's worth! Make the most of your pass, join in on everything!
Toilets and showers in the camping areas: did you really think they would let you walk around for four days without taking a shower? There are plenty of showers and toilets at the festival, and they were clean!
Cash machines: there is a cash points available on site, which is super useful because you'll need to have cash to be able to top up on your wristband at designated top-up stations. Jai Thep Festival is completely cashless! The cash machine did run out of cash for a few hours though during the festival so come prepared. 
Merchandise: as far as official Jai Thep merchandise goes you will be available to purchase a metal cup which you can use on-site and for every festival after that! It's a very useful purchase and echoes the festival's sustainability objectives. There are also plenty of shops onsite which highlight Jai Thep's eco-friendly principles, so you'll be able to take home a few creative and innovative things to encourage a more sustainable lifestyle.
Medical Services: an ambulance and paramedics will be available 24 hours a day on-site.
Printed Ticket and ID: you will need to arm yourself with both of these to be able to enter the festival ground, so make you sure you don't forget either or you'll be missing out on the action!
RFID: Jai Thep Festival operate a cashless payment system which means you will need to top up your wristband in order to be able to make purchases onsite at the festival. You can top up your wristband at designated top up stations spread across the festival site using cash or card.
Refunds: you'll be happy to know that you'll be able to get a refund on funds left on your wristband before you leave the festival grounds no matter which day you're attending. Please make sure you get your refund before you leave the site as they don't allow any refunds after the festival has ended.
Cash: just to be on the safe side bring cash to the event! The cash machine ran out of cash for a few hours so I definitely recommend coming prepared. The festival site a little out of the way from Chiang Mai and the nearest convenience shop with an ATM is at least a 20-minute drive away. 
SIM Card: if you're one of those people who likes to stay connected and you're worried about getting access to Wi-Fi then you should try to buy a Thai sim card before arriving at the festival because you won't be able to get one there. You can get them from any 7-11 and some major supermarkets, you'll need to have your passport on you to complete the purchase.
General convenience items: Jai Thep Festival have a small shop on site which was most useful for campers but also for festival goers who forgot to drop by a shop on their way to the festival! You could get basic necessities like chewing gum, tissues, cigarettes, tampons and more!
Ear Plugs: you'll need to keep your ears protected! Long or repeated exposure to loud sounds can cause longterm damage to your eardrums, don't risk ruining your hearing, think of all the festivals you have yet to explore!
Warmer layers: it can get chilly in the evenings up in those hills so come prepared and have a couple of extra layers. In the evenings and early mornings we were really covering up, I'm talking thick leggings and a hoodie! 
Portable Charger: Jai Thep Festival is composed of long days and long nights, though I would suggest putting your phone away to really make the most of your experience I would also come prepared so you don't go completely off the grid and can find your friends throughout the weekend.
Stay Hydrated! drink plenty of water! You're going to be walking around a lot and it gets very warm in the daytime so you'll be more prone to dehydration. There are plenty of water stations onsite where you can fill up on water for free so make sure you bring an empty water bottle (not a single-use plastic bottle!) to get your refills throughout the festival.
Agree on a Meeting Spot: a lot of people will be attending this festival and the festival grounds are huge so set a meeting point before going to any stages, this will increase your chances of finding your friends more easily should anyone go missing from the group!
Don't remove your wristband! Make sure you keep your wristband on at all times, you will not be giving a new one if it is removed or damaged, don't risk being refused entry!
Look after your doggie: If you're bringing a dog to Jai Thep Festival you should get your dog some ear muffs to ensure that the festival doesn't cause their hearing to be impaired. And please make sure you keep them hydrated too!
Gate opening times: Jai Thep Festival operate very specific gate opening times which you'll need to take a note of to know when you can enter the site. This applies to both people who are residing onsite during the festival and those staying offsite:
Friday: Gates open 12:00, and close at 00:00
Saturday: Gates open 09:00, and close at 00:00 (new later time)
Sunday: Gates open 09:00, and close at 00:00 (new later time)
The campsite closes at 12 noon on the Monday, by which time all campers must have packed up and left.
Share this post with your festival crew and start planning your Jai Thep Festival adventure now!