Are you looking for an epic beach music festival experience next summer? I've got just what you're looking for! Hideout Festival is the ultimate summer festival experience, spread across 5 open-air venues on one of Croatia's most stunning beaches. This festival brings together beach vibes, boat parties, pool parties, exclusive headline shows and the most respected electronic artists in the world. Below you'll find all the information and tips you need to plan your trip to Hideout Festival!
When did I attend? July 2022

When is the next Hideout Festival? 23-27 June 2024
What do you hear at Hideout Festival? Electronic dance music
Where? Zrce, Pag island, Croatia
What's the local currency? Croatian kuna
What's the local language? Croatian
Next year, Hideout Festival is celebrating its 13th anniversary and over a decade of being Europe's leading electronic music festival.
Hideout Festival sits along Croatia's stunning beach cove, Zrce Beach. The location claims some of the most jaw-dropping sunsets in Europe.
Hideout Festival hosts its outstanding lineup in five open-air venues over a whole week. 
The programme for Hideout Festival includes pre-parties, after-parties, sun-soaked day parties, intimate boat parties and headline evening performances.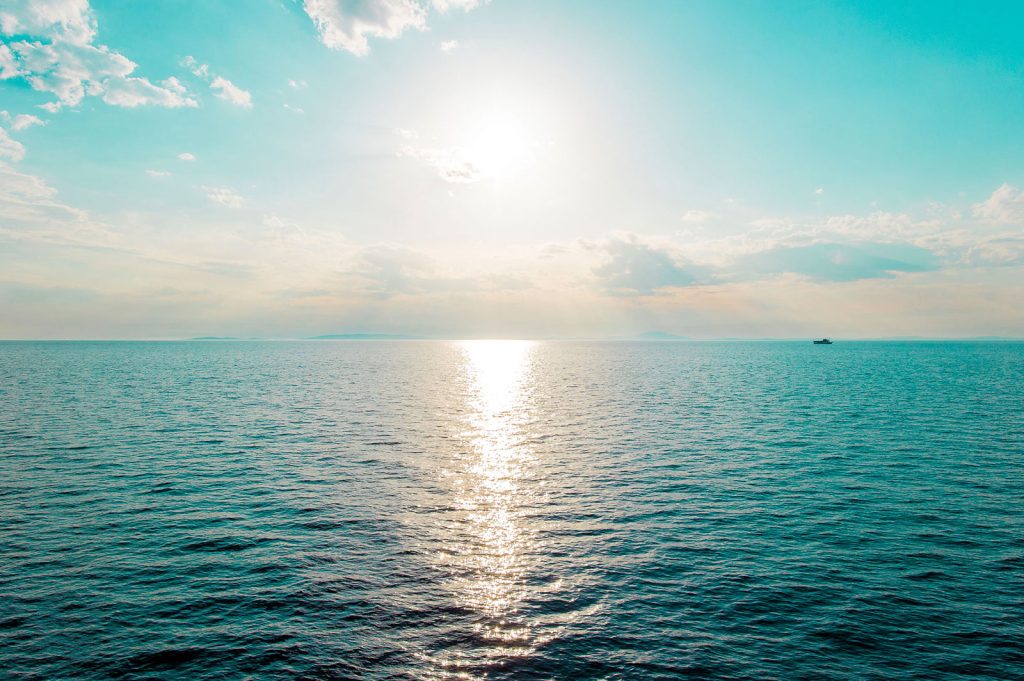 Tickets for Hideout Festival 2024 are on sale now!
Choose between a standard ticket and a VIP ticket. Both ticket tiers give you access to all 5 open-air venues including Papaya, Noa, Aquarius, Kalypso and Euphoria. VIP tickets have a few additional perks, such as queue jump to all the venues, access to VIP areas in all the clubs, VIP bars and more!
Standard and VIP tickets do not include access to the Hideout Beach Party and the Beach Parties, you'll need to get these tickets separately. 
You can also book accommodation and flight packages directly through the festival. Packages offer huge discounts, monthly payment plans and other benefits like early access to boat party tickets – take the hassle out of booking a group holiday and plan this most essential summer experience now.
Did you miss out on tickets to Hideout Festival? Don't worry, you can still score tickets in time for this year's edition! Sign up to Ticketswap, an official and secure ticket reselling platform, to be the first to know about tickets going on sale!
Hideout Festival takes place on Zrce Beach on Pag island in Croatia. Getting to the festival may seem tricky at first glance, but there are a number of routes you can take and the festival facilitates many transport options for its attendees!
The first leg of the trip involves getting to Croatia! The closest airports to the festival site are Zadar and Split. It's also possible to fly into Pula, Zagreb and Dubrovnik, they're a bit further so it'll take more time to get to Pag island but they're also good options. The festival operates shuttle services from all the airports mentioned above to Novalja Bus Station so the only real difference between them all is the transfer time to Pag island (more information below).
If you're flying to Croatia from the UK or Ireland, you'll want to check out the festival's flight packages. Their flights depart from a number of airports across the UK and Ireland to Zadar and Split. Check out their flight schedule and get in touch with their Hideout Holidays team to book your travel now!  
GETTING TO PAG ISLAND
To make things even easier for you, Hideout Festival offers a number of airport transfers that depart from all over Croatia to take you straight to the thick of the action.
Find below the airports nearest to the festival and the approximate airport transfer journey time from each airport to the festival:
Zadar (1.5 hrs)
Split (3 hrs)
Pula (4.5 hrs)
Zagreb (4 hrs)
Dubrovnik (5.5 hrs)
You can find their shuttle service schedule and book your transfers on their website.
Alternatively, you can arrange a private car or taxi service to pick you up when you land and take you straight to your accommodation.

There are also various coach and bus services like Omio and FlixBus running from different cities in Croatia to Pag Island.
GETTING TO ZRCE BEACH
The easiest (and cheapest!) way to get to Zrce Beach from anywhere on Pag island is by hopping on the festival's shuttle buses. They operate several lines to take you to all corners of the island.
Make sure you pre-book your wristband before the festival
so you're not rushed off your feet trying to figure that out when you arrive. The wristband gives you unlimited travel on the shuttle bus lines, so you can use it to get to the festival and also check out the rest of the island! You won't be able to board the shuttle buses without a wristband and there are no one-way tickets for sale.
Taxis are also an option but they're much more expensive. We noticed that taxi drivers were all charging 200kn to get from the festival to Novalja (roughly $27), which is actually really expensive. Especially if you plan on going to and from the festival grounds several times each day.
Based on my experience, I found that the shuttle buses were a little unreliable. Sometimes we had to wait up to 30 minutes for a bus to come and they would always be super full. In the end, we were taking taxis to the festival, this meant we could arrive on time for the sets we wanted to see and didn't have to worry about the bus being late. On the way back we would take the shuttle bus as we weren't as conflicted with time!
No matter what your budget is, there's something for you! From luxury villas with swimming pools to basic apartments for those who want to do Hideout on a budget, the festival has a whole range of options available to festival-goers.  
All accommodation offered by the festival is situated in the middle of Novalja next to all the restaurants and bars, and just a short 10-minute shuttle bus ride to the festival site. You'll also receive so extra bonus benefits if you book directly with the festival like fast track wristband accreditation, 24-hour check-in and more! 
Check out their accommodation options and book now! If you're not sure about what to get, contact the Hideout Holidays team, they'll be able to give you advice and organise a festival package that's right for you and your festival squad.  
If you prefer booking your own accommodation, you can also find a selection of hotels on Booking.com or homes and apartments on Airbnb. Novalja is only 10 minutes from the festival grounds and has everything you need in terms of restaurants, bars and other hospitality. Having said that, the festival runs regular shuttle buses throughout the island (see more above in the travel section) so you're definitely not confined to just staying in one area!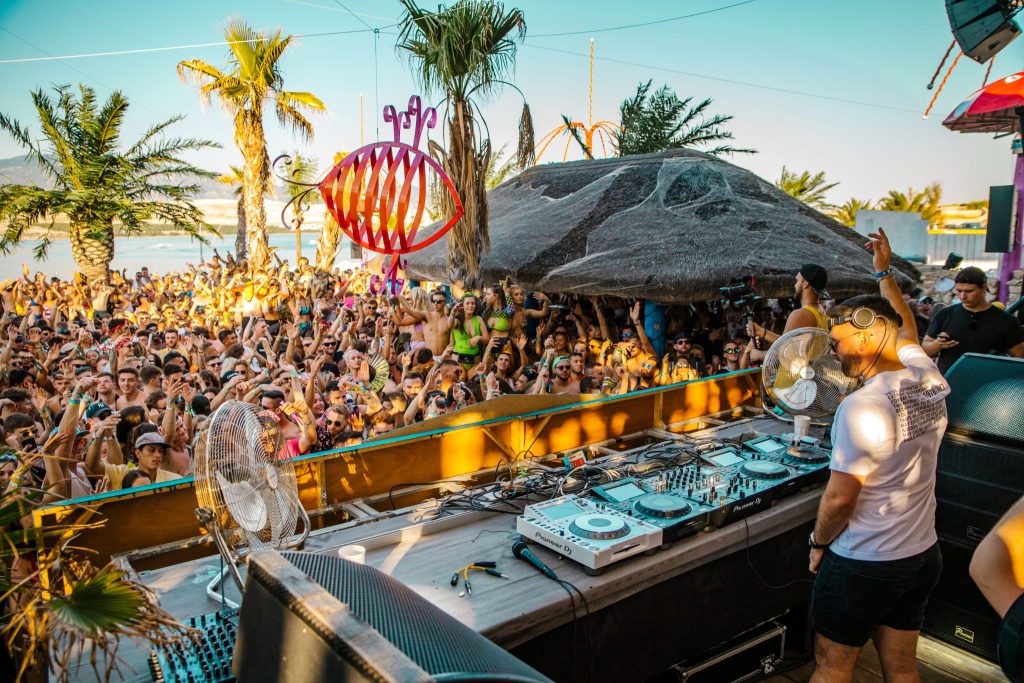 One of Hideout's most unique features is its gorgeous beachfront setting. Spread across Croatia's notorious Zrce Beach, (also known as Festival Beach!). The festival occupies all 5 of the beach clubs located along this famous party beach strip. 
All venues are open-air and are situated right on the water. What I liked most is that they interchanged the venues from one day to another. I got to experience every single one and at different times of the day or night, so was able to really make the most of the production and facilities at each venue.
The festival grounds are massive and there's a lot going on at all times of the day and night. One thing I didn't appreciate is the lack of signs or info points. This was my first time at Hideout and visiting Zrce Beach, so on the first night, I had no idea where to get the shuttle bus from to go back into town. There are 2 main entrances to the festival, I walked around for about 45 minutes trying to locate the shuttle buses, only to find that they're on the other side of the car park, not even visible from the main strip. I asked other festival-goers who were equally as lost as I was, and even stopped to ask a few members of staff, but none of them could tell me where to go. Felt a little disorganised on that front. Obviously, not a deal breaker but could definitely be improved, and once you know where things are it's a pretty smooth-sailing festival experience.
Hideout Festival is kicked things off in style with their legendary Beach Party. This year saw Gorgon City, Danny Howard, Meg Ward and Emily Nash take to the stage to get the festivities started. This epic party all afternoon and into the evening on the first day of the festival, it's not to be missed!
Hideout Festival is the adventure of a lifetime. The main event has all bases covered from techno to house, drum & bass to disco, garage and more, and features the likes of Mike Skinner, Paul Woolford, Alan Fitzpatrick, Darius Syrossian, DJ Seinfeld, Maya Jane Coles, Camelphat, Sonny Fodera, Andy C, Jamie Jones, Eats Everything, Sherelle, Bad Boy Chiller Crew and plenty more. Check out the full lineup below to see what to expect for next year's edition!
And just in case that wasn't enough, the festival also organises boat parties throughout the week. Set sail across the Adriatic Sea with some of the world's finest electronic artists. Each boat is prepped with fully stocked bars and beautiful views, making for an unforgettable three hours. A boat party like no other, get your boat party tickets now!
The festival brings the biggest names in electronic music to one of the most stunning beach coves in Europe, surrounded by mountains and the glistening Adriatic Sea. Spread across 5 open-air venues and a full day-to-night programme, there's enough to keep you going for a full week. Spend your days sunbathing at one of their many day parties then catch a headline show right until the early hours of the morning. I couldn't think of a better setting to enjoy quality beats this summer.
Hideout Festival is scheduled really strategically. The day party programme runs from 3 PM to 9 PM and the night party programme runs from 11 PM to 6 AM. Giving you enough time to get back to your accommodation for a quick disco nap and some food between the day and evening sets.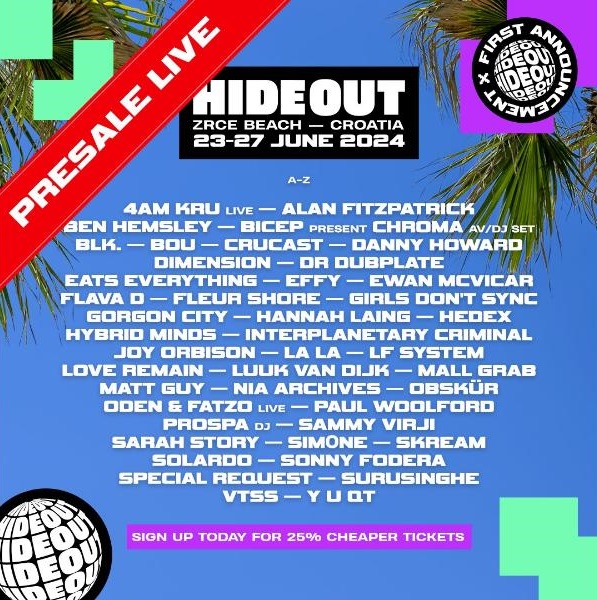 Hideout is unlike any festival I've ever attended! The crowd strikes the perfect balance between wild and friendly. Everyone is there for a good time and they go non-stop for the whole week, but at the same time, I'd say that about 99% of people would always politely push through the crowd. 
I had quite an unfortunate experience upon arriving in Croatia. KLM lost my luggage so I ended up at Hideout without any of my outfits, which was obviously quite stressful and I was feeling quite down the morning of the first day of the festival. But once I got to Zrce Beach and ventured into the crowd, I couldn't stop smiling. People at Hideout are heaps of fun to be around, I literally forgot all about my luggage drama whenever I was at the festival, too busy having fun!
People go all out with their outfits which adds to the already amazing atmosphere, everyone really gets into the experience. I spotted some really incredible festival outfits, on both girls and boys! I saw a lot of glitter, neon, and flashy prints…and people's hair and makeup were also on-point. So if you're heading to Hideout, definitely go for it, it's the right festival to get super dressed up and get creative!
What's nice also is that most people stay in Novalja so even when you're walking through town you'll spot people from the festival. It's all good vibes and big smiles both at the festival and outside the event as well!
The festival basically has every type of food and drink you could possibly want. You'll find various takeaway food stalls, bars, lounges, convenience shops, and restaurants, spread across the Zrce Beach strip. No matter what you're after, whether it's a quick bite between sets or a full sit-down meal, you'll be able to find something at the festival!
As far as drinks go, the go-to for Hideout revellers is the 1L cocktail! They're much cheaper outside of the beach club venues (where the stages are set up), they go for about 100kn on the beach and about 200kn inside the clubs. But always remember, you can't bring drinks into the beach clubs so if you buy your cocktail outside you'll need to finish it up before heading to the stages!
Aside from cocktails, you'll find bars serving up all kinds of beers, ciders, shots and coolers. Honestly, Zrce Beach caters for every type of festival-goer, and that's one of the best things about this festival. It's like a little village, you've got everything you need to keep going the entire week!
Hideout is so much more than just a music festival. On top of the festival's stacked music lineup, you'll also be able to indulge in a range of water sports off Zrce Beach. They've got plenty of banana boats, pedalos and jet skies lined up along the shore to make your Hideout experience even more thrilling.
If you're brave you can even take on the famous bungee jump on Zrce Beach where you can take in the best and most beautiful views across the bay.
The Island of Pag also offers some incredible excursions, including quad biking adventures, island hopping and visits to UNESCO world heritage site, Plitvice Lakes National Park. 
On top of all that, you'll also find various other activities including tattoo parlous (and these were very popular among festival revellers!), a hair braiding station and a temporary tattoo stand (for those who don't want to fully commit to the real thing!).
No matter what you're after this summer, Hideout Festival has got you covered! You not only get a phenomenal festival experience but also get a proper summer beach adventure at the same time. What more could you ask for? 
Tickets for Hideout Festival go for £169 for general admission and £229 for VIP (in the final phase – so they're cheaper if you act fast!), which to be honest for a 5-day music festival is an absolute steal.
Having said that, your overall costs can quickly add up once you factor in travel, accommodation and general trip expenses. Here are a few tips to help you make your trip most cost-effective:
Book your trip ahead of time! Book your flights and plan your trip in advance to get the best rates.
The same goes for accommodation! I noticed a considerable hotel and Airbnb price increase in the weeks leading up to the event. Book ahead of time to get the best deals.
Find accommodation in Novalja, it's the nearest town to the festival. It has everything you need from nice beaches to restaurants and bars, and it's also the departure point for boat parties. If you stay further away you'll end up paying more for transport.
Get the festival shuttle bus from the airport, rather than take a taxi. It may take a bit more time to reach your end destination but it's actually pretty comfortable and it's a lot cheaper than hiring a taxi.
Get a festival shuttle wristband to travel to and from the festival and Novalja. 
Drinks are more expensive inside the venues. If you want to save on your trip then just know that drinks are literally half the price at the takeaway bars along the beach. The only downside to buying your drink on the beach is that you can't bring it inside.
If you really insist on taking taxis to and from the venue, try to find one driver you can rely on for the duration of the festival. Get his number and only use him for the rest of the week. This is what we ended up doing and managed to haggle the price of each trip to half of the cost of what drivers are charging outside the main festival entrances.
Cash machines – there are cash machines scattered along the main beach strip and even in the car park area where the shuttle buses leave from. I recommend getting cash out because most venues weren't accepting card payments when I was there. And cash will also be useful if you decide to take a taxi home.
Merchandise – official Hideout merchandise is available for purchase on-site. 
Emergency services – an ambulance and paramedics are available on-site.
Bring cash. Most venues weren't accepting card payments so we ended up having to find ATMs at the festival to buy drinks inside the venues where the artists play.
Stay in Novalja. I can't recommend this enough. Situated a mere 15 minutes from the festival (by taxi – always took a bit longer by shuttle bus), I appreciated being able to go back to my accommodation between the day and night programme to change and rest.
Pack for all weather, and then check the weather every morning. To give you an example, I was at a boat party when the weather suddenly turned so we had to go back early. That's how quickly the weather can change along the coast of Croatia! I also found that some evenings got quite chilly if the wind picked up so make sure you pack for hot weather in the daytime and then a light layer for the evenings.
Each club has its own security checks. There aren't any security checks when you arrive at the main entrances to the beach, but you will be checked at the door of every venue (the stages). Keep in mind that you won't be allowed to leave a venue with a drink and you won't be allowed to bring drinks into venues.
Stay hydrated! It gets very hot during the day, remember to drink plenty of water. There aren't any free water refill stations unfortunately, but if you need water I advise you to buy a bottle at one of the stalls on the beach rather than at the venues, they're a lot cheaper!
Are you heading to Hideout Festival with your festival crew? Share this post with them now to plan your trip together!