Garden Beats Festival is Singapore's first and only music and picnic festival. This unique event brings together an eclectic mix of genres and a mission to draw more awareness to the solutions that surround global warming and eco-living. Set outside in the rich green landscape of Fort Canning Park in Singapore, this festival hosts an atmosphere and vibe like no other. Imagine thousands of people picnicking on a hilltop listening to and grooving to some outstanding local and international acts. This is not a music festival to be missed! Below find all the information you need to plan your festival adventures in The Nitty Gritty Guide to Garden Beats Festival!
When did I attend? March 2019
When is the next Garden Beats Festival? 29th February 2020
What do you hear at Garden Beats Festival? Pop, Indie Rock, Electronic Music 
Where? Fort Canning Park, Singapore
What's the local currency? Singapore Dollar
What's the local language? English, Mandarin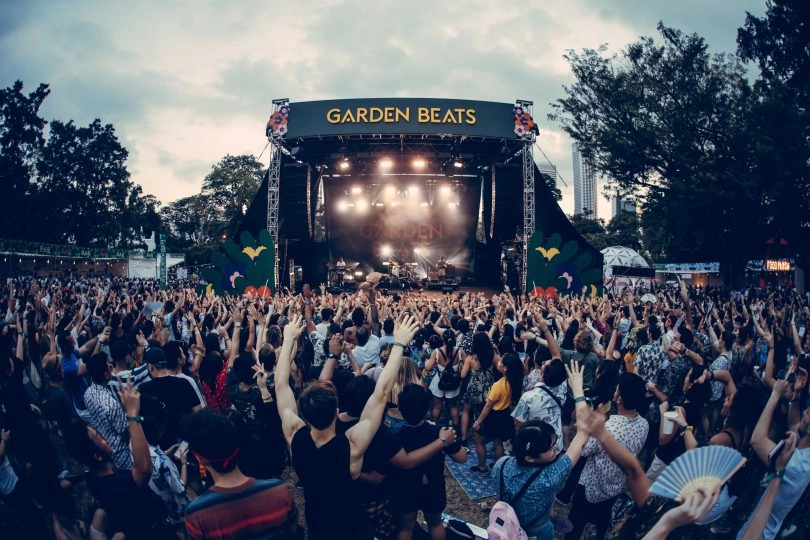 Garden Beats Festival is an ideal weekend escape, nestled in the heart of one of Singapore's parks, get back in touch with nature and tune into the sounds of internationally acclaimed artists.
Garden Beats Festival is more than just a music festival, explore the art installations, workshops and craft activities.
Garden Beats Festival is Singapore's first carbon-neutral festival! Their programme is designed to inspire by leading a movement towards a greener future.
Garden Beats Festival is a 16+ event, IDs are checked on the door!
Get your tickets for Garden Beats 2020 on Festicket, The Nitty Gritty's and Garden Beats' official ticketing partner for international festival goers!
Tickets are released in several phases, the sooner you get around to getting a ticket the cheaper it will be. If you sign up to the Garden Beats newsletter you'll be amongst the first to know when the first wave of tickets are going on sale so you'll definitely be able to secure one of the cheaper tickets. When you sign up you also get a 20SGD discount, enjoy the discount now!
Several ticket types are available for purchase. A Regular tickets grants entry into the festival grounds for one person. You will be allowed to attend both the festival and the afterparty with this wristband.
The VIP ticket includes a few extra benefits and features to enhance your Garden Beats Festival experience. You get access to a balcony located at the top of the hill the festival is hosted on, it has its own bar, tables, chill out zone, and private toilets.
A Bundle of 5 is the way to go if you are confident you can rally up a group of five people. This ensures a nice discount for each person in the group!
Tickets are exchanged for an RFID wristband upon entry, they must be worn at all times. Note that tickets are non-refundable and non-exchangeable!
ARRIVING IN SINGAPORE
If you're an international festival goer arriving in Singapore then check out this Guide to Travelling to Singapore! There you will find information on visa requirements and on local transport options to get you to your destination within the city before moving on to the festival.
GETTING TO THE FESTIVAL
Garden Beats takes place within Fort Canning Park, situated in the southeast of Singapore. The park is pretty central so it's easy to get to, there is a range of transport options available that can get you to the event. If you're new to travelling to Singapore you'll have no issues getting to the festival!
BY TAXI/GRAB
Fort Canning Park can be reached by taxi using local taxi services or Grab. This is the most convenient way to get to the event. Despite being quite an expensive city, Singapore still has relatively reasonable taxi rates. Try to share with a few other people to be as cost-efficient as possible. The festival is situated in one particular part of the park, on approach you will see signs indicating the route to the festival. These will lead you straight to the main gate where you can pick up your wristband and enter Garden Beats.
USING THE MRT
The MRT is probably the easiest and fastest way to get to Fort Canning Park. The three closest stations are Fort Canning Station (Exit B), Clarke Quay Station (Exit E) or Dhoby Ghaut Station (Exit B). You'll see signs indicating Garden Beats as you reach entrances to the park, follow these to find the main gate where you'll be able to get your wristband and enter the event. If you opt for this travel option, be aware of when the last train departs so you can plan your return journey accordingly!
Plan your journey on the MRT HERE.
Tourists just as locals use an EZ-Link travel card to use public transport in Singapore. You can get more information on how to obtain and use an EZ-Link travel card HERE.
BY BUS
If you're not located anywhere near an MRT station you can also take the bus to Fort Canning Park!
Find more information and plan your journey with the SMRT Journey Planner.
Tourists just as locals use an EZ-Link travel card to use public transport in Singapore. You can get more information on how to obtain and use an EZ-Link travel card HERE.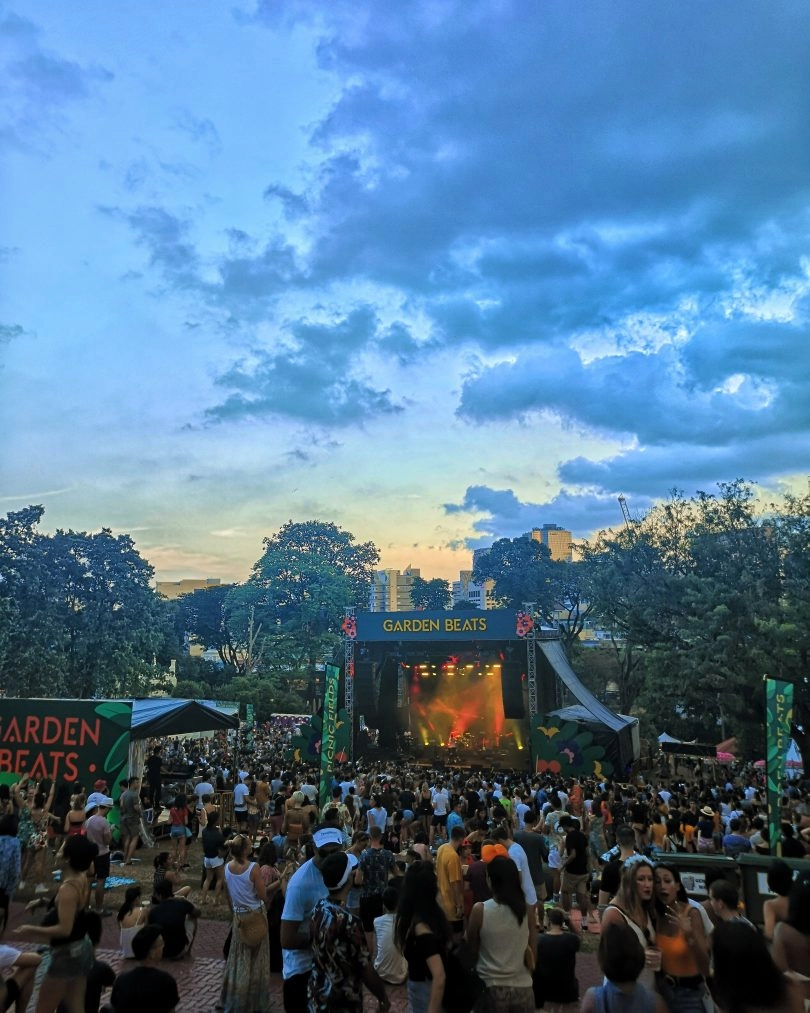 As with most cities Singapore offers a very extensive range of accommodation options, catering to all budgets and travel preferences. As a general rule Singapore is considerably more expensive than other cities in South East Asia so try to book in advance to avoid rates increasing substantially.
If you're not big on travelling across the city and you're only really there for Garden Beats then your best bet is to stay near Fort Canning Park at The Quays. This area connects the Colonial District and the Central Business District along the Singapore river. The epicenter for nightlife in Singapore, this area boasts an array of bars, restaurants, breweries and nightclubs. An excellent choice if you want something within walking distance from the festival and from other convenient amenities without needing to stray too far from your hotel.
It's fun for a few evenings out but this area is usually tourist-ridden and is always busy so it can feel quite tiresome. If you're comfortable with travelling around the city and want to explore some more local areas then take a look at Tiong Bahru, Chinatown, Bugis and Little India. These areas offer some quieter alternatives to retreat to after the festival.
Hosted in a park, the site is located on a vast grassy plane and is surrounded by tall leafy green trees. The surroundings are blissful, you almost forget that you're in the middle of a bustling city.
The festival showcases all of its music on one stage which is situated in the middle of the grounds, all the vendors and activities are peppered around it. At its busiest time the site felt crowded but not unmanageable, because of the configuration it was pretty easy to get around, there was a smooth flow of people throughout the festival.
Garden Beats has an interesting and advantageous set up for festival goers. It takes place on a hill so no matter where you're standing when facing the stage you've got a good vantage point to see the music acts and to watch the impressive sunset over Singapore's cityscape.
Garden Beats features an eclectic mix of genres, from live electronic music to pop, R&B and indie rock, they feature a range of acts that makes this appealing to a broad spectrum of music listeners. Previous years have welcomed the likes of The Kooks, Black Coffee, Masego, Alina Baraz, Yung Bae, Youngr and Pomo.
The lineup mimics the natural progression of the day, starting off with more mellow beats it follows a smooth transition into ending on a more electric and upbeat vibe. As such the day promises a more relaxed vibe where people set up their picnics and are mostly seated, but by night the festival completely transforms, people get up and give their best moves.
We arrived quite early on in the day to make the most of our time at the festival and to grab a good spot in front of the stage area. This gave us a chance to try some of the food onsite, as well as run around and get involved with some of the activities available.
Outdoor festivals and events in Singapore are requested to wrap things by midnight, Garden Beats was no exception. For those who needed a little bit more the festival offers free shuttle vans to the afterparty so you can keep going later into the night.
Garden Beats is one of the eco-friendliest festivals in Asia, they are the first carbon-neutral festival in Singapore! Each year they come up with new ways to promote awareness for sustainability through their own actions, in the policies they enforce, and in their workshops and activities.
They have a strict no single-use plastic policy and recycling stations scattered around the festival! In a bid to reduce waste the festival partners with Revolv, a reusables concept that originates from Bali which provides cups for events. Upon entry you can choose to rent a cup from them, all you need to do is leave a deposit (a mere 3SGD!) which covers the cost of the cup if you forget to return it when leaving the festival. We actually forgot to return it, but I haven't looked back since, my Revolv cup has been to every festival with me since then! I've seen their nifty food containers in restaurants across Bali so fingers crossed they will make these available in the next editions of Garden Beats!
Where they could improve is by providing guests with free water to incentivise people bringing re-usable bottles. There were a lot of leftover water bottles lying around on the floor.
The daytime boasts a very relaxed atmosphere. People arrive pretty early in the day to set up their picnics in the grassy area in front of the stage and to join in on all the festival fun. You will find people participating in games and activities, chowing down delicious festival treats, and all-round making the most of the sunshine and nature. As night approaches the attention turns to the stage, everyone gathers on the hill to watch uninterrupted moments of quality music.
The crowd was simply amazing, it was one of the most fun afternoons I've had at a festival. The combination of the sunshine, the nature vibes and the music had everyone in a really good mood. Everyone was really friendly and talking to each other, there was no pushing or shoving, all there to have a good time and get silly together. Garden Beats attracts a good crowd of enthusiastic music lovers with a penchant for all things sustainable, guaranteed to make it an afternoon to remember.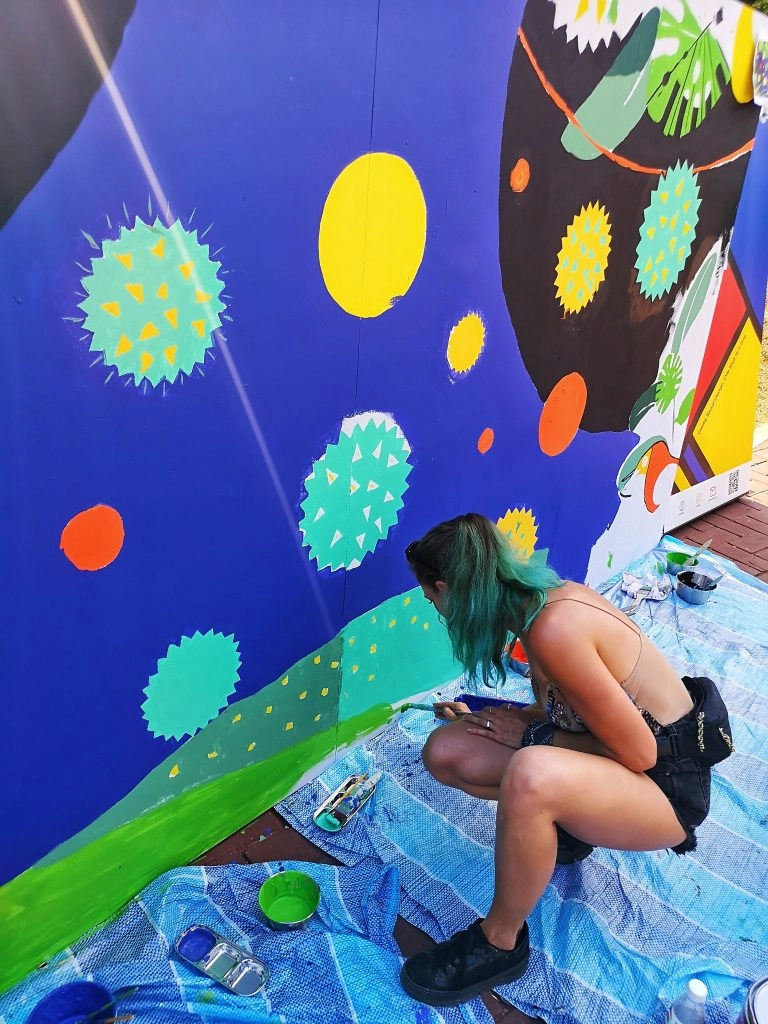 Garden Beats is a picnic festival! Whereas in previous years guests were able to bring food into the venue, this is no longer an option (update for 2020!). What this means is you can still bring your picnic blanket to get cosy but there is no need to pack your lunch with you!
The festival has always taken a firm stance against single-use plastic and now they are taking it a step further by disallowing festival-goers from bringing in plastic!
There is a broad variety of food options available at the festival, including a number of good vegan and vegetarian dishes. Prices start at a reasonable 8SGD and portions were very fair, you definitely get your money's worth!
Bring reusable food containers or beeswax wraps to purchase food and contribute to reducing waste produced at the festival. If you are worried about carrying them around get your hands on collapsible flasks and containers, they are a lot simpler to store in a backpack once empty!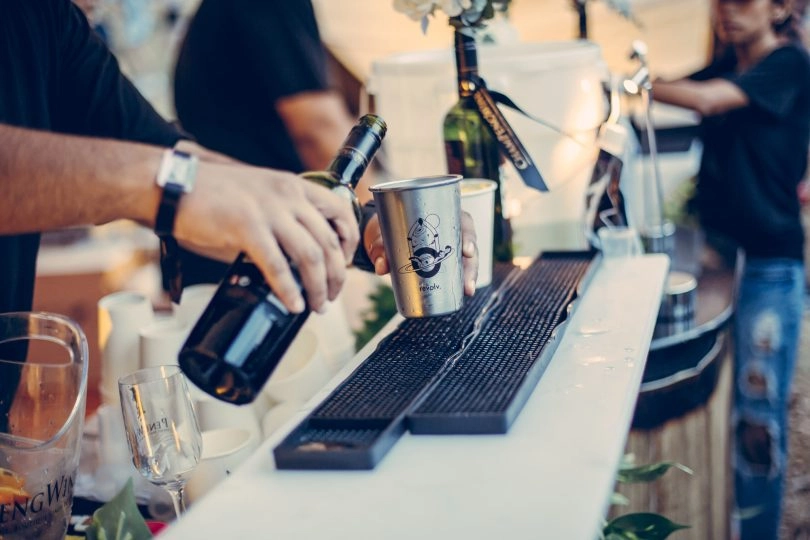 And you can do the same at the bars with the Revolv cup. It happens to be bigger than the festival's standard cup, so you get more and for less money because they knock off a dollar off the price for those using Revolv!
They had a number of really good alcohol sponsors including Hendricks and Monkey Shoulder who were shaking up a storm in their pop-up bars. Everything on offer was of good quality, whether it was food or drinks, attention and effort had been put towards providing guests with a premium culinary and mixology experience.
If I had one remark to make is that during peak hours the queues were too long. So much so that for a few of hours we decided to stay put and listen to the music rather than waste time queuing for any food or drinks. The festival could do with some more vendors to spread the distribution of people across the site.
Expect activities, workshops and talks that are eco-conscious, and promote a healthy body and mindset. The Conscious Fields is an area of the festival that hosts a number of interesting talks on how we can achieve a more sustainable future and what we need to be doing to respond to climate change. Pull up a bean bag and sit in on discussions given by eco-warriors from the environmental sector, as well as distinguished pillars working in the fashion and hospitality industries, namely from H&M, Club Med and more.
If getting your hands dirty is more your kind of thing you could leave your mark and paint the Garden Beats mural with Mural Lingo. The festival also hosts a number of activities that are guaranteed to get you sweaty! They had silent yoga sessions which I had never seen before. You are given a pair of headphones from which you can hear the instructor and can follow the class, so you don't have any interruptions or distractions from whatever else is happening at the festival! They were really convenient and efficient
There were lovely surprises lurking at every corner. When you weren't busy partaking in an activity or talk there were games and entertainers including magicians and a marching band. Our favourite was the slot game hosted by Foodpanda in the food area, we walked away with reusable cutlery and a reusable water bottle! It was a phenomenal day, with so many activities and distractions on offer you leave feeling like you've done so much!
After a day spent listening and learning at Garden Beats you feel motivated to make changes and spread the word about what you have discovered. This festival does a brilliant job of combining an important message with the music and entertainment revelries. Offering simple ideas to driving changes that could have positive impacts on the environment.
It was very hot in the afternoon so if you're going to take part in any activities you might want to bring something to cold down with or even a change of clothes, particularly if you're doing anything physical like a yoga class.
Garden Beats Festival (much like the rest of Singapore) is definitely on the higher end of the cost spectrum. It may be more than what you've paid for a festival in the region but you're getting a festival that boasts a spectacular lineup, an unforgettable atmosphere, and all-round a well put together festival so the money you spend is justified and definitely not for nothing.
What costs the most in terms of going to Garden Beats Festival if you're travelling from overseas is the cost of a trip to Singapore. Here are some tips on making the rest of your stay in Singapore affordable: 
Book your flights and accommodation early! Dates are usually announced at the beginning of each year so as soon as you know the festival dates book everything!
You can save with budget accommodations! Singapore has plenty of hostels and budget hotels that will help you keep the costs of your trip down. It's not all luxury hotels! You could even try couch surfing.
Go through your list of friends and connections to see if you've got anyone who could accommodate you. This includes friends of friends, friends of distant cousins even, there is no shame, saving money on accommodation is a huge plus!
Get an EZ-Link card and use public transport! They each cost S$12 and includes S$7 worth of credit. You can purchase and top your card up at your nearest 7-Eleven to avoid queues in stations.
Eat well without breaking the bank in food courts, food halls, and hawker street stalls. Eating out doesn't have to be expensive, Singapore is notorious for having one of the best street food scenes in the world and it's all very reasonably priced. There are even a few Michelin star vendors in hawker centers.
You can drink the tap water! Bring a reusable bottle on your travels and just keep refilling that rather than buying expensive water at the supermarket (the planet will also be thanking you!).
Glam booth: Sephora hosted its own booth with a glam-squad, equipped with everything to create a glamourous festival look in minutes!
Eco-Shop: stock up on organic and sustainable products for home! A range of face and body solutions were available for purchase onsite.
Printed Ticket and ID: you will need to arm yourself with both of these to be able to enter the festival ground, so make you sure you don't forget either or you'll be missing out on the action!
RFID: Garden Beats operate a cashless payment system which means you will need to top up your wristband in order to be able to make purchases onsite at the festival. You can top up your wristband at designated top up stations spread across the festival site using cash or card.
SIM Card: if you're one of those people who likes to stay connected and you're worried about getting access to Wi-Fi then you should try to buy a Singaporean sim card before arriving at the festival because you won't be able to get one there. You can get them from any 7-11, you'll need to have your passport on you to complete the purchase. These are much cheaper than the ones sold at the airport!
Ear Plugs: you'll need to keep your ears protected! Long or repeated exposure to loud sounds can cause longterm damage to your eardrums, don't risk wrecking your hearing, think of all the festivals you have yet to explore!
Summer layers: don't bother bringing any warm layers, it'll definitely be warm enough during the day and even through the night!
Sun Cream: essential to ensure you have a pleasant experience at Garden Beats Festival. You don't want to be too sunburnt to function!
Stay Hydrated! it was very warm in the daytime so make sure you drink plenty of water so you don't get dehydrated!
Don't remove your wristband! make sure you keep your wristband on at all times, you will not be giving a new one if it is removed or damaged, don't risk being refused entry! And this is particularly important if you want to head to the afterparty, you'll need to show proof that you had a ticket for Garden Beats.
Keep an eye out for the official Do's and Don'ts published on the official Facebook Page closer to the event date, so you can better prepare!
Share this post with your festival crew and start planning your Garden Beats adventure now!