Epizode is a fairly recent addition to the global music festival scene but has become one of the most talked about electronic music showcases in only a few years!
Epizode highlights a spectacular array of music and art on the white sandy shores of Phu Quoc, one of Vietnam's most paradisiac and idyllic island destinations. Brought to you by an international team of experienced music festival industry professionals who are responsible for some of the largest events in the world, who together have put created a festival format which is completely new and unique to the region.
It is something not be missed and what's more the festival runs over New Year's Eve and Day, there's no better way to end the year! To help you get packing and on your way, here is The Nitty Gritty Guide to Epizode!
When is the next Epizode? December 27th 2019 – 7th January 2020
What do you hear at Epizode? House, Techno, Minimal, Progressive, Drum and Bass, Breakbeat and more…
Where? Phú Quốc island, Vietnam
What's the local currency? Vietnamese Dong
What's the local language? Vietnamese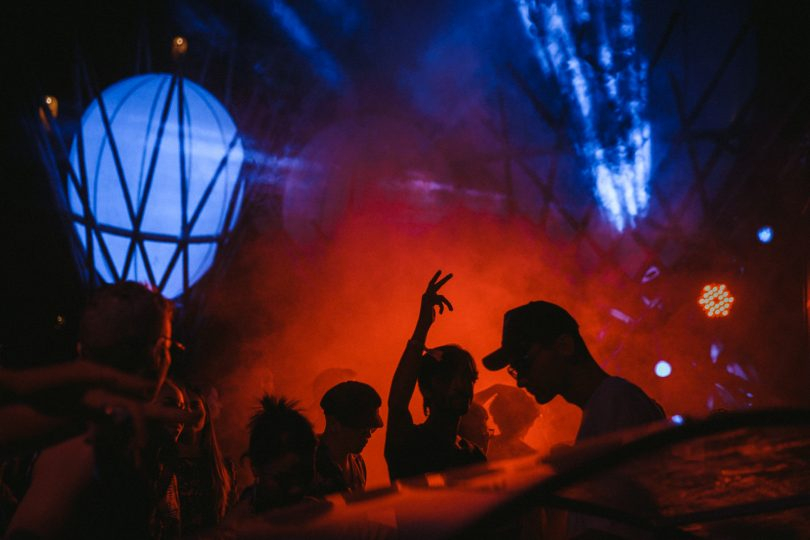 In 2018 Epizode welcomed over 140 different artists spread across 3 stages for 11 consecutive days and over 230 hours of music.
Epizode is organised by Sagrado Corp, a Moscow-based company who are best known for their work done locally, organising tours for renowned DJs and musicians such as Solomun, Wu Tang Clan, Carl Cox, Tiesto, Sven Vath, Luciano, W&W and more.
Epizode is famous for its unique and mind-blowing setting as well as it's incomparable music lineup and modern art showcases.
Epizode is a family friendly event, there are no age restrictions for entry!
Tickets are released in different phases so don't wait to get yours as the sooner you get them the cheaper they are!
There are different ticket types for Epizode, each ticket which determine how many days you have access into the event.
Children 12 years and younger can enter with their parents in the daytime for free, but will need to have a ticket should they wish to enter outside of the daytime window.
Epizode offers several ticket options.
11-DAY MULTIPASS
The 11-Day Multi Pass allows entry into the festival for one person and is valid for the entire duration of the festival. The site is open 24 hours a day and the number of entries through the gates is unlimited.
GROUP MULTIPASS
The Group Multi Pass has the same specifications as the Multi Pass but is valid for a group of three people. Joint presence is not required which means that you don't all have to be there at the same time, each can go at their own pace!
SISTER MULTIPASS
This pass is only valid for girls! The Sister Multi Pass is the same price as the Multi Pass but grants two entries! This one is extremely good value for money, all you need to do is grab one of your besties and get yourselves to Phu Quoc for one of the most legendary parties of the year! Doesn't sound too bad right? This one has the same specifications as the Multi Pass, and again joint presence is not obligated so you don't need to worry about checking in and out of the festival together. 
5-DAY MULTIPASS
The 5-Days Multi Pass allows entry into the festival for one person and is valid for 5 days only. You can choose any five consecutive days of your liking. The site is open 24 hours a day and the number of entries through the gates is unlimited. 
1-DAY MULTIPASS
The 1-Day Multi Pass allows entry into the festival for one person and is valid for 24 hours only. You can choose any day of your liking during the duration of the festival. The site is open 24 hours a day and the number of entries through the gates is unlimited.
Note that all tickets are non-transferrable so make sure you enter the correct personal information when purchasing your ticket(s) or you won't be able to pick up your wristband(s) at the event. You'll need a printed copy of your order confirmation and your ID on the day to pick up your ticket(s).
Epizode is held at Sunset Sanato Beach on Phu Quoc island on the western coast of Vietnam. You will either need to fly direct to the island or get a boat across from the pier that's most convenient for you to get to, either Ha Tien or Rach Gia, find more details below.
You can find the festival on Google Maps by searching "EPIZODE" which will be handy when you're on the island and needing to find your way there.
If you're an international festival goer please check the visa requirements for your home country. Visa rules and regulations change frequently so do your research ahead of time to avoid disappointment. You wouldn't want to risk missing out on the festival now would you? You can check your country's visa requirements HERE.
TRAVELLING TO PHU QUOC BY AIRPLANE
The simplest way to get to the island is by flying there direct but given that the festival takes place during high season and over New Year's Eve it's definitely not the most inexpensive way of travelling to Epizode. If you want convenience then I strongly recommend booking months in advance or else you'll end up having to either spending an exorbitant amount of money on flights or find alternative methods of travel. 
You can reach Phu Quoc international airport direct from a number of locations including Moscow, Kiev, Hanoi, Ho Chi Minh, Guangzhou, Shanghai, Bangkok, Kuala Lumpur, Singapore and more.
Once you arrive at Phu Quoc international airport you will be able to choose from a few transportation options to complete your onward journey. The majority of resorts and hotels organise airport transfers, I suggest getting in touch with your hotel to find out if they offer this service. This is the simplest method to get to your destination, they'll get you to and from the hotel in no time, you won't have to think of anything.
Jetstar offers an airport shuttle to and from Duong Dong, which is the main town on Phu Quoc island. The cost is only 50,000VND/per person. Duong Dong is about 20 minutes north of Sunset Sanato Beach where Epizode is held, and is where most resorts are located.
Or you could opt for getting a taxi direct to your accommodation which will save you the hassle of trying to find your way after the shuttle has dropped you off in town. Keep in mind that there is a surcharge fee which applies for taxis leaving the airport.
TRAVELLING TO PHU QUOC BY BUS & FERRY
The island can be easily accessed by boat via Ha Tien or Rach Gia port. Ferries make the trip from either port at least once a day to Phu Quoc and in reverse, weather permitting. Ferries arrive on the east coast of Phu Quoc, at An Thoi Pier. Services generally take around 2:30 hours from Rach Gia and 1:15 hours from Ha Tien.
The best way to get across is to catch the Superdong fast ferry which is quick, efficient, and comfortable as it is fitted with air-conditioning. You even get a free bottle of water and moist towelette, this should get your Epizode adventure off to a good start! Check their website for information and updates on their timetable.
Other services are available and dock at other piers on Phu Quoc which may be more convenient depending on where you're staying on the island, you can find more information about these HERE.
If you're in Vietnam you can easily travel to either port from Hanoi or Ho Chi Minh by bus or minivan. You may find other cities that offer services to Ha Tien or Rach Gia port, but these are the two main cities where you're sure to be able to depart from. The journey from Hanoi is very long, the easiest is to fly into Ho Chi Minh and go from there.
It is also possible to reach Phu Quoc from Cambodia (Phnom Penh). The journey is long but possible. A few services sell combination tickets that will get you to the mainland pier and then on a ferry to Phu Quoc.
They're working on a direct night ferry route from Thailand to Phu Quoc! Rumoured to be scheduled to debut in 2019. 
GETTING AROUND PHU QUOC
Most visitors get around the island on a scooter these days since the island now has a good network of roads running across it. However some areas of the island are still quite remote and have dirt paths leading to them which are to be avoided if you're on a bike and particularly if you're not used to driving one! You will be able to rent a scooter from most hotels and hostels.
If you do decide to get a scooter then please be mindful. Roads can often be slippery on islands because of the sand, so if you're planning on exploring the island just be wary of how fast you're going and the road conditions. And it's best to leave the scooter parked at your hotel rather than drive to and from the festival, you're likely to be tired and not in the best condition to drive. The last thing you want is to get in an accident and miss out on Epizode!
You will need to make sure that you have an International Driving Licence and that you wear a helmet, the police will stop and fine you if not. You should also make sure that you're always parking in an area that you're permitted to leave your scooter in as again the police will make sure to fine you, or worse clamp or confiscate it!
Other than renting a scooter you could arrange a minivan and driver to take you around the island, and to the festival and back. You should be able to make these arrangements with your hotel. This definitely makes moving around the island extremely efficient but won't be the most cost-effective.
Booking a taxi is the most cost effective and safest way to move around the island, as well as getting to and from Epizode. You can book a taxi service with your hotel or resort. Make sure to grab their number so you can call and arrange a ride on the way back. Keep in mind that the island will be busy during Epizode so make sure you book in advance to avoid being left stranded after hours of raving on the beach!
Epizode is spread across the beach at Sunset Sanato Beach on Phu Quoc island, over 4 stages. The stages aren't too far apart so running from one set to another is possible and easy since they pave the way across the sand for us, so you don't have to struggle across the beach to catch the set you wanted to see! 
Each stage's design and production is entirely unique, making each set you see completely different. Your senses will definitely have to keep guessing throughout your time at Epizode, you'll be able to experience music in the most versatile and unforgettable ways.
The only thing I didn't really appreciate of the entire production was the amount of confetti that was blown into the sea from the stage cannons. I'm all for having impressive displays but I think there was enough distraction going on without needing to commit to that kind of waste. With other festivals in the region making an effort towards being more sustainable it's hard to let these things go unnoticed and not feel bothered by them.
One of the highlights is how the stages are accommodated throughout the different times of day. The 'Shell Stage' is covered and is kept running during the warmest hours of the morning and afternoon. Later in the evening things move over to the other stages as the sun goes down. Sunset takes place at the 'Frisbee Stage', at the furthest end of the beach with the best views of the sun setting. Things begin to kick on the 'Main Stage' and the 'Egg Stage' once the sun has set and are kept going until the early hours of the morning. You can go on all day and all night for 11 days at Epizode if you have it in you…
The site was also covered in shaded chill out areas so at any point you could just take a minute to put your feet up and relax on the beach. And these areas were still close to the stages so you could sit back and still enjoy the music. This was particularly nice in the day time when we were trying to beat the sun but wanted to still be part of the action.
There is a broad range of accommodation available on the island to cater to all budgets and requirements. From private villas to hotels and hostels, you'll definitely be able to find something that suits what you're looking for. Many hotels are within a 10 to 20 minute radius of Epizode, so you won't need to worry about travelling too far to get to and from the festival grounds. The main bulk of hotels and restaurants are located in Duong Dong, you'll have access to shops and various facilities. Some other areas on the island are a bit remote, which will make it difficult going to and from the festival. Because the festival takes place in high season it is advisable to book as soon as the dates are released to avoid disappointment!
From Booking.com to Airbnb you're sure to find something to complete your Epizode experience!
In just a few years Epizode has managed to set a whole new standard for music in the region. The festival organisers are known for their daring and innovative lineups and as a result Epizode has become notorious for pushing the boundaries of electronic music. Each year the festival attracts an extremely broad range of international and regional artists to Phu Quoc, from various electronic genres. You'll be able to hear anything from House to Techno, Minimal to Progressive, Drum & Bass to Breakbeat, and much more. The lineup is always extremely versatile, there's something for everyone. If you're looking for inspiration or to hear new music then Epizode is a great place to do so.
The lineup is at the forefront of underground music trends and each year brings the world's greatest electronic music DJs to perform. Many of which have no yet performed in Asia or don't do so often so this is your chance to catch acts who don't come around the region often. Basically at Epizode you get to bask in 11 days of music of an unmatched standard on one of the most beautiful islands in the world, there's no better place to end one year and begin a new one.
The lineup usually includes over 140 acts coming from all over the world. The festival's lineup now involves more acts from Asia and Australia than previous years to support the development of the regional music scene and promote positive engagement with the local music community. 
This year's final lineup just dropped, it's looking bigger and better than ever before!
Overall Epizode left quite the impression in terms of raving. It's pretty mad and impressive that some people dance for the full length of the festival, it's a real test of rave strength! The fact that the festival is 11 days long means it attracts some pretty serious ravers, these guys mean business. But definitely not in any kind of aggressive or disturbing way, more in the sense that you'll be surrounded by some really incredible party energy the whole time you're there.
Daytime welcomes really chilled vibes with people tanning on the beach and swimming in the sea. The atmosphere completely transforms by night, when the music changes and people get serious about partying. But both faces of the festival atmosphere are equally as fun and give a nice balance to the festival. The scope of partying is really broad everyone can join in when they want and at whichever pace is most comfortable for them. Despite the festival hosting some really serious electronic acts and going on for 11 days there is absolutely no pressure to party like a crazy person if that's not your thing.
In terms of other ravers, people are friendly and they're educated music fans who have travelled across the region and further to be on that beach so you'll be in good company. The only thing that made my experience a little less comfortable than it could have been is the staff and particularly the security. I found that they were unnecessarily forceful and unpleasant. I arrived halfway through the festival so perhaps the staff members were tired since most would have been working since the opening of the festival and would have dealt with a lot of festival goers but this doesn't excuse how disagreeable they were.
The highlight of the festival is definitely the music. As far as activities go there isn't much to go by apart from a group yoga session that takes place every afternoon. However one of the highlights was the arts and crafts sessions for children and their parents to take part in. Children are permitted on site in the day so it's a nice chance for parents to still be part of the festival but have something for their little ones to do which is away from the crowds.
Apart from that festival goers also spent their days taking part in usual beachside pastimes like basking in the sun, swimming in the sea and just generally enjoying being at the beach. Which considering it's one of the most beautiful beaches in Asia it's not such a bad thing to be preoccupied with!
There's also a whole bunch of really amazing art displays scattered around the site. They're really impressive to look at and they also make epic festival photo backdrops. You can easily spend a few hours chasing these down and getting creative with your poses.
Epizode had an incredible selection of food and drinks. One of the best things about this festival is being able to get a fresh pressed juice or smoothie at any point throughout the day and night. Let's be honest there's no better feeling than getting something that fresh after partying the way through the night to sunrise.
The festival offered a range of food options which catered to all dietary requirements and preferences. Vegetarians and vegans could easily feast at Epizode! All vendors offered at least one option that was suitable for these diets. Highlights included a tofu burger and one of the best palak paneers I've ever had. Basically, you won't go hungry!
In you're on a budget then some of these low cost tips on how to travel to Epizode will be useful to you!
Book your flights and accommodation early! Dates are normally announced a few months in advance so if you're absolutely sure you want to go regardless of the lineup then you should book both flights and accommodation as soon as the dates are released to avoid price increases.
Early bird gets the worm! The same goes for your festival ticket, don't wait to get your ticket as the longer you wait the more expensive it gets!
Look out for group tickets. If you are coming with several friends then get a group ticket, it will work out cheaper for everyone!
If you're on a budget stay close to the event so you don't up spending too much on transport to and from the event.
Don't rent a motorbike unless you are an experienced rider! If you crash it you will end up spending more money on repairing the scooter and on fixing yourself up than on your entire holiday!
Get a local SIM card at the airport. Switch off roaming to avoid high mobile data costs!
Eat local! Phu Quoc can get a little expensive if you're not careful on how much you're spending on food outside of the festival. Look for local restaurants and street food.
Be smart about taking taxis! Negotiate the rate before you set off and share the ride with friends or other ravers when you can.
Get involved! Make the most of your ticket and participate in all the free activities and workshops.
Have a walk around before buying the first you see to eat! There are a number of food options at the festival, don't settle for the first thing you see.
Get your trip essentials together before going away on holiday. Get everything you need before you arrive on the island.
Printed Ticket and ID: you will need to arm yourself with both of these to be able to enter the festival ground, so make you sure you don't forget either or you'll be missing out on the action!
Cash: just to be on the safe side bring cash to the event! Don't rely on chasing an ATM down, save yourself some time and come prepared.
SIM Card: if you're looking to stay connected during your stay on the island then you can purchase a SIM card at the airport or in town, but don't expect to find a shop selling them on the beach so come to the festival armed with one or you'll have to do without.
Ear Plugs: you'll need to keep your ears protected! Long or repeated exposure to loud sounds can cause longterm damage to your ear drums, don't risk ruining your hearing, think of all the festivals you have yet to explore!
Beach layers: don't bother bringing any warm layers, you're going to be on the beach the entire time at this festival and in December on this side of the world it's still very warm! The only chance of catching a chill will be in your hotel room when the air-con is on.
Bug Spray and Sun Cream: these are essential to ensure you have a pleasant experience on the island. You don't want to feel irritated by insects or be too sunburnt to function and enjoy Epizode so make sure you've got these handy.
Portable Charger: this festival is going to be packed full of moments you'll want to video or photograph, the last thing you want is for your phone to run out of battery!
Stay Hydrated! drink plenty of water! You're going to be walking around a lot and it's going to be warm so you'll be more prone to dehydration.
Agree on a Meeting Spot: a lot of people will be attending this festival so set a meeting point before going to any stages so you can easily find each other!
Don't remove your wristband! Make sure you keep your wristband on at all times or you will be denied entry.
Are you heading to Epizode with your festival crew? Share this post with them now to plan your trip together!