One of the biggest events hosted in Bangkok each year, 808 Festival has a pretty stellar reputation amongst ravers in the region. Known for pushing the boundaries with their lineups and bringing in acts that have either never played in Thailand before or haven't done so for years. They know how to keep us on our toes!
A festival that has been going for years, it has a solid following of fun-loving and serious party-goers, it always promises to be a great time! To help you prepare for this festival adventure here is the Nitty Gritty Guide to 808 Festival!
When did I attend? December 2017 & December 2019
When is the next 808 Festival? December 2023
What do you hear at 808 Festival? EDM, Dubstep, Trap
Where? BITEC Bangna, Bangkok, Thailand
What's the local currency? Thai Baht
What's the local language? Thai
808 Festival is hosted by an experienced team of event promoters who are also the brains behind other operations such as Together Festival which takes place in May (check out the guide to Together Festival now!)
808 Festival is one of Thailand's biggest music events and has a sister festival in Myanmar!
808 Festival has been slowly but surely branching out from the mainstream EDM trends, over the last couple of years they have been inviting more house and techno artists to play, broadening the scope of genres for festival-goers.
808 Festival usually announces plans for a pre-party and an after-party in the run up to the event, watch out for these on the festival Facebook page!
808 Festival is a 20+ event
All tickets are multiday, it's not possible to buy a one-day ticket. Note that all tickets are non-transferrable and non-refundable. Also bear in mind that you need to keep the same wristband on for the entirety of the festival. If you cut your wristband off you will not be given a new one and you will not be allowed back into the festival! 
808 Festival has no e-tickets, you can either choose to be sent the hard ticket to your address or select to pick it up at the event. If you want to get it at at the event you will need to come with your booking confirmation, present this along with your ID to get your hard ticket, use this to enter the hall.
There are no VIP tickets for this festival, you're either GA or VVIP. Bookings for VVIP can be done via the same page as the GA tickets. They come in several tiers and these are sold as 3-day or 1-day packages. They include drinks and table service, these vary according to the package selected.
You can buy your GA ticket or book your table HERE.
ARRIVING IN BANGKOK
If you're an international festival goer arriving in Bangkok then check out this Guide to Travelling to and Around Bangkok! There you will find several options to get you to your destination within the city before moving on to the festival.
GETTING TO THE FESTIVAL
808 Festival is located in a very easily accessible venue so for all your newcomers who may feel a bit overwhelmed by this big city don't worry! Getting there is pretty straightforward from any point in the city, below are several options to meet all your transport requirements!
This year 808 Festival will be held at BITEC Bangna which is located on the east side of the city, literally walking distance from Bang Na BTS station. Sure it may seem a little bit far (and to be completely honest to us living here it also feels like the ends of the world) but it's a venue that can be reached very rapidly via the BTS (otherwise known as the SkyTrain) from any point in the city making it one of the simplest venues to get to.
TAKING THE BTS
There are two BTS lines that run through Bangkok: the Siam Line and the Sukhumvit Line. Both of these lines connect at Siam station so if you happen to be on the Siam Line your first move will be to get yourself to Siam station. From Siam station, you'll want to get the BTS in the direction of Bearing (opposite direction from Mo Chit) and get off at Bang Na. From Siam, your journey should take about 30 minutes. Once you've arrived at Bang Na station please use Exit 1 to access the footbridge that takes you into BITEC.
Please note that hours of operation are 06:00 am – 12:00 pm. You'll likely have to find an alternative method of transportation to get yourself back home as the party doesn't end in time to catch the last BTS back into the city!
The venue can easily be accessed by foot, just follow the tracks of thousands of other festival-goers making their way there!
You can find more information on the BTS and plan your route HERE.
USING THE MRT
Aside from the BTS, Bangkok also has one Metro line running through the city. If you happen to be staying by an MRT station and plan to take the BTS to Bang Na station you'll first need to get yourself to Sukhumvit station which is situated in the middle of the MRT Line.
At Sukhumvit MRT station you can change for the BTS, called Asok Station. Exit at Sukhumvit MRT station and then follow signs for Asok BTS Station. Note that you'll need a new ticket to access the BTS. Walk up to the BTS and get on the train in the direction of Bearing, then get off at Bang Na.
From BTS Asok station it should take about 20 minutes. Once you've arrived at Bang Na station please use Exit 1 to access the footbridge that takes you into BITEC.
Please note that hours of operation are 06:00 am – 12:00 pm.
You can find more information on the MRT and plan your route HERE.
BY TAXI/GRAB
Taking the BTS means you'll be guaranteed a fixed rate of transport and you'll move fluidly through the city. This cannot be said for when you take a taxi from the city center to BITEC Bangna. Using the same point as a reference, in heavy traffic getting from Siam to Bang Na could take you over an hour. To avoid disappointment by arriving later than expected I recommend you take the BTS. It's air-conditioned, fast, clean and the cheapest option by far!
That's another thing when you're travelling through Bangkok as a foreigner you're likely to run into taxi drivers who won't run the meter for you and try to convince you to pay a fixed rate. Don't fall for it, no matter where you go ask your driver to put the meter on! Even if this means turning down a few taxis in the process, you'll get one eventually!
Past events have ended around 1 am or 2 am which suggests it will be the same again, in which case your only option on the way back is to take a taxi or a Grab back into the city as this will be outside of the BTS operating hours. But let's be honest who would want to do that? And because this is your only mode of transport back to where you're staying it's advisable to book ahead of time via the Grab application on your smartphone.
If you're unsure of your leaving time don't panic there will be plenty of taxis waiting outside the venue ready to take people home, just remember to insist on putting the meter on!
ARRIVING BY CAR
It's possible to park at the venue! So if you feel like braving the traffic and you really insist on coming in your own form of transportation it is possible to park your car safely on site.
If you're worried about driving home after partying you should consider giving the 'U Drink I Drive' app a try, a mobile application that enables you to instantly request a driver to your location to drive you and your vehicle home. So if it turns out you've partied a little harder than you thought you would then don't run any risks and trust this app to get you home safely.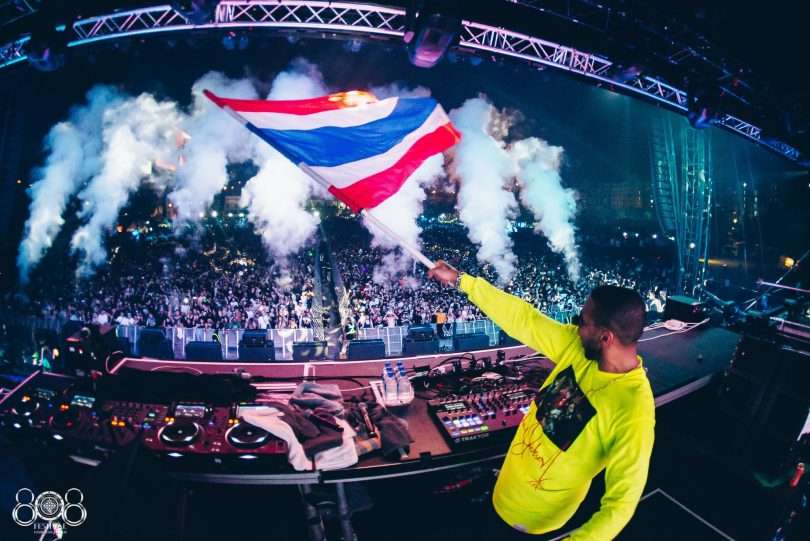 There are literally thousands of accommodation options in Bangkok, ranging for hostels to five star hotels, there's something to suit every budget. My recommendation is to stay nearby a BTS station! As I mentioned above BITEC is located walking distance to Bang Na station so staying right the BTS will make getting to the venue a lot easier, rather than have to race through the streets of Bangkok to reach one. And coming back from the festival (or after party…) you'll have a good frame of reference to guide yourself back to your hotel! Every little bit helps at that point of the night, am I right?
If you're only interested in partying there are a few accommodation options close to the venue at cheaper rates than places in the city centre. Bear in mind that this will make journeys to and from the city centre longer, but you won't be too far from your bed when the party is over!
However, if you are looking to keeping the party going after 808 Festival then maybe consider staying closer to the city centre. Ekkamai, Thonglor and Asok are all good areas to stay in, each boasting a nice range of restaurants, cafés, nightclubs and bars that will complement your festival antics.
I usually conduct my research on booking.com or Airbnb! 
The lineup for 2020 has yet to be announced! Stay tuned!
The lineup for 2020 has yet to be announced! Stay tuned!
As far as EDM festivals go, this one is one of the best ones Thailand has to offer! It always promises a stellar lineup of international electronic dance music acts which guarantees to keep the audience busting a move. The crowd definitely went for it, all in the mood to rave hard and give it their all for the incredible acts and artists which appeard throughout the event.
The 2019 edition was spread over three days and let me tell you the energy and ambiance didn't fade a single bit during the entire event! The crowd was packed every single night. It felt incredible, the energy was absolutely infectious, I could not have asked for a better atmosphere! Together we carried each other through from start to finish in high spirits! Everyone was extremely friendly and just wanted to make the most of the experience. Definitely anything from pushy, ravers were considerate of each others' space and were very welcoming. I barely left the crowd, the music and the people were difficult to disconnect from, I did not want it to end! Definitely I will be keeping an eye on from year to year, I had an absolute blast!
The cost of your trip to Bangkok and your experience of 808 Festival will be totally dependent on your personal preferences. Though if you're on a budget then some of these low cost tips on how to travel to Bangkok and to the festival will be useful to you. If you're looking to spend big then by all means please do the opposite of all these recommendations!
Book your flights and accommodation early! Dates are normally announced a few months in advance so if you're absolutely sure you want to go regardless of the lineup then you should book both flights and accommodation as soon as the dates are released to avoid price increases.
The same goes for your festival ticket, don't wait to get your ticket as the longer you wait the more expensive it gets!
Look out for group tickets. If you are coming with several friends then get a group ticket, it will work out cheaper for everyone!
If you're on a budget stay close to the event so you don't up spending too much on transport to and from the event.
Get a local SIM card so you don't have to roam whilst you're out here, that can get very expensive. You can get a SIM card at your nearest 7-11 or in a shopping mall by going to one of the local providers (you can choose from AIS, True, DTAC and more…). You'll need your passport to purchase one.
Eat street food and in food courts! one of the best things about Thailand is that you can eat cheap and still eat well, (you can also indulge as Bangkok is host to some of the world's best restaurants). If you're relying on street food stalls and food courts in malls then you're sure to not spend too much money on your trip and still be able to make the most of Thai cuisine!
Get a travel card if you opt for public transport to get around.
Be smart about taking taxis, either use the Grab app to hail a taxi so you get a fixed rate or if you've opted to do your trip without data then get one on the street but don't settle for a fixed rate, go with the meter. And share the fare with your friends!
If you're going to be drinking buy a bucket and split with your friends! Costs less than buying single drinks.
Smoking Area: attendees need to make their way to designated smoking areas, this includes those who intend on smoking e-cigarettes. Failure to comply with this rule may result in you being asked to leave the event, so don't take the risk!
Food & Drink: like most festivals any outside food or drink is not permitted inside the hall so you will need to fuel yourself before you enter the hall. The food courts are located at B1 in BITEC, at hall 102, you need to go downstairs beneath the halls. There are usually also food trucks and stalls at the main gates of the festival but there isn't much going on inside so load up on food before you head inside. In terms of drinks you'll be spoiled for choice including big liquor buckets and beer buckets from various alcohol suppliers. 
Ticket and ID: you will need to arm yourself with both of these to be able to enter the hall, so make you sure you don't forget either or you'll be missing out on the action! They've given strict instructions about what kind of ID to bring, expats/tourists need to bring their original passport, copies won't be accepted. Thai Nationals can bring their National ID card, driver's licence or passport to get into the festival.
Cash: just to be on the safe side bring cash to the event! There are ATMs in and around BITEC but it's a very big venue so don't rely on chasing one down, they may be out of order or impossible to find so come prepared!
Sim Card: there's no wifi available inside the hall so if you're looking to stay connected during the event you should try to buy a Thai sim card before arriving at the venue. If you're flying into Bangkok I recommend you buy them at the airport as it becomes trickier to do so when you're in the city.
Flags are welcome! some events in the region don't allow people to bring their flags but 808 Festival certainly isn't one of them!
Ear Plugs: you'll need to keep your ears protected! Long or repeated exposure to loud sounds can cause longterm damage to your ear drums, don't risk ruining your hearing, think of all the festivals you have yet to explore!
Portable Charger: this festival is going to be packed full of moments you'll want to video or photograph so it's best to come prepared! Don't miss any of your favourite moments because your phone is out of juice!
Stay Hydrated! drink plenty of water! You're going to be going hard for hours at a time and you won't necessarily feel like leaving the crowd to get some more water so stock up before finding a good spot in the crowd.
Agree on a Meeting Spot: a lot of people will be attending this festival so set a meeting point before going to any stages so you can easily find each other at the end of the festival should anyone go missing from the group and they're unreachable during the festival!
Don't remove your wristband! if you're planning to go to all three days of 808 Festival (of course you are!) then please make sure you keep your wristband on! You not be given a new one on Day 2 or Day 3, you need to keep the same wristband you were given on Day 1 for the entirety of the event.
No Re-Entry! re-entry is not permitted! If you exit early on the first day you will not be allowed to return until the second day!
Hopefully this will give you all the information you need to get to and from the venue, and to get you prepared for what awaits you inside the hall! Check out 808 Festival's official Facebook Page for news and announcements! Happy festival adventures!
Share this post with your festival crew and start planning your 808 Festival adventure now!