The first 23 names for EXIT Festival 2023 have been revealed and they include the legendary return of the most influential electro-punk band of all time, The Prodigy, with tens more to come in the next few months! 
After a multi-year break, the band are set to return to EXIT. It's a place they have a rich history and deep connection with the Serbian audience. It is also an event they have said is their favourite to play in all the world so you can expect this date to be a real highlight of their comeback international tour, as the band's founder Liam Howlett explains: "EXIT is our favourite festival! We were there (in Serbia) when a lot of sh*t went down. They hold us in their hearts as a special bend, and we love the people there."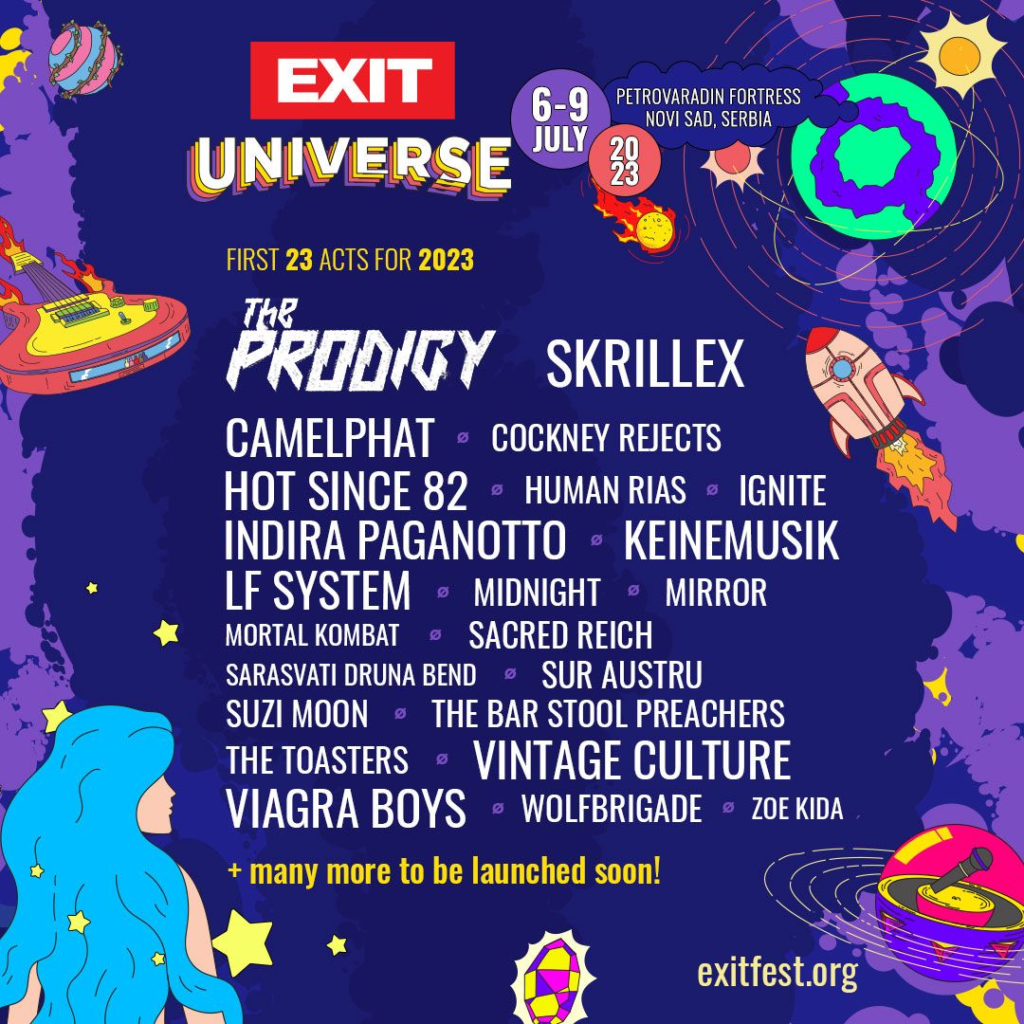 The EXIT 2023 programme runs from July 6th – 9th at the famous Petrovaradin Fortress and it will be headlined by electronic music revolutionary Skrillex, rock sensation Viagra Boys, the Keinemusik collective as well as CamelPhat, Hot Since 82, Vintage Culture and Indira Paganotto. The performances of The Toasters, Cockney Rejects, Human Rias, Mortal Kombat, Zoe Kida and many others have also been confirmed. A total of 23 names are ready to take their place in the EXIT Universe by coming to four of Exit's favourite stages – Main Stage, mts Dance Arena, Visa Fusion and Explosive for this fantastic four day celebration. 
"Many thought, including the band itself, that The Prodigy would stop performing after the tragedy, but we knew this wouldn't be the case. The comeback concerts in London showed that the fire in them burns stronger than ever, and the iconic band's reunion with its favourite, EXIT audience, will surely be the most emotional yet. In July, we will witness a moment of true music history, which will reach its highest point with a special laser projection of Keith Flint" said the founder and CEO of the EXIT festival, Dušan Kovačević.
Early-bird tickets are on sale now and start from just 87 Euros. Tickets can be purchased here. The sunniest Holiday Offer begins on Thursday, 15th December — with each purchased ticket for EXIT 2023, fans will get a ticket for one of EXIT's seaside festivals as a gift.