I'll let you in on a secret: I'm a techno devotee who somehow stumbled into the world of harder styles. Yet, I found myself in Biddinghuizen, the Netherlands, in the midst of Defqon.1 Weekend Festival 2023 – the world's largest festival devoted to hardstyle, hardcore, and all those pulsating genres that push BPMs to their limits. With some trepidation, I embarked on a new adventure and emerged with a newfound appreciation for this colourful, energetic scene. If you're a Defqon.1 veteran or a curious newbie, continue reading for an insider's account of this electrifying festival.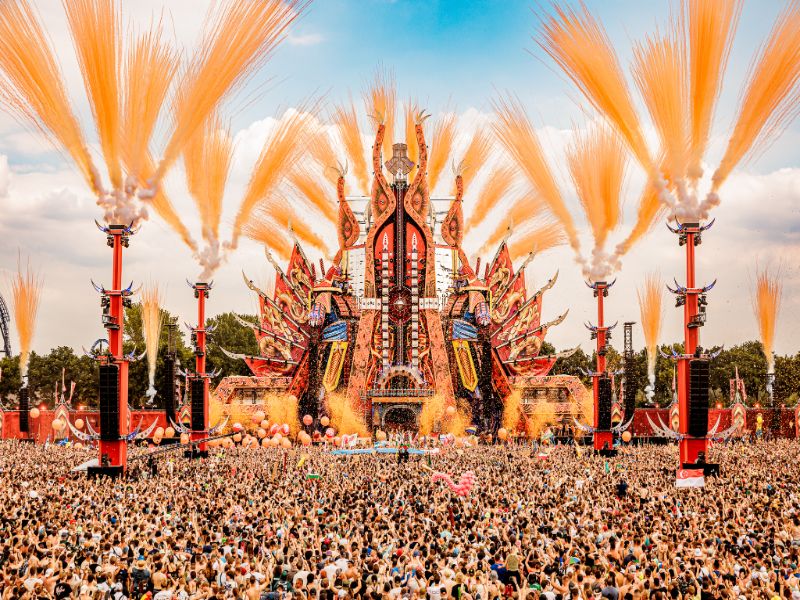 The Music & Stages
Defqon.1 Weekend Festival 2023 was a four-day sonic journey that shattered my expectations. With over 500 artists performing across 11 festival stages, and an additional 3 stages at the campgrounds, the musical tapestry woven was as expansive as it was intense. I found myself drawn into genres I had scarcely explored before, with each stage hosting a different segment of the harder styles spectrum.
The heart of the festival was undoubtedly the RED stage – a gargantuan, meticulously constructed spectacle that never failed to draw a massive crowd. It was a jaw-dropping 161 meters wide and soared to a staggering height of 56 meters. Constructed from over 300 speakers, 1,472 light fixtures, and 192 repurposed waste containers, this stage was not just colossal but also a testament to Defqon.1's commitment to sustainability. It was a monument to music, a shrine where the hardstyle legends and fans alike congregated. With performances from hardstyle icons like Headhunterz, D-Block & S-te-Fan, and Frequencerz, the energy at RED was unparalleled.
The BLACK stage, home to the festival's hardcore offerings, was equally impressive. Here, the likes of Miss K8 and Angerfist led the onslaught, while the PURPLE stage shone a spotlight on the harder styles' rising stars. I was also taken by surprise at the UV stage's Warrior Workout where nearly 10,000 Weekend Warriors joined together in a work out session on Saturday morning, which set an exhilarating pace for the day.
For me, the true essence of Defqon.1 was encapsulated in POWER HOUR. This whirlwind of a spectacle felt like an adrenaline shot to the festival's heart, delivering non-stop action and driving the crowd into a frenzy with synchronised movements, explosive pyrotechnics, and a relentless onslaught of hard beats. There was also a very emotional Closing Ceremony that marked the end of 'The Godfather of Hardstyle' The Prophet's illustrious career.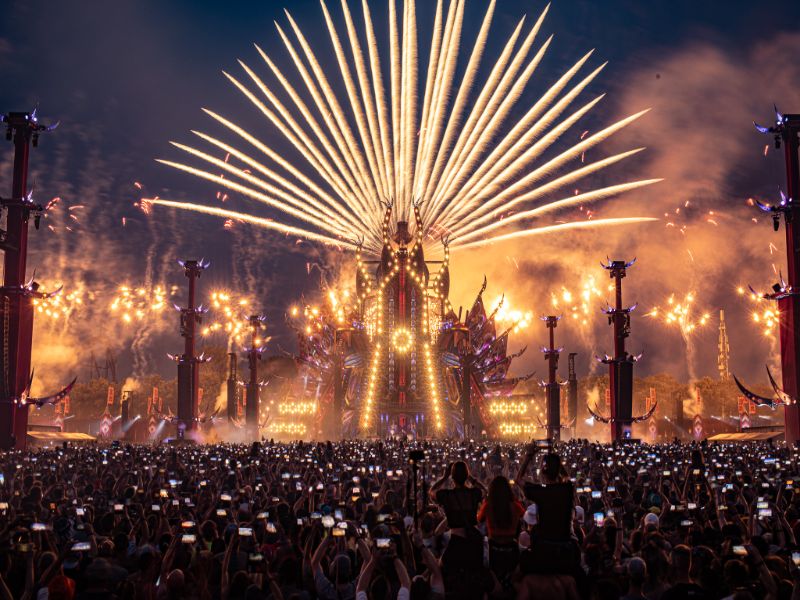 The Campgrounds
Though my Defqon.1 adventure only spanned a day, it was more than enough to understand why so many choose to embrace the full weekend experience. As a techno enthusiast stepping onto the hallowed grounds of the harder styles, I was initially a bit timid, unsure of what I'd encounter. But the sheer allure of Defqon.1's campgrounds – the thrill of being at the epicenter of the world's biggest harder styles festival – ignited a spark in me.
Walking around, I saw The Sanctuary, previously known as the Comfort Camping. This luxurious campsite boasted an impressive array of amenities, including multiple chill and game areas, a charging station for devices, makeup artists, hairdressers, and even a wellness area complete with saunas, jacuzzis, and massages.
I was intrigued by the introduction of the new Highlands campground, a unique location complete with pre-set-up tents and individual chill-out spots. These spaces weren't just about sleeping – they were about community and connection.
The campgrounds were designed to extend the festival experience beyond the main grounds, maintaining the energy and vibe of Defqon.1 around the clock. After experiencing the festival for one day, I left with a feeling of longing, a desire to return next year and immerse myself fully in the four-day Defqon.1 experience.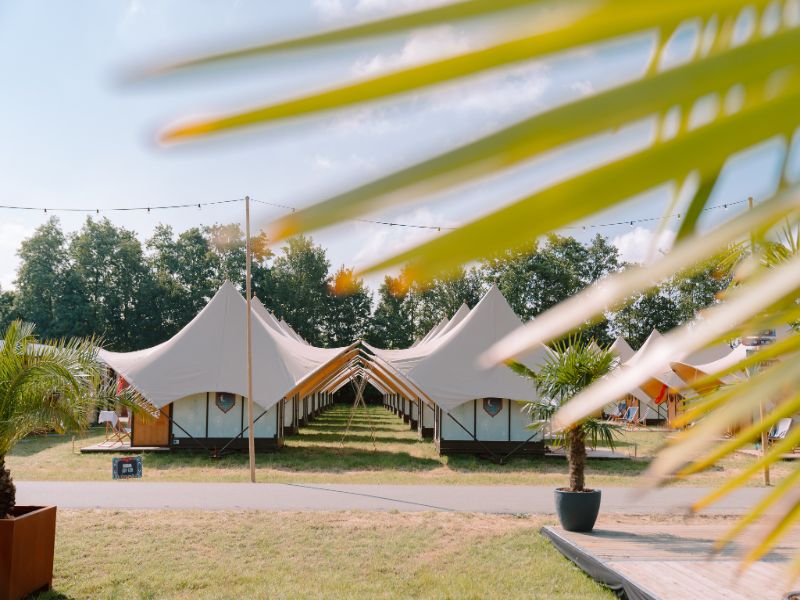 The Festival Grounds and Activities
Defqon.1 is more than a festival; it's an immersive playground where music, art, and community unite. The festival is home to a wealth of attractions. From the intimate Defqon.1 Theatre, hosted by the beloved artist Sefa, to the whimsically quirky Ome Cor's Rave Caravan, there's something for everyone. The Fan Post stand adds a unique touch, allowing festival-goers to pen their thoughts and share their sentiments with their favourite artists.
For the brave of heart, a professional tattoo parlour stands ready to etch the Defqon.1 experience onto their skin, providing a permanent memento of their festival journey. And for the thrill-seekers among us, the festival doesn't disappoint. A heart-pounding bungee jump station beckons, promising an adrenaline rush that matches the pulsating beats that permeate the festival air.
No festival experience is complete without keepsakes. Defqon.1 goes above and beyond with a merchandise store that is far from your standard festival stand. It's a full-size warehouse, akin to a proper shop, and it's packed with an array of Defqon.1 apparel and souvenirs. Every element of Defqon.1 combines to create a living universe that turns every moment into an adventure of discovery and excitement.
The Defqon.1 Monument, a colossal structure made out of shipping containers and adorned with the festival's emblem, quickly became a favourite spot to regroup and chill. 
The festival grounds were transformed into a vibrant canvas, adorned with breathtaking murals and installations. These works of art added an extra dimension to the festival, making every inch of Defqon.1 a feast for the eyes. It wasn't just a music festival – it was a living, breathing gallery showcasing creativity in all its forms.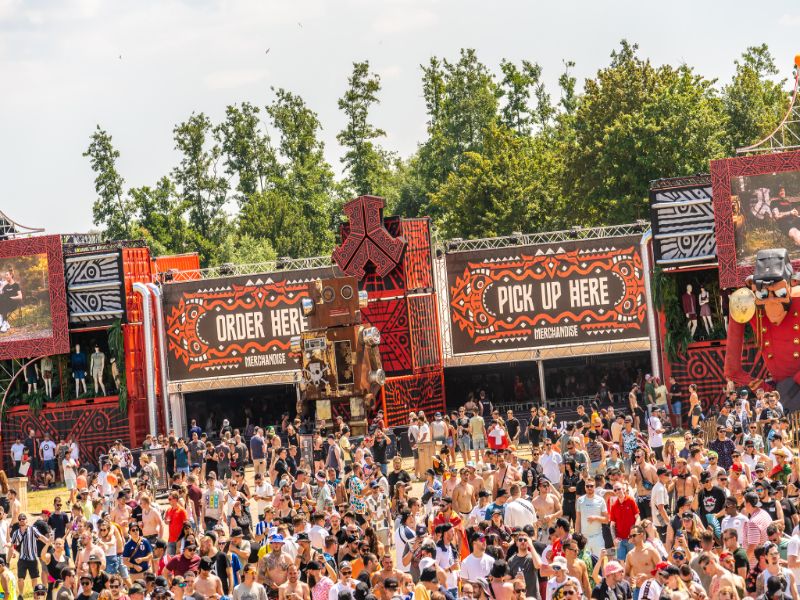 A Final Word
Defqon.1, with its extraordinary scale, dazzling array of music, and tightly-knit community, was a revelation. As a techno enthusiast, I ventured into Defqon.1 with a sense of curiosity and left with a newfound admiration for the harder styles scene.
I was drawn in by the immersive production, captivated by the infectious energy, and ultimately won over by the welcoming community. Having tasted the festival as a day visitor, I can see myself plunging into the full Defqon.1 experience in the future.
So, whether you're a seasoned Warrior or someone just starting their journey into the world of harder styles, Defqon.1 offers an adventure like no other. The festival's ethos of caring, respect, and unity is not just a tagline – it is lived and breathed by every attendee. So join the tribe and embark on the 'Path of the Warrior'. Until then, keep the Warrior spirit alive, and remember to always take care of each other. See you in 2024!