Are you in search of the best music festivals in Belgium for 2023-2024? Well, lace up those dancing shoes, because I've curated a list that will lead you straight into the heart of Europe's most electrifying electronic music scenes.
Belgium, known for its delightful waffles, exquisite beer, and decadent chocolates, is also a rave paradise and an undeniable hotspot for the finest EDM festivals in Belgium. Despite its petite size, Belgium is a juggernaut when it comes to hosting unforgettable parties that attract music lovers from every corner of the world.
Whether you're partying in the cultural hub of Brussels or the diamond city of Antwerp, the medieval town of Brugge, or the artistic quarters of Ghent, Belgium's array of electronic music festivals are nothing short of extraordinary. As a testament to its unparalleled appeal, Belgium is the proud homeland of the legendary Tomorrowland!
1. Rampage Open Air 2023 
Rampage Open Air is your one-way ticket to bass heaven. Amidst Lommel's serene landscapes, the festival brings a futuristic playground of sound and light to life. Picture a weekend filled with awe-inspiring stages, head-bobbing basslines, and cutting-edge light shows. The lineup boasts both acclaimed international acts and rising stars, guaranteeing a unique blend of music that secures its spot among the best music festivals in Belgium.
2. Paradise City 2023 
The idyllic town of Perk morphs into a pulsating paradise for three unforgettable days during Paradise City. More than just an electronic music festival in Europe, it's a place where party-goers, music lovers, and eco-warriors unite. You'll find yourself lost in the hypnotic rhythms, captivating stage designs, and progressive lineup that pushes the boundaries of the electronic music genre. Moreover, Paradise City's sustainable initiatives cement its reputation as a forward-thinking player in the festival scene.
3. Les Ardentes Festival 2023 
Les Ardentes is where international EDM superstars meet a fervent crowd of music lovers. Situated in the heart of vibrant Liège, this is a four-day celebration of creativity and rhythm. Les Ardentes caters to music aficionados who crave variety, as the lineup is a beautifully curated mix of sub-genres within electronic music. It's an immersive experience that continues to attract a global audience, solidifying its place among the premier EDM festivals in Belgium.
4. Ostend Beach Festival 2023 
Imagine losing yourself to the beats of world-class DJs with the stunning North Sea coastline as your backdrop. That's what Ostend Beach Festival offers. Celebrating the best of EDM, this beachside gathering is an ideal escape from reality. With stages just steps away from the water's edge, you can dance the night away and then cool off with a moonlit dip. There's no better way to enjoy the European summer than this incredible addition to the list of electronic music festivals in Europe.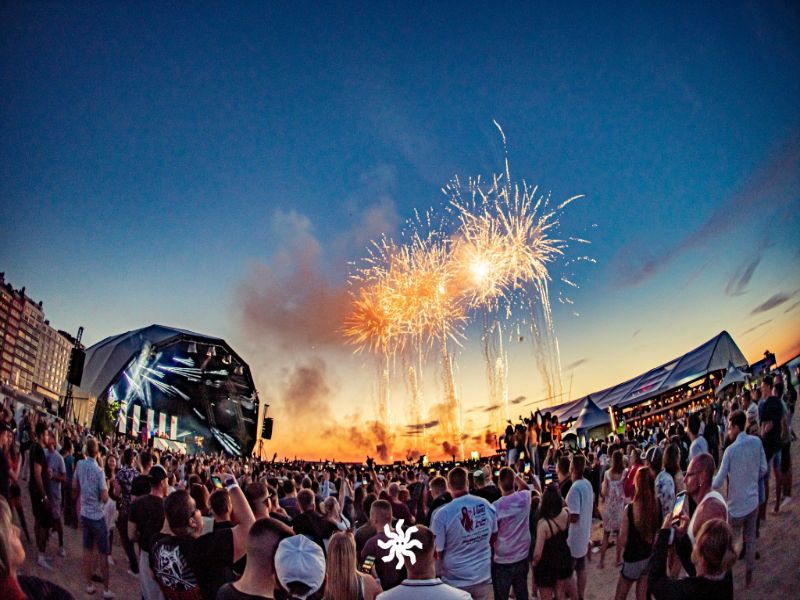 5. Dour Festival 2023 
Dour Festival is an absolute delight for any electronic music enthusiast. Nestled in the quaint village of Dour, this five-day festival brings together a fusion of electronic, rock, and indie music. An ideal destination for those seeking a blend of high-energy performances and chill-out zones, Dour offers an immersive experience that goes beyond the music. Its artistic installations, vibrant marketplaces, and diverse food options only add to its charm, making it a standout among the best music festivals in Belgium.
6. Tomorrowland 2023 
A fairy-tale in the realm of electronic music, Tomorrowland is the world's premier EDM festival. Synonymous with epic production, a stellar lineup, and an unparalleled atmosphere, Tomorrowland is not just a festival, it's a once-in-a-lifetime experience. For ten magical days, the town of Boom transforms into a dreamlike landscape where world-class DJs, mesmerising stage designs, and festival-goers from all corners of the world converge to create memories that last a lifetime. Tomorrowland's immense popularity transcends borders, making it one of the most sought-after electronic music festivals in Europe.
7. WECANDANCE 2023 
August 5-13, 2023 
Zeebrugge Beach, Belgium 
www.wecandance.be 
WECANDANCE takes the festival experience up a notch by infusing the enchanting rhythm of electronic music with the allure of the sandy Zeebrugge beach. This seaside EDM festival blends an incredible lineup of international and local acts with a thematic and atmospheric setup that changes each year. From futuristic techno sounds to deep house grooves, this festival covers a vast sonic spectrum, promising an unforgettable music escapade. With gourmet food offerings, designer boutiques, and bohemian art installations, WECANDANCE offers a unique blend of music and lifestyle, ensuring its spot among the top EDM festivals in Belgium.
8. The Qontinent Festival 2023 
August 11-13, 2023 
Wachtebeke, Belgium 
www.theqontinent.be 
Welcome to The Qontinent Festival, the largest hardstyle gathering in Belgium! This is the go-to event for fans of hardcore, hardstyle, and everything in between. For three adrenaline-packed days, Wachtebeke becomes the epicentre of high-octane beats, wild crowds, and intense performances. The Qontinent Festival serves as a testament to the diverse range of sounds within the electronic music scene, ensuring its reputation as one of the most thrilling European music festivals.
9. Pukkelpop 2023 
August 17-20, 2023 
Kiewit-Hasselt, Belgium 
www.pukkelpop.be 
Pukkelpop is where music meets culture. This annual festival in Kiewit-Hasselt blends a wide variety of musical genres, with electronic music being a crowd favourite. The event is known for its innovative programming, featuring fresh and cutting-edge talent from the world of EDM. In addition to the music, festival-goers can explore interactive art installations, engage in thought-provoking debates and workshops, and savour gourmet food. Pukkelpop's rich diversity and immersive festival experience solidify its standing among the best music festivals in Belgium.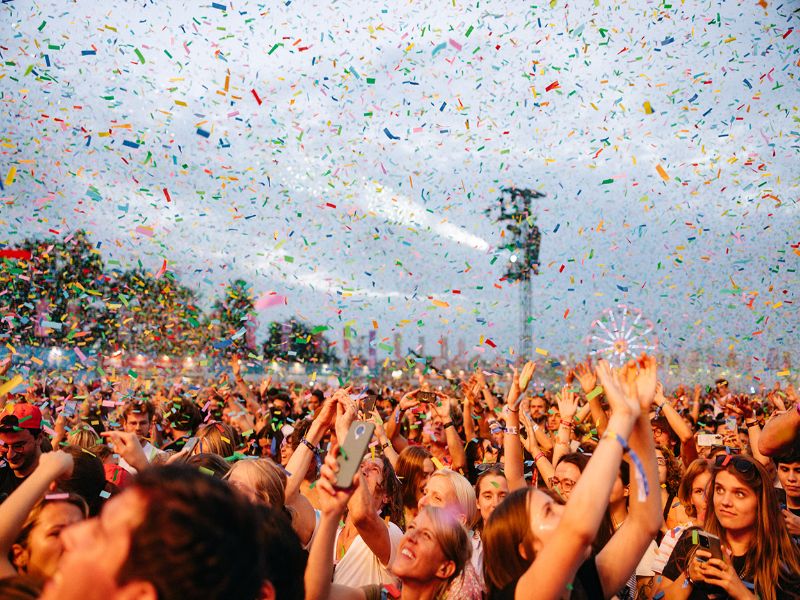 10. Rampage 2024 
February 23-24, 2024 
Antwerp, Belgium 
www.rampage.be 
Rampage, the world's biggest drum & bass and dubstep party, might take place in the colder months, but the high-energy performances and electrifying atmosphere are sure to heat things up! This two-day indoor extravaganza at Antwerp's Sportpaleis is renowned for its mind-boggling production and lineup featuring the hottest acts in the scene. From electrifying light shows to jaw-dropping stage designs and a sea of enthusiastic ravers, Rampage guarantees a unique, immersive experience that leaves festival-goers eagerly awaiting the next edition. This winter highlight truly deserves its spot among the top EDM festivals in Belgium.
11. Extrema Outdoor Belgium 2024 
May 17-19, 2024 
Houthalen-Helchteren, Belgium 
www.xofestival.be 
Rounding off our list is Extrema Outdoor Belgium (XOBE), a three-day EDM extravaganza marking the arrival of the festival season. Held in the scenic Kelchterhoef Park in Houthalen-Helchteren, XOBE offers a mix of the biggest names in the electronic music scene and emerging talent. It combines spectacular stage designs, top-notch sound systems, and immersive light shows, crafting a mesmerising environment for its attendees. Add to that a range of food and drink options, camping facilities, and a vibrant crowd, and you have a festival that stands tall among the best music festivals in Belgium and beyond.
There you have it – a complete roundup of the must-visit electronic music festivals in Belgium. Whether you're an EDM enthusiast, a techno lover, or a hardstyle fan, these festivals promise unforgettable musical journeys. So pack your bags, get your festival squad ready, and prepare to dance your way through Belgium!
Looking to discover more music festivals in Europe? Check out my festival guides for more or these quick links: