Bali isn't just an idyllic wonderland of scenic jungles and delicious local food anymore. Are you looking for a must-have experience in Bali that perfectly blends tropical elegance with electrifying nightlife? Well, guess what? We've got something that's just up your alley! Let me introduce you to Kabana Ubud by K Club—Bali's premier party hotel. International travellers, music enthusiasts from across the globe, and a buzzing community of expats have already turned this place into their nightlife sanctuary. So let's dive into why this should be your next go-to party spot in Bali.
How to Get There: Your Gateway to Bali's Ultimate Party Destination
First things first! Located a mere five-minute drive from the heart of Ubud, getting to Kabana is a breeze. So whether you're jumping into a taxi, booking a ride-share, or biking down, you won't waste any time that could be better spent dancing under the jungle canopy! Buckle up, the ultimate party in Bali is about to begin!
Facilities and Amenities: Where Sound and Light Take Center Stage
The Sound: An Auditory Feast That Defines Events in Bali 
Oh, you audiophiles of Techno and House music, brace yourselves! Kabana is engineered to be your sonic Eden. Here, an unparalleled L'Acoustic sound system reigns, masterminded by Léon, a French-born, Bali-based design creative agency. From resonating low ends to crisp, clear highs, this sound system sets the gold standard for events in Bali. In short, Kabana brings a festival-grade auditory experience to the nightlife in Bali like never before.
Light Up The Jungle: Production That Transcends Nightlife in Bali
But it doesn't end with your ears; your eyes are in for a spectacle too. Imagine lasers and 3D mapping by French artist Jay Lion, not just illuminating the dance floor, but also casting enigmatic shadows into the surrounding jungle. This is how Kabana Ubud turns every party in Bali into a visual extravaganza. It has elevated and reimagined Bali venues, simply unmissable.
Mantra Productions & El Didion: Your Music Shepherds for Party in Bali
Who's steering this unmissable Bali venue into the annals of party history? None other than Mantra Productions and French DJ Didier, aka El Didion. Together, they curate the kind of pulsating, hypnotic techno and house music that makes Kabana the zenith of events in Bali. Trust us, this is the must-have experience in Bali that will make you a Kabana regular.
Hot Tip: Kabana hits peak euphoria on Friday and Saturday nights when international DJs take the helm. Advance bookings are a must!
Decadent Accommodation: Your Home Base for Events in Bali
Want to keep the party vibes going all night and day? Check into The K Club Hotel. It's not just any accommodation; it's your dream party spot in Bali where luxury meets revelry. From organic villas with private pools and stunning jungle views to sensuous glamping tents, Kabana offers options to suit your unique tastes. This isn't just a place to crash; it's where your nightlife in Bali fantasies come to life.
After the Main Event: Afterparties That Keep You Grooving
What sets Kabana apart as the ultimate party spot in Bali? The party doesn't just stop—it evolves. Whether you're keen to extend the night in the private villas with your closest crew or keep the dance floor ablaze at the local rooms of The K Club Hotel, the options are endless. Kabana Ubud is redefining what afterparties and events in Bali can be.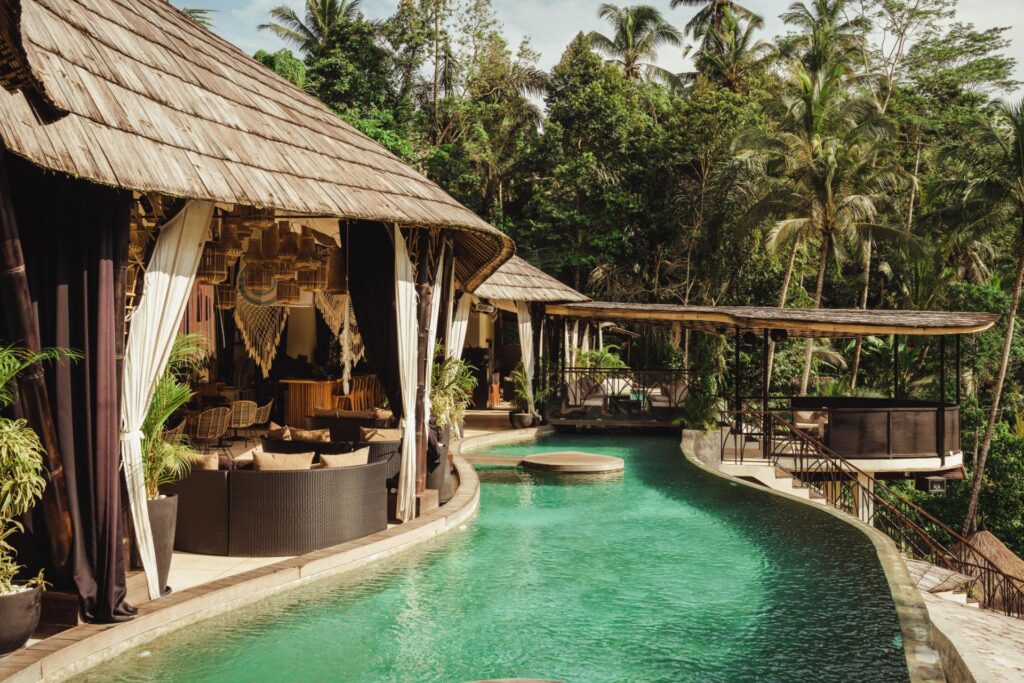 Final Word: Kabana Ubud Is More Than A Venue, It's a Nightlife Revolution in Bali
So, are you ready for a next-level party in Bali? Kabana Ubud by K Club is far more than just a venue; it's a lifestyle and the epitome of Bali venues and party culture. From visual spectacle to audio nirvana, from luxurious stays to epic afterparties—Kabana serves it all on a lush, tropical platter.
Ready to make your move? Stay updated by visiting Kabana's official website and following them on social media for all the latest events and offers. 
Want more music destination inspo? Check out some of my other festival guides now!