We Are FSTVL is coming in hot this summer! Renowned for its stellar lineup, its state-of-the-art visual production and its proximity to Central London, it's quickly become a favourite amongst electronic music fans since it launched in 2013. This is one festival you need to add to your bucket list! Use the following guide to plan your festival adventures at We Are FSTVL.
When is the next We Are FSTVL? 25th-27th August, 2023
What do you hear at We Are FSTVL? Electronic dance music
Where? Damyns Hall Aerodrome, Upminster Essex, United Kingdom
What's the local currency? Pound Sterling (£)
What's the local language? English
This year, We Are FSTVL is celebrating its 12th anniversary!
We Are FSTVL is famously called the "The Airfield of Dreams" and is widely known as London's largest electronic music festival.
We Are FSTVL hosts its groundbreaking lineup across 8 stages, each featuring its own unique visual identity and atmosphere.
We Are FSTVL has won 5 awards since its inception in 2013, establishing itself as one of the most notable music festivals on the electronic dance music circuit.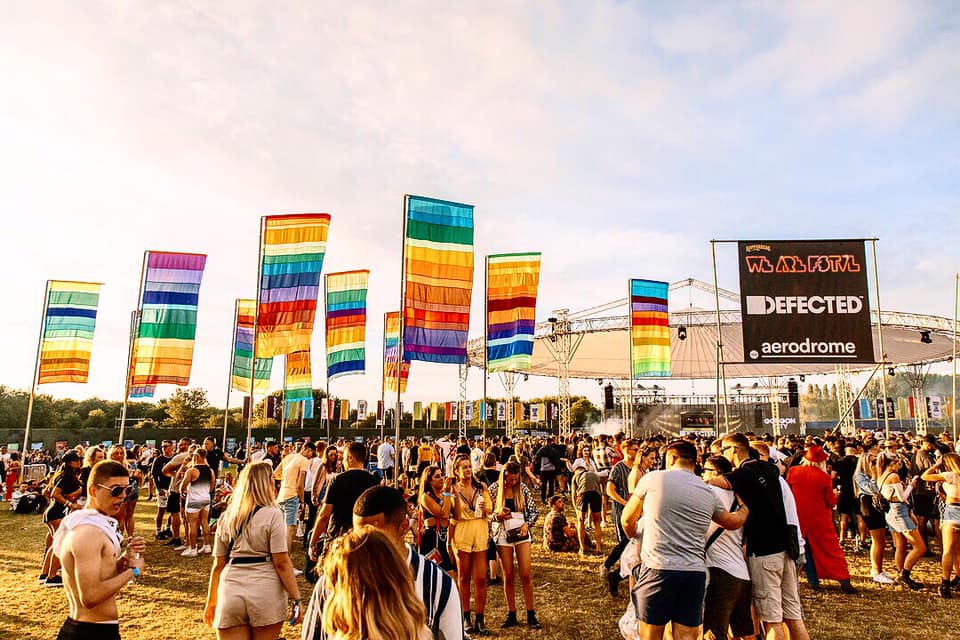 Tickets for We Are FSTVL 2023 are on sale now!
They give you the option of attending either Saturday, Sunday, or going for the entire weekend! And then also give you the choice of general admission (GA), VIP and even VVIP tickets.
If you buy a GA ticket and later decide that you want more out of your weekend at We Are FSTVL, you can easily upgrade to a VIP or VVIP experience via their online ticket shop. Note that all We Are FSTVL tickets are non-refundable & non-transferable. 
VIP tickets include some nice perks to spruce up your overall festival experience, including upgraded bathrooms, shorter entry lines, a private bar, exclusive food traders and a pamper parlour.
Take your festival adventure to the next level with VVIP upgrade. Enjoy performances backstage and get the opportunity to mingle with your favourite artists, amongst other perks!
Accommodation and travel need to be booked independently, find suggestions below!
Did you miss out on tickets to We Are FSTVL? Don't worry, you can still score tickets in time for this year's edition! Sign up to Ticketswap, an official and secure ticket reselling platform, to be the first to know about tickets going on sale!
We Are FSTVL takes place at Damyns Hall Aerodrome, near Upminster in Greater London. The festival is well connected and offers a number of transport solutions to get you to the event safely, read on to find out more.
BY SHUTTLE BUS
Once you reach Upminster Station, the simplest way to get to We Are FSTVL is by hopping on the free shuttle service. The festival shuttles run continuously from 11 AM to 11 PM between Upminster Station and Damyns Hall Aerodrome on both days.
BY BUS
Several bus routes connect the festival to local destinations including Brentwood, Billericay, Romford, Chafford, Loughton, Epping. Return journeys are available from £15 and can be booked on the festival's online ticket shop.
BY COACH
We Are FSTVL partners with National Express to offer coach services from 20 destinations nationwide straight to the festival grounds.
So if you're coming from further afield, make sure you check out
their various routes
, return journeys start at just £34. 
BY CAR
A car park is available on the festival grounds. Tickets for the car park can be bought in advance, they start at £15 per day.
If you plan to drive to the venue, put the following address into your GPS: Damyns Hall Aerodrome, Aveley Rd, Upminster RM14 2TN
As you approach the venue, follow signs to the festival car park.
Whether you prefer to stay near the festival grounds or closer to Central London so you can also make the most of visiting the city outside of your festival adventures, there's a range of accommodation options available that cater to all budgets. There is no camping available at We Are FSTVL!
Find a selection of hotels on Booking.com or homes and apartments on Airbnb. Upminster Station is the nearest underground station, from there you can hop on the festival's free shuttle service. Staying near there means you can take full advantage of this convenient travel option and means you'll be in and out of the festival in no time at all! For more information on the festival's location and transport options, see above! 
We Are FSTVL plays host to some of the most celebrated brands and labels in dance music, including Defected, Afterlife, ABODE, and Glitterbox all set to present stage takeovers over the weekend.
The festival's lineup covers a full spectrum of electronic music genres. This year, 70 of the world's best electronic music artists will perform across eight different stages. This festival is an ideal opportunity to dance to some of your favourite electronic artists and discover new music. Dance to anything from house and techno to drum and bass, grime, garage, and more!
Want to know more about this year's lineup? Head over to my lineup and stage hosts breakdown and start planning who you're going to see this year!
The festival's opening hours are 12 PM to 11 PM on both days.

The last

entry is at 5 PM on both days!

If you require wheelchair access,

contact the organiser via email at info@wearefstvl.com to get more information and to arrange your visit to the festival.

Bring your ID (driver's licenses, provisional licenses, passports, and cards bearing the PASS hologram such as citizen cards) and have a copy of your ticket saved on your phone, or better yet bring a printed copy to the event.

 You'll need to show both of these to get your wristband and be allowed into the festival.
Keep your ears protected with a pair of quality ear plugs. Long or repeated exposure to loud sounds can cause long-term damage to your eardrums, don't risk ruining your hearing, think of all the festivals you have yet to explore.

Don't get dehydrated!

There are free water refill stations spread across the festival. The festival allows you to bring an empty bottle into the event so you can top up on water as many times as you need.
Check the weather before going and pack accordingly! The weather can be quite temperamental in the UK, always keep an eye on the forecast in the days leading up to the event.
The festival has a strict bag policy. Only one bag is permitted per attendee and must be smaller than an A4 piece of paper (height: 30cm, width: 21cm, depth: 8cm).

Zero tolerance policy on narcotics.

This goes without saying but they have pretty thorough searches at the entrance of the festival. If you're found with anything you will get kicked out and the police may even get involved.
Need more festival tips before heading to We Are FSTVL? Check out my top tips on how to survive music festivals!
Are you heading to We Are FSTVL with your festival crew? Share this post with them now to plan your trip together!