Summer may be over, but we aren't done with the festival fun just yet: Amsterdam Dance Event is just around the corner! In a matter of weeks, every nook and cranny in Amsterdam will be filled with the world's best electronic music talent. This year, ADE's festival program will see over 2,500 artists perform in over 140 of the Dutch capital's music and event spaces.
Have you decided which parties to attend at ADE 2022? If your answer was a resounding no, then you've come to the right place. I've compiled my top picks (in no particular order!) for house and techno events and festivals that you simply can't miss at this year's edition of ADE! Some of these events are already sold but you can always try to snatch some last-minute resells on Ticketswap.
Awakenings x AFTERLIFE
Saturday 22 October 2022 | Ziggo Dome | Tickets
Back by popular demand, this year's Awakenings program features another stellar collaboration with industry heavyweights Afterlife. They'll be joining forces on Saturday 22nd October with a highly anticipated lineup at the legendary Ziggo Dome. Awakenings is known for throwing some of the country's most epic techno events, featuring industry-leading production and unworldly lineups, so if you're in town for ADE 2022 then this is one party you can't miss. And this doesn't even scratch the surface on the extraordinary Awakenings programme that awaits you during ADE, check out their other events and score tickets now.
Pleinvrees ADE
Friday 21 October 2022 | WesterUnie | Tickets
Local crowd-favourite, Pleinvrees is making its return to ADE for 2 unforgettable nights in one of Amsterdam's infamous nightspots. WesterUnie is a raw and industrial nightclub situated on the grounds of the Westergasfabriek in Amsterdam Westerpark, an impressive setting renowned for its thriving nightlife scene. Their Friday lineup looks particularly enticing, limited tickets are still available!
The Gardens of Babylon
October 22 & 23, 2022 | WesterUnie | Tickets
The Gardens of Babylon will return to ADE this October and host three shows at Amsterdam's WesterUnie on October 22 and 23 under the name The Seekers of Light ADE. The Gardens of Babylon is an international event series that originated in Amsterdam in 2016. By connecting music with spirituality, they create meaningful experiences wherever they go. The beautiful community that surrounds this fast-growing organisation is what signifies them the most. Their ADE showcase will be no different and will include an exciting spiritual program with facilitators from all over the world. From one on one sessions such as Couples Connection Therapy, Psychic and Tarot Readings, to Sacred and Ecstatic Dances.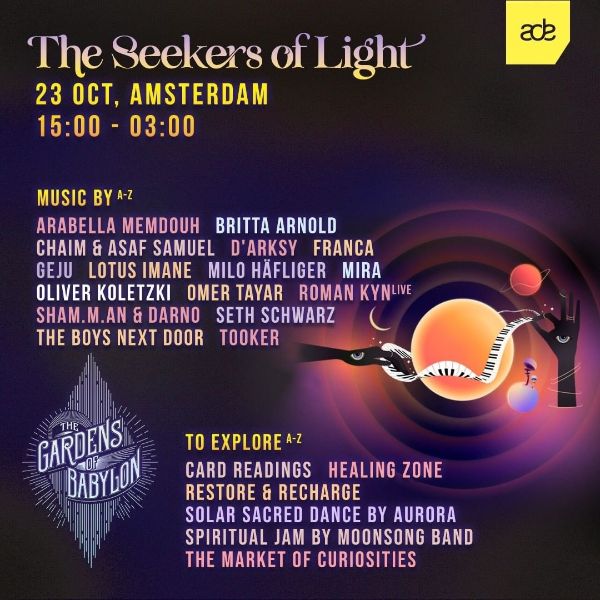 Secret Project Festival
October 22 & 23, 2022 | WesterUnie | Tickets
Secret Project is an emerging festival born in the prospering underground scene of downtown Los Angeles. Insomniac presents a festival dedicated to underground dance music, street and digital art, and more. The festival known for its daytime moments is ready to grow beyond its origin, don't miss the debut of ADE's newest daytime festival staple featuring 4 stages of exceptionally curated house and techno.
Circoloco x Loveland
October 22, 2022 | Mediahaven Amsterdam | Tickets
The clown is back! The Circoloco crew returns to Amsterdam to join forces with Loveland for a night of outstanding music and craziness. If you can't make it to either of those nights then make sure you explore some of their other showcases taking place during ADE 2022, including a collaboration with the Paradise crew, 909 and many more!
Breakfast Club ADE
October 22-23, 2022 | Hemkade 48 | Tickets
With their upcoming ADE Weekender, Breakfast Club is starting an exciting new adventure. This year they're moving to a new location – spread over 5 rooms to bring electronic music enthusiasts the ultimate Breakfast Club experience to date! The Hemkade 48 oozes 'sex, drugs & dance 'culture. Infamous for its legendary parties with the likes of 'Thunderdome', 'Multigroove' and the fetish party brand 'Wasteland'.
Crane Sessions
October 19-23, 2022 | Faralda Crane Hotel | Tickets
Faralda Crane Hotel is one of the world's most unique hotel experiences and it's once again opening its doors to several parties over the course of ADE 2022. The Crane is a 50 meters high monumental building. Complete with panorama elevators that provide access into the crane's three designer suites, the studio and the spa pool on the top deck. The Crane is a 50 meters high monumental building. It's situated Crane on the banks of the river IJ and directly opposite the centre of Amsterdam, so as you can imagine the view from the crane is phenomenal! 
Audio Obscura
October 20-22, 2022 | RAW Factory | Tickets
Audio Obscura is back in full force this ADE and is celebrating the reopening of dancefloors by organizing three phenomenal events on 20, 21, and 22 October. With a reputation for putting on events in the city's most unusual spaces, Audio Obscura is heading to a brand new location for ADE: the jaw-dropping RAW Factory. They are treating revellers to a cutting-edge lineup featuring industry veterans and pioneers, for techno nights like no other.
These guys are also known for their intimate sunset and sunrise sets at The Loft, make sure you pre-register as tickets are really limited!
DGTL x UPPERGROUND
October 21, 2022 | NDSM | Tickets
DGTL is back once again to deliver one of ADE's finest lineups. The Thursday showcase in particular, in collaboration with UPPERGROUND, is one of the hottest tickets in town. One of the highlights that evening includes Worakls, one of France's best electronic music exports, who is set to take to the stage with an impressive 3-piece orchestra. This will be followed by sets from label pioneers ARTBAT, WhoMadeWho (live), and more across NDSM's roaring warehouse halls.